Been tempted by the Wink home automation display in Home Depot? Or, like the idea of a home automation hub that supports all of the major protocols?
The Wink hub promises Bluetooth, Z-Wave, and Zigbee support and boasts a vision of integrating the devices in your home under one hub.
So, we grabbed one to test. That's right, we'll pull out our hair so you don't have to.  We even caught a look at the new version of the app with voice control.
Read on to see how what the Wink smart home can do for you or compare Wink vs. Smartthings with our review.
Bottom Line
Product: Wink Home Automation Hub
Price: $50
Rating: /5 Reviewed by: Jody on
---
You may also want to see our:

---
The Wink hub gets out of the gate well with wide protocol support, quick setup in a good app, and a competitive price point. Though, it isn't free like the recently reviewed
Staples Connect hub
.
It will quickly get your lights working on a schedule and even comes with built in support to control devices based on your location (AKA geofencing) and voice control via the Google app. But, after the initial success, you may find yourself looking for more capability. And, be sure to check for support of your existing devices, if you have them.
[sociallocker id="2836″]
[/sociallocker]
If you're looking for more detail, here's what we'll cover:
---
The Wink Home Automation Review from a Browser
At $50 currently, the Wink hub is both affordable and fully featured with the capability to talk all of the major home automation languages.  And, the Wink team has embraced interoperability with 3rd party manufacturers.  The following sections will give you an idea of what you're getting for your money.
Wink Hub Protocol Support
Wide protocol and device support is a big selling point for the Wink, as it is with SmartThings and the new Staples Connect hub we reviewed.  Here's a list of the Wink's supported protocols:

Z-Wave and Z-Wave Plus
Zigbee
WiFi
Bluetooth LE
Lutron Connect
Kidde
Wink Hub Supported Products
In addition to Wink's unique products like the EggMinder, Porkfolio piggy bank, Nimbus weather station, Quirky Ascend garage opener, and Refuel propane tank guage, Wink also has invested a lot into 3rd party product support.  The Wink site advertises integrations with products from most of the major manufacturers:
Bali shades
Chamberlain garage door openers
Cree lights
Dropcam video cameras
GE Link lights
Gocontrol home security
Honeywell thermostats
Kidde smoke detectors
Kwikset locks
Leviton dimmers, switches, and outlets
Nest thermostat
Philips Hue lights (control from your home only)
Rachio Iro irrigation system
Rheem HVAC and water heaters
Schlage locks
TCP lights
Appreciate the review? Say thanks by sharing it!
But wait, there's more!
Some products that are labeled as "Wink app ready" will work with the app without even needing the hub as an intermediary.  These include Chamberlain MyQ garage openers, the Dropcam Pro surveillance camera, and Philips Hue lights.  Home automation devices that require the hub and have unique tie-ins in the app are labeled as "Wink app compatible."
That all sounds good, but:
Where's the support for door and motion sensors from places like Aeotec or Ecolink? Initially, we thought that those types of devices (simple open/close reporting) would be gracefully handled as generic Z-Wave sensors. Unfortunately, we had trouble getting the Wink app to work at all with generic pairings.
Wink Smart Home Feature Summary
All of the protocol and device support is great, but a product that makes you work more than it works for you won't fly in the "smart" home space.
So:
Let's pause to take a broader view of what Wink offers:
DIY control with no fees or service plans after the initial purchase
Best of class protocol support, though 3rd party integrations are not a sure thing
Quickly expanding features with Amazon Echo and IFTTT tie-ins
Built-in geofencing support (as opposed to our hacked geofencing solution for other systems)
The Wink API is an open one, opening up the hub to customization by hackers and makers
Support for Android mobile and iOS
Voice control via Google Now on Android phones
Great customer support 7 days a week
And, there are only a few real downsides that I see:
Some reviews and customers have said it's unreliable, and the recent security certificate fiasco is disturbing
There's no web app or specific tablet support, sometimes the extra screen real estate and a keyboard is nice to have
Setting up the Wink Hub
Out of the box, the Wink hub is a fairly large, square affair that stands up on end. It's white finish and single status LED are simple and utilitarian without standing out too much on a shelf.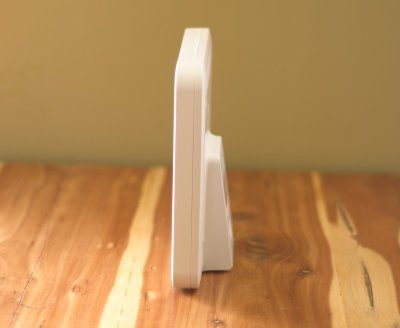 Since it connects via WiFi, the hub comes with pretty specific instructions to install the hub no closer than 5 feet from your wireless router and no further than 30 feet away. That's a pretty specific range and doesn't allow a lot of freedom, but I was able to accommodate that without a problem in my home. The idea is to keep the radios inside the Wink far enough away from the router so that they don't get a lot of interference from your router, causing problems with reliability.
Once you register for the app, the first order of business is to set up your new Wink home automation hub. The pictures and prompts within the app will walk you through the setup process and for us, proceeded without a hitch.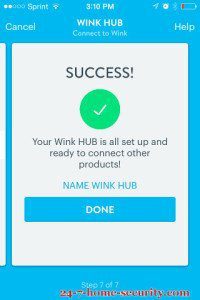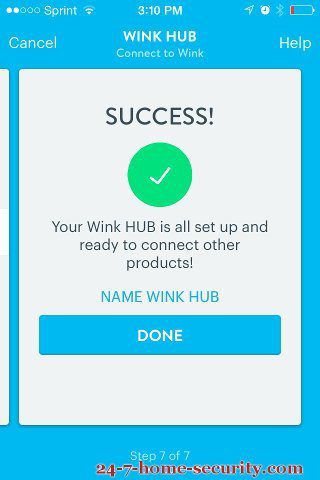 As you explore the app, you'll get introductory screens at any new screen you get to explain how to control your devices. It's a nice touch that makes the initial learning curve that much easier for new customers.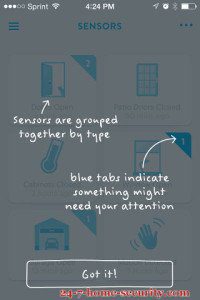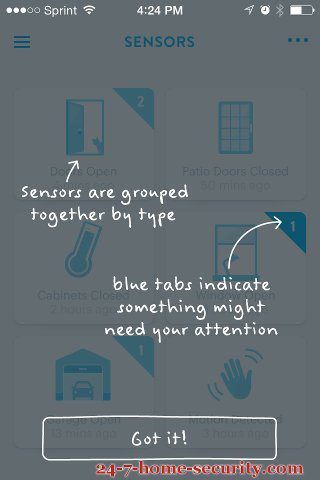 Foundation Work
There isn't much to do to get started besides registering your email address and password.
If you want to add users, press the hub icon on the main screen after it's connected to the app, then press the three dots at the top right, select your hub from the list (likely the only one), and scroll down to add a user.
Adding Devices
Now, you're ready to add your devices. Right on the Home screen, there's a big button to "Add a product" to enroll your smart bulbs, switches, and sensors. From there, you can choose the device type and select specific devices that are supported by Wink from the next screen.
For home automation produces WITH built-in support, you'll get a pictorial walk-through of the enrollment process like I did with a Cree Connected bulb below.
[slider no_container="true" animation="slide" slide_time="5000″ slide_speed="600″ slideshow="false" random="false" control_nav="true" prev_next_nav="true" style="width: 200px; margin: auto;"] [slide]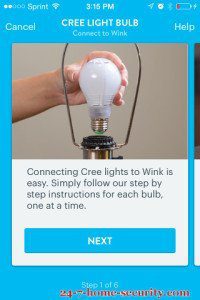 [/slide] [slide]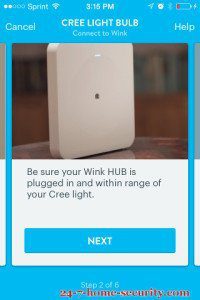 [/slide] [slide]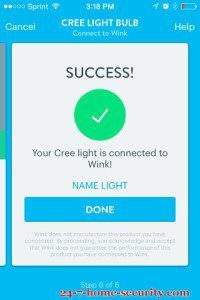 [/slide] [/slider]
If you don't see what you're looking for, you can add the device as a "Generic" device. From reading the list above, you know that the Wink home automation system has a lot of built-in support of 3rd party products.
It's nice to also have the option of scanning the bar code of the device to register it too.  If you want to see what the built-in support looks like, the next few pictures will give you an idea of how many devices are supported in version 3.4.0 of the Wink app.
[column type="1/4″ fade_animation="in" fade_animation_offset="45px"]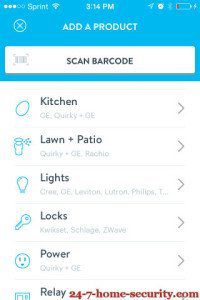 [/column][column type="1/4″ fade_animation="in" fade_animation_offset="45px"]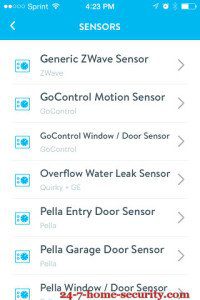 [/column][column type="1/4″ fade_animation="in" fade_animation_offset="45px"]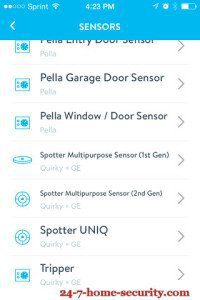 [/column][column type="1/4″ fade_animation="in" fade_animation_offset="45px"]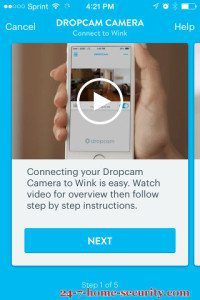 [/column]
Once a device is set up, you can view the Activity (log) for the device and a schedule that shows you any changes that you have set up based on times (like lights coming on at sunset).  From the device screen, you can also group devices so that you can easily control all of the lights in a room, for instance.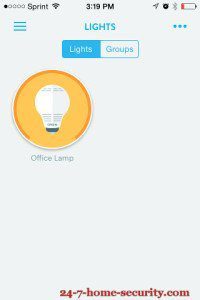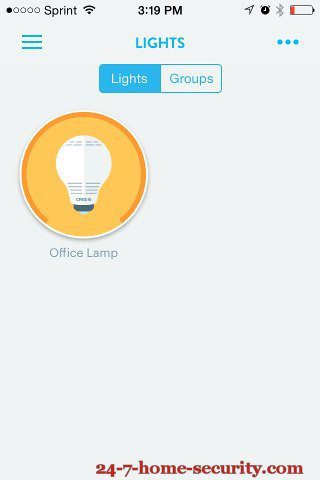 Unfortunately, after the Cree bulb, we ran into some issues.  Despite successfully adding a couple of Ecolink Z-Wave sensors, the app couldn't display the status or detect changes.  I thought since these were simple open/closed sensors, the Wink wouldn't have a problem with them, but even calls to tech support didn't fix the problem.
Here's a list of the devices that we tested with the app:
Creating Custom Shortcuts
One other nice feature is the capability to add Shortcuts to manually perform actions.  In many ways, you could use these like modes in other home automation apps.  For instance, turn off the lights, adjust the thermostat, and locks the doors with a "Bed time" shortcut.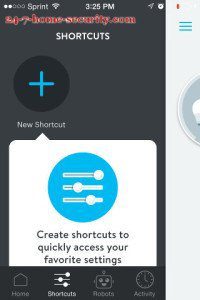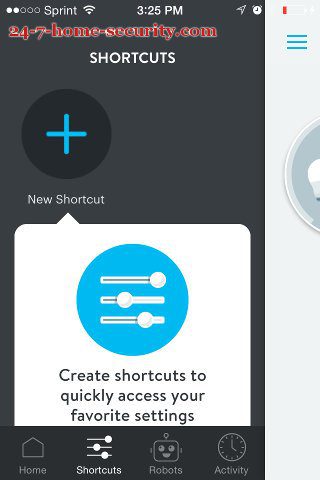 You can get to them with a couple of taps from the home screen, so it cuts down on the time it takes to make a change from your phone.
Wink Voice Control with Google Now!
AND, with the newest version of the app, you can assign voice commands to the shortcuts and control them with your phone without opening the Wink app.  The feature is only available on Android phones (yet another time Apples screws its customers) and uses the Google Now app to parse your commands.
When you set up your shortcut, just scroll down to the bottom to assign a voice command.  The options are fixed and limited, but will generally encompass the things that you'll want to do.  Then, you can say, "OK Google, activate Sleep mode on Wink", get a confirmation of the command, and Wink will respond a few seconds later.
Here's a list of commands you'll be able to use in the beta version:

Home mode
Away mode
Morning mode
TV mode
Movie mode
Cooking mode
Reading mode
Party mode
Exercise mode
Working mode
Vacation mode
Transit mode
If your phone is in your hand already, it'll be quicker to just use the app, but it does come in handy for hands-free operation.  In your house, Google Now will only respond if your phone is plugged into it's charger.  So, you'd have to leave it plugged in at a central location for voice control of your home.  And, you'll run into problems with the commands being interpreted correctly.
Controlling your Wink with Amazon Echo!
Instead, if you're set on telling your house what to do when you're home, then you should consider the new personal assistant from Amazon, Echo.
Now, you can say "Alexa, activate morning mode on Wink" to have the lights come on and your coffee start brewing.
With all of these significant, recent updates, it certainly looks like Wink is on the right path.
Setting up Wink app Robots
Up to this point, you've got devices registered so that you can see status, view logs of the activities around your house, and manually control them from your phone. But, that's a connected home and not a smart home.
Now, you'll want to dig into Robots, Wink's equivalent of scheduled or event-driven tasks. You can use Robots to turn turn up your thermostat when you get home or to turn the lights on outside when you open an exterior door at night. With the Wink home automation system, you'll be able to do most of the cool home automation ideas we highlighted previously to spark your imagination.
When adding a Robot, you come up with a name, what triggers the Robot, and what days and times it should be active:
[column type="one-third" fade_animation="in" fade_animation_offset="45px"]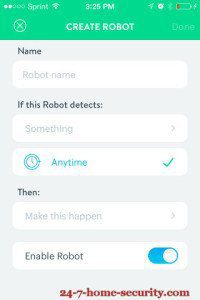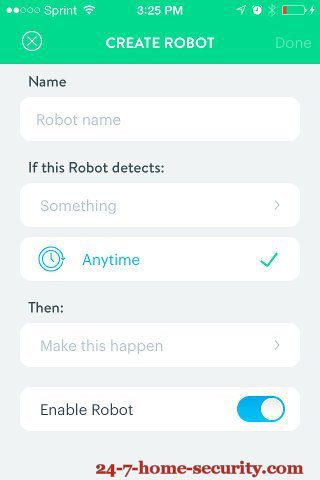 [/column] [column type="one-third" fade_animation="in" fade_animation_offset="45px"]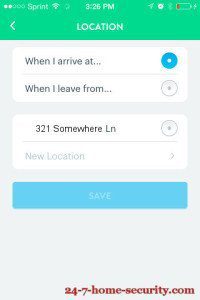 [/column] [column type="one-third" fade_animation="in" fade_animation_offset="45px"]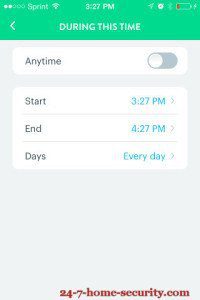 [/column]
Wink Robots can depend on the status of devices, location, time, or even the duration of an event. For instance, if I'm gone from the house for 15 minutes, during off the AC. That capability to not only respond instantly to events but to react to the duration of the event is nice to have and something that other systems like the Staples Connect don't have at this time.
The delay could allow you to turn off the lights if a room is unoccupied for 5 minutes. Or, turn on the exhaust fan in the bathroom if it's occupied for more than 5 minutes!
You'll also have the option of sending yourself notifications via SMS text or email. So, if you want to get alerts when the door opens while you're at work, you can do that.
Coming from a security system, you might expect some devices to have default alert and notification settings. But, that's not the case with the Wink system. For each sensor, you'll have to add an Robot that sends notifications.
The flexibility is nice, and you'll appreciate being able to tailor the behavior. But for the initial setup, getting things just right may take a while if you have a lot of smart devices. As of right now, there's no way to set a Robot that is based on every device of a type or in a room. For instance, send an alert when any window sensor is opened in the middle of the night.
How's the Wink App?
We found the Wink app to be a breeze to set up and pretty intuitive to use. The home screen is organized well and offers quick access to your devices for manual control, Robots, or to review your setup. And, unlike some systems, the log of activities is useful in a couple of scenarios.
For one, when you're trying to figure out if a particular Robot ran or not, you have a record at your fingertips. And two, each sensor and door entry will be there for you to piece together an event if you do get an alert of an unexpected visitor while you're not at home.
Overall, we were also pleasantly surprised with the responsiveness of the app.  It doesn't have a local only mode like the D-Link Staples Connect hub we recently reviewed, but it was still pretty responsive in our setup.  Whereas other apps have a noticeable lag signing into the app and connecting to the hub, the Wink seems to do a better job of maintaining your session and usually lets you get right into the app to do what you want.  The net effect of that and a shortcut is that they shave a second or so off of the time to get out your phone and make a change in your house.
And with Amazon Echo integration, you won't even have to do that.  Soon, that'll be true for GarageIO and Scout alarm too according to a recent press release, but for now, that makes the Wink hub stand out.
Reliability
It seems like Wink is making great strides here and with the UI, as early Wink hub reviews were not flattering.
We can say that the only problems we had with the app were trying to connect unsupported sensors. We didn't see any crashes or other hangups in 3 weeks of testing that didn't happen when trying to use "unsupported" devices.
Wink Home Automation System Features
We've covered some of the types of things that you can do with the Wink system, but here's a review:
Manually control devices via the mobile app or the web
Change devices based on changes to other devices
Get notifications when a device changes status
Schedule changes to lights and switches at certain times and days (or sunrise and sunset)
Trigger changes after a configurable amount of time (if no motion detected for 5 minutes, turn off the light)
Configure Robots during certain time windows (ex. if motion is detected in the house between 6 and 7, turn lights on)
Use combinations of triggers and device responses (if I'm home, and it's a weekday from 8-10PM, and there's motion in a room, turn a light on)
Gaps and Wish List
The existing features are a good start, here's what we'd also like to see:
Modes! I want my house to behave differently when I'm there than when I'm not.  And since I don't live alone, I can't just rely on my phone to tell the system when I'm home.  I shouldn't have to get a Nest and use the Wink IFTTT channel to make that happen. The new Google Now voice commands address this to some degree, but it's still not ideal.
Change the state of a device for a particular duration (for instance, turn a foyer light on for 1 minute when the front door opens). Granted, you could have another Robot to turn the light off in 15 minutes, but what happens when you manually turn it on and don't want it to go off?
All in all, the Wink's functionality is a bit more robust than the Staples Connect system that we previously reviewed.  But, the lack of modes is an odd inconvenience.  Granted, you can do most of what you'll want with shortcuts when you leave home and come back or with Robots.  But, you'll end up making two Robots (one for away and one for home) to get notifications when you're away from home and none when you're home.  It's workable, but not as intuitive as modes would be.
Vulnerability Assessments
Depending on the Cloud
The Problem: Some don't want their information stored on the cloud.
It introduces lag while the app and hub connect and communicate with external servers.
The connection (and the ability to control things) may be sporadic if there is a problem with your internet connection (or theirs) or their services.
Sensitive details of your home and your activities in it are housed on remote servers (even if they are encrypted).
[x_alert heading="Pro Tip:" type="info"]Recently, many Wink customers suffered this first hand as expiring security certificates in their hubs rendered them useless. All hubs had to be sent back to Wink or manually updated by technical users.[/x_alert]
Workaround: No good ones

For me, numbers 1 and 2 are big deterrents. You'll deal with them on a daily basis, and that really impacts your experience.
On the other hand, having your personal information compromised could potentially be a traumatic event.  So even though it isn't likely, the consequences of a security breach would be lasting, not unlike a burglary affecting your sense of safety for years.
But, it does help to maintain some perspective.  Burglars are after money, and breaking a window is a much easier way to get your things than hacking someone's home automation system.  Unless you have a reason to be targeted by more sophisticated criminals, I would sweat this one as much.
DIY Security Means You're Wearing the Pants
The Problem: You may pick up a Wink home automation system to increase your home's security. That's our interest on this site, too. We like that there are no monthly fees with do it yourself systems like the Wink hub, but there are down sides:
You only get notifications when you have cellular service. Wink doesn't offer professional monitoring.

If you are in the middle of nowhere often or have bad cell service, consider paying someone else to watch your house.  Of course, you have to weigh likelihood of a burglary when you're not available.   Our burglary risk calculator can give you an idea of how likely that is. Just remember that time is critical and each passing minute when a notification or email hasn't made it to your phone decreases the chance of getting your stuff back.

You are relying on the app, the Wink hub, and Wink cloud services to be reliable.
You may think having no contract or monthly fees are worth the risks. If not, you could use our alarm system comparison to find a professionally monitored security system that also has the home automation features you're looking for.
Got Power?
The Problem: A burglar may be able to cut power or internet cables outside the home to completely bypass your system.
Workaround: None
Some dedicated security systems offer battery power for emergency operation and cellular connectivity as a secondary source.  The Wink home automation hub doesn't.  Just make sure you understand the impact and consider supplementing your home security with a system that does offer those features if you can't accept that risk.
The Future
Now that GE is invested in Quirky and the Wink, there should be plenty of cash to keep development moving forward. If the Wink app continues to add features, it can remain a viable alternative for new customers who want a quick way to automate a few devices in the house.
I would expect the continued build out of Amazon Echo and Google Now integrations will be a big part of that.
With a published API and the ability to root the Wink hub, you have to wonder if the Wink will really catch on with hobbyists like the SmartThings hub has.
Wink Home Automation Review: Final Recommendation
Though Quirky is no longer selling the hub for free with two qualifying devices ($20 last time I checked), at $50 by itself it's still not a bad deal.  And, the pace of improvements is encouraging, considering their app was widely criticized on launch and is down right reliable at this point.
For my money, I'm sticking with the Staples Connect hub for now. Maybe I never got over my disappointment with not being able to use simple devices that I had around from previous testing, but I've seen similar complaints on other reviews of the Wink hub. And, getting notifications when someone opens the door in "Away mode" and not when the system is in "Home mode" is an important part of making the notifications useful, but not overbearing.
On the other hand, if you live by yourself and aren't an Android user so that you can work around the lack of geofencing, you may want to consider the Wink.  Being able to set up Robots to specify the duration of events before doing tasks is a nice addition too.  And, the IFTTT integration is a definite plus, letting you integrate with a host of other products.
For one, we tested using the DO app to trigger shortcuts, and responsiveness was on par with using the Wink app itself.
But, don't just decide based on one review, compare all of the home automation systems as well as the open source smart home software to see which one makes the most sense for you.
Ready to pick one up? Let your friends know you're going smart!
Note: We initially completed the Wink hub review on App version: 4.3.0 (iOS), 3.4.0.9 (Android).
Heads up: We use affiliate links and some ads to help pay our costs. For the links, you pay the same price to Amazon you would normally, but we get a commission on the sale if you buy something. If you choose to buy from them or check out an ad, we're grateful for your support!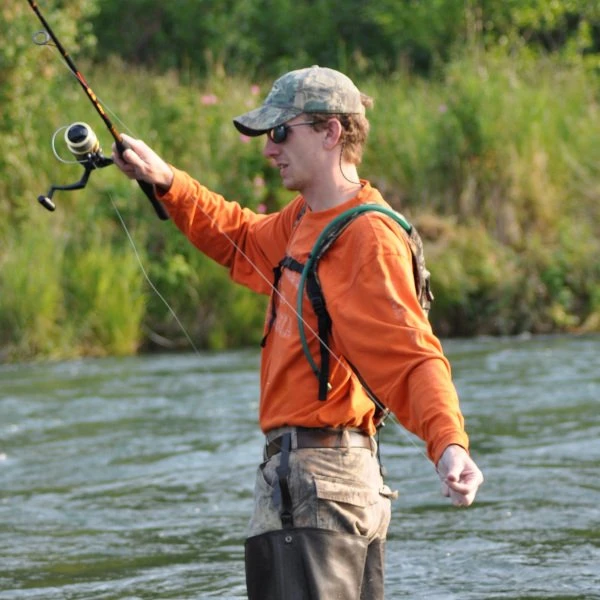 Hi, I'm Jody. I graduated with honors with a Masters of Science in Computer Engineering and have over 15 years of experience working as an engineer with electronics products. I'm a lifelong learner and tinkerer and enjoy automating things around the house so I can solve bigger problems than getting out of bed to check if the garage door is closed . . . like too little sleep!