Best for Customization

Ecobee3

If you are looking for a smart thermostat that works well with Alexa and HomeKit, then Ecobee 3 should be worth your consideration! Plus, it comes with an intricate reporting system, remote sensors, Power Extender Kit, and other useful features, making it one of the hard-to-beat smart thermostats on the market!

Most Affordable Smart Thermostat

Nest

Want the basics of a smart thermostat at an affordable price? Nest thermostat has everything you need without the fancy add-ons. It also comes with a slimmer, rounded shape that goes well with your minimalist home decor.
Investing in a smart thermostat can be a smart decision since it not only increases the value of your house but also potentially saves your monthly energy costs. Plus, technology brings a lot of modern conveniences, so why not grab the opportunity to automate your indoor climate? 
Smart thermostats can connect to your WiFi, allowing you to control temperature settings from anywhere. However, there are many brands to choose from, and it can be overwhelming to search for which one truly fits your needs and budget.
So we're going to compare the two best-selling models, Ecobee3 and Nest, and see which product truly stands out in terms of ease of use, installation, software interface, and aesthetics!
Ecobee3 vs Nest Comparison Table
Features
Comes with energy reports and history can be integrated with Nest Cam and Nest Protect, provides mobile alerts for device malfunctions and reminders, can be integrated with IFTTT
Geofencing features, thermal protect for setting temperature thresholds, provides energy reports through the web portal, Apple HomeKit ready
Features
Comes with energy reports and history can be integrated with Nest Cam and Nest Protect, provides mobile alerts for device malfunctions and reminders, can be integrated with IFTTT
How We Choose and Must-Have Features
Easy Installation
Smart thermostats should make our lives easier! While they might be designed with highly sophisticated technology, the installation process should not be overwhelming especially for new smart homeowners.
When it comes to ease of installation, Nest is clearly the winner!
It's quite simple to install the Nest - all you need is to understand a few basics of wiring and enough trust in your own ability to connect the dots. Follow the instructions that comes with the packaging and attach three wires - it should not take you more than 15 minutes to finish the installation! 
On the other hand, the setup process for Ecobee3 is a bit more complex than Nest. It is not necessarily hard, but there are more steps to be taken since the Ecobee3 uses remote sensors.
Looks and Software Interface
If aesthetics matters to you a lot, then you might appreciate the full-color touchscreen that Ecobee3 offers. You can simply operate it like your smartphone to change any settings and operate the device. Its enclosure is a rounded-square shape which makes it more noticeable than Nest.
But if you prefer a simple design to change your temperature settings, then Nest is your best bet as it comes with a spin dial for easier selection. Nest's enclosure is round and minimalist which guarantees that it will complement any home interior.
Operation
The Nest Thermostat offers a subtle side touch interface that allows you to simply slide and tap the controls to browse settings, instead of having to turn the entire thermostat ring. One downside, though, is that it does not have a built-in voice control like the other premium smart thermostats. It does work with Alexa and Google Assistant if you prefer the convenience of a voice-controlled assistant. Nest also tracks your temperature whenever you are home and adjust reactively to help minimize your energy usage.
Ecobee3 works by using multiple remote sensors to track the temperatures in every area of your home. Through its HomeIQ feature, the thermostat can provide comprehensive data that summarizes your energy usage, such as the energy percentage saved and average monthly temperature. Ecobee3 is also compatible with HomeKit and supports up to 5 scenes, such as resume schedule, away, home, morning, and evening.
With a long list of compatibility and smart features, Ecobee3 wins over the Nest Thermostat.
Best Smart Thermostat for Customization: Ecobee3
Elegant and rounded square design, the Ecobee 3 is a must-have if you prefer lots of customization options!
Pros:
Sleek and futuristic design
Offers Power Extender Kits for homes without C-wire
Comes with built-in function for local weather updates
Comes with HomeIQ that reports comprehensive monthly energy usage
Allows security options to access thermostat device
Cons:
Requires more time to install the remote sensors compared to Nest
HomeIQ is not available in the app
All activities, such as reports, reminders, and controls need to be sent via the Ecobee servers
Customer Reviews
"When researching which smart thermostat to buy my biggest restriction was the lack of C wire from my furnace to my current thermostat. For those that do not know the C wire provides power, but is optional for older battery powered thermostats. All new smart thermostats require a C wire in order to operate. My home was built in 2007 and the guy who installed the furnaces clearly decided it was too much effort to provide an extra wire. 

If you don't have a C wire them the solution is to use something called a power extender, which allows you to install a smart thermostat without the need to run an extra wire from the furnace. That's the good news, the bad news is that it requires you to mess about with your furnaces wiring (don't worry its really easy)."
One of the best features of Ecobee 3 is that you can integrate the device with HomeKit without issues. Monitoring your indoor climate on a per-room basis is also more convenient as it comes with individual and remote sensors you can add more to fit your needs. 
The idea behind the remote sensors is that they can be placed in other parts of the house and measure both the air temperature and whether or not the room is occupied. This is very helpful since not all areas of the house will have the same temperature as the thermostat. 
The Ecobee 3 itself also has an occupancy sensor. This enables it to adjust the AC/Heat based on the occupancy and temperature of the other rooms.
And lastly, if you are worried about how much energy you are consuming every month, then you can simply check the HomeIQ on the web portal. Unfortunately, there is no available app for this software, so it can be a bit inconvenient if you are used to checking everything on your smartphone.
Most Affordable Thermostat: Nest
Budget-friendly yet powerful enough to make your home comfortable and energy-efficient!
Pros:
Lower price compared to Ecobee3
Minimalist design
Issues warnings for potential HVAC issues
Works with popular voice assistants like Alexa and Google Home
Comes with 24-7 customer support
Comes with energy usage reports and geofencing features
Cons:
Does not offer a touchscreen interface like Ecobee3
Requires C-wire to operate
Cannot set schedules automatically
Customer Reviews
"I replaced and existing Wi-fi Enabled Honeywell that never worked very well. Overall the Nest Thermostat it's a very positive upgrade : better aesthetics , better UI and much better "smart" features meaning i am saving money right away."
If you are just starting your makeover journey of turning your boring home into a smart one, then you might find the Google Nest thermostats as one of the most popular smart thermostats in the market. Like most thermostats, Nest can be mounted on the wall to check on your room's temperature and make appropriate settings to achieve your comfort level. Nevertheless, unlike standard thermostats, Nest thermostats can be operated from remote places, switch themselves off when no one is in the house, observe HVAC well-being, deliver upkeep reminders and cost-saving ideas, and more. 
Keep in mind that Nest offers two types of thermostats, and these are the Nest Learning Thermostat and the Nest Thermostat, so don't be confused! While both models are considered to be smart thermostats, the Nest Learning Thermostat can have more advanced features that you might not find with Nest thermostats. But of course, you won't need these fancy features if you are looking for a minimalist and easy-to-use smart thermostat.
With Nest, you are able to control your home's climate from a distance - turn it off when no one is in the house, monitor the HVAC system, set reminders to take part in maintenance activities, get advice on how to save energy, and many others. You can also use the EnergySage Marketplace to pair your Nest with emission-free electricity that is produced in your home!
After installation, Nest thermostats can be connected to either the Nest or Google Home app, permitting users to adjust the temperature of their homes from any place and get alerts to detect likely issues at an early stage. For example, strange heating or cooling patterns will cause the apps to send an HVAC system alert right away. In addition, Google's intelligent thermostats also send upkeep notices that can aid in enhancing your HVAC system's efficacy and longevity through standard maintenance.
Alternatives
Better Thermostat Under $100: Wyze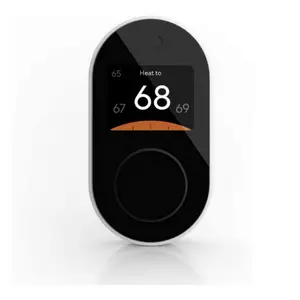 If you are a little tight on your budget but wants the convenience of a smart thermostat, then Wyze could be your best option. Priced at $70.99, Wyze works well with Wi-Fi, and you can easily control it from a mobile device or even through voice commands. It can also generate reports regarding your energy usage so you can make wise decisions to save on your monthly energy usage.
Better for Remote Sensors: Honeywell Home T9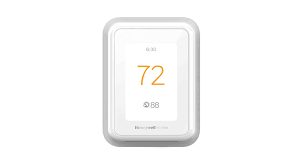 The Honeywell Home T9 comes with a remote occupancy sensor (which you can add more, depending on how many rooms or areas you want to monitor) to achieve a desired temperature throughout your home. Plus, it is easy to install and access through its built-in touchscreen interface, smartphone app, or voice control assistant. Honeywell Home T9 also features dual-band Wi-Fi and can be integrated with other smart appliances via IFTTT applets. 
Although Honeywell Home T9 is HomeKit enabled and overall a great smart thermostat, it still lacks other useful features offered by other premium thermostats like Ecobee3.
Conclusion
Sophisticated thermostats typically come with a learning algorithm that uses historical data to set the temperature settings based on your typical routine and the current conditions. When you change the temperature, the thermostat also sets the temperature to a comfortable level. These features not only help you manage your energy use but also make your life more convenient.
In this article, we have compared two of the most popular smart thermostats in the market - Ecobee3 and Nest. Clearly, Ecobee3 wins if you love data and want to cut back on your energy usage. But if you are looking for a minimalist and budget-friendly smart thermostat, then Nest is the way to go!
Hi, I'm Christy, and I'm an electronics engineer by profession. I have taught in a university for 2 years while pursuing my master's degree in cognitive radio and worked for a company to develop wireless medical devices. Currently, I'm doing research for a doctorate degree in engineering using a wireless sensor network for smart agriculture. I've been active in our local IoT community, IoT Cebu, where I participate in conducting talks about Arduino, Raspberry Pi, and DIY home automation using Wi-Fi and ZigBee devices.
Last update on 2023-09-11 / Affiliate links / Images from Amazon Product Advertising API