The new Staples Connect D-Link hub was released in late 2014 and given the previous praises of the Staples home automation system, we thought it would be a good candidate for our next review (you can also check our  epic ratings of smart home systems).
With the subsequent updates, many are proclaiming the new Staples hub as THE best smart home hub.
As an added bonus, Staples is literally giving the home automation hubs away until the end of this year with the purchase of 2 compatible sensors.  So, you can buy a couple of door or motion sensors that you were going to get anyway (perhaps for a few bucks more than Amazon or another online store), and get the Staples hub thrown in for free.
UPDATE: As we speculated before, Staples is no longer selling the Staples Connect.  Check out some solid alternatives below.

Staples Connect Hub: The Bottom Line
Product: D-Link Staples Hub
Price: $80
Rating: 4.5/5 Reviewed by: Jody on
---
The Staples home automation hub sports top of the line protocol support, a solid app and hub software, and is literally being given away for free for a limited time.  You can have it up and running in no time and get your feet wet in home automation.  But, you may find yourself wishing for more.  Keep reading to find out what the gaps are.
Ready to pick one up?  Let your friends know you're going smart!
If you're looking for more detail, here's what we'll cover:
The Staples Connect Hub Review from a Browser
The new Staples hub is a well-priced unit with wide support for the new devices that are coming out weekly on home automation protocols.  The new D-Link hub replaces the older Linksys model, which only supported the Z-Wave protocol and leverages previous D-Link home automation work.  The new Staples hub supports Z-Wave, Zigbee, and has Bluetooth support embedded for future use.  The listed adapters for protocol support include D-Link, Honeywell, Hue, Ivee, Jawbone, Lutron, Z-Wave, and Zigbee.
The the big selling points include:
And, there are only a few real downsides that I see:
Limited built-in integrations and partnerships
Being a larger company, Staples will likely play more hardball with its competitors in the space. While a new company like SmartThings has a different culture until it establishes itself and looks to have wide compatibility, I wouldn't bet on Staples to be as open.  After all, when you use the words "exclusive lock" to describe new device support in a press release, you don't exactly set the stage for wider lock support going forward.
For instance, I wouldn't hold your breath for additional 3rd party camera support since D-Link benefits from being the only integrated system right now.  In other words, don't expect support for SimpliCam, Dropcam, SmartCam, etc. to ever be integrated.  For simple things like binary sensors that support Z-Wave or Zigbee, that won't matter much.  But for more complicated devices that would require additional software to access all of the features, I doubt Staples (or Zonoff, who is actually developing the software) will go to great lengths to accommodate upstarts in the space.
First Impressions of the Staples Home Automation System
Out of the box, the D-Link Staples hub looks pretty nice.  It isn't as tall and obtrusive as some of the pictures might lead you to believe.  There are Ethernet and USB ports on the back as well as a WPS button (though the Getting Started guide implies by omission that it doesn't work yet and we didn't have any luck with it).  With Staples, the hub connects via WiFi or Ethernet cable which is a nice added flexibility.  That lets you centrally locate it (away from your router, if necessary) or saves you a port on your router if you're running short (like I am with too many computers in my office).
Like many new pieces of smart hardware, the interaction with the Staples hub starts with the app.  Staples also recommended reading through a Getting Started guide, which was a nice reference for configuring things but not strictly necessary given the level of instructions in the app.  After the initial search and download, you can take a tour of the product without registering or go ahead and get started.
Setting up the Staples Connect Hub
Once you register for the app, the first order of business is to set up the hub.  You have the option of using the built-in RJ-45 jack to plug in an Ethernet cable directly, or you can enter your wireless password to connect via WiFi.  Just be aware that if you aren't broadcasting your network SSID, then the hub won't be able to find and connect to your network.  If you don't know what that means, just ignore it, and you'll be fine.
When you first power the hub up and connect it, make sure you give it plenty of time to download updates and restart a time or two.  I initially jumped the gun on registration, and the hub wasn't found when it turned back off to apply an update.  Just grab a cup of joe before you try to move ahead, and you'll be fine.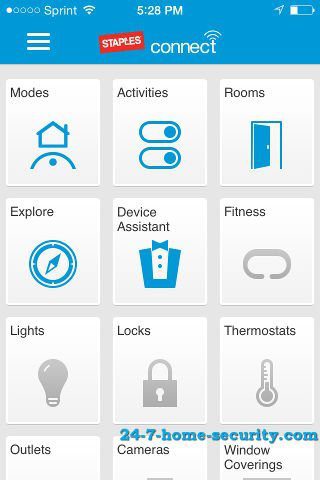 Once you're registered, you can either use the app or the Staples Connect web site to interact with your hub and set up your devices.  Since you've got a bit of typing to do, a computer may be easier.  And, when we set up the hub, the web site had some additional features that the app didn't like setting more specific device types when adding new items.  We also had to use the web app to delete a User that was set up incorrectly and kept causing errors in the app.
Foundation Work
Once you're in, you'll want to review the "Rooms" that are already configured in the app and make any changes for your setup.  Setting those up at the beginning will save you some jumping around later.  You can edit the names of the ones that are already there or make new rooms where you'll be installing your smart devices.
After your Rooms are set up the way you want them, go back to the main screen and scroll down until you see "Users."  Go ahead and set up any contacts that you want to push notifications or emails to here.
Adding Devices
Now, you're ready to add your devices.  Navigate to the Device Assistant and select "Add Device" to enroll your smart bulbs, switches, and sensors.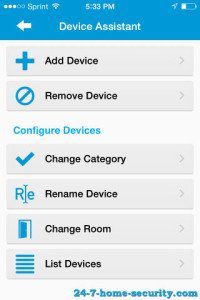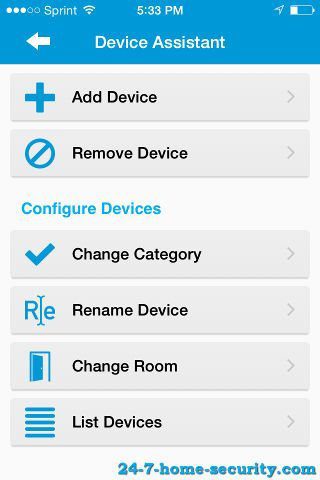 If you have or bought items that are already integrated with the Staples Connect hub, then you can select the type and manufacturer at the top of the screen and get some extra pictures guiding you through the setup process.
[column type="one-half" fade_animation="in" fade_animation_offset="45px"]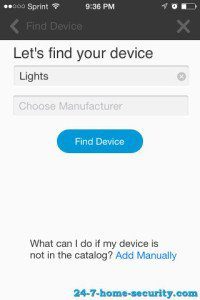 [/column][column type="one-half" fade_animation="in" fade_animation_offset="45px"]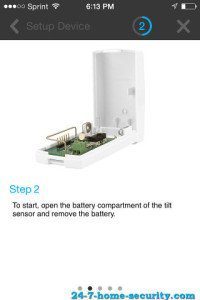 [/column]
The next few pictures will give you an idea of how many devices have "built-in" support for version 7.6 of the software.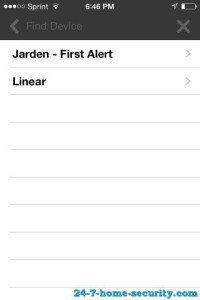 [/column]
If you don't find your particular device, you can also choose to manually enroll the device by choosing the protocol it uses, searching for the device via the app, and then powering it up so that the hub finds it.  Just press the "Add Manually" link at the bottom of the screen.
[column type="one-third" fade_animation="in" fade_animation_offset="45px"]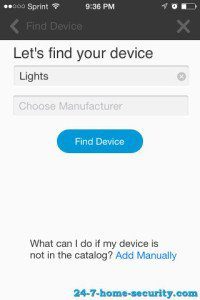 [/column] [column type="one-third" fade_animation="in" fade_animation_offset="45px"]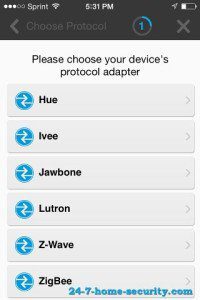 [/column] [column type="one-third" fade_animation="in" fade_animation_offset="45px"]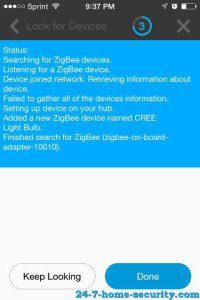 [/column]
We didn't have an issue enrolling new Z-Wave and Zigbee switches and bulbs during our testing using the manual protocol.  And, the partner devices that came with the Staples hub were a breeze as well.
After that's complete, you'll have a chance to set up a room for the device as well to help you find and control it later.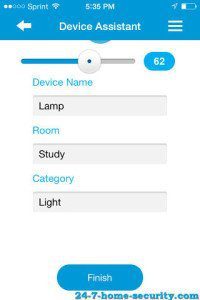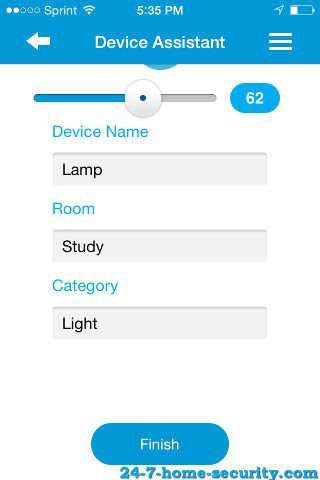 Here's a list of the devices that we tested with the app:
Ecolink door and window sensors (Z-Wave)
Ecolink motion detector (Z-Wave)
Ecolink garage tilt sensor (Z-Wave)
Aeotec Microswitch (Z-Wave)
GE smart outlet (Z-Wave)
Cree Connected bulb (Zigbee)
GE Link Bulb (Zigbee)
Now What?
Out of the box, you can manually browse to any device and control the state of switches, lights, locks, etc.  But, all you've really done is move the light switch from the wall to your phone.  We wanted a smart home, right?  That will require a bit of work to get there, and it will all center around "Activities."  The creation process is pretty straightforward.  First, you come up with a name, what triggers the activity, and what times it should be active:
[column type="one-third" fade_animation="in" fade_animation_offset="45px"]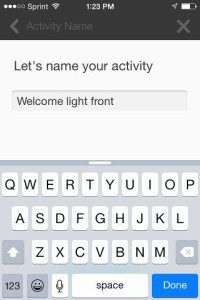 [/column] [column type="one-third" fade_animation="in" fade_animation_offset="45px"]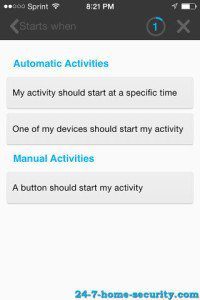 [/column] [column type="one-third" fade_animation="in" fade_animation_offset="45px"]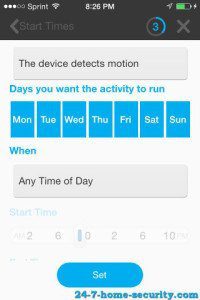 [/column]
Then, you configure any devices that you want to change based on the activity, any notifications you might want, and which Modes the Activity should be active in.
[/column]
When you're done, you'll have something like this: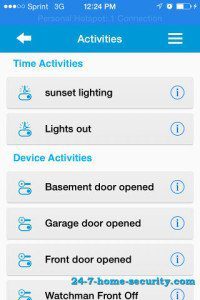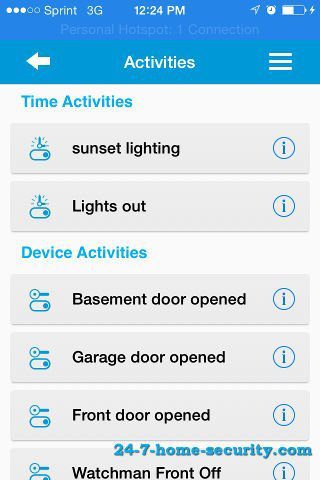 One thing that you might expect if you're coming from a security system, is that some devices will have default alert and notification settings associated with them.  But, that's not the case with the Staples Connect system.  For each sensor, you'll have to add an Activity that sends notifications.
For example, a door sensor could require Activities to notify you when it (1) opens and (2) closes when the hub is in the Away, Sleep, or Vacation modes.  The flexibility of configuring all of that is nice, and you'll appreciate it later.  But when you're setting things up, it will feel pretty mundane setting up all of those alerts.  As of right now, there's no way to set an Activity that is based on every device of a type or in a room.  For instance, send an alert when any window sensor is opened in modes Sleep, Away, or Vacation.
The Activities screen automatically groups Activities by how they are triggered, either manual or automatic.
Some manual activities might be:
Turn the living room lights off when you go to another room
Unlock the front door when the repair man calls
Open the garage door when you get back from a bike ride
These essentially just take advantage of the connectivity of the devices to extend their control to wherever you and your phone happen to be.  But, the real reward to the system is that things that can happen automatically.
Tweaking the Setup
So to really get the most from the system, you'll want to set up automatic Activities to do as much as you can.  These can be triggered at certain times or by sensors that you have connected to the system.  If you're at a loss for ideas, here are a few:
Notifications for doors and windows that open when you aren't home
Turn lights on and off at scheduled times when you are on vacation
Keep in mind when you're setting these up, that you can also change the state of devices based on Modes as well.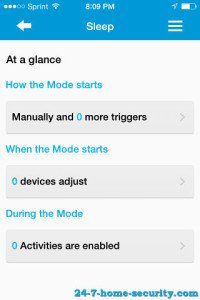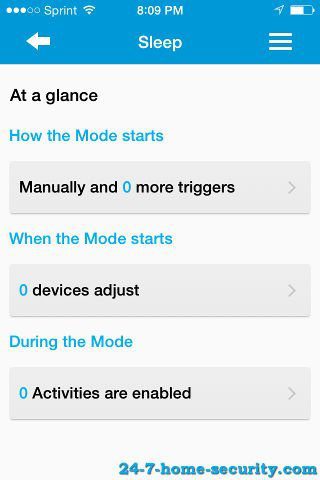 For instance:
Turn all of the lights off when entered the Sleep mode
Lock the doors when you enter the Away mode
Adjust the thermostat temperature when you are Away and change it back when you're Home
And, you can also use a device to trigger a mode.  For instance, you could transition into Home mode from Sleep mode if there is motion sensed after your alarm goes off in the morning.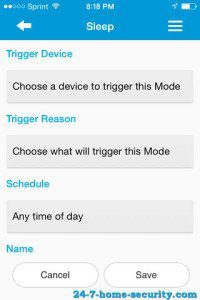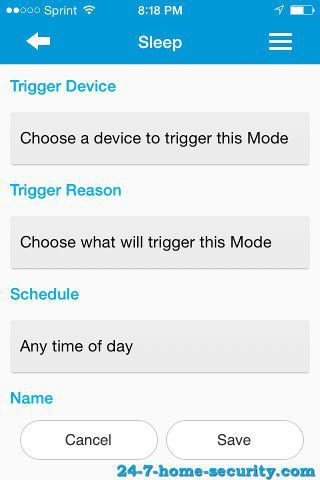 How's the Staples Connect App?
When you first get into the main screen of the app, you'll get an array of tiles what will organize your activities and devices that are controlled by the Staples Connect hub.  From there, most of the things you would want to do are no more than a couple of actions away from the home screen.
The only real head-scratcher about the navigation is all of the tiles that you don't have devices for that clutter the home screen.  For instance, you'll see a grayed out tile representing the fitness tracker that you could (but don't) have.  And, the same goes for blinds for your windows, cameras, and etc.  The purpose of them is clearly to constantly remind you of all the great things you could be buying at Staples to connect with your system.  At a minimum, the app could sort the grayed out tiles to the bottom of the screen and reduce the distraction on the home screen.  Otherwise, you have to scroll past the inactive tiles to get to the device you are interested in.
It's pretty straightforward to get to each light to change the state after the initial delay when you pull the Staples Connect app up to authenticate and connect to the hub.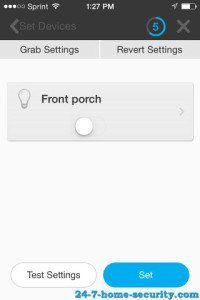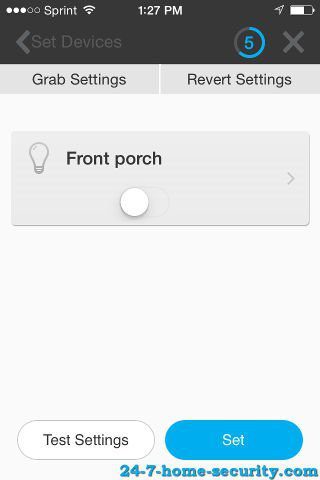 For some activities, there are multiple ways to get to the same information.  That's a plus in my book, leaving the user free to choose the quickest or most intuitive route to the information or setting he's after.  For instance, you can see from the Mode screen which Activities are associated with that mode.  Or, you can see that from going to the Activities screen and editing the individual Activities.  It's nice have options to make navigation through the app easier.
Reliability
If you've read any reviews of the Staples Connect hub, you probably came away with the impression that the app doesn't have any issues.  I know I read quite a few, and I got the impression that the app was the most mature out of the comparable home automation hubs.  Yes, the user interface is functional, but the Staples app and the hub definitely have their quirks.  Here are some things that we saw during testing over the last few weeks:
The app failed to connect to the hub until it was closed and restarted.
The mode failed to change to Home from Sleep and later pushed a slew of notifications for alerts that had piled up in the meantime (likely a problem contacting the Staples servers).
Lights refused to change state when commanded in the app and would show the old state once the screen was revisited.  Restarting the app resolved the issue.
Fail
For #2, we got the generic "Pull the plug on the hub" response from tech support, who later confirmed that they don't publicly report the Staples Connect cloud server status.  So, if you're away from your home and your system isn't responding, there's no good way to figure out if the problem is the Staples Connect service reliability, the hub or what.  You have to contact tech support and wait for a response.  That's poor customer service in my book.
On a more positive note, emails and phone numbers for tech support are baked right in to the Staples Connect app, so help isn't very far away when you need it.
D-Link Home Automation Features
The Staples app is pretty easy to use, and it's intuitive to get started with home automation.  But, it certainly doesn't cover all use cases that you would get with a more sophisticated home automation system that is more expensive,  less approachable, but more powerful.  Homeseer comes to mind.  But, it's great for those that want to spend less time troubleshooting and setup up their system than they do enjoying it.
We've covered some of the types of things that you can do with the system, but here's a review:
Manually control devices via the mobile app or the web
Change devices based on changes in Modes
Enable and disable automatic Activities in certain modes (ex. Alerts when a door is opened except when you're at home)
Schedule changes to lights and switches at certain times
Enable Activities during certain time windows (ex. if motion is detected in the house between 6 and 7, turn lights on)
Schedule Activities for sunrise or sunset
Gaps and Wish List
That's certainly a nice start for the new user's smart home desires.  But, after you max those out, you're going to be wishing for more.  Here are some features that the Staples Connect hub and app really need to be considered a complete smart home software:
Change modes based on location with geofencing, ex. set the mode to Away when every phone with the app leaves the house and Home when any come back (see our guide for how to implement geofencing with any system)
Add custom modes (e.g. movie mode, kids in bed)
Change the state of a device for a particular duration (for instance, turn a foyer light on for 1 minute when the front door opens)
Conditional triggers (if all motion detectors in the house detect no motion for 30 minutes afer 9 PM, change to Sleep mode)
The bottom line is that without allowing for some more sophisticated conditions and triggers, the ability to have a truly smart home that doesn't require your constant input just isn't possible yet with the Staples Connect system.  But, it's a good first step and is certainly convenient in the current state.
Vulnerability Assessments
Dependence on External Servers
The Problem:  Even to turn a light on of off within your home, the app connects to the Staples Connect servers.  That exposes sensitive information about your home (like whether or not you are in it) to potential criminals.  And, it puts your home automation at risk if Staples ever abandons the product or starts charging $20 per month for things that used to be free.
It's also frustrating to wait an extra 2-3 seconds while the app talks to the Staples servers before it connects to your hub and finally let you turn a light off.
Workaround:  None
I am generally not the paranoid type when it comes to transacting life on the web.  Yes, somebody may be able to find an exploit for the Staples system and get motion sensor data from inside my house.  But, you have to balance that fear with the knowledge that if you're sophisticated enough to pull off a hack like that, you would target something that could make you more money instead.  The bottom line is that the Staples Connect hub and the services that are passing information back and forth to Staples from your home and are another attack surface that could be exploited to infiltrate your home network and then sniff more sensitive network traffic or exploit other computers (& connected devices) on your network.
The DIY Downside for Security
The Problem: A lot of people pick up these types of home automation systems to partially address their desires to add security for their home.  Frankly, that's why we're interested as well.  But as a do it yourself monitoring solution, the system has the same limitations as other DIY offerings:
You (and others linked to your system) only get notifications/calls/emails when you have cell phone service. There is no professional monitoring offered.

If you're routinely in the sticks or have an unreliable carrier, you may want a monitored system.  You'll have to assess the likelihood of missing a notification versus your risk of burglary.  If a notification comes 10 minutes after a break-in, you've likely already lost your valuables and drastically reduced the chance of the criminal being caught in the act.

You are relying on the app and the Staples Connect services to be reliable.

This is true for monitored and DIY alarm systems as well.  But, UL listed security monitoring services are certified to a particular standard of availability and process while DIY systems are not.
Check out our Konnected review for a DIY integration for your existing monitored alarm system hardware to avoid that shortcoming.
Many people think that having no contract and no monthly fees are worth it, given their situations.  You'll have to decide which route is best for you given the circumstances.  You could certainly get a professionally monitored security system that also has home automation features.  Our comparison tool will let you filter for professional monitoring and Z-Wave or Zigbee support and figure out what other systems might meet your needs.
No Backup Communication or Power
The Problem:  Depending on the configuration at your home, a burglar can cut power or internet connectivity from outside the home and then walk in unencumbered.
Workaround:  None
Unlike some dedicated security systems that offer battery backups and 3G connectivity to monitoring centers in the event of interruptions, the Staples Connect system has a different focus on home automation.  So, you need to understand the additional vulnerability if you select the Staples Connect and don't supplement it with a security system with those features.
The Future
As I mentioned before, Staples is a big company that may not play nicely with others.  So, I wouldn't expect wide integrations like you see with upstart companies like Revolv (now defunct, bought by Nest) or SmartThings.  But, there should be plenty of money available to improve the software.  On the other hand, there are quite a few people that hang out on the Staples Connect forums that are clearly frustrated by the pace of improvements from the Staples Connect team (Zonoff).
That being said, Staples has added support for the new Cree and GE light bulbs and has launched this new controller with added protocol support, so the trajectory is headed in the right direction.
Final Recommendation – Is it the Best Smart Home Hub?
In a few words, it can be.  But, it's not there yet.
The Staples Connect app, hub, and software are not all roses and puppies.  But, it is easy to set up, easy to configure the system to get started on your aspirations for a smart home.  If you want something to automate some of the more mundane tasks that you do every day, this home automation system can do that.  If you really want to have an intelligent home and configured sophisticated triggers with multiple conditions, it's not there yet.
If you're looking to add some extra security features to your home, the Staples Connect system has all of the integrations that you would need via 3rd party sensors. You can get emails and notifications for smoke alarms, doors and windows, or motion sensors. Then, you can use an integrated D-Link camera (or another standalone camera) to check out the problem and contact the authorities.
And for a little over $60 to get started with a couple of sensors, it has a great entry price.  But, don't just decide based on one review, compare all of the home automation systems to see which one makes the most sense for you.
Ready to pick one up?  Let your friends know you're going smart!
Note: We initially completed the Staples Connect review on App version:  7.6., Build 62 (iOS), 1.7.0 (Android),Core version:7.6.2, Build 166.
Heads up:  We have a few affiliate links in this article to help pay server costs and products for review.  You pay the same price that you normally would, but we get a small portion of the sale if you buy something.  Thanks for your support!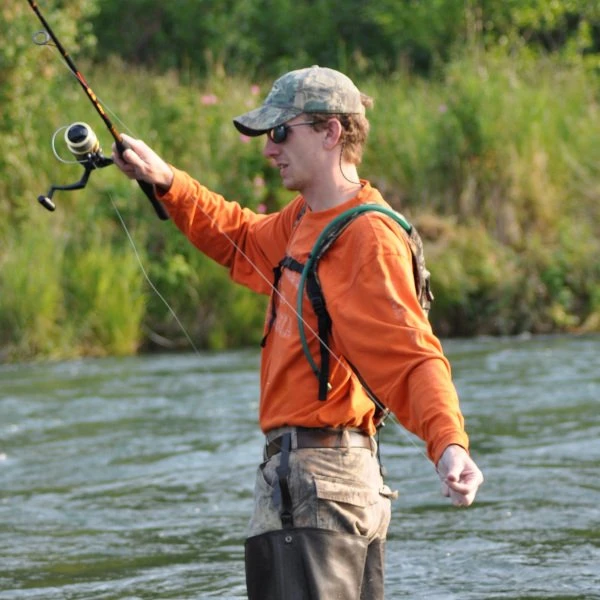 Hi, I'm Jody. I graduated with honors with a Masters of Science in Computer Engineering and have over 15 years of experience working as an engineer with electronics products. I'm a lifelong learner and tinkerer and enjoy automating things around the house so I can solve bigger problems than getting out of bed to check if the garage door is closed . . . like too little sleep!