Does your home already have a wired security system but you hate the fact that it is only usable by signing a contract with exorbitant monitoring fees? Don't want to buy all new equipment and deal with replacing batteries in the new wireless sensors?
Read on for the full Konnected review of the alarm system upgrade and see how you can connect your legacy alarm system to SmartThings or HomeAssistant.
And, many thanks to Cody for offering his alarm system for the installation and the review.
[custom_headline type="left" level="h2" looks_like="h3"]Bottom Line[/custom_headline] Product: Konnected Alarm Panel
Price: $89
Rating: 4/5
Reviewed by: Cody on January 23, 2019
---
What's Konnected?
Konnected is a product that replaces your old alarm panel allowing you to reuse all of the sensors and integrate them into your home automation hub. It currently supports Samsung SmartThings, Home Assistant, Hubitat and OpenHAB. The system is fairly straightforward to install and set up but is definitely
geared more towards DIYers
and those somewhat familiar with home automation (for more ideas, you can also read our
home automation system reviews
).
Whats in the box?
        Konnected alarm panel

        WiFi module

        Piezzo buzzer

        12V DC power supply

        Mounting standoffs

        Wire labels

        Screwdriver pen

        Window stickers

        Instructions
The kit comes with everything you should need, but it may be helpful to have a pair of wire cutter/strippers to trim up your old wires and a multimeter if you need to test or identify any of your sensors.
Installing Konnected
Connecting to my SmartThings hub
Before mounting the new alarm panel and connecting any sensors to the board I chose to power everything up and configure the system while sitting at my computer. First I installed the WiFi board to the Konnected panel paying close attention to the included instructions as it is possible to mount the board upside down. After powering up the device you will use either a phone or computer to connect directly to the alarm and then use a web browser to connect the WiFi module to your home network.
At this point the installation process will vary depending on which hub you are using so the included instructions will direct you to visit the Konnected Installation Step by Step. I am already using the SmartThings hub to automate my house so I will only be sharing my experience with that particular hub. The SmartThings setup requires the installation of custom device handlers to support your wired sensors and a custom SmartApp to interface with the alarm panel. If that is something you aren't familiar with don't worry, it really is quite easy. There are two options to install the device handlers, either through Github or through a manual installation procedure. I chose the Github integration because it seemed far simpler and was completed by following the instructions in this video.
This process went just as smoothly as detailed in the video with one minor exception. On the screen shown below where you select which hardware you are using, no matter how many times I selected the Konnected alarm panel I just kept getting redirected back to the same screen. I ended up pressing the save button on the top right and continued the rest of the installation flawlessly. The problem may be specific to using the iOS app whereas the video details the setup using the Android app.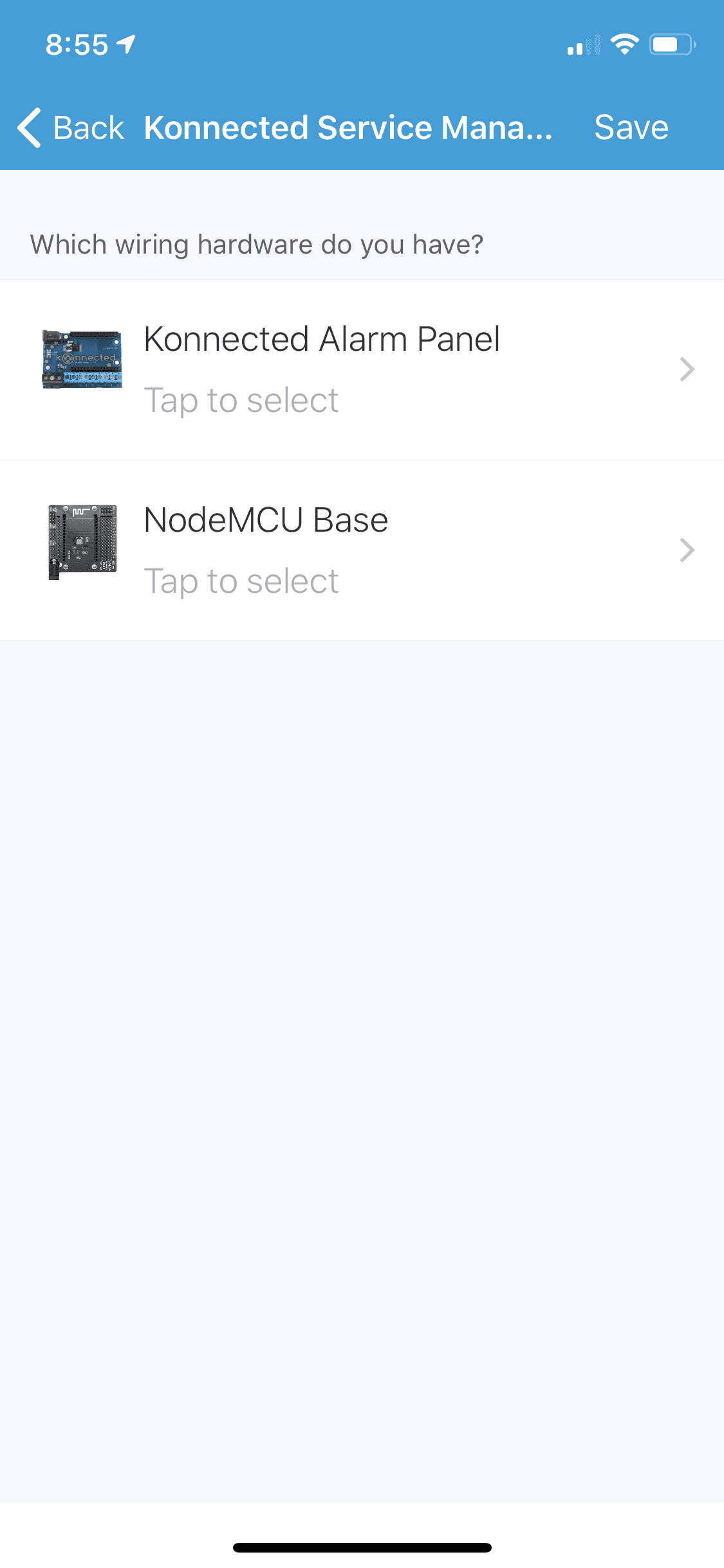 Identifying and labeling your wiring
My old alarm was an 8 zone system with 4 door sensors, 10 window sensors grouped into two zones, a motion sensor, glassbreak sensor, and a siren. Fortunately each of the zones were clearly labeled by the original installer so identifying and labeling the wires for each sensor was straightforward. Konnected provided me with a 6 zone kit in exchange for this review so I had to combine all of the window sensors into one zone as well as combine two of the door sensors in order to eliminate the extra 2 zones. If you are not so lucky and have a mess of unidentifiable wires you may need someone to help by opening and closing doors and windows while you test each wire with a multimeter. Konnected has a great article on identifying your wiring which may be a good place to start.
Connecting sensors to the panel
This is where I ran into the first issue with my installation. I planned for 6 zones, a siren, and the piezo buzzer as a door chime. It turns out that there is not a dedicated output for the buzzer, rather it has to be connected to one of the zones which required me to combine 2 more door sensors into a single zone. Not a huge deal unless I want to set up automations that are dependent on each of those door sensors individually. If you have one of the 12, 18, or 24 zone Konnected alarms this shouldn't cause a problem as the add-on boards have an independent 3.3 V output that can be used for the piezo buzzer instead of sacrificing a zone. Finally after connecting everything to the alarm panel, I renamed each zone in the app and selected the type of sensor associated with each as shown below.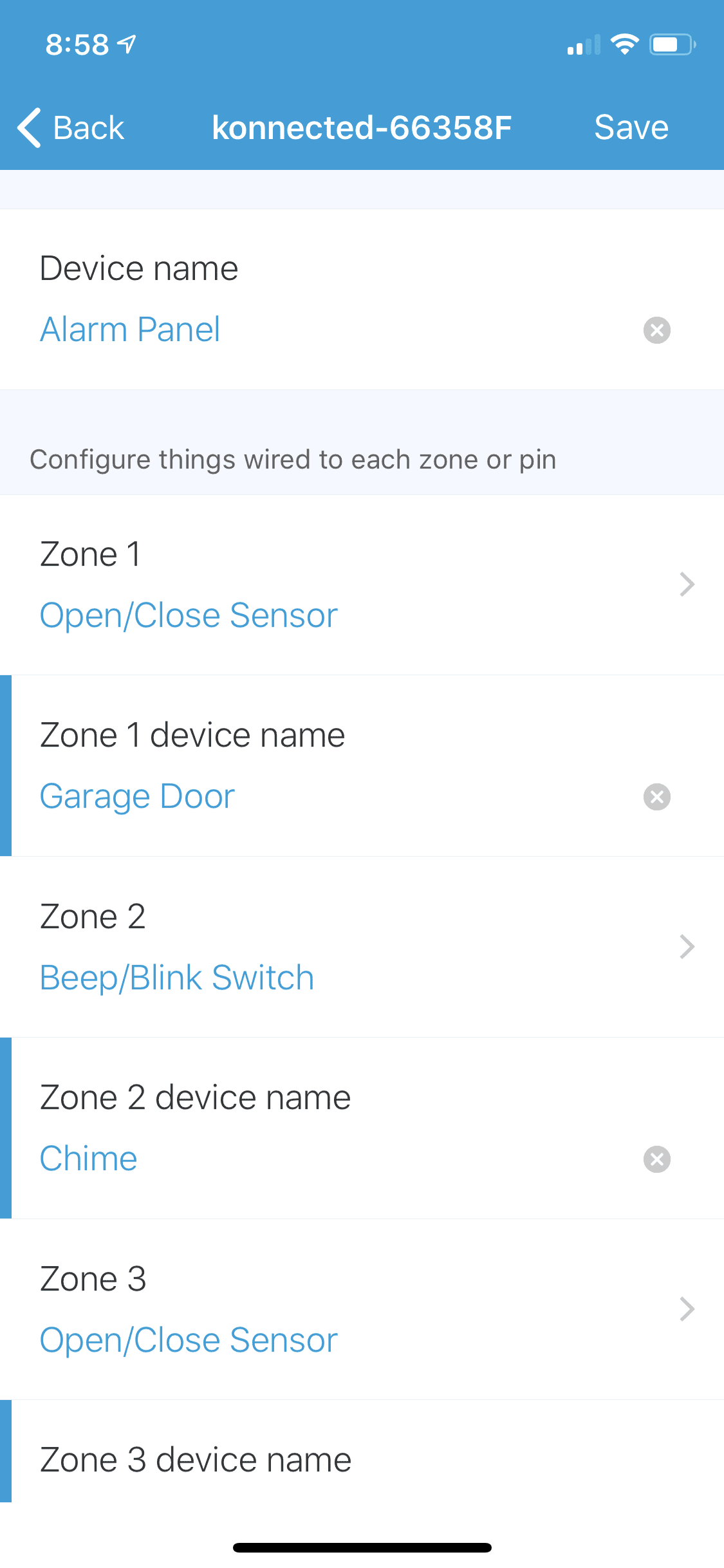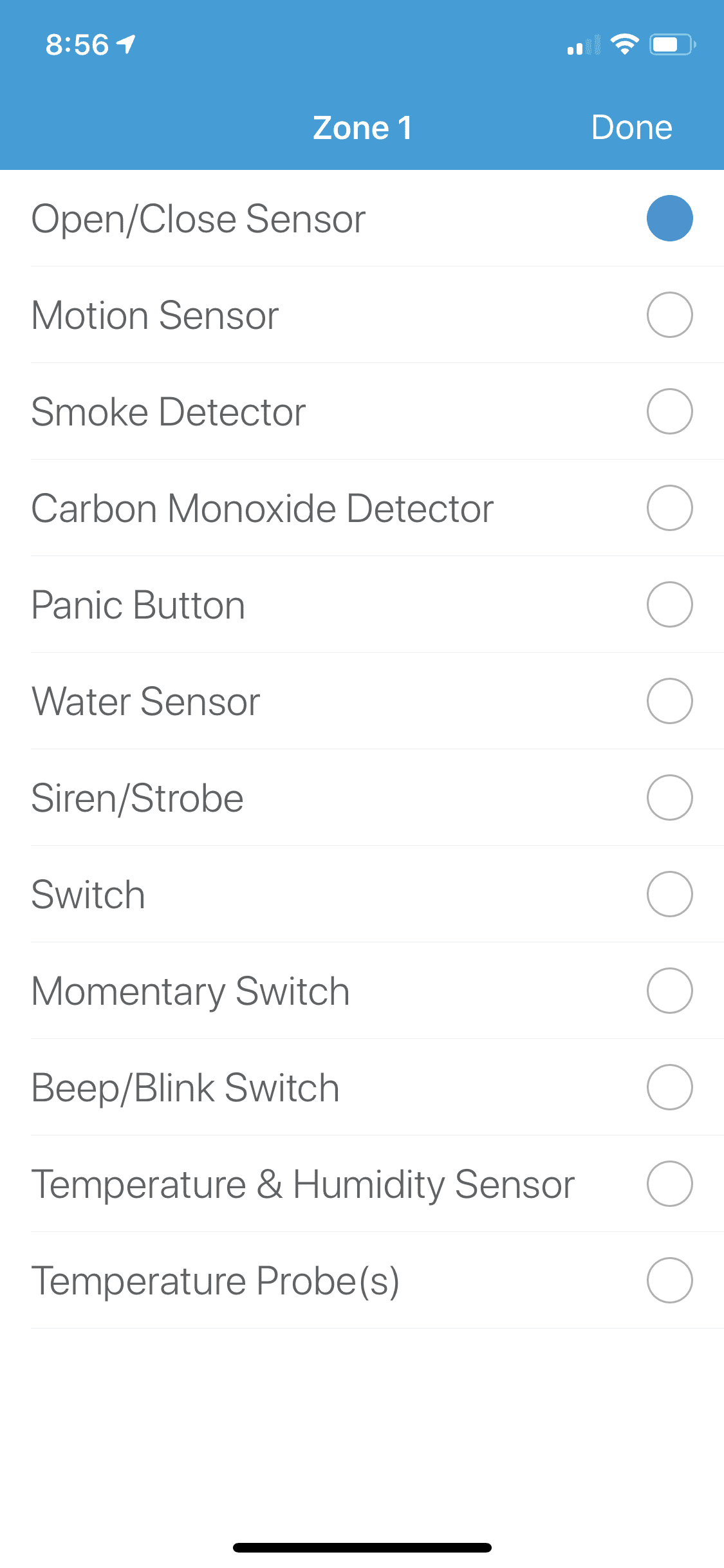 After finishing the installation I was ready to test my system and ran into the second problem. None of my sensors would register a change in open or closed status with SmartThings. My first step in troubleshooting was to test a zone that had only a single door sensor and verify that it was working correctly. Using a multimeter I measured 3.3V at the input to the alarm panel with the door closed and 0V with the door opened so I was pretty sure that the sensor itself was working. Next I disconnected the sensor from the alarm panel and instead placed a short jumper wire between the terminals which still would not trigger a change in the status. At this point I was sure the problem was with the Konnected device so I opened a service ticket with customer support. I have to give major kudos to Konnected's customer service as Andy was extremely helpful and quickly resolved my issue. After a few email exchanges verifying that there were no issues with my setup we realized that the alarm panel was connected to my network through a WiFi extender. I ended up unplugging the extender and running the initial WiFi setup again to connect directly to my router thus fixing the problem. Luckily I was able to get a strong enough signal to connect directly to my router but this may cause issues if you have to place the panel in an area with poor reception. Ideally an extender should just redirect network traffic and not block any communication but from my conversation with Andy I got the sense that this wasn't the first time he had seen the same issue.
Living with the Konnected alarm
I have been using the Konnected alarm panel for about 2 months now and have only had a few minor issues. The largest annoyance of the system is the automation I created to use the piezo buzzer to chime whenever any of my doors or windows open. I have configured the buzzer to beep twice each time it is triggered for 100 milliseconds with a 50 millisecond delay in between the two tones. The first tone is almost always correct but the second tone beeps for a random interval, sometimes even for 1-2 seconds. I didn't particularly care for the tone of the included buzzer (which I was already aware of being a common complaint) so I have since disconnected it and plan to replace it in the near future with another z-wave chime. The only other issue I have encountered is that my old siren does not work with the new panel. Many old alarm systems like mine just used a speaker for the siren and the Konnected alarm does not have an amplifier to drive it. Fortunately a new siren such as the Honeywell Siren recommended by Konnected is relatively inexpensive.
Overall I have been very happy with the Konnected alarm system. With its ease of configuration and simple integration into SmartThings, I highly recommend the Konnected system for anyone that already has a wired alarm system. The only feature I feel like it is severely lacking is an Ethernet connection for better security and reliability. The product already has a large online community and a developer who is very active in that community, I'm confident the minor issues that exist will get resolved in the near future.
Hi, I'm Christy, and I'm an electronics engineer by profession. I have taught in a university for 2 years while pursuing my master's degree in cognitive radio and worked for a company to develop wireless medical devices. Currently, I'm doing research for a doctorate degree in engineering using a wireless sensor network for smart agriculture. I've been active in our local IoT community, IoT Cebu, where I participate in conducting talks about Arduino, Raspberry Pi, and DIY home automation using Wi-Fi and ZigBee devices.