Best Overall

Ring

Many homeowners choose Ring for a good reason - the brand offers a wealth of camera options to suit different needs, such as Ring video doorbell cameras, Ring Spotlight, and Ring Stick Up Cam. So you are sure to find a camera that fits your taste and lifestyle. The only downside is the mandatory monthly fees. Unlike Blink, the video storage options might require an additional cost on your end. 

Best for Budget

Blink

If you are looking for a budget home security camera, then Blink might be the best option. Blink cameras have been popular for their wireless camera options at a price tag under $100. Although they no longer offer free cloud storage, it still remains one of the most affordable and reliable wireless security cameras in terms of local storage options, device quality, and service plans.
Choosing the best camera system to protect your home is never easy, especially if you are just starting to build your smart home. But don't fret, we'll take a look at these two market leaders and help you decide! 
In this guide, we will provide a comprehensive review of Amazon's popular cameras, Blink vs Ring, to determine which one stands out when it comes to notable similarities and different features. So read on to find out what we've learned!
Blink vs Ring Comparison
Features
Budget-friendly option, comes with local storage options, long battery life
Wider camera options, free accessories, professional monitoring services available
Features
Budget-friendly option, comes with local storage options, long battery life
Camera Must-Have Features
Video Resolution
Wireless security cameras have come a long way since the early years. Aside from the sophisticated features, convenience, and versatility, cameras like Blink and Ring are also becoming more affordable for an average home.
We've done everything from hands-on reviews of single products like the Blink XTZ to roundups of every camera available, and we've learned a lot over the last decade about what things to look for in a security camera.
Here's what we consider must-have features:
If you want high-quality video resolution to get clear footage of your home, then cameras with at least 1080p HD should suffice. This simply means that your camera can capture up to 1080 pixels in height and 1920 pixels in width. This is the general industry standard and, depending on your surveillance needs, should be good enough to monitor your home any time of the day.
Two-way Audio
This feature allows you to talk and listen directly to someone through your video camera. You will also know ahead who's ringing at your door before you can even open it. The two-way audio camera makes this communication possible through built-in microphones and speakers, and a reliable Wi-Fi connection. 
Night Vision
Many burglars wait until it's dark before breaking into your home. Thankfully, wireless cameras with night vision will help keep an eye on your properties day and night. These cameras can capture detailed images of anyone that comes near your main door - nothing untoward can go undetected on your camera, even at nighttime!  
Smart Home Integration
Your camera's compatibility with multiple products provides a great opportunity for future customizations or expansions. For example, if you want to add a layer of security to your smart home system, you can integrate devices like smart locks, remote garage door controllers, motion-activated lights, and many others without any issues. Hence, there is no limit to your creativity!
Storage
Camera storage is as important as the other factors mentioned in this post for one reason - to access footage in case of emergencies. Cameras can either have local storage or cloud storage (or both), and each has its own pros and cons. Local storage is usually faster and more secure, while access to cloud storage might be limited to your internet bandwidth. Depending on your chosen brand, some cameras provide free cloud storage for a couple of days while the others require a paid subscription plan.
Professional Monitoring
Some homeowners might think twice whether it is worth it to have a professional monitoring service or just self-monitor their system. The truth is, having third-party monitoring service provides you the best value for your money than having none at all. This ensures that the police are notified as fast as possible in case of emergencies. You will also have more peace of mind even while you're away from home or asleep, knowing that the monitoring services will keep an eye on your house or property whatever happens!
Apps
Smartphone apps are another useful feature you need to consider when choosing a home security camera. With apps, you can easily view footage, events, as well as any incoming alerts right at the convenience of your phone. You can also access your cameras remotely, anywhere you are, as long as your smartphone and cameras are connected to the internet.
Blink vs Ring - Similarities
So first and foremost, what features are common to Blink and Ring cameras. Let's dive into the details below:
No Long Term Contracts Required
Yes, you've heard it right! Both Blink and Ring do not burden you with any long-term commitments. That means, in case you want to switch to another service or you simply want to stop your subscriptions, you can cancel anytime. End of story!
DIY and Easy to Install
Both Blink and Ring want to give homeowners an opportunity to set up their own cameras without the need for a professional. This means saving on additional installation costs. Plus, the cameras are designed to be super easy to install. In case you get lost along the way, you can also find tons of support online to help you troubleshoot any issues since these are both very popular options.
Available for Indoor and Outdoor Use
Blink and Ring cameras come in different varieties to cater every need. For example, Blink offers Blink Indoor and Blink Mini designed for indoor monitoring. The same brand also offers the Blink Outdoor to monitor the outside of your home, no matter what the season is. Ring has both indoor and outdoor cameras, too, and these are the Ring Indoor Cam and Ring Spotlight Cam. You can even choose the Ring Stick Up Cam which can be used both for indoor and outdoor setups.
Blink vs Ring - Differences
These minor differences between Blink and Ring highlight the strength of each camera:
Professional Monitoring Services - Winner: Ring
While both the Blink and Ring cameras allow self-monitoring, Blink does not have an option for 24-7 professional monitoring. Meanwhile, Ring provides an option for professional monitoring services that help notify the authorities in case of emergencies.
Ring Subscription Plan:
| | | | |
| --- | --- | --- | --- |
| | Protect Basic | Protect Plus | Protect Pro |
| Cost | $3.99/month or $39.99/year | $10/month or $100/year | $20/month or $200/year |
| Features | Allows video recording for a single camera or doorbell | Allows video recording for all Ring devices | Allows video recording for all Ring devices, comes with Ring Alarm professional monitoring services, and many other features |
Blink Subscription Plan:
| | | |
| --- | --- | --- |
| | Basic | Plus |
| Cost | $3 per month | $10 per month |
| Features | Allows video recording for a single, video history for up to 60 days, warranty up to one year | Allows video recording for all Blink devices, video history for up to 60 days, warranty lasts as long as subscription is active |
Local Storage - Winner: Blink
If you are looking for a home security camera that offers cloud and local storage, then Blink is the clear winner. Blink includes a local storage size of up to 265 GB while Ring only has cloud storage subscriptions.
Power Supply - Winner: Ring
Blink cameras rely on batteries as most of them are wireless, except for the Blink Mini. On the other hand, Ring comes with a variety of power source options, like batteries, cords, and solar power. There are also Ring cameras that allow you to switch to different power modes.
Trial Periods - Winner: Blink
Unlike Ring, Blink provides a 30-day trial period on their cameras. This means that you can get your money back in case you find some issues with their products.
Blink vs Ring Overview
Blink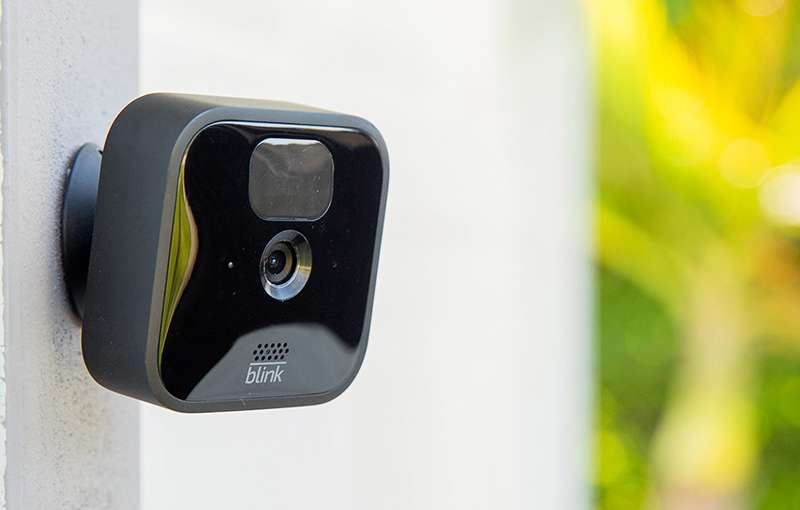 If you are looking for budget-friendly cameras, then there is no doubt that Blink is the clear winner. In 2015, it was the first wireless camera with free cloud storage that is priced under $100. But this was a few years ago! Although Blink no longer offers free cloud storage on their cameras, the giant brand still remains the most affordable compared to Ring.
Blink cameras and doorbell prices:
Blink Mini - $35

Blink Indoor - $70

Blink Outdoor - $100

Blink Floodlight Camera - $140

Blink Video Doorbell - $50
Blink Cameras
Blink offers different models of cameras to cater different needs. These are:
Blink Mini - Considered as the smallest camera priced at $35, Blink Mini is the best option if you are on a tight budget. Despite its low price, you still get the same video quality with Ring's indoor camera. Blink Mini comes with a narrow 110° field of view which is not bad given its price. However, it does not have a battery power option, so you will need to install it near an electrical outlet.
Blink Indoor - This wireless camera does not need to be plugged-in to function since it is battery-operated. Although this feature is not practical since it is indoors, it might still be worth the value of your money if you like portable cameras for indoor use.
Blink Outdoor - Comes with a battery that lasts for two years which is longer than Ring's Stick Up Cam. Aside from being weather-proof, Blink Outdoor also comes with motion detection, two-way audio communication via the Blink app, and Blink Sync Module 2 to save files locally. The only downside of this camera is that it does not have a wired option.
Blink Floodlight Camera - Want a camera that lights up at night? Then this model is your best bet. The camera comes with 2 high-quality LED lights that lights up at 700 lumens when motion-triggered. It also comes with a lot of accessories like a mounting bracket, lithium-ion batteries, mounting kit, USB cable, and power adapter. What we love about Blink Floodlight Camera is that it works with Alexa. So if you want to sound cool, just use your voice commands to monitor your home and activate the camera's lights.
Blink Doorbell Cameras
Blink only has one video doorbell camera, and that is the Blink Video Doorbell priced at $50. Compared to Ring, this camera model is insanely cheaper, about half the price of its contender. Blink camera also offers a wide view angle, allowing you to clearly monitor the outside of your door. You can even interact with visitors outside through its two-way audio feature and sends you an alert when somebody presses the doorbell.
Ring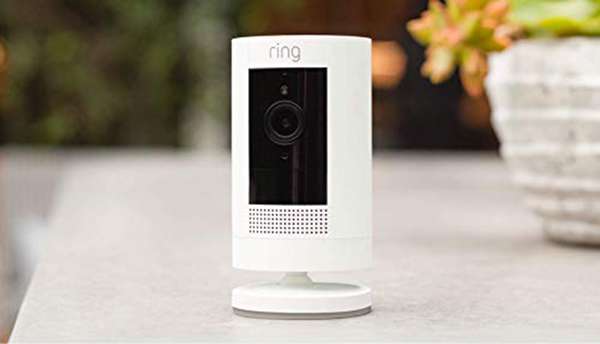 Unlike Blink, Ring offers a more diverse camera selection, a total of 20 different models. But here, we will only explore their core cameras which we believe are worth every penny. Check the details below.
Ring cameras and doorbells prices:
Ring Indoor Camera - $60

Ring Stick Up Cam - $100

Ring Floodlight Cam Wired Plus - $200

Ring Video Doorbell Wired - $65

Ring Video Doorbell - $100

Ring Video Doorbell 4 - $200

Ring Video Doorbell Pro 2 - $260
Ring Cameras
Input your text here! The text element is intended for longform copy that could potentially include multiple paragraphs.
Ring Indoor Camera - This model is almost the same with Blink Mini, except for its larger 140° field of view. The cost is $60 which is roughly twice that of Blink's camera. But compared to the other Ring camera models, this one is the cheapest. So it is still a good option if you want a Ring brand without hurting your wallet.
Ring Stick Up Cam - If you are looking for a versatile camera that you can install anywhere you want, indoors or outdoors, then this one is a good option. It is priced at $100, slightly more expensive than Blink, but already comes with a lot of features that you will surely love. It does not rely on a power cord and it even comes with solar panels which is quite handy for outdoor installation.
Ring Floodlight Cam Wired Plus - We think this one is worth the value of your money if you want to light up your back or side yard at night to scare off burglars. Ring Floodlight Cam provides up to 2,000 lumens of light which is equivalent to a 150-watt incandescent bulb. Although it's a bit pricey ($200), it does come with other fancy features like motion-activated LED lights, color night vision, Alexa-enabled, and many others.
Ring Doorbell Cameras
Ring Video Doorbell Wired - Priced at $65, this camera model is less expensive compared to Blink Video Doorbell. The downsides? It does not ring with mechanical chimes and battery power option. 
Ring Video Doorbell - Comes with a rechargeable battery and rings with existing mechanical chimes. However, it does not have some advanced features present in Ring Video Doorbell 4. But for a price of $100, it is definitely worth it if you want to keep everything basic.
Ring Video Doorbell 4 - This video camera model is one of the most advanced on our list. Some of its features include customizable privacy zones, Color Pre-Roll Video Previews, removable and rechargeable battery pack, Ring Protect Plan, and motion-triggered notifications. It is currently priced at $220.
Ring Video Doorbell Pro 2 - Priced at $260, this video doorbell is the improved version of Ring's wired video doorbell. It comes with cutting-edge features like 3D motion detection, Bird's Eye View, built-in Alexa greetings, accurate real-time alerts, and many others. And the resolution of the video is 1536p Head-to-Toe HD+ which is the highest so far compared to the others on this list.
Blink Pros and Cons
Here's a quick summary of Blink camera's pros and cons that we believe are worth considering.
Blink camera pros:
Budget-friendly

Comes with motion alerts

Comes with local storage options

Wireless models have long battery life

Cloud storage subscription is cheaper, starting at $3 per month
Blink camera cons:
Not compatible with Ring plans

Limited camera selection

Limited motion detection features
Ring Pros and Cons
Now, let's take a look at some of Ring's good sides and bad sides, as summarized below.
Ring camera pros:
Offers 20 different camera and video doorbell options

Most models comes with rechargeable batteries

Lots of free accessories

Cloud storage subscription is budget-friendly, starting at $3.99 per month
Ring camera cons:
Cameras are more expensive than Blink

Battery life is shorter compared to Blink

Smart home compatibility issues

Video storage requires a subscription
Our Key Takeaways
When it comes to DIY home security cameras and video doorbells, there is no doubt that Blink and Ring are the closest contenders. However, each brand comes with a set of pros and cons. For example, Blink is an affordable option if you are looking to expand your smart home ecosystem. Ring, on the other hand, might be more pricey but it is also feature-heavy. Overall, the end decision depends on your personal preferences and budget. Hopefully, this guide will help you make the right decision!
Hi, I'm Christy, and I'm an electronics engineer by profession. I have taught in a university for 2 years while pursuing my master's degree in cognitive radio and worked for a company to develop wireless medical devices. Currently, I'm doing research for a doctorate degree in engineering using a wireless sensor network for smart agriculture. I've been active in our local IoT community, IoT Cebu, where I participate in conducting talks about Arduino, Raspberry Pi, and DIY home automation using Wi-Fi and ZigBee devices.
Last update on 2023-09-10 / Affiliate links / Images from Amazon Product Advertising API