Say you want to increase your situational awareness at home and know when you have visitors (desired and unwanted). You could easily jump online and find a driveway motion detector to let you know when cars or people approach your house.
Unfortunately:
False alarms may cause you to lose faith in the alerts and turn the thing off after a month of repositioning the unit and trying to make it work reliably
I'll go over the technology used, make it easy to understand, and highlight ways the purchase you're considering may disappoint you.
How Does a Driveway Motion Sensor Work?
First, let's lay a foundation for you to understand how an outdoor motion sensor works before we move on.
There are three major categories of solutions in this space:
Thermal sensors
Magnetic sensors
Microwave or ultrasonic sensors
There are also beam sensors like you most often see in garages where transmitter and receiver modules form a "fence" across an opening.  But given the power demands and potential for false alerts, that implementation is usually not practical for outdoor applications.
The best sensors often pair two technologies in one unit, requiring a confirmation of an alert by the second, independent sensor. But naturally, that comes with cost and battery life compromises.
A Primer on Thermal Sensors
Thermal sensors (often called passive infrared or PIR sensors) are installed above ground and aimed across your driveway or away from your house to detect approaching vehicles or people. They are by far the most common type for wireless and battery powered applications since they only collect and don't transmit any energy.
Infrared sensors use differences in the heat that they sense (infrared, non-visible light to be more precise) to determine when someone or something is approaching.
Advantage:
Thermal driveway sensors aren't dependent on a particular type or composition of an object, but simply detect the presence of heat to alert you to a visitor.
Disadvantage:
Being above ground and dependent on heat, an infrared sensor is subject to sunlight and shadows, animals, windy days with lots of blowing objects, etc.
An Introduction to Magnetic Driveway Sensors
Magnetic sensors are, in many ways, the yin to a PIR sensor's yang. They detect metal (ferrous metal like steel, iron and not aluminum) only, so there are not as many triggers for false alarms from the outset. They are often buried underground and protected from the elements and are easier to conceal.
Advantage:
Magnetic sensors are rock solid detecting cars when installed properly.
Disadvantage:
When's the last time a magnet stuck to your hand?
My point is; a thief walking up your driveway in the middle of the night to steal the stuff out of your car won't set a magnetic sensor off.
Active Sensors (Ultrasonic, Microwave, etc.)
I'm lumping these together since they all take the same approach.  Active sensors send out a pulse of energy and then process the returns to assess which objects are in view.  Then, they save that return and compare it to subsequent returns to determine when there are changes.
If you know how radar or sonar work, it's a really primitive version of those approaches.
Advantage:
Actively transmitting energy can be a good way to overcome a noisy environment that would cause false alarms to a passive sensor.
Disadvantage:
It takes energy to transmit those pulses of energy, so active sensors are generally not a battery-friendly application.
So which is best for you? Read on and learn about how each can fail you in critical situations to help you decide when type of sensor makes the most sense for you.
Driveway motion sensor fails!
1. It might not go off when a car goes by
Type: Thermal
Explanation: What happens on a hot summer day when a warm car is the same temperature as the air around it? What if a cold car in your driveway cranks up and leaves and your sensor doesn't pick up the warm exhaust as it passes by? Many people report problems with their driveway sensors not reliably detecting the primary thing they wanted to know about, cars!
2. You get false alarms on windy days
Type: Thermal
Explanation: Any movement by a warm (relative to its surroundings) object can set a thermal driveway sensor off. Yes, that includes the bush on the other side of the driveway with the sun on it.
3. It alerts you every time a car drives by on the road or when your neighbor gets home
Type: Magnetic
Explanation: You've placed your sensor too close to other triggers.
When you're dealing with thousands of pounds of iron and steel, sensors can be designed to detect moving cars at impressive ranges. The sensitivity of your magnetic sensor will depend on the design of the electronics, ranges to objects, size and material of the objects, and how fast they pass by. And, if you don't read the installation instructions carefully (or get a lousy set of instructions), you may put the sensor too close to other objects that will set it off.
4. Rain and snow storms cause it fits
Type: Thermal
Explanation: Just like a warm object blowing in front of the sensor could set it off, a passing sheet of rain or blowing snow can also cause rapid temperature changes that might set your driveway sensor off.
5. Your driveway motion detector is a GREAT animal detector
Type: Thermal
Explanation: A cat that is 3 feet from the sensor looks just as large to the sensor as a car 20 feet away. You might get alerts for every dog in the neighborhood that stops to take a leak, every deer munching on your flowers, and STILL miss the delivery van.
6. It can't take the cold
Type: Both
Explanation: Batteries dislike cold weather. Alkaline batteries REALLY dislike cold weather. Expect service life to cut in half below about -10 C for standard alkaline and NiMH batteries. They may even freeze and burst (NOT good). Try Lithium batteries for longer life and better performance in temperature extremes.
7. It doesn't tell you when people approach your house on foot
Type: Magnetic
Explanation: Want to know about that sketchy guy claiming to sell security before he gets to your door? Interested in someone snooping around your cars at 2 AM? A magnetic sensor just isn't going to get the job done. So, you either need a thermal sensor as an auxiliary sensor or a dog who's a night owl.
Your choice!
How to Reduce False Alarms and Increase Reliability of Your Driveway Motion Sensor
If you've already made a purchase or know you'll have to live with compromises, you're still not at the end of your rope.  Here are a few things to try for thermal and ultrasonic sensors:
Try to mount your sensor a few feet off of the ground to pick up the hot exhaust from cars
Create a sun shade over the sensor or hang it under an eave to protect it from direct sunlight interfering with its thermal sensor.
Place the sensor high enough to point over the backs of animals you expect to frequent the area and avoid pointing the sensor directly at the ground.
Locate the sensor where it isn't pointing at large, easily movable objects like tree branches and shrubs.
Protect thermal sensors from the weather. The farther away blowing snow and rain are from the sensor, the less likely you will have problems. Obviously, this depends on where you live too.
If you're still having problems, you can try to use tape or paint to limit the field of view of the sensor.
For the magnetic sensors, there are a few options as well:
Test the location of your magnetic sensor BEFORE burying it and the wire going to your wireless transmitter to make sure cars on the road and in the neighbor's driveway don't set it off.
Consider using a magnetic sensor to detect cars and supplementing with a thermal sensor at night when sun and shade won't give it fits. Of course, you need a more sophisticated home automation or security system to implement that unless you want to turn speakers on and off twice every day.
Hopefully, that gets you on your way. If you have any questions, I'm an engineer so too nerdy is not even possible. Ask away!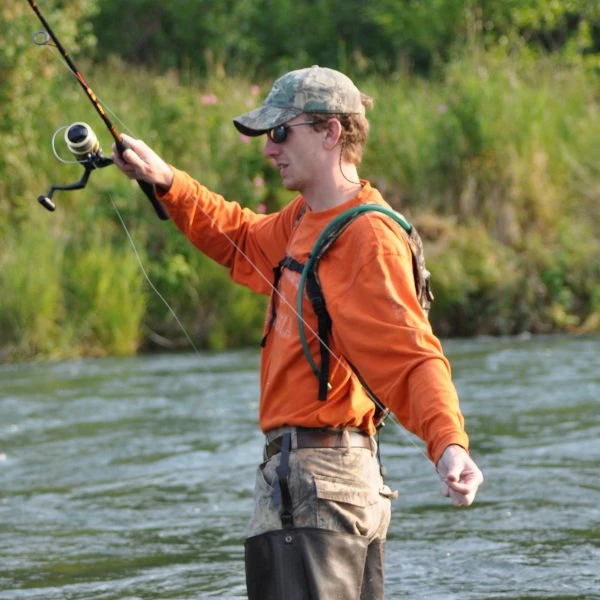 Hi, I'm Jody. I graduated with honors with a Masters of Science in Computer Engineering and have over 15 years of experience working as an engineer with electronics products. I'm a lifelong learner and tinkerer and enjoy automating things around the house so I can solve bigger problems than getting out of bed to check if the garage door is closed . . . like too little sleep!