Looking for more options to automate your lights but aren't interested in a dedicated home automation hub?
As it turns out, WiFi works just fine for home automation for switches connected to a power source like an in-wall switch.
Let's check out the Ankuoo Neo WiFi smart switch and see how it does, at $29 it's priced really well right now.

Head's up: We use affiliate links to support our work and buy new stuff to review. Click through to Amazon, and you'll pay the same as always AND support our work. Thanks!
The Bottom Line
Product
:
Ankuoo Neo WiFi Light Switch
Price
: $29
Rating
:
4
/5
Reviewed by:
Jody
on
---
The Ankuoo Neo Wi-Fi Light Switch On Paper
Ankuoo is a relative newcomer whose smart WiFi plugs and switches are challenging  the Belkin Wemo series of WiFi products for a place in the home automation dabbler's home.  Of course, the advantage is that you can start your smart home experiment with one device and save a few bucks.
Sounds good, right?
Everybody likes saving $100 or so by not buying an extra hub!
The down side is that the variety of devices is just not there.  With protocols like Z-Wave, Zigbee, or Bluetooth LE that are designed for small wireless devices, you'll get door and window sensors, water sensors, motions sensors, and more.  Just take a look at our home automation products comparison page and do a quick scroll to see how many use WiFi.  It's not overwhelming.
But coming in at $40 normally (being sold for $29 at Amazon now), the Ankuoo Neo WiFi Light switch is an easy entry for people looking to add a little security to their home with smart devices.  And, lighting is a good place to start with all sorts of creative home automation ideas that you can do with smart lights. Take a look at our write-up on the best home automation light switches if you are looking for more detail.
The Ankuoo Neo WiFi wall switch joins the plug-in Neo and Neo Pro which both go straight into an outlet and can be used to control lamps and appliances as well.  The Pro lets you monitor power consumption as well as control devices from your smart phone.
Pick up any with the Ankuoo Neo app, you'll be able to
Schedule your lights (or fans, appliances, space heaters, etc.) on or off at specific times
Set which days you want schedules to apply to
Set timers to turn devices on or off in a set amount of time
Enable an anti-theft mode to randomly turn a light on and off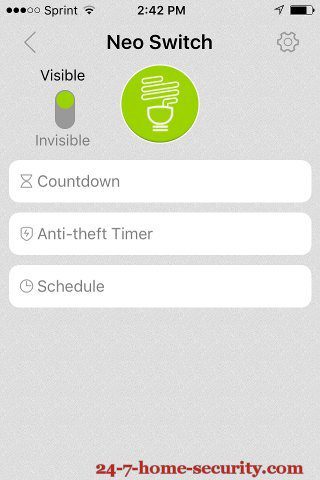 One feature that we did miss was the ability to schedule the lights based on sunrise and sunset, though the implementation with Wink and the GE Bluetooth switch left us using time-based schedules anyway with those. So, maybe it isn't much of a loss after all.
One more thing:
Those in love with IFTTT already will be disappointed to hear there is no support for the great little app to glue your online apps together. For those wondering what an IFTTT is, worry no more and keep reading. ;)
First Impressions of the Neo WiFi Smart Switch
Let's get into the experience itself.
Inside the box, you'll get a straightforward set of directions, your new WiFi switch, and several large (this MAY be important) wire nuts to tie the Neo Light switch in to your existing wiring to replace a single pole switch. Just as with most smart switches, you'll need a neutral wire in the box to get the Neo switch to work.
Don't know what a neutral wire is?
Put the tools down and go read an "Electrical Work for Dummies" book before you set your house on fire!

If you've swapped a bad switch before, the install SHOULD go quickly for you.

Just:
Turn off the breaker (test you've got the right one by turning the light on beforehand)
Unhook the existing switch
Connect line, load, neutral, and ground to the indicated terminals on the switch with the provided wiring nuts
Stuff it all back in the box and snap the included cover on it
Turn the breaker back on
Install and launch the Ankuoo Neo app to discover and add your new WiFi light switch!
Unless you didn't check for a neutral wire in the switch box before you ordered the Neo, step number 4 will the downfall for most with problems.
You see, the switch is not small.
Once you wire up the provided wire nuts and stuff them back inside the box, you already have eaten up some extra space.  And on top of that, the replacement switch will be much larger than a standard toggle switch.  So, you may have to be creative in folding those wires into an orderly group in the back of a single gang box.
Otherwise, it will feel like repacking your wife's luggage for a 2 week trip into a carry on . . .not gonna happen without something breaking, like a blood vessel in your head.
Whatever you do, please be very careful to make sure any stray wires don't get shorted out when you stuff things back in.
But enough of that, for me, it wasn't terrible, so as long as you don't have too much going on in your existing box, you should be fine.
How's the Ankuoo Neo App?
After the physical installation, the setup in the app is a breeze. You'll probably spend more time typing in your WiFi password than you will getting the switch connected.
It's as easy as
Turn the power back on
Launch the app and hit the menu button
Select add device
Follow the tutorial to connect to your network
The last screenshot below is a bit disconcerting when you first see it, but it's really just asking for a confirmation that everything went well.
After adding it, you can rename the switch, chose an icon for it or take a picture to use, and set up any timers and schedules you want.
The app is nothing flashy, but it's simple, stable, and it works. So, it's everything most people want in an app.
I had my usual automation for dawn and dusk set up in a couple of minutes.
How's the Range?
After reading other people that had problems during setup and control of the WeMo switches, you wonder if the Ankuoo Neo is any better. Fortunately, that wasn't a problem in my review. And, I didn't see many complaints in the reviews on Amazon either. So, unless you have a large house with poor wireless coverage already, you shouldn't have to worry about adding a range extender.
Final Recommendation
Want to keep things simple and start with smart lighting without the headaches of setting up a smart hub?
The Ankuoo Neo WiFi Light Switch is a nice option.  As far as function, I preferred the Avi-On GE Bluetooth light switch and app.  But once you consider the price difference, the Ankuoo Neo looks just as good.  One thing it has over the Bluetooth solution is that you can control your lights from anywhere without having to be in the house with your phone.
It will get you up and running, gives you quick control over your lights, the ability to set schedules so you never have to worry about lights after dusk again, and the anti-theft mode makes your home look occupied even when you're away.  We all know by now that's a great deterrent for burglars.
Like I mentioned before, you're limited in the available sensors.  You certainly won't find enough to outfit a complete DIY WiFi  security system at this point.  However, the Ankuoo Neo product line is a quick way to get a dose of home lighting or appliance automation with a low cost of entry and little hassle.
Be sure to compare the Ankuoo Neo to other smart light switches out there to see how it stacks up if you're still on the fence.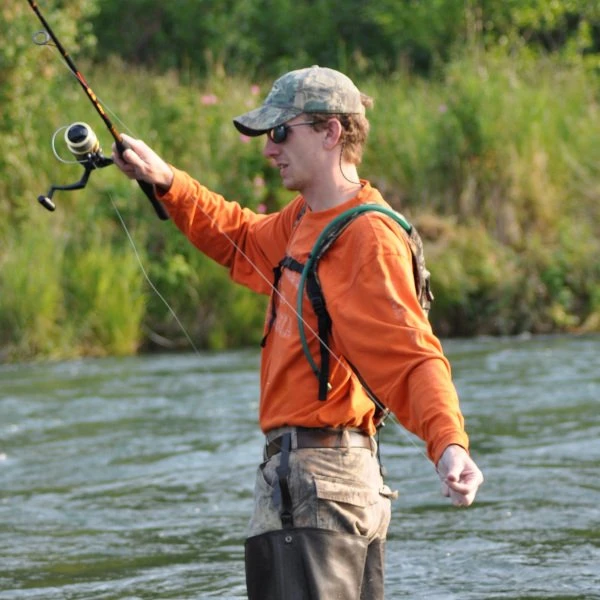 Hi, I'm Jody. I graduated with honors with a Masters of Science in Computer Engineering and have over 15 years of experience working as an engineer with electronics products. I'm a lifelong learner and tinkerer and enjoy automating things around the house so I can solve bigger problems than getting out of bed to check if the garage door is closed . . . like too little sleep!