Security up and electricity costs down!  That about sums up this fix.
When analyzing the most effective burglary deterrents, we recently referenced a research paper based on a survey of convicted burglars in which 24% said outdoor lighting was part of their risk assessment before deciding to break into a house.
[counter num_start="0″ num_end="24″ num_suffix="%" num_speed="1500″ num_color="#272727″ text_above="" text_below="of burglars considered the presence of outdoor lights when choosing targets"]
For me, I'm going to stack any weight onto the "don't break in" side of that decision that I can, especially if it's cost effective!
[blockquote type="left"]Many people don't leave their outdoor lights on, defeating their benefits as a burglar deterrent.[/blockquote]
Listen, I'm sensitive to light pollution (who doesn't like seeing stars at night) and wasting electricity too.  But, you don't have to compromise your safety by leaving the lights off all the time. 
Instead, you can:
If you already have lights, this guide to retrofit a motion light is just for you. In this post, we'll share how to add a motion sensor to outdoor light. You can even install LED soffit lights with a motion detection sensor.
If you have the extra time, you can check out our post on how to install an automatic porch light. Just be aware of the common mistakes when installing soffit lighting so that you can avoid making your house and landscape look weird at night!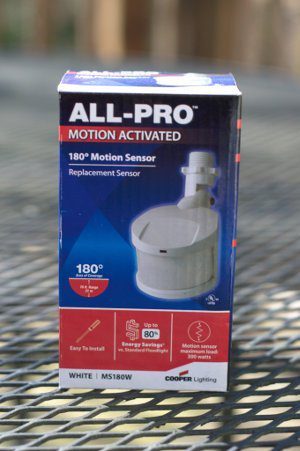 [container]
Update:
 Since I wrote this, there's now a super-easy alternative that
requires no wiring 
from a company called Sengled that combines an LED bulb with a built-in motion sensor!  Check it out
the easier alternative on Amazon
. They've also done lightbulb/speaker and lightbulb/camera mashups, so you know they're not just a one-hit wonder.
Sengled LED Bulb with Motion Sensor, PAR38 Smart Security...
Built in motion sensor: Using the integrated sensor, the light will automatically illuminate with motion...
Easy to install, easy to use: Transform ordinary fixtures into motion activated lights without the extra...
90 seconds of light: The light remains illuminated for 90 seconds after motion is detected
Why Bother to Add Motion Sensor to Light?
Why not just use standard flood lights?  We already mentioned the environment and costs, but there is a security impact too.  When lights are constantly on, you and your neighbors get used to them, like somebody living in LA thinks brown air is normal.  They see it every day.  If, on the other hand, a light comes on suddenly and there's a creep in a hoody there, that is much more likely to get your attention. While outdoor landscape lighting looks good, it's a poor way to alert neighbors and your household to danger.
And, I would think it makes burglars uncomfortable too.  Imagine sneaking around a house when a light snaps on.  Immediately, you're worried about if you've been spotted by someone inside until you find the source of the light (if it has an obvious outdoor light motion sensor adapter on it).  Any time you make a would-be criminal think about getting caught before committing the crime, there's an opportunity to avoid it altogether.
Another benefit is that when you add motion sensor to light, you can save on your electricity costs.  Instead of burning 8 hours a day, a motion sensor that is only active in low light conditions may only have your lights on for 30 minutes.  With an incandescent flood light, that could lower your yearly electricity cost from $35 to a little over $2 assuming a $0.12/kWh cost.
[/column]
The pay off period (the kit we picked is $18) is about a year at that rate if you already have flood lights.  After a year, the continued savings are just gravy on the top.

Surprised by the cost savings?  Let your friends know.
Here's what you need to install your motion sensor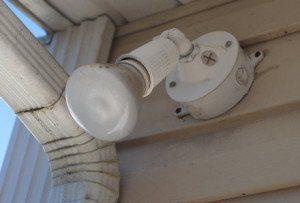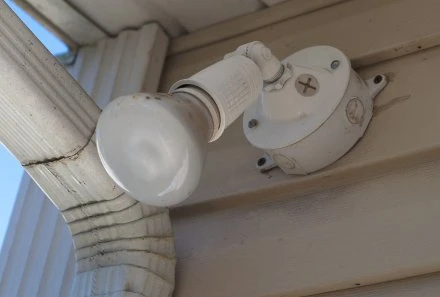 The required equipment list will depend on your light, but it will be something like:
HALO MS180W 180 Replacement Motion Security Sensor...
180 degree detection zone up to 70 ft.
Integral photo cell prevents lights from turning ON with motion during daylight hours (auto modes)
Motion sensor turns lights ON automatically when motion is detected and OFF after a preselected time...
Tough one, right?  Your kit should come with wiring nuts to connect everything together.
How to Add a Motion Sensor to an Existing Outdoor Light
Pick up an outdoor motion detection kit online (make sure your existing light or box has a knockout to screw it into, otherwise pick up one of the screw in units linked above and the installation is super easy).

Turn off power to your light and take the cover off. (test that the power is off too!)
Remove the insert where you want to install the motion detector.
Run the wires into the fixture and screw the motion detector into your light fixture.

Connect the hot wire from the house to the motion detector black, the red wire to the hot wire (black in the US) of the light, and tie the neutral wires together.
Adjust the sensitivity as needed, button it all up, and call it done.
Hopefully, you're sold.  So, go ahead and jump into fixing your lights.

That wasn't so bad, right?  Now, all you have to do is wait for it to get dark so that you can test out the sensitivity of your new motion light!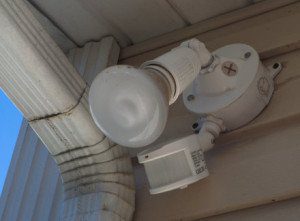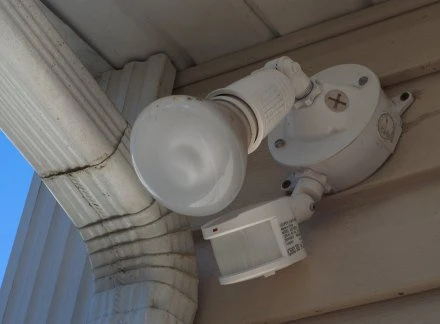 The only other thing you may want to do is check out the possible settings for the motion detector that might fit your situation better.  For the unit that I picked up, you could set it to stay on for 6 hours after dusk or always turn on with motion (day or night) in addition to the standard low light only operation.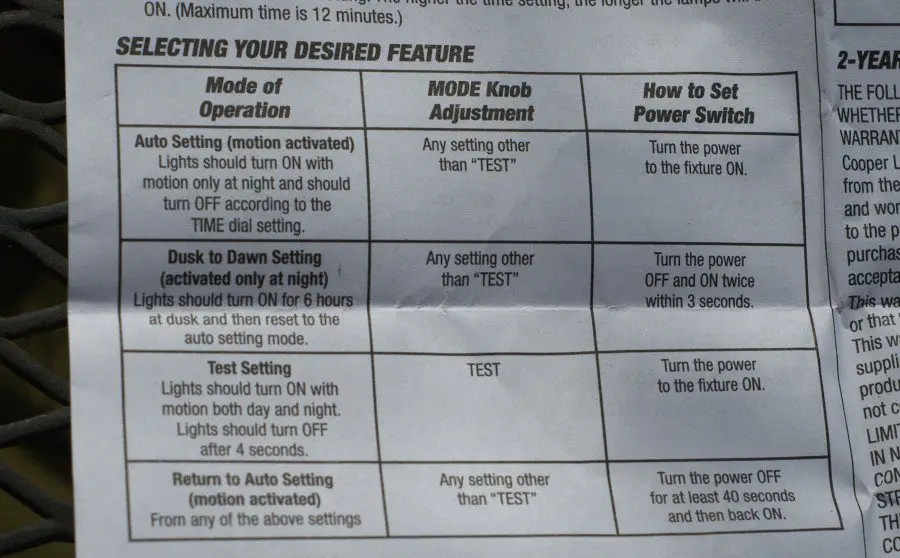 Fortunately, most of you won't have to worry with that step since the default operation is to only turn on when it's dark and motion is sensed.
Find this helpful?  Say thanks by sharing it with your circle.
If you need any help at all, just drop a line in the comments, and I'll do my best to help you out. I'm not an electrician though, so please consult one if in doubt.
You can also learn more about smart lighting and home automation examples and see whether they fit your needs.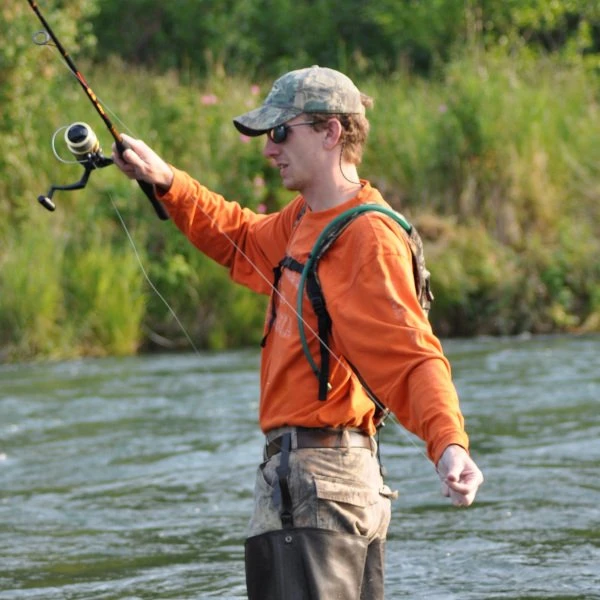 Hi, I'm Jody. I graduated with honors with a Masters of Science in Computer Engineering and have over 15 years of experience working as an engineer with electronics products. I'm a lifelong learner and tinkerer and enjoy automating things around the house so I can solve bigger problems than getting out of bed to check if the garage door is closed . . . like too little sleep!
Last update on 2023-11-17 / Affiliate links / Images from Amazon Product Advertising API