When new products hit the market, it can be an exciting time to discover how they can be beneficial for your home, especially products that promise to make life better for you, cut down on energy costs, and even work with products that you might already have in your home.
That's where Stack comes in.
Responsive aka Smart Lighting with Stack

Stack Lighting prides itself on being the company that brings you the very first responsive lights.  While a variety of home security systems and light switches can already integrate with apps on your smartphone and tablet, Stack takes things to a new level.
There goal is not only to save your money on energy, but will save your time and frustration by controlling your lighting so you don't have to. That's why they call it smart lighting after all.
That's right, no more hassle trying to find a light switch in the middle of the night!
The Benefits of Stack Lighting
With Stack Lighting in your home, there are many benefits that you will come to love even more as you use it.  These benefits include:
No more fumbling for light switches in the dark – Stack will automatically detect your presence and light up the area with the perfect amount of lighting.
Stack works with your existing products, such as Amazon Alexa, Nest products, and IFTTT.
You can use apps and third party equipment (such as Nest and Amazon Alexa) to set reminders, dim the lights, and even control the lighting levels by the amount of light already in the room.
Motion sensors, light sensors, and voice commands can set the perfect mood lighting throughout the day, always giving you the perfect amount of light in the room for the time of day.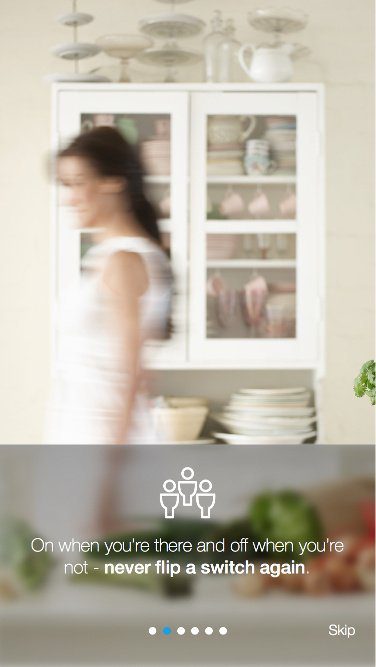 How Does Stack Lighting Work?
While the concept of using a Stack Lighting system might sound a little daunting (especially for those who don't have too much electrical experience under their belts), the design makes setup incredibly simple – anyone can use Stack Lighting!
When installing Stack lights into your home, the first step is to purchase a hub, which is essentially the central control of the lights in your home.  The hub works by sending signals to the lights in your home, so that they know when to turn on and off, and what lighting to dim to.  You will only need one hub for your entire home, as it can power plenty of lights!
The lighting works simply by replacing the current light bulbs in your home with Stack light bulbs – these will receive signals from the hub, and you can do a variety of things with them once they are properly installed.
The company is trying to make sure that user input is minimized, so that the lights are automatic.  But as you can imagine, you can also manually change how your lights look, the lighting temperature for the time of day, and how much lighting is coming through (how dim you want them to be).  You can also use the app to schedule wake-up times, set reminders (such as flashing lights to remind you of a meeting), and selecting color and brightness.
Another great idea that Stack implemented in their lighting is the ability for the hub to learn your preferences through your input over time, which allows the lighting in your home to adjust to your needs over time without you having to tell it what to do.
Another tease for the future is that Stack is trying to get their tech into lights from other manufacturers as well. So, you may pick up lights from several brands and formats compatible with your Stack system.
How Much Does Stack Cost?
While Stack isn't currently sold in stores, it can be purchased online through the company's website or through Amazon.  Stack comes with starter kits:
Stack Classic Starter Kit (available for pre-order only, for $89)
Stack Downlight Starter Kit ($99).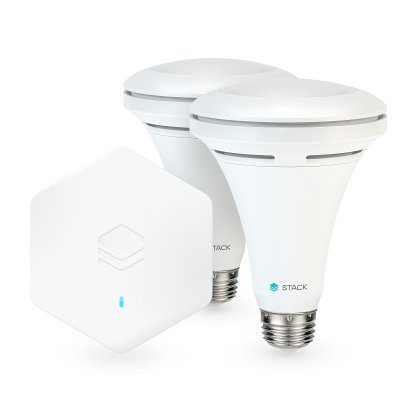 Both of these kits include the hub and two bulbs that you will need to get everything set up.
You can also purchase individual bulbs, such as  the Stack Classic bulb, which is currently available for preorder and will cost $28. The Stack Downlight bulb costs $45.
By purchasing a starter kit and then individual bulbs, you can create a customized system.
In Conclusion…
The Stack Lighting system can get expensive, especially as you add more lights to different rooms in your house.  The claimed savings on electricity makes it a bit more more approachable.  Also, the ability to integrate Stack with devices you already have in your home is another positive feature with IFTTT and Amazon Echo integrations.
Having the ability to have perfect mood lighting, motion lights, and not having to worry about finding light switches when you either have your hands full or are half asleep in the middle of the night is definitely a plus.
Interested? Check Stack Lighting out more on their website, at http://stacklighting.com/.