No matter where you live, chances are that when the sun goes down (anyone else singing a Kenny Chesney song? No?) and you look out the back window of your house, you see nothing put pitch black. What if someone was lurking in that darkness? Would you know without plodding over to the light switch and flipping it on?
Sure, you can take preventative measures to secure your house on the inside, but if you can, you're better off deterring a burglar from choosing your home in the first place.
Motion detector lights can easily deter someone from using the cover of nightfall to break into your house. We'll compare the cost of purchase to potential savings and also highlight the benefits for deterring crime.
Why Bother with Motion Detection Lights?
Why not just use standard flood lights, you might ask? When lights are on all the time, you and your neighbors get used to them being on, like an Eskimo thinks a +20 degree day is down right warm. He's used to the cold. If, on the other hand, a light comes on suddenly and illuminates a person, that is much more likely to get your attention. If a neighbor sees your light come on, it can easily catch their eye and make them take a second look.
And oh, by the way, it makes burglars pretty uncomfortable too. Put yourself in the shoes of a burglar sneaking around a house when a light snaps on. Your first thought is to hide. Then, you're worried about if you've been spotted by someone inside until you find the source of the light (if it has an obvious motion sensor on it). If you were counting on an easy target and weren't expecting something, you would jump out of your skin too.
Reminder: Raising the heart rate of criminals casing your house and making them think about safer places is a good thing.
Another thing to consider is that the lights will only be on when they're needed, so you save on your electricity costs. So, instead of staying on for 8 hours a day, a motion detector would only have your lights on for half an hour. That could take a yearly incandescent flood light electricity cost from $35 to a little over $2 per year assuming a $0.12/kWh cost.
[/column]
The pay off period (most fixtures are around $30) is about a year at that rate if you already have flood lights.
Surprised by the cost savings? Let your friends know.
To summarize, the benefits are:
Increased effectiveness since they draw attention when they come on
Reduced electricity costs since they're usually off
Are motion activated lights worth the cost?
In previous work detailing the
most effective burglary deterrents
, we referenced a research paper based on a survey of convicted burglars in which 24% said outdoor lighting was part of their risk assessment.
of burglars considered the presence of outdoor lights when choosing homes vulnerable to burglary
We can only anticipate that motion detectors make those lights even more effective since the survey didn't include that level of detail. So, you get a decent benefit from motion detector lights. And best of all, you can pick up decent lights for $30 or so. So, there is a good payoff with a reasonable investment.
Cost Savings of LED Lights
According to the
energy.gov web site
, LED bulbs:
Last 25 times longer than an incandescent
Use 25% of the energy of an incandescent bulb
Remember the example above of the motion detector decreasing your yearly energy cost $33 to $2.
Now, it's only $0.50.
If you're interested, GE has a
neat calculator
that tells you how much extra TV you can watch with the savings. And, the bulbs will last much longer, so no getting the ladder out and climbing up to hard-to-reach
under eave lighting
to change bulbs every few years. Now that's an investment that pays off in the long run.
What motion activated lights should you consider?
If you are concerned about the slightest movement activating the light and annoying you all night long, most motion detector lights can be adjusted to be as sensitive as you would like. This is especially important if you have a dog that could set it off when you let him out to do his business or live in an area with lots of nocturnal wildlife.
Here are a couple of lights that you can peruse on Amazon. We get a small percentage of the sale if you buy from them, but it doesn't impact the price you pay at all.
This is a basic floodlight. It's not a bad deal, and it's a cheap way to deter criminals. It will save you enough money in a year to pay for itself if you use incandescent bulbs. You could always buy LED bulbs to this light to make it even more efficient.
Or you can get this LED light to save on energy costs. It covers a 180 degree sector with its motion detector.
Or, you can likely retrofit the lights that you already have by adding motion lights to save a few bucks.
As you can see, motion detector lights can be a great security addition to your home, and they won't break the bank. If you already have flood lights on at night, adding motion sensors or new fixtures will pay for themselves in no time.
Keep reading if you are interested in other uses for motion detectors.
Inspiration: Other Clever Ways to Use Outdoor Motion Sensor Switches
You already have an idea don't you?
I'm sure it's great.
But:
You don't think you're the only one with good ideas do you?
Today, we're also looking at ways to add some convenience and security to your home without all of the trouble of a full-up, home automation setup.  I like smart home automation ideas myself, but the non-smart equivalents are handy too. If you're a home automation nerd, give these a chance or take a look at our comparison of z-wave motion sensors.  If you don't already have a smart home setup, then this section will be right up your alley.
Let's get on with it.
You could use an outdoor motion detector to:
Tie in to your doorbell to let you know when anyone walks up to your front door (even when they're just peaking in your windows)
Tell you when your dog's done doing his business
Turn on the lights when someone walks up at night
Spray water on the wildlife when they try to sneak food from your garden
I'm sure I missed some brilliant ones. Be sure to drop a line in the comments below with your awesome idea to deflate my ego. My wife will thank you.
Picking the Right Motion Sensor Switch
You're probably pretty familiar with the normal motion detectors hanging off of flood lights that you can buy.  I even wrote up how to add a motion detector to an existing light in detail if you're going that route.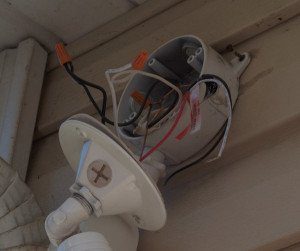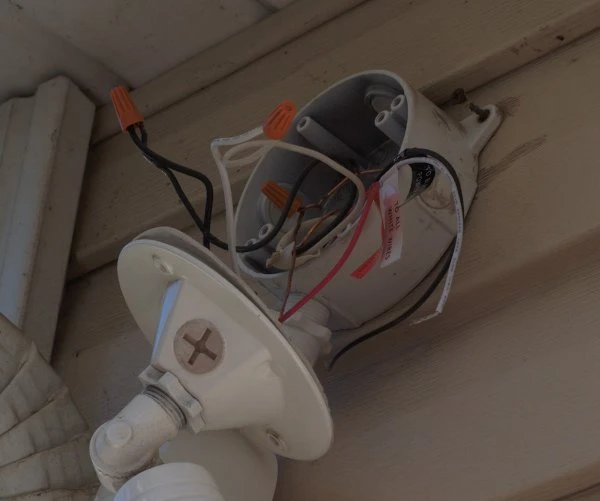 But, there are certainly more options than jazzing up your flood lights to save some electricity and get a burglar's attention.
Switch Power Type and Rating
The AC switches are the most obvious, and by far, the most common. Depending on where you live, you can pick up a 120 V AC motion sensor switch at just about any hardware store. Most will screw into a 1/2″ knockout here in the states to be compatible with most lights and electrical boxes.
But, you can also find nice outdoor motion sensor switches for smaller loads like solar powered lighting, irrigation control, or your doorbell. Most will say they're rated for a maximum voltage (such as 12 VDC) and current. You can find ones with 3 wires (input power, switched power, and common) or 4 wires (2 input power lines and 2 output lines) depending on your need.
Just make sure you know whether the 4 terminal types are controlling a relay with no power or are switching the input power to the output.
Otherwise, you may fry whatever you're trying to control (like your doorbell, since it's expecting a closed circuit and not a powered line).
Some Solid Options
Take a look at the options below and see which fits your use. The links will take you over to Amazon (we're an affiliate) to read the reviews and get detailed product info).
Just know that many of these switches are designed to survive in direct rain.  And even though they would be fine outdoors, the manufacturer doesn't want to deal with warranty claims from Alaska. But with proper installation like a cover and heat shrink, they'll do just fine in most environments. Since I wanted to show you what was out there, I tried to note that in the table.  For those that aren't explicitly designed for the outdoors, just make sure that they have adequate shelter from moisture to function reliably and take care with how you protect the wiring.
What Else Do You Need to Know about motion sensors?
When you're shopping around in the table, be sure to keep a few things in mind:
Consider the configuration of the lens – A half circle dome will have very broad coverage while some have narrow strips that make it easier to avoid false alarms from clouds or animals.  You can always paint part of the surface with dark paint to limit the field of view as well.
Sensitivity adjustments – Again, having an adjustment here will help you avoid false alarms yet make sure you trigger on the things you want.
Mounting and pointing challenges – Will it be easy to mount and adjust to cover the areas you want without having problems detecting blowing trees or racoons?
Motion sensor switch duration – How long will the switch stay active?  Is it adjustable?
Light detection – Can you set it to only come on at night?  Is the photo cell sensitivity adjustable?
Only so much fits in the table, so I've left these up to you.  But, now you know what to look for!
Do me a Solid and Share this With Your Friends!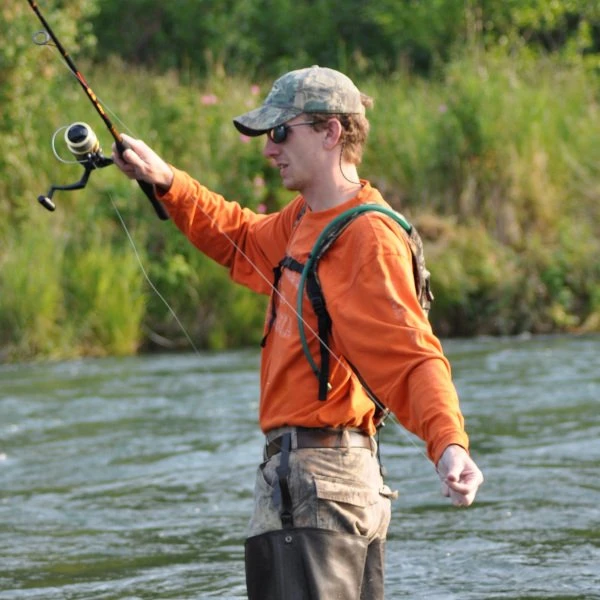 Hi, I'm Jody. I graduated with honors with a Masters of Science in Computer Engineering and have over 15 years of experience working as an engineer with electronics products. I'm a lifelong learner and tinkerer and enjoy automating things around the house so I can solve bigger problems than getting out of bed to check if the garage door is closed . . . like too little sleep!