Have spotty internet?
Don't want an enterprising thief to cut your internet service before breaking into the house?
We'll run through the systems that use a backup communication using cellular service to keep your security system online and active keeping your home safe.
Laying the Groundwork: Backup Comms
When choosing a home alarm system, you might wonder what types of communications options you should be looking into. The most basic today are WiFi communications systems, as well as some that operate over traditional telephone landlines. Having one or more of these options can be great and help you feel like you are quite protected by your security system, but there is another option that might be helpful: cellular communications.
During storms and other inclement weather, you might experience power outages regularly, which can cause your WiFi to either fail or reset. This can cause an interference and vulnerability to those who rely on WiFi communications with their home security system.
Does your fiber or copper line for your internet come into a panel outside of your house? For those who use landlines, it is easy for an intruder to cut your line from outside your home, rendering communication with the security company or the app on your phones nonexistent.
However, if you choose an alarm system with cellular backup communications, you are putting into place a higher level of protection and communication with your alarm company. Since cellular signals are wireless, you don't have to worry about having a landline in your home. This makes them ideal for those without a landline. Since they function much the same way a cellular phone functions, sending signals either directly to the alarm company or to a third party that will send it to the alarm company when the alarm is triggered, it is a great choice for that extra level of security in your protection. Having this type of backup in case your landline is cut or in case your WiFi is down is a great way to give your family the extra protection they deserve.
Here is a list of 13 security systems that have a cellular communications option, either as the main form of communication with the alarm company or as an additional backup method.
And if you're interested in comparing systems, check out our epic table.
Abode is a security system that offers do-it-yourself installation and plenty of easy-to-use features that will make keeping your home safe a breeze. It also sprinkles some home automation into the mix.
By the way, if you're into home automation, compare systems or check out my other articles here. I'm a fan too!
If you're not sure if you're a fan, check out this list of 24 awesome home automation ideas and see if there is anything that would make your life easier.
With motion cameras, remote key fobs, the Abode app for phones and tablets, door and window sensors, and streaming cameras that you can watch what is going on in your home from anywhere, it's a great choice, especially with the sleek design that will compliment your home.
Abode offers professional monitoring with no contracts or required monthly fees, making it a nice choice for those on a budget. Basic monitoring is free, and adding cellular backup to your security system costs only $10 per month, or $30 per month to include professional monitoring.
#2 – ADT
ADT is a widely used security company, and has been around for a while, providing safety in homes for many families for years. ADT offers the ability to control many things about your home via your cellular phone and the ADT app, including door locks, garage door controls, and multiple cameras. Also offered by ADT are smoke, fire, and carbon monoxide monitoring to help keep your home extra safe. The security system is a professionally monitored system, so there are plenty of ways to that your home can stay well protected.
The downside to this security system is the fact that there is a contract required when signing up – usually three years, and the monthly fee is similar to other professionally monitored systems offering cellular backup.  The downside – those monthly costs really add up. Use our home security system cost calculator to see just how much.
Sharing really helps us out, thanks!
#3 – AlarmForce
While AlarmForce is a professionally monitored security company that was founded in 1988, it primarily focuses protecting residents in Canada, but is growing the amount of cities in the United States that are covered. The company provides professional installation and monitoring, and does not send alarm signals to third party companies, which means that you get service only from the company that you signed up with.
The alarm systems are wireless, and offer secure gadgets, such as two way voice doorbell monitoring, cellular apps that allow you to control various aspects of your home, and added temperature, smoke, fire, and carbon monoxide monitoring, as well. The downside of the company is the three-year minimum contract and $25 monthly cost.
#4 – Alarm Grid
Alarm Grid is a do it yourself home security company that has no contract or activation fees, which makes it stand out among the other alarm companies on this list. Some of the pieces of your alarm system can be pretty pricey, but also come with some interesting features, such as a touch screen talking hub, remote key fobs, and glass break detectors. The cellular monitoring plans begin at only $35 per month, and while there are cheaper plans, these do not include cellular backup.
#5 – Frontpoint
(https://www.frontpointsecurity.com/)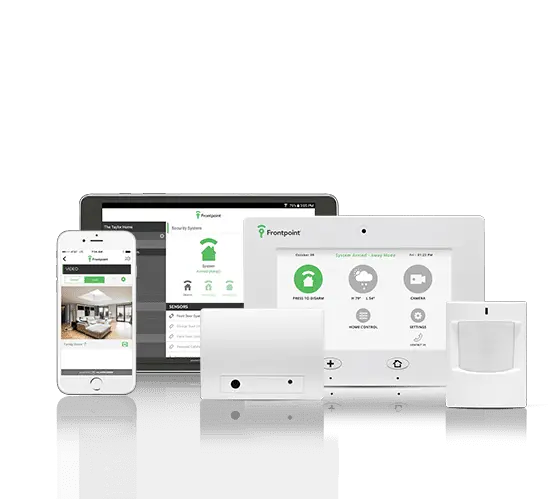 Frontpoint is an innovative home security system that offers plenty of different options, including professional monitoring, doorbell cameras, and even cellular monitoring.   With lighting controls, live video streaming, and offers fire protection, intrusion protection, and even carbon monoxide protection. The main drawback of choosing Frontpoint is that in order to get the cellular connectivity backup, you will have to choose one the pay as you go monthly plans.
#6 – Iris
(https://www.irisbylowes.com/)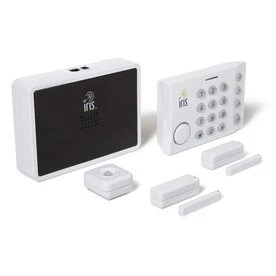 Iris is a home security system designed by Lowe's to turn your home into a smart home. The system offers home alarms security system, as well as fire protection and the ability to use your smart phone to control certain things about your home – such as lighting, temperature, and so on. The system was created by a trusted retailer and designed to make life easier for you. The plans for the system are affordable – the basic plan is free, and the premium plan is only about $10 a month. However, if you are in the market for professional monitoring, you will end up paying at least double that per month.
#7 – LifeShield
The LifeShield security system is a basic home security system that offers professional monitoring, cellular backup, and a variety of tools and products to help you put together your very own custom tailored system just for your home. With all of the options available to you, there are plenty of different ways to protect your family, including temperature sensors, glass break sensors, and even freeze sensors – in addition to your usual door and window sensors and security cameras. The main drawback to this system is the three-year contract that you must sign up for.
#8 – LiveWatch
LiveWatch prides itself of making a home security system easy and affordable for everyone. The amount of time from when your alarm is tripped until the security company gets in contact with you is reportedly lower than other companies, which makes it a well-respected company. There is, however, a one-year contract period that you must sign up for, and monthly prices range from $35 per month up to $50 per month, depending on the package you select.
There is an app to control certain aspects of the system, as well as SMS text message alerts, which are rather handy for communicating with other members of a family.
#9 – Oplink Connected
(https://www.oplinkconnected.com/)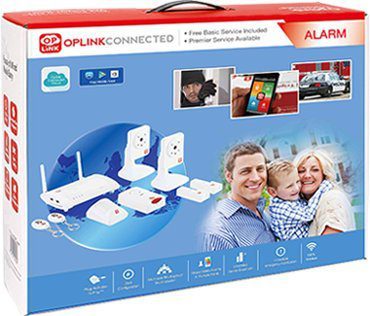 Oplink Connected is an older security company that has been around for a while, and the benefit with that is the fact that a lot of the kinks have been worked out already, so you shouldn't run into too many problems. Oplink is a do it yourself type of security system, too, with no monthly contracts, which makes it a great choice for those looking to get a great system without any contracts. There are monthly fees, which increase depending on the services you are looking for, so you need to keep that in mind. Coupled with the cost of the equipment, it may become pricey.
#10 – Protect America
(http://www.protectamerica.com/)
Protect America is another alarm company that falls into the contract variety you choose. There are several packages, ranging from $20 to $43 per month, and each package offers significantly more home security equipment than the last, which can come in handy if you have a larger home and more areas to protect. Another bonus for this alarm company is the fact that they give you a good deal of costly home security equipment for free when you sign up for a new contract, eliminating having to purchase your own equipment in addition to the monthly fees.
#11 – Scout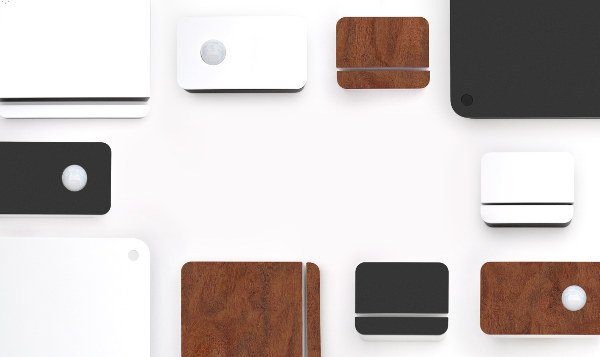 While the initial equipment kit cost (see on Amazon) tends to be a little on the pricey side (more so if you find yourself with a larger house and a need to purchase more equipment), the lack of contracts for the Scout Home Security System makes it quite worth the purchase. Scout also offers different security options that look wonderful with just about any home décor, so whether your home is sleek and modernized or rustic and cozy, it will fit in well. For those looking for professional monitoring plans, they start at only $10 per month – a perfect fit for any budget.
Be sure to check out our review of Scout.  It's pretty solid.
#12 – SimpliSafe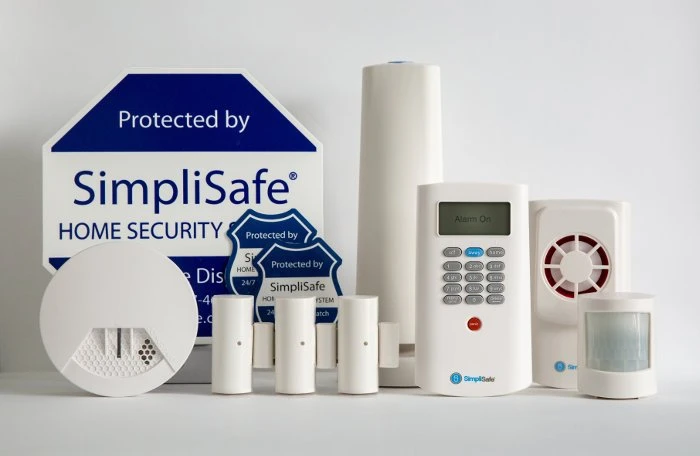 The alarm and security system company SimpliSafe has been around for quite a few years, and has a respectable reputation. The security system has been featured in many publications over the years because of its success, and it has plenty of options to help get your custom security system up and running.
See our review of Simplisafe's alarm for the details.
Once your purchase the equipment (such as door and window sensors), you own them, and only pay a small monthly fee for professional monitoring. There are no monthly contracts that you need to worry about. If you need a larger package than the basic economy package, there are several other options, and the pieces can be purchased separately, as well.
#13 – Vivint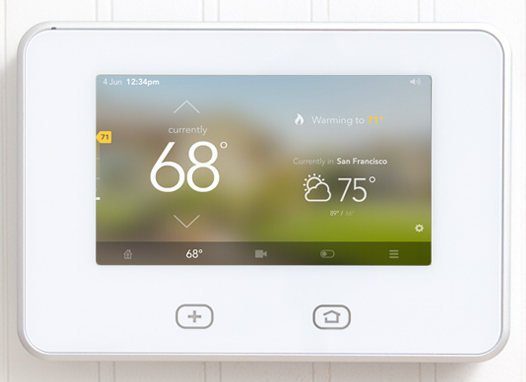 Although Vivint has a longer contract than many other home security companies (three and a half years), the large amount of tools and features available with this system will make you consider going for it. The packages start at $40 per month for professional monitoring and installation, so all you have to do is go on with your day-to-day life and let the professionals handle it from there. Vivint offers many different cameras, smart phone and tablet apps, and even cloud storage for files and photographs. The traditional feel of the monitoring with the Vivint system will appeal to many customers.