This Scout alarm review is a guest review from Redditor OllieMcJeeves, who picked up a Scout system for his home.
The Bottom Line
---
Be sure to check out our other home security system articles too:
---
The Scout alarm system is an affordable new alarm system that also
supports professional monitoring options, cellular communication, and battery backups
. And instead of keypads with codes, you can arm and disarm your system by using your fob and the panels mounted on your door. The IFTTT integration is a nice touch too.
There were really just a few nits with the system, one is the lack of a siren that really grabs the neighbor's attention and sends thieves on the run. That's a weakness we saw with the iSmartAlarm system as well, but there are workarounds. The others are that 1) there is no way to monitor the open/close status when the system is not armed and 2) there's no alert that a window is already open if you try to arm the alarm with a window ajar. Hopefully, those could be resolved with future software updates.
Looking for something in particular? Here's what we'll cover:
The Scout Alarm System Review from a Browser
Here's what Scout can do for you:
At a high level, the Scout alarm system seems to address a lot of problem areas at a pretty competitive cost (as little as $240). What really stands out about Scout is that it can be a completely do it yourself system with no monthly fees, or you can add professional monitoring. I think that's a direction that you'll see more and more of the DIY alarm system manufacturers go in the future. It adds a premium offering for the customers that need it and adds more choice for the consumer to choose the level of protection they need.
And, the Scout alarm also adds some home automation capability with Zigbee protocol support, potentially eliminating the need for an extra hub to control simple things like your lights. Here are some of the key features:
Completely DIY with no monthly fee or add professional monitoring
Smart phone integration with email and push notifications are included with no charge
Battery backup to work through power outages
Optional cellular communication as a backup or primary method (for an additional $10-15 per month)
Home automation support via the Zigbee protocol
Sensors include entry, motion, remotes, and RFID panels for arming and disarming
Optional HD camera that integrates with the system
If you like the look of Scout and are trying to decide if you want professional monitoring, check out the
typical alarm reporting process
to understand what you're buying and what could go wrong.
What does the Scout alarm system cost?
You can pick up basic pieces of the Scout alarm system for around $240 and can add any extras a la carte (with no discount for packages). That way, you're not stuck buying sensors that you don't really need in a big bundle. The system we're reviewing consists of:
The main hub

9 window sensors

1 door sensor

2 key fobs
First Impressions
Everything came in one box, with the installation manual included and everything you'd need in one spot. Plus, the box had a handle so you could carry it around while you're hooking up the sensors. The first order of business is to find a location for the main hub. With the Scout hub, it has to be plugged in directly via an Ethernet cable, so you're limited to somewhere close to your router or modem unless your whole house is wired with networking cable. For me, that meant a lot of cable maneuvering behind my desk in my office.
Setting up the alarm was extremely simple. You can do it from your phone or from a computer. I opted for my computer, but should have used my phone because every time I wanted to hook up a new window sensor I had to go all the way to my office to click the mouse a few times and then go back to the window to set it up. With the phone, you can do everything from wherever you're standing, and the interface is exactly the same as on a computer.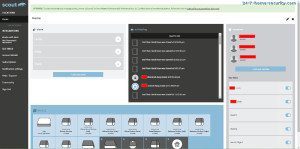 I was able to pair everything without a problem and had 9 window sensors, 1 door sensor, 2 key fobs, and the main hub up and running in about 40 minutes. If I would've used my phone to install rather than the computer, I probably would've shaved off 10 minutes due to all the walking back and forth I would've saved.
I did run into one minor issue:
Two of the batteries that shipped with the access points were dead on arrival, so we had to buy new ones immediately ($5 each for some unconventional batteries from the hardware store). Thankfully, Scout's customer service responded and offered to refund the price of the batteries we purchased to the card I have on file with them if I send a picture of the receipt. And, they are also sending me two replacement batteries for free. So, it was still an inconvenience, but kudos to them for making the situation right.

Setting up the Scout System
Nailed it:
It was pretty simple to add users to the account. You can do so through the Scout website or via the Scout app. The app is very polished and worked great. All you need to do to add another user is put in their e-mail address,first, and last names. Then, Scout will send them an e-mail to create an account, which will automatically be linked to your alarm system. It does not give them admin rights by default (a good thing), but at first I didn't know that so we had some issues when my wife was trying to adjust some settings until we figured it out.
[column type="one-half"]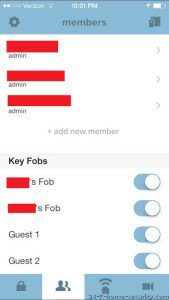 [/column] [column type="one-half"]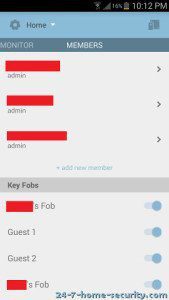 [/column]
Setting up the different alarm types was a little tricky, mostly because there aren't a lot of instructions. You can have multiple types of alarms (Sleeping, Away, Vacation, Home, etc.) and have them all set up do to different things (Push Alert to Phone, E-Mail, Siren, Etc.). It took me about 20 minutes, but I got everything set up the way I wanted. And, I'm sure I'll continue to tweak settings as I learn what we like and what we don't.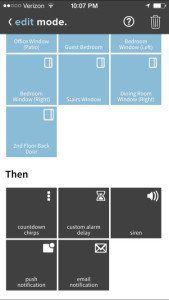 [/column]
One nice thing about having different alarm types is that I was able to exclude my window sensor in the bedroom from the "Sleeping" alarm type, so if I want to crack the window in the summer for fresh air, it won't trigger the alarm. This was really easy to do, and you could add or remove guest room alarm sensors quickly if you wanted to do the same when you have visitors. That flexibility is a great asset to really tailor the system for your needs rather than having to deal with fixed rules about window sensors versus motion sensors like some alarm systems.
The App
The mobile app is the selling point of this product for me. The app is great, very polished, and easy to use. You can arm/disarm from the touch of a button and quickly see the status of all of your windows/doors (open vs. closed). The Android version of the app (I have both iOS and Android devices) allows you to use your phone as an extended siren, which is nice since the hub is pretty quiet.
[column type="one-third"]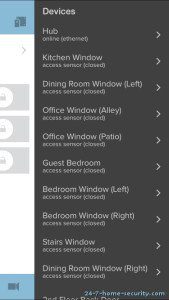 [/column][column type="one-third"]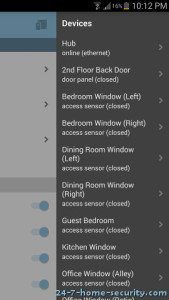 [/column][column type="one-third"]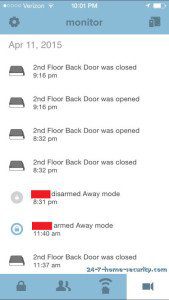 [/column]
Speaking of the alarm being quiet, it is worth noting that your door alarm also doubles as a second siren when any access point triggers the alarm.
One more nice feature is that you can enable/disable access based on key fob or account. So if you have a cleaning lady, for example, you could enable their access 30 minutes before they're supposed to arrive, then disable it 30 minutes after they leave. That way, their key fob would not disarm the alarm outside of those times when she passes it to her cousin to come with the moving van and REALLY clean your house out.
And finally, you can also tailor the types of notifications that you get alerted for. That way, people that don't want to be bothered unless there is an emergency can set the system up for their needs, and people keeping an eye on a father with Alzheimers can get notifications every time a door opens.
[column type="one-half"]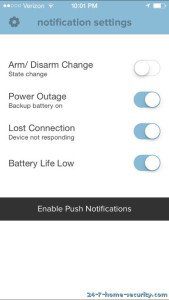 [/column][column type="one-half"]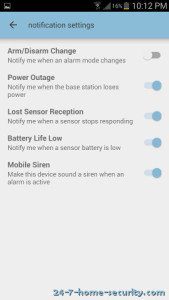 [/column]
You can also easily configure the delays associated with the alarm itself, to give you enough time to get out of the house when you're leaving.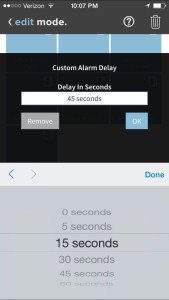 Vulnerability Assessments
When looking at security systems, we try to take a very thorough approach and assess the vulnerabilities of the system as well. After all, we want more than just something that makes us feel better about our security. So moving on to a critical question, "Will the system help you secure your home?". Here are a few thoughts you should consider about the Scout alarm system.
The (potential) DIY Downside
If you choose to use the Scout as a completely DIY system and save on the recurring costs. The system suffers from the same limitations as other DIY alarm systems, namely:
You (and others linked to your system) only get notifications/calls/emails when you have cell phone service

If you're routinely in remote areas or have an unreliable carrier, you may want a monitored system. You'll have to assess the likelihood of missing a notification versus your risk of being burglarized. If a notification comes 10 minutes after somebody kicks your door in, you've likely already lost your valuables. And, you've drastically reduced the chance of the criminal being caught in the act.

This is not a completely independent system, so you are relying on the app and the Scout services to be reliable

This is true for monitored and DIY alarm systems as well. With professionally installed systems, generally your monthly payment also covers any maintenance on the system. Here, you'll be responsible for keeping the system in top condtion.
Many people decide having no contract and no monthly fees are worth the risks. You'll have to decide that for yourself.
Quiet Siren
Problem: The Scout hub has a built in siren and a secondary siren in the door sensor. The problem is that the Scout siren is too quiet. It definitely helps that the door sensor doubles as a second alarm. It's also an added bonus that the Android app allows your phone to sound off as a siren too, but I wish the main hub was louder. Aside from letting the burglar know there is an active alarm, it is not loud enough to really get a lot of outside attention and make being in the house uncomfortable for the burglar.
Workaround: Since Scout has an IFTTT integration, you could potentially connect your alarm status to Ubi or Sonos speakers. You could even buy a Belkin WeMo switch and control an alarm with it via IFTTT. But, I wouldn't trust the latency of the IFTTT service for that type of critical integration (it can be up to 15 minutes). It really isn't designed to be a near real-time service at this point.

Crash and Smash Protection
The Scout alarm handles a crash and smash type of attack well, considering it offers battery and cellular backups (with the right service plan) and sets the alarm off even if the hub is disconnected after the alarm countdown starts. So, you don't have to worry about someone breaking in and disabling the alarm by yanking the cord out of the wall or damaging the hub as it chirps away on its countdown timer.
Monitoring Options
Scout also gets credit for offering consumers a choice of their preferred level of monitoring. You can use anything from DIY to a professional monitoring center with cellular backup communication to maintain awareness even if wires are cut outside of your home.
Packages:
Free
Always On
Cellular Only
Always On+
Cellular Only+
Features

Basic functions w/ email and push notifications

3G cellular and battery backups
SMS alerts

3G cellular 24/7
SMS alerts

Add pro monitoring by a U/L-Certified center

3G cellular 24/7
Add pro monitoring by a U/L-Certified center

Cost
FREE
$10 / month
$15 / month
$20 / month
$25 / month
Final Recommendation
I'm pretty pleased with my new Scout system so far with just a few exceptions. And the company is certainly innovating quickly and compares well to other alarm companies.
As I mentioned before, having two dead batteries initially was a bit of a hiccup. Also, sometimes the open vs. closed status for sensors seems to be delayed/unresponsive, but I haven't quite figured out why. I think you may have to have an alarm armed at all times (even the "Home" one) for this tracking to work.
Also, I wish the main hub was louder. The secondary alarm in the door and on your phone helps, but I would prefer something much louder to really get attention when the alarm goes off (even if I'm the one setting it off). Also, if you arm the alarm with a window or door open, the alarm doesn't alert you and it will not be triggered by whichever sensor is open, which I think is a big opportunity for improvement.
Note: This Scout review used App version 1.2.0 (Android), 1.2.29 (iOS) and hub firmware version 1.3.5
Thinking of picking up a Scout? See what your friends think.
You can get in touch with OllieMcJeeves on reddit to ask any other questions you might have about his experience so far.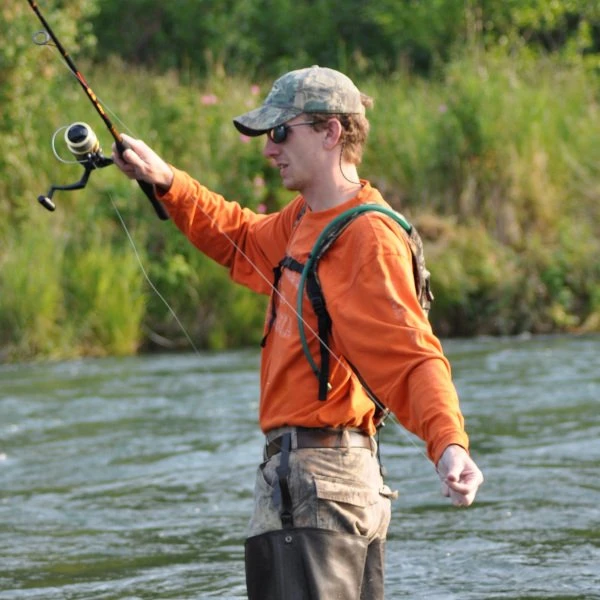 Hi, I'm Jody. I graduated with honors with a Masters of Science in Computer Engineering and have over 15 years of experience working as an engineer with electronics products. I'm a lifelong learner and tinkerer and enjoy automating things around the house so I can solve bigger problems than getting out of bed to check if the garage door is closed . . . like too little sleep!