How many of you would sign up for a 3 year relationship with a blind date?
Not a chance, right!?!
That's exactly what many home security companies try to talk you into.
In this post, we'll share with you our honest Simplisafe review. We'll also show you a solid alternative in Simplisafe and discuss the pros and cons in detail based on hands-on experience.
Our Simplisafe Home Security System Review: The Bottom Line
Product
: Simplisafe Economy Package
Price
: $260
on Amazon
Rating
: /5
Reviewed by:
Jody on
---
The Simplisafe home security system (site) was one of the pioneers that answered the desire for more autonomy installing security systems. You buy and own the system that you need outright, it arrives in a box ready to go, and you just stick the sensors where you want them. Then, you arm the system with a monitoring service and pay each month with no long-term commitment.
Since it's been around for a while, the installation and monitoring process and software are mature, though it can be dated when it comes to smartphone access (it requires the most expensive monitoring plan). And, some complain that the aesthetic of the sensors is dated as well.
But, there is no arguing that the system is affordable, flexible, and does the job of adding situational awareness to your home.
Most alarm companies can charge you anywhere between $30 to $50 monthly, while Simplisafe provides you protection at only $14.99 per month with a free built-in cellular connection.
Ready to pick one up? Let your friends know!
If you're looking for more detail, here's what we'll cover:
Simply Safe Security! Best solution?
SimpliSafe offers something that few professionally-monitored security companies would even dare to do: cut up the 24 to 36 month contract. The company has changed the way many people look at security systems. The proprietary system must be paid for up-front, unlike traditional systems. The cost benefit, however, is tremendous. With quality equipment and customer service, they are looking to change the industry for the better.
Simplisafe Vs. ADT
Simplisafe and ADT have their own pros and cons. ADT offers support for smart home features and can work even in areas without cell service. Simplisafe, on the other hand, doesn't but has the basic functions you need and is much cheaper compared to ADT.
The Good
There are several ways Simplisafe stands out.  Let's take a few seconds to go through each of them.
No Contract Monitoring Service!
Most security companies are eager to offer you free equipment and installation as long as you sign on the dotted line.  Simplisafe was a pioneer in this area, but now we have a huge list of no contract home security companies.
What's the commitment?
The dotted line usually demands a 24 to 36-month commitment, enough time for your padded monthly fees to pay for the upfront cost of the system and/or installation that you got at a reduced rate (or free).
And just to make sure the company makes out in the black, there's little or no room to exit the contract without paying outrageous fees. These companies need a commitment from you in order to ensure a profit after sourcing and installing the equipment. SimpliSafe, however, does business a little differently.
What's the catch?
All equipment from SimpliSafe is paid for up-front. You buy the entire system out of pocket. The good news is: the equipment isn't costly.
As a benefit of owning the equipment from day 1, you are not locked into a contract. You also enjoy much lower monthly monitoring service fees compared to other security companies. The standard monitoring is $15 per month, and the interactive monitoring will cost you $25 per month. Compare that to at least $40 (plus installation fee and early termination fees) with the other guys.
This will give you an idea of what the various levels of monitoring give you:
Packages:
Basic
Alert
Interactive
Features

Professional monitoring
Cellular connectivity

Secret alerts that just notify you
Manage the system from the web

Cost
$15 / month
$20 / month
$25 / month
Pro Tip:
Jump over to our security system comparison page here to look at costs for other systems.
Use our cost calculator to see how much installation, equipment, and fees cost over the lifetime of the systems you're considering.
Make an informed decision based on the features offered. No pressure.  :D
Simplisafe Review: Broad Range of Sensors and Accessories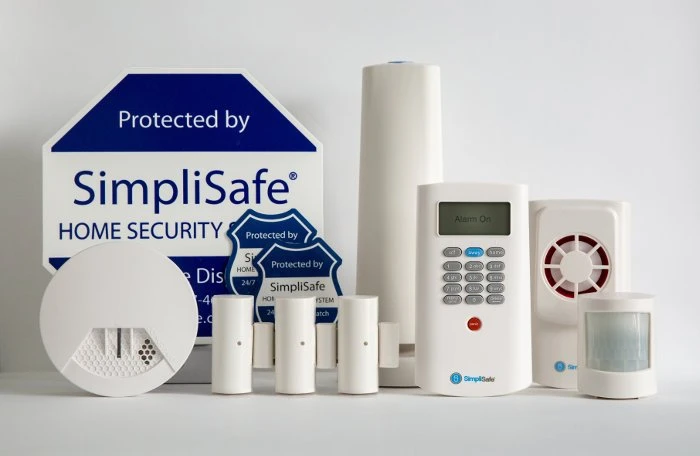 SimpliSafe has what you need in an alarm system:
door/window sensors
motion detectors
glass break detectors
panic buttons
They also offer some devices you might not find elsewhere:
water (flood) detectors
freeze sensors
keychain remotes
smoke detectors
carbon monoxide detectors
If you need a REALLY LOUD siren, they also have an optional device that can be mounted either inside or outside – great for alerting your neighborhood.
DIY Home Security System Installations
Everything is wireless, and most things can be mounted with only a strip of 3M adhesive tape. Most are powered by lithium ion batteries, with the exception of the wireless keypad which takes standard AA batteries.
Since everything is wireless, self-installation is a breeze. Simply stick the 3M tape on and press it against the wall.
If (when!) you move, peel the 3M tape off and use new tape in your new home.
You get to choose what your home needs when you order your system. SimpliSafe recommends one entry sensor for each ground-floor door and window, supplemented with glass-break and motion detectors in rooms where someone might gain unauthorized entry. You're also not limited to one keypad – you can have as many as you need. One for the front door, one for the back door, and one for the garage – or what ever makes sense for your home.
Here's a video from Simplisafe to give you an idea of how simple the installation can be:
The brains of the system are not inside the keypad, they are inside the base station, which is the only device that requires a power outlet connection.
When SimpliSafe says that everything is wireless, they mean it. Even the base station communicates with the dispatch center wirelessly. It uses cell phone towers, so no land-line phone or internet service is needed. However, land-line and internet connections may be used as a backup connection for areas with little or no cell phone reception.
Because the equipment is purchased up-front and there is no contract, you can even get the security system without the professional monitoring. This can save you $15 per month if you only want an audible alarm.
Gravy
What are those "nice to have" features you get with a mature product?
This isn't some half-baked crowdfunded prototype, so you expect some extras!
The system does come with a few other perks:
You can set up a "duress PIN" that, when entered, disarms your system and indicates to the monitoring center that you need police dispatched immediately without calling you to confirm. This can be useful if someone forces their way into your home and make you "disarm" your system.
You can also set up secret alerts with sensors to keep track of doors, cabinets, and areas without triggering your alarm. These can be used, perhaps, to tell if your teenagers are sneaking into your secret stash while you're away.
There's a heartbeat functions which alerts the monitoring station if the system ever looses it's connection.  So, if the power is cut or something just quietly stops working, you'll know about it!
If someone breaks in and hears the keypad beeping and smashes it, the dispatch center will still be notified of the alarm, because the brain of the system is located elsewhere, in the base station – which can be hidden from sight and has no lights or noise until the siren is activated.  That way, anyone unfamiliar with your home wouldn't be able to circumvent the system.  Even if they had done previous research on the Simplisafe home security system, they would still need to locate the base station before the alarm goes off.
Do you need an Internet connection for SimpliSafe?
No, since everything is already included in the Simplisafe Home Security System package. A computer is not required but will give you access to some settings and product features.
The Not-So-Good
No security system is absolutely perfect, nor should any security system claim to be. There are a few things that SimpliSafe equipment is lacking.
No Video
You won't find any option for video recording or monitoring.
Some people may see this as a negative, but you may want to set up your own camera system anyway, using the products of your choice. Video cameras and recording devices are much harder to manufacture than simple sensors. It's possible the company has not focused on cameras for just that reason. They might not have as many different sensors if they had to build and test video surveillance products as well.
User Interface
Also, the online web panel won't win any awards, but it gets the job done.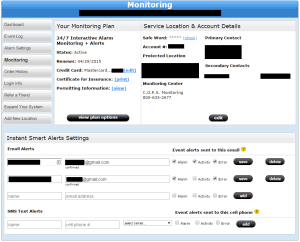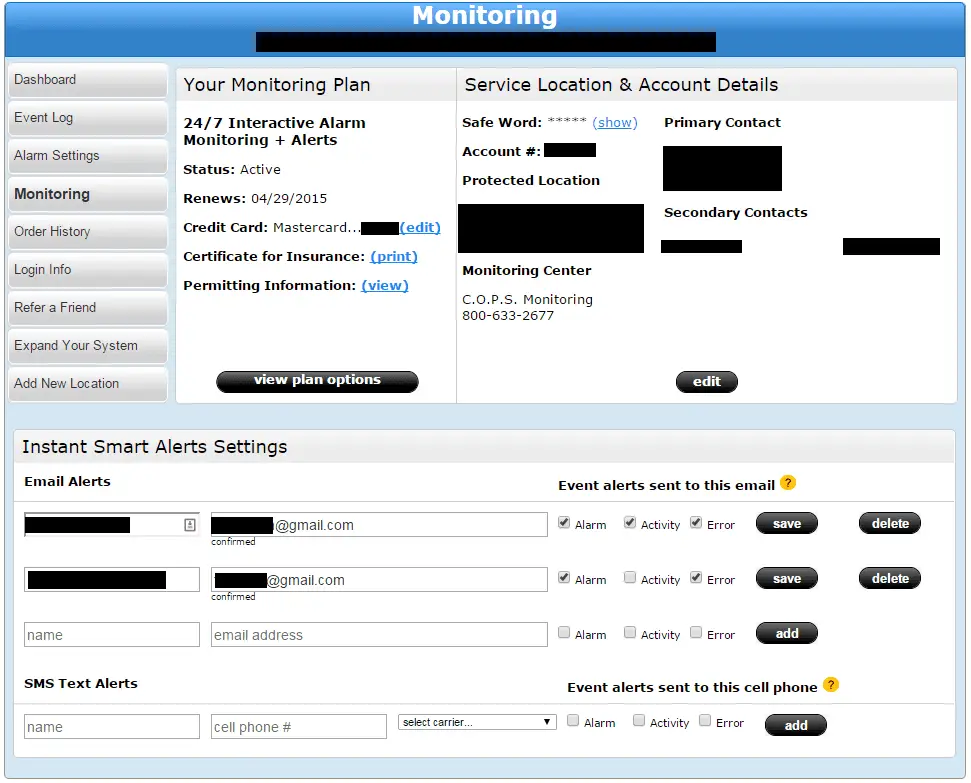 If you subscribe to the $35/month Interactive Monitoring plan, you can configure, arm, and disarm your system anywhere you have an internet connection. Configuration of the system without the interactive plan requires a program to be run from the included USB key fob and then plugged into the top of the base station to download the settings.  Ughh!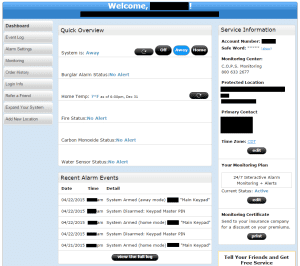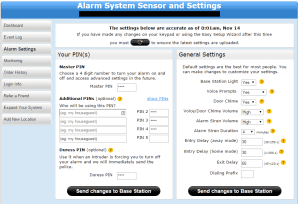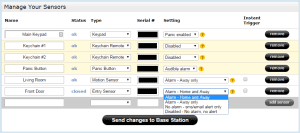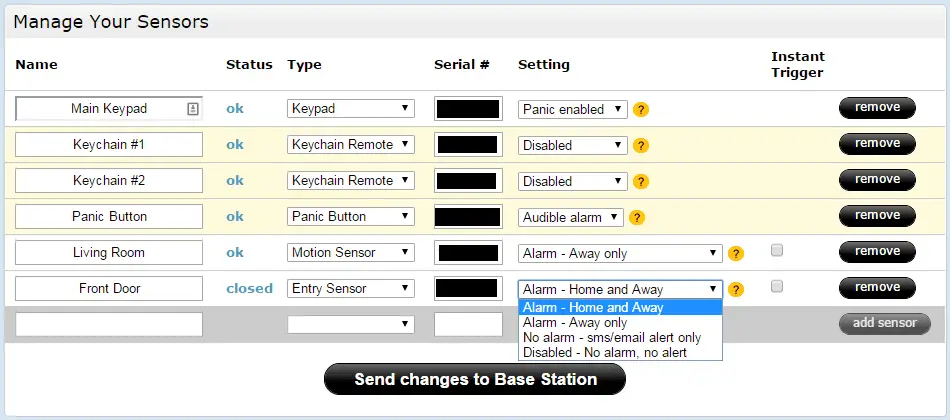 Proprietary Protocols
SimpliSafe devices can't be used with any other system. And likewise, you can't use other Z-wave, Zigbee, or Insteon products with Simplisafe.
They must be purchased from SimpliSafe and are only compatible with a SimpliSafe base station. If you don't already have a security system, this shouldn't be a big deal. But if you already have a security system, you will have to start over with all new equipment.
Vulnerability to Jamming and Interference
No system is perfect. If any security system promises a 100% protection of your home, then this should be a subject of scrutiny. A wireless setup like Simplisafe can be jammed with the appropriate device tuned to the system's frequency. Jamming happens when a stronger signal coming from a different device can interfere with the wireless signal at a particular frequency. This can block the alert signals from reaching the base station and disarm your security system. So what's to stop a burglar from disarming your system?
The good news is that despite of its vulnerability to interferences, the company behind the product is already a few steps ahead against this attack. Simplisafe includes an antijamming algorithm that will automatically send you a notification in case it receives an RF interference. The company also claims that their algorithm varies from system to system so that there's no universal formula to crack the system down.
Jamming issues is not something new and even if it's possible, the odds of your security system being disarmed by thieves is still low. Burglars need to know some information about your system before they can get the correct jamming device. Unless you put a sign on your backyard telling intruders the technical details of your system, the only way is still brute-force entry to your home to commit the crime.
The Bottom Line
All in all, SimpliSafe is a great monitored security system, especially for the price.  It made our list of the cheapest monitored home security systems.
Simplisafe home security system protects your home from burglars through its built-in motion and entry sensors. The wireless devices send you alarms when unusual activities are detected or someone tries to break into your house.
With the higher initial cost but low monthly monitoring fee, the system could easily become cheaper than a system provided by a more mainstream security company in just a few short years. With the ability to install the system without wires and cancel the monitoring at any time without penalty, it is the ideal system for many home renters and apartment dwellers. However, it has most of what you would find in a full-featured system if you do own your home.
You can buy SimpliSafe in select retail stores as well as in online stores.
SimpliSafe balances your budget with a quality security system quite expertly and is well worth a try. Doing so is no-risk: the company stands behind their product with a 3-year warranty and by giving you a 60-day, no questions asked guarantee.  They will even pay for return shipping! If you're in the market for a monitored security system, you definitely need to do your own SimpliSafe review.