South Carolina – The Palmetto State
South Carolina was the 8th state admitted into the union, on May 23rd, 1788. It is the twenty-third most populous state in the United States, and the capital city is Columbia. The state mottos are "Dum spiro spero," which translate from Latin into English as "While I Breathe I Hope," and "Animis opibusque parati," which translates from Latin to English as "Prepared in Mind and Resources."
The state flower for South Carolina is Yellow Jessamine, and the state tree is Sabal Palmetto, which can be found in the parks and on the beaches. South Carolina's state snack is boiled peanuts, and the state beverage is South Carolina Grown Tea.
South Carolina has miles of beautiful beaches and parks, making it an ideal tourist attraction for those who enjoy warm weather, beautiful beaches, and lush green forest lands. South Carolina is also big on festivals, culture, and the arts – both performing arts and visual arts. It is home to many museums, art galleries, and theaters.
South Carolina has several higher learning institutions, including Francis Marion University, Coastal Carolina University, Charleston Southern University, and Anderson University. There are currently no professional sports teams based in South Carolina at this time, but the state does host the annual NASCAR Race at the Darlington Raceway.
Here are the safest places in South Carolina:
#1 – Myrtle Beach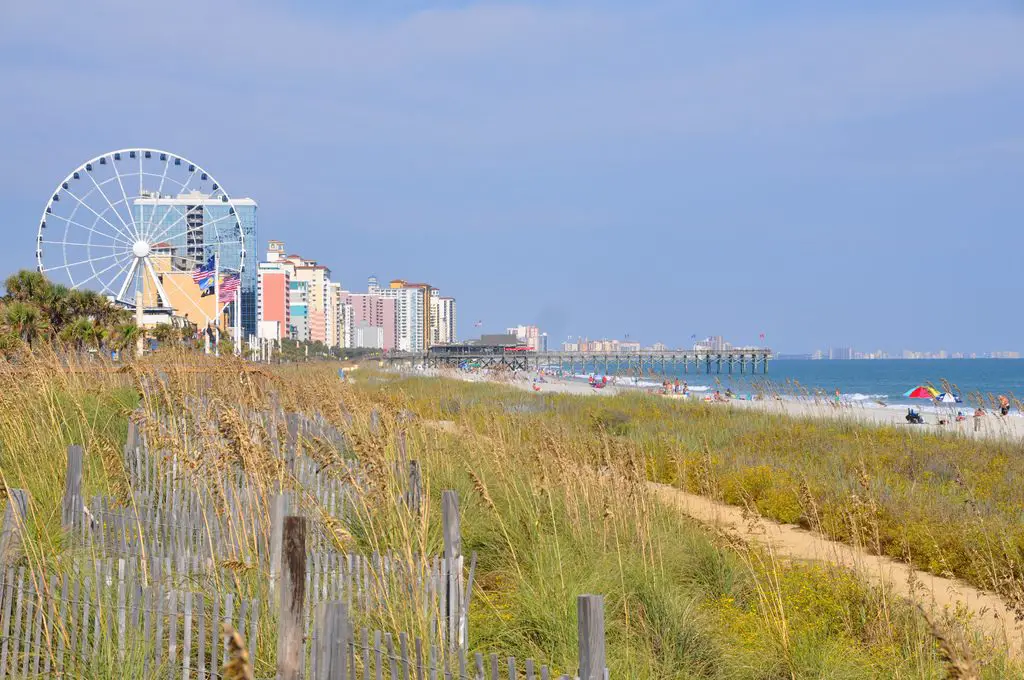 Population – 27,109 (2010 census)
Myrtle Beach, a city located on the east coast of South Carolina and the United States, is a very popular beach tourist location, full of events, festivals, and attractions year round, and is located on the long section of beaches known as The Grand Strand, with an estimate of about fourteen million visitors every year. With mild winters and hot, humid summers, Myrtle Beach has gotten a lot of attention as being one of the more popular beach locations on the east coast.
Myrtle Beach has hotels, amusement parks, water parks, golf courses, concerts, shops, and even an aquarium, making it a busy city for those who enjoy getting out and enjoying a variety of different activities. The Carolina Opry is also located here, which focuses on music and performing arts. Myrtle Beach offers the largest shopping center in South Carolina, which is a major employer for residents of the city. Golf and NASCAR racing are the biggest sports in the area.
With both public and private elementary, middle, and high schools, the Myrtle Beach area is big on education. There are several universities in the area, including Coastal Carolina University, Golf Academy of America, and the Myrtle Beach campus of Webster University.
#2 – Hartsville
Population – 7,764 (2010 census)
Located in the northern part of South Carolina, Hartsville's motto is "A small town with a big heart." Hartsville has plenty of events and is big on community, arts, and embracing culture. It has been known as being an All-America City since 1996, which means that the community works together to tackle issues and conquer challenges.
Hartsville has a number of their community buildings listed on the National Register of Historic Places, including The Arcade Hotel, Coker College, and the Hartsville Armory. Center Theater, a theater located in the city, originally started off as being a cinema only, but is now a theater for performing arts, as well. The Hartsville Museum is also worth a visit, as it focuses on the city's past and present. A botanical garden, called Kalmia Gardens, is in Hartsville as well, and is a beautiful place to stop and admire the flowers and trees that are here. Some of the biggest employers in Hartsville include Sunoco Products Company and Duke Energy's H.B. Robinson Nuclear Generating Station.
Hartsville has many parks throughout the town, including places to have picnics and go hiking. Pet owners will rejoice at the fact that there is a dog park in the town, as well! Along with several public and private schools in the Hartsville area, there is also Coker College and Florence-Darlington Technical College.
#3 – Walterboro
Population – 5,398 (2010 census)
Walterboro is a smaller city that is in the southern part of South Carolina. The city's motto is "The Front Porch of the Lowcountry," which is the region of the state that Walterboro is in. It was originally founded in 1783 as a summer retreat, but has grown into a warm, welcoming community.
Culture is important in Walterboro, and there are plenty of different attractions in the area for residents and visitors to see. A Rice Festival, which is an annual festival held in April each year, is a great time to show off your cooking skills, as well as watch the parade or participate in the pageant. Also in Walterboro is the Great Swamp Sanctuary, which has biking trails and observation areas. The South Carolina Artisan Center, which is the official craft and folk art center of the state, is located here as well.
Along with a number of public and private schools in the area (elementary, middle, and high schools), Walterboro is also home to the South Carolina branch of The University of South Carolina Salkehatchie, as well as an office for Clemson University.
#4 – Dillon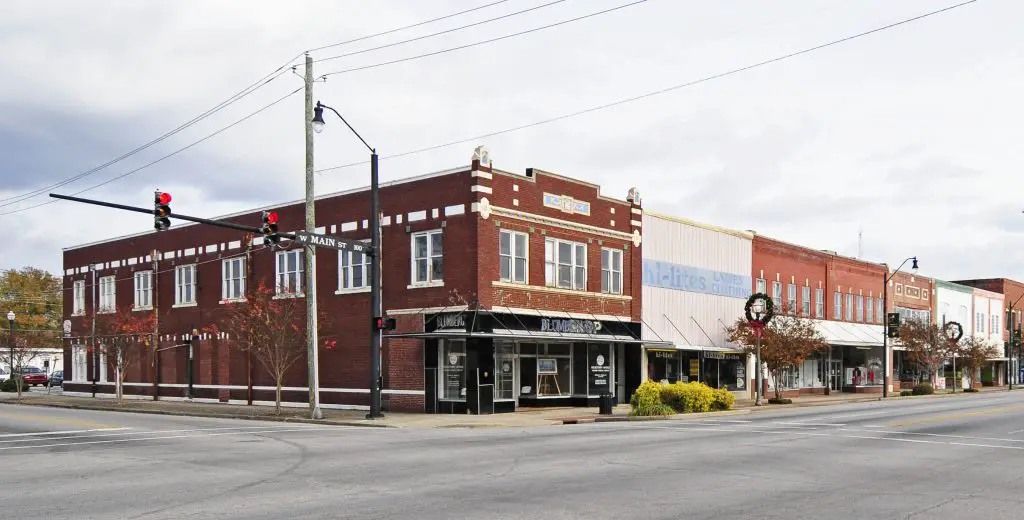 Population – 6,788 (2010 census)
Established in December 1888, Dillon is a small city in Dillon county, located in the northeastern part of South Carolina. It is named after one of the important people in the history of the town – John W. Dillon, who helped get a railroad going in the area.
Along with several festivals and even the Relay for Life, which takes place in Dillon county, Dillon is known for their Taste of Dillon Festival, held each October. This festival gives residents and tourists a peek at the culture, heritage, and history of the city and the county.
Dillon has a wellness center in the town, which has exercise equipment, a track for walking or running, a sauna, and a gym. The town also has several parks.
#5 – Marion
Population – 7,042 (2010 census)
Marion, which is located in the eastern part of the state, was founded in December of 1847. Marion was once a city that relied on tobacco growth, but now has been industrialized, and has plenty of jobs for residents at factories in the town (including a Coca-Cola distribution center). Several buildings in the area are listed on the National Register of Historic Places, including the Marion High School.
Education options include several public schools within the Marion Country School District 10, and Pee Dee Academy is the area's private school. The town also has a vocational center, called the Academy for Careers and Technology. A few universities are located nearby, including Coker College and Francis-Marion University. The town has a few parks and a country club for those who enjoy outdoor activities.
#6 – Lake City
Population – 6,478 (2000 census)
Lake City, nestled into the eastern center of the state, was first settled in 1736. The area got plenty of new settlers once the railroad was introduced.
Lake City has lush, beautiful parks and plenty of scenery that makes being outdoors fun for the entire family. Some of these parks include Lions Park, which has two tennis courts and ball fields, as well as an indoor dance room. Dew Park and Martha Law Park both have picnic areas and playground equipment for younger children. For those interested in sports, Lake City has several types of sports to sign up for, including football, baseball, softball, basketball, and tennis. Also located here are the Moore Farms Botanical Gardens, which has fifty acres of gardens and fields full of flowers, trees, crops, and other plants.
#7 – Darlington
Population – 6,289 (2010 census)
Located within Darlington county, the city of Darlington is in the northeastern part of the state. Darlington was settled in 1785.
The city is best known as being the site of the annual NASCAR Southern 500 Race on the Darlington Raceway, which is located right outside of the town.
Williamson Park, a park with over seventy acres of forests, streams, and trails, is a great place to go for a jog or to ride a bike. Also in the community is Well's Park, which has a nice area for sitting and taking a break from the hustle and bustle of everyday life. Playgrounds, a swimming pool, and tennis courts area also located throughout the city, giving the residents plenty of activities to engage themselves in. For those who enjoy antiques, the city has line-up of several antique stores to suit everyone's tastes.
#8 – Anderson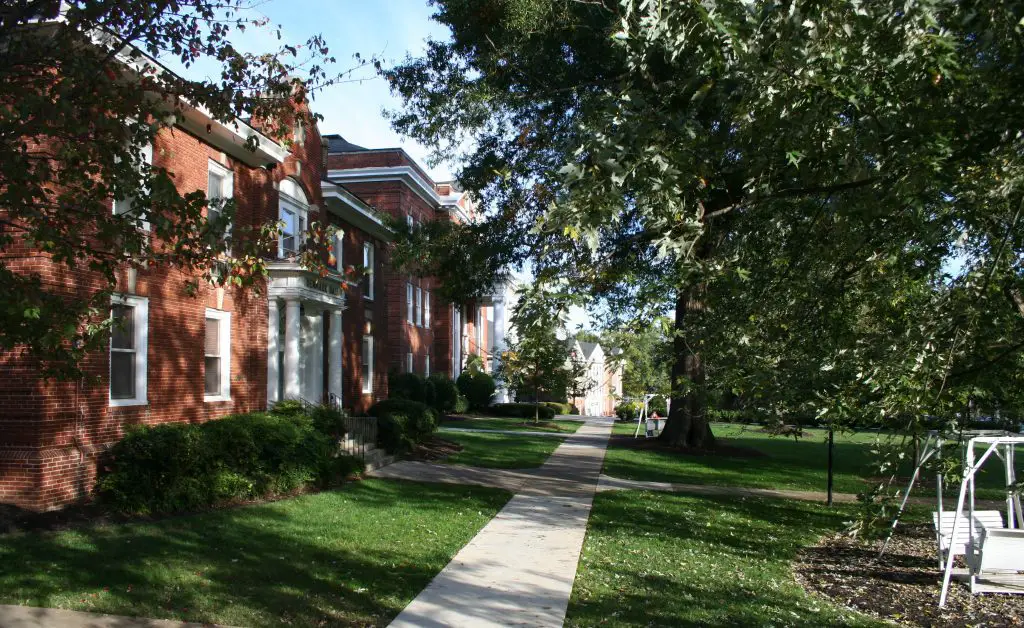 Population – 26,686 (2010 census)
Anderson, which is nicknamed both "The Electric City," and "The Friendliest City in South Carolina," is located the northwestern part of the state. It has also been named an "All-America City," which means that it has gotten an award for how well the citizens have worked together to tackle issues and obstacles, while preserving heritage, culture, and a sense of community.
The city has several historic districts and historic locations, including Denver Downs Farmstead and Kennedy Street School. Along with several parks, playgrounds, and picnic areas throughout the area, Anderson is also home to Anderson Memorial Stadium, which is the home of the Anderson University Trojans, as well as the Anderson Sports and Entertainment Center, which play structures and equipment, a few different ball fields and soccer fields, tennis courts, and a golf course.
The Anderson County School System, which serves Anderson, has many different options for schooling, including eleven elementary schools, two high schools, and five middle schools. Along with a variety of private schools, Anderson is also home to Anderson University and Tri-County Technical College.
#9 – Florence
Population – 37,326 (2010 census)
Florence, located in the eastern part of South Carolina, was named an All-American City in 1965. It was originally founded as a railroad hub for getting to bigger cities in the area, but has grown immensely in population since it was founded in 1890. While Florence was once a railroad center, it has now grown in the industry of medicine and services, including headquarters for some major corporations such as Monster.com and Bank of America.
The area has a variety of public and private schools for all ages – elementary, middle, and high schools, as well as Francis-Marion University and Florence-Darlington Technical College, both located nearby.
Along with multiple parks and sports centers, the city of Florence also has a farmer's market, a Pecan Festival, and an art gallery. Playgrounds and community centers are located throughout the area, giving residents something to do at every point during the year.
#10 – Camden
Population – 6,838 (2010 census)
In the central area of South Carolina, a small town called Camden rests. Camden, founded on March 22nd, 1786, is the fourth oldest city in the state.
Camden has several different elementary, middle, and high schools in the area, as well as schools for very young children, like The Montessori School of Camden. With many attractions, Camden definitly is the place to enjoy South Carolina. Museums, parks, hiking trails, and shopping centers are located in the town, as well as a golf course, theater, horse races, and motorsports.
Be sure to check out our articles for other states too!