Hue bulbs are considered by many to be the ultimate smart lighting solution and are an exciting way to make your life easier or jazz up your home.
Whether you're in the market or already purchased, this list of the best ideas for your Hue bulbs is going to give you great ideas and implementation tips to be successful with them.
Keep reading for the details.
An Introduction to the Philips Hue Bulbs
There are bound to be those that have no idea what I'm talking about, so I'll spend a quick minute laying the foundation for you.
Everybody else can skip this:
Smart lighting is one of the most common introductory uses to home automation.  It can change up your decoration, set routines for your family, help them navigate the house safely at night, alert you to events and alarms, and even allow you to gently wake up or start to get ready for bed.  The possibilities are nearly endless, and there are plenty of different things that you can do to make your whole family happy!
And the Philips Hue bulbs are arguably the "best of breed" in the colored smart bulb space (with a price to match).
Hue bulbs are special light bulbs that integrate with your smart phone or tablet with the help of special apps, and allows you to completely customize the lighting in your home.  You can do a wide variety of customization for all kinds of moments throughout your day.  Phillips Hue bulbs are also great energy efficient choices for your home, as they are LED lights.  They are also intuitive – they get to know you and your choices for lighting over time, and automatically take care of your lighting needs based on your preferences!
Here's a look:

Once you have your Hue bulbs set up, you will find all sorts of fun things that you can do with them.  Whether you want to creating a lighting that works to tell you the weather, or if you want to simplify a bedtime routine for a small child, Hue bulbs are a great way to bring more options to your home and family life.
And we've found the best ideas and consolidated them here!
Master List: The Best Hue Bulb Ideas
Without further ado, here's the list. If you see one that catches you eye, be sure to read through to get some nice tips on how to implement the idea.
1. Create a Bedtime Routine
Creating a bedtime routine for your child with your smart light bulbs is a fun way to help him or her know when it is time to go to bed.  As the lights begin to dim, your child will know that it is time to begin settling down, brushing their teeth, and getting prepared for bed.
You can customize your lights for different parts of the routine as well.
For example:
set the lights to change to green when you want your child to brush his or her teeth
then turn them orange when it is time for story time
There's no arguing with the light, right? Your kids will learn to associate these colors with bedtime, make the process of getting ready in time fun, and make the whole process easier.  As parents, who doesn't love the idea of extra cooperation?
2. Sync Your Hue with the Weather
Want your lighting system to tell you how cold it is outside?
You can do that too by syncing your Phillips Hue lighting system with your smart phone or tablet and the app, which will automatically change the color of the lights with the weather once you set it up.
You can:
Set one color for rain
another for sunshine
and another color for cold temperatures
That way, you always know how to dress for the weather before even going outside or picking out your clothes! You can even set up a special color or effect to inform you of the pollen count outside.
Tell me that's not helpful for those who are suffering from severe allergies, an extra reminder to grab your nose spray before you go out!
3. Color Changing Lights as a Timer
Using your smart phone or tablet app, you can easily use your lights as a timer too! Just set your timer, then when the timer goes off, your lights will change to the designated color to let you know! No more burned food or baked goods when you fail to hear the oven timer go off while cooking or baking – now you simply have to set your lights to change a certain color and you will know when everything is ready!
4. Easy and Safe Nightlights
Hue bulbs are a great solution when used as nightlights! Set your lights to turn a gentle, soft color at night, perfectly dimmed to allow you to see, yet not be overwhelmed with a bright light.
A pinkish or red hue is perfect for this since it preserves your night vision.  And, you can set individual rooms in your house to have different types of lighting, choose what time of night them come on, and select what time during the morning that they revert back to regular lighting.
This idea is perfect for families with small children or elderly parents who get up to use the bathroom in the middle of the night and need a soft lighting to help them get there safely!
Even better, you can use a motion sensor mounted just under the bed to have the light come on only when it's needed.
Guess What?
If you like these ideas, we have another resource you'd love too!
5. Limit Your Child's Screen Time
If your children fight you on the amount of screen time that they are allowed per day, whether it be in front of the television, computer, or a tablet, Hue bulbs are a great way to set a timer that allows your children to know when it is time to put down the remote and head outside to play.
This simple but easy reminder can help you set some healthy limits and serve as a gentle reminder when their time is up!
6. Set Up Mood Lighting
Perfect for romantic dinners or low key meals with the family, setting a bit of mood lighting can really help draw you into the moments and make them more memorable. Choose a soft orange glow for nighttime, which will remind you of a calm fireplace – perfect for watching late night television and not hurting your eyes.
Want that soft glow for dinner, without all the harshness of regular lighting? It's easy to set up in the Hue app!
7. Movie Night Lights
Sync your lights with your movie! With this idea, you can set up your lighting so that when your movie starts playing, your lights dim slowly to help your eyes adjust (eventually turning down low or shutting off completely), and when your pause your movie to get up and fetch some more snacks, your lights can come back on.
When you sit down to watch the movie again, your lights will dim back down or turn off slowly. When your movie is finished playing, they will turn back up until they are on.
It's like the movies, only smarter!
Pro Tip:
You can use a Harmony remote to tie into your A/V system and then trigger the Hue bulbs based on your actions.
8. Perfect Party Lights
If you are trying to figure out what you can do for a party you are planning on having in your home, use your Hue bulbs! Changing the lights to fit certain parts of the party (such as appetizers or infused water drinks, and then dancing), can really improve the atmosphere and make it even more exciting to celebrate!
9. Light Shows
Using one of the special apps that work with Phillips Hue bulbs, you can sync your lights to your music playlist on your phone, tablet, or even your iPod. This works out well for parties, or when you want to dance or have karaoke night at home.
Different color lights and fun lighting effects can dance as you play your favorite music. Check out the Hue Disco app for Android and Apple devices and discover just how much of a club you can make at home!
10. Home Security Uses
If you have a home security system installed, you can easily sync it up to work with your Hue bulbs.
For example, if you are home for the evening and your security system is armed, keeping your home safe, you can have lights set to turn green. If your security system is not set or someone has forgotten to reset it after coming home for the evening, you can have the lights in the room with the security system main control panel a different color, such as red.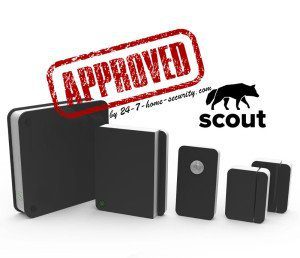 Not only will this help give you some peace of mind as to whether that alarm system is set (and save you trips walking over to it "just to make sure"), but it is also a creative way to ensure that your home is protected.
Then, you can have the alarm turn the lights on at night when it goes off so that you can see well enough to make sure your family is safe!
Pro Tip:
You'll need a connected alarm system to integrate with your Hue system, but many of the modern systems have that option or you can use IFTTT to stitch them together.
11. Voice Control Lighting
Using software or devices like the Amazon Echo and Apple HomeKit, you are able to use voice commands to turn the lights on and off, as well as dim them and change the color.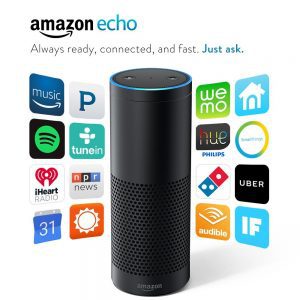 This can be a fun idea for kids, and will be handy for you when you come home to a dark house after work! Simply say "I'm Home!" for your lights to turn on, or ask to dim them to a certain percentage during dinner or when you are going to be watching television with the family.
Kids can easily use the same integration when they wake up in the middle of the night and need to get to the bathroom without stopping to fumble around for a light switch.
Pro Tip:
Check out a comparison of the Google Home and Amazon Echo here to see which you should get to make this heppen.
12. Create A Morning Routine
If you have little ones who have a difficult time getting out of bed and ready to go in the morning, use your Hue bulbs to help get your day started.
Schedule different colors to come on at different parts of your morning.
For example:
green means it is time to wake up
yellow means it is time to get dressed and brush your teeth
orange lights to come on during breakfast
and red when it is time get your things gathered and get in the car to go.
Kids (and you) will enjoy these gently reminders, instead of continuously having to remind them of what time it is and that they need to get going.
13. Holiday Events
Use your hue bulbs to create special lighting effects for events, such as a Halloween or Christmas themed event with your family. Red and green lights make a great touch for Christmas, while eerie orange and purple lighting will spruce up any Halloween themed party you might be planning on. Using multiple colors on a rotating pattern also work well for birthday parties.
14. Immersive Gaming
In Conclusion
Phillips Hue Bulbs are definitely a creative way to personalize your home and space and come up with unique and interesting ways to add a little extra fun into your environment. Whether you have had a rough day at the office and would love to come home to a relaxing evening with soft lighting to help you relax, or you are looking for some fun lighting events for your next party, Hue bulbs definitely have plenty of options to choose from. With the amount of apps that you can download (both free and paid) on both Apple and Android devices, there is something for everyone here that will make your space as unique as you!
You can also check our separate posts about smart lights if you need more ideas!
Please share this with your posse!