Want to make sure your town is afe?
Want to see how your town stacks up to the rest of Utah?
Check out our list of the safest cities in Utah and explore the data for OVER 50 towns embedded in the map down below.
Utah – The Beehive State
Utah was admitted into statehood as the 45th state on January 4th, 1896. It is located in the western part of the United States, and is bordered by Colorado, Wyoming, Idaho, Arizona, Nevada, and it is also barely bordered by New Mexico. Utah is the 13th largest state, and also the 31st most populous in the country. The state capital of Utah is Salt Lake City. "Industry" is the state motto.
The state flower of Utah is the Sego Lily, and the state tree is the Quaking Aspen. The state emblem is the beehive, and to go along with that, the state insect is the honeybee. The state animal is the Rocky Mountain Elk, and the state fish Bonneville Cutthroat Trout. Utah's state holiday is Pioneer Day.
Utah has five national parks, including Arches, Bryce Canyon, Canyonlands, Capital Reef, and Zion. There are also plenty of state parks and national forests. Utah has a heavy focus on the tourism industry, which has increased steadily since the 2002 Olympic Winter Games were held in the state.
How we ranked the cities
To come up with the safest places in Utah, we:
started with reported crime data collected and published by the FBI for 2014 (the latest year available)
filtered out tiny towns (<5k residents, sorry folks!)
looked at crime rates per 1,000 residents
weighted violent crimes more than property crimes to establish a final, composite score
ranked the towns based on that score
Of course, other factors go into the best places to live, but a low crime rate seems like a great place to start!
We were even surprised in a few places. Often, smaller towns are safer, as shown by our burglary risk calculator.
That brings up another point, there is a delay in the data for it to get compiled, normalized, and released by the FBI.  So, the 2014 data that we had available does lag reality by a bit.  And unfortunately, not all localities report this data, so some nice places may have been left out.
#1 Salt Lake City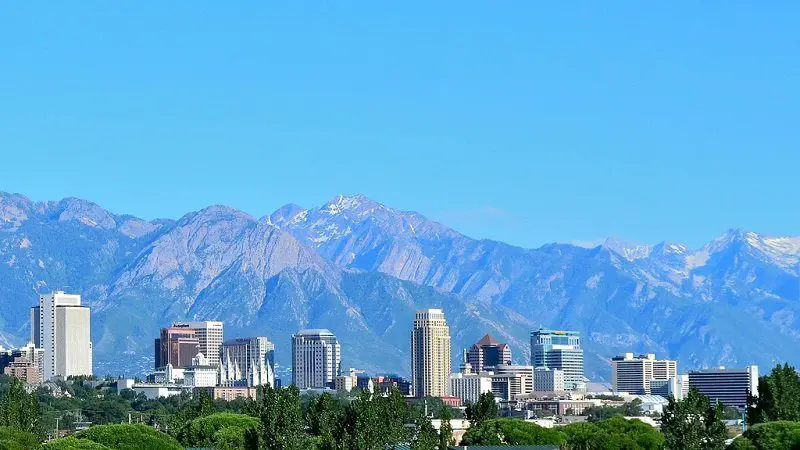 Population: 186,440 (2010 census)
How many other states have their capital at the top of this list?
Salt Lake City is the capital of the state of Utah, and it is located in the northern part of the state. The motto for the city is "The Crossroads of the West," due to the fact that the first transcontinental railroad was built here. The 2002 Winter Olympic games were held in the city, as well. Salt Lake City is also known as the United States' industrial banking center.
Salt Lake City is famous for its recreational opportunities, museums, and arts and culture. Winter sports are popular here, such as snowboarding and skiing, and in the summer months there are plenty of parks for residents and tourists to go exploring the beautiful city. There are many different museums and theaters in the area, making performing arts and visual arts quite important. There are many different sights to see, and plenty of events going on throughout the year, including summer festivals and firework displays.
#2 South Salt Lake
Population: 23,617 (2010 census)
The city of South Salt Lake is located nearby Salt Lake City, in the northern part of Utah. The city's motto is "City on the Move." The city was incorporated in 1938. In 1952, the world's first Kentucky Fried Chicken restaurant opened in the area.
Part of the Granite School District, there are three elementary schools and one high school, and there is also a satellite branch of Utah State University located in here. The president of the animation company Pixar, Edwin Catmull, graduated from Granite High School in 1963.
South Salt Lake has several events throughout the year, including the Freedom Festival and Fourth of July Parade, Huck Finn Day, and a Summer Hiking Group. Several sports camps, such as volleyball camp, adult softball camp, and golf camp, are also held by the city, as are a few different youth sports camps and teams. Along with a community center and a senior center, there are several parks and playgrounds in the area.
It's OK to brag . . . just don't overdo it!
#3 Riverdale
Population: 7,656 (2000 census)
Located in northern Utah, Riverdale had several names, such as "Stringtown," "Jack Thompson's Settlement," and "Union," before the name Riverdale finally stuck and the town was incorporated in 1946.
Riverdale offers a variety of entertainment for everyone, including summer swim parties at the community pool, fireworks and special events during the summer months, and even a splash pad at one of the local parks to cool off in the summertime. Riverdale Park has pavilions and picnic areas, playgrounds, a volleyball area and tennis courts. Golden Spike Park and East Park have gorgeous, open areas, small playgrounds, and benches to sit and enjoy the view. The town also offers senior citizen and youth recreational programs, with a senior center and even youth archery programs.
Don't Stop Here!
Be sure to tinker with the map below to see all of the data on property and violent crimes for all the cities that we ranked to make our list.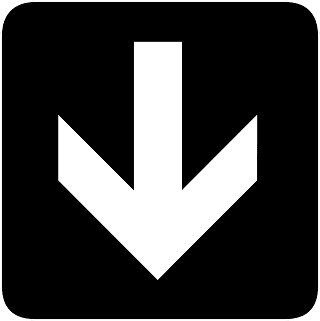 #4 Price
Population: 8,715 (2010 census)
Price is located in central Utah, and is known for its reputation as a mining town. The town is located in Carbon County.
The city of Price has two different elementary schools, a middle school, a high school, and an alternative high school. There is also a school for disabled children here. For higher education, Utah State University Eastern is also located in Price.
Price has an indoor swimming pool and an outdoor wave pool, with swim classes and activities planned year round for both children and adults. The swimming pool also has a café. Along with beautiful parks and state of the art playgrounds, Price is home to several hiking trails, which allows nature lovers to get out and see the area and enjoy all that the city has to offer.
#5 Ogden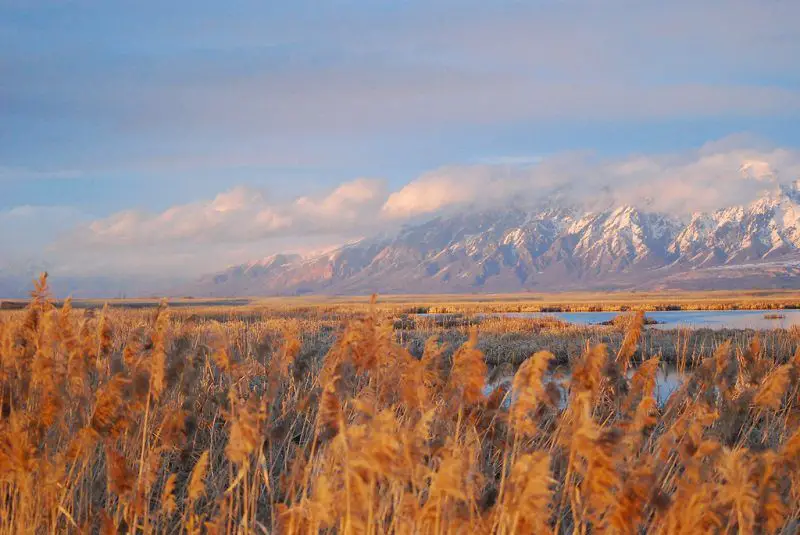 Population: 82,825 (2010 census)
The city of Ogden can be found in the Northern part of Utah, alongside the Wasatch Mountains, where you can get a lovely view of the scenic landscape.
Since Ogden has been a railway hub through a great deal of the city's history, it is a great place for manufacturing and commerce. The city government also employs over six hundred people, making it one of the top employers in Ogden.
The city has several public and private elementary, middle, and high schools, there are also several options for continuing education, such as Weber State University, Stevens-Henager College, and the DaVinci Academy of Science and the Arts.
Along with parks, playgrounds, hiking trails, and other recreational activities such as sports teams, Ogden has several other points of interest, including the Ogden Nature Center, Ott Planetarium, Peery's Egyptian Theater, and the Treehouse Children's Museum.
#6 Tooele
Population: 32,115 (2010 census)
Located in northeastern Utah, Tooele is only thirty minutes away from Salt Lake City, and is known for its breathtaking views of the Oquirrh Mountains and Great Salt Lake. The city carries the nickname of "The Greatest City in Utah."
There are fifteen elementary schools in the Tooele County School District, an early learning center, five high schools, and three junior high schools. There is also a private school in the area, as well as a regional campus of Utah State University and a branch of the Utah College of Applied Technology, called Tooele Applied Technology College.
The Tooele County Fair was held in Tooele each year until 2000, and then it changed locations, but it still located nearby. However, Tooele is home to the Tooele Arts Festival, which is a yearly three-day event, which includes vendors, artwork, crafts, jewelry, and food. There is also live musical entertainment and playground equipment for children to play on.
A Home Security Systems Makes Every Town Safer, Compare Here
#7 Vernal
Population: 9,089 (2010 census)
Vernal, a smaller city located in the northeastern part of the state, was settled in 1876.
The city of Vernal has several different schools, including elementary schools, middle schools, and high schools. Vernal is also home to a branch of Utah State University.
Attractions in this city are plenty, and there is something here for everyone. The town is quite famous for Dinosaurland, which is a large park full of dinosaur themed activities and things to explore, such as fossils and exhibits to allow families to learn about prehistoric times and have fun together. There are also several fairs, such as The Dinosaur Roundup Rodeo, Games, Anime, and More, which is a fan convention that is held in the city. There is also a Home, Garden, and Outdoor Sports Show, Outlaw Trail Festival of the Arts, Dinoland Car Show, and a farmer's market.
#8 Richfield
Population: 7,551 (2010 census)
Richfield is a remote town located in central Utah, at least one hundred miles from any major city. The city goes by two nicknames: "Red Hill Country," and "Panoramaland."
The city of Richfield is within the Sevier School District, in which there are two elementary schools, a middle school, a high school, and also an alternative high school. Located within the city is a satellite campus of Snow College.
Richfield has a community calendar packed full of events in the area, with plenty of things to do and see here all year round. For recreation, the city has a community pool, a golf course, several national parks, hiking trails, and playgrounds. There are also sports teams for both children and adults.
#9 Roosevelt
Population: 6,046 (2010 census)
Roosevelt, a city in northern Utah, was founded in 1905 and named after Theodore Roosevelt. The city serves as the business center for the multiple farming communities surrounding it.
Roosevelt is the educational center of Duchesne County, with multiple schools, including a high school, Uintah Basin Applied Technology Center, and the Uintah Basin Regional Campus of Utah State University.
The Uintah Basin in Celebration (UBIC) is the annual celebration held in Roosevelt each year. It has displays for farming and technology, as well as a parade, food, a talent show, and concerts.
#10 Moab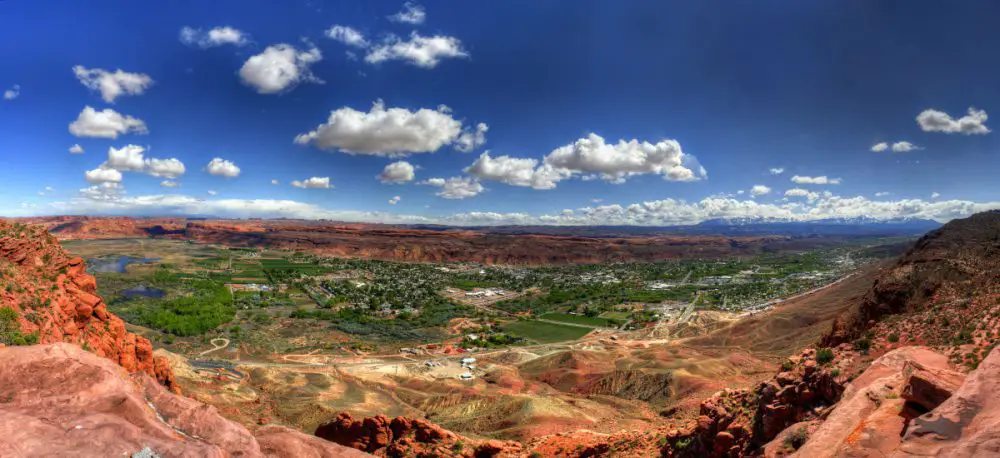 Population: 5,046 (2010 census)
Moab is a small city in Utah that has plenty of beautiful scenery and is a gorgeous place to stop and admire the view. Located in eastern Utah, the city was incorporated in 1902, and due to its location near several national parks, attracts plenty of tourists each year.
Along with a branch of the Utah State University, Moab also has an elementary school, a middle school, and a high school.
Recreation in Moab consists of camping, kayaking, white water rafting, canoeing, biking, hiking, jogging, rock climbing, fishing, and backpacking. Some of the parks that Moab is famous four include the Arches and Canyonlands National Park.
That does it for this list. Know a town in Utah that deserves a mention? Let us know in the comments!
Sharing . . . a favorite thing.
Be sure to check out our articles for other states too!