Nobody likes crawling around in attics and itching the rest of the day because of fiberglass insulation.
So:
Why would you?
With wireless technology opening up new possibilities, you can get some really high quality cameras that are downright easy to install and still produce good quality.
We're going to walk through the benefits and the bummers and give you the tools to choose for yourself.
To help in your search, I built a home security camera comparison tool to help you out.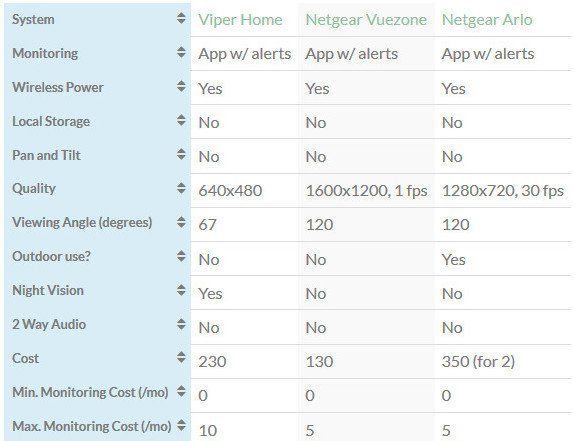 WHY WIRELESS CAMERAS CAN SAVE YOU HEADACHES AND GET BETTER RESULTS
The benefit to wireless cameras (and I mean REALLY wireless AKA battery powered), is that they are incredibly easy to install and to move.
That way, you're more likely to install more of them and in more places. That is, unless you like fiberglass inside your clothes and drilling holes in the outside of your house.
You can put multiple cameras around your house and have more opportunities to catch a good picture of the burglars face. This video of a burglary captured on a security camera gives you an idea of how hard it can be to get a quality picture of a burglar's face, even when he isn't wearing a hat or hoodie.
WHEN IS WIRELESS REALLY WIRELESS?
Don't be fooled:
Plenty of people think "wireless" means no cables. You too? Sorry, you'll still have to run power for most cameras.
What does wireless really mean? Strictly speaking, it means no wires, of course. But, what you'll really get when doing a search for wireless cameras is a list of cameras that transmit their video feeds using wireless protocols (WiFi) but still require a power source that is very dependent on wires. Chances are, you are searching for wireless cameras exactly because you want to avoid drilling holes in walls, eaves, or attics to run cables all over your home or business.
That's why, when you use our comparison tool, you can search for cameras that have wireless power sources too (AKA batteries).
FINDING THE BEST WIRELESS HOME SECURITY CAMERAS OF 2015
Yep, it's just that easy. Here's the current list:
You can take a look at the features offered by each camera, and you can even filter on other features that you'd like to have. Or, you can sort by cost if you aren't that worried about the quality of the camera and just want something that's affordable.
THE DRAWBACK OF A TRULY WIRELESS CAMERA
Here's the catch:
You may have guessed it, but these cameras have to play some tricks to extend their battery life to something that you'll tolerate. They do that by minimizing the amount of recording they do.
So, don't expect to be reviewing hours of video of your empty house or your grass growing. Sensors on the cameras will "wake it up" when something happens so that it can capture video while something notable is happening. It will relay the information via your network, and then settle down for its next nap. Meanwhile, depending on the camera, you can get a notification pushed to your phone with an image or a video clip taken by the camera and will be able to log in to review video of the event. So, you can watch the UPS man tossing your package onto the porch from 5 feet away.
I'm sure you're wondering what kind of battery life to expect. Of course, that depends on how often the camera wakes up to record video, but the Netgear Arlo claims a possible battery life of 6 months. That's pretty impressive, but I would bet on something under that for typical use.
Here's an idea of the battery life claimed by the manufacturers for those 3 cameras:
Netgear Arlo – up to 6 months
Netgear VueZone – up to 6 months
Viper Home – up to 1 year
Netgear clarifies that the 6 month battery life is based on 5 minutes of recording a day. So, if you schedule the camera to record for longer, log on to view the live feed several times a day, or have the camera in a highly active area, you can plan for the battery life to scale down from there. After that, you'll have to bring it in to recharge.
Hopefully, we helped you narrow your search for the best wireless home security cameras and saved you some time. If so, pay it forward by sharing this article with your friends.
A LOOK AT THE ARLO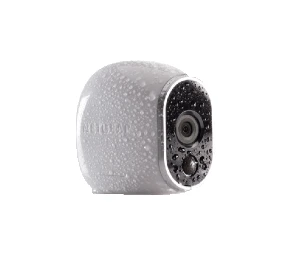 The Netgear Arlo is a compact HD (720p), battery powered, outdoor ready camera with some clever software behind it. The Arlo is smart about when it records footage so that it can last around 6 months on a set of batteries.
One thing to keep an eye out for is how the batteries hold up in cold weather, that's a notorious weakness for most battery types. The operating temperature range is from 14 to 122 degrees F. Combine compact size, completely wireless design, and magnetic mounting options, and you can place an Arlo camera just about anywhere you can dream up.
They come in a kit of 1 or 2 with a hub that will set you back $200 or $350 respectively. So it's a non-trivial investment to get started with the Arlo.
The initial reviews have been positive too, so it might be just what you need. Don't forget to see how the Netgear Arlo stacks up in terms of features and cost before you buy.
As far as service charges, Netgear offers several options for customers, highlighted in the table below:

DISCOVER BLINK
The Blink series of cameras, by Amazon, were designed to be lightweight, compact, and weatherproof cameras and boast to run for 2 years with single use of 2 AA batteries. It has a slick design and showcases a really classy look similar to a GoPro. Blink features a FREE cloud storage (up to 2 hours of video recording only) and an Amazon Alexa integration.
Blink offers two variants in the market - the Blink and Blink XT cameras, with the latter having night vision and better resolution.
The regular costs of these cameras are $230.00 and $320.00, respectively. They come in a kit of 3 cameras along with some basic accessories.
Though these cameras have very good qualities for their price, some users complain about the following:
Limited cloud storage
Delay in the recording and short recording time after motion was detected
No remote PTZ capability
No two-way audio
Poor night vision
Requires additional smart hub
No web service
All-in-all, the Blink cameras are still good for a basic setup. Here's an overview of the costs:
INTRODUCING FLIR FX
Now don't confuse the name with the Forward-Looking Infrared technology. FLIR FX cameras are HI-DEFINITION Wi-Fi security cameras for indoor and outdoor use. The designs are identical with a web camera and a bullet style or network CCTV camera. They also have the FXV101-HS camera for the sports and outdoor lovers. It resembles a GoPro that can be mounted on a helmet and has a waterproof case accessory.
Optimized for mobile, the FLIR FX cameras give you on-the-go monitoring, smart alerts, and up to 30 days worth of motion video recordings on the cloud (or save it locally on a microSD card). It's got night vision capabilities and internal temperature and humidity sensors.
Unlike the other cameras featured above, the FLIR FX is not great when it comes to battery life.That's because it is meant to be powered externally thru its USB port and its batteries are just for backup or using it as a mobile camera. It also has some issues users cite like, app glitches, lag during recordings, and limited third-party integrations.
Here are some of their best-sellers along with prices.
Their cloud services is also on subscription basis. They will give you a 30-day basic trial but if you really want to invest on the advanced features like quick video review and storage beyond two days, you'll have to pay $15 a month.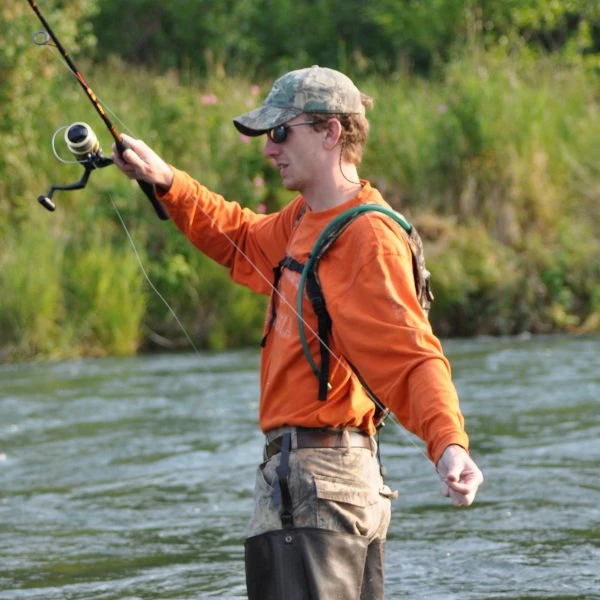 Hi, I'm Jody. I graduated with honors with a Masters of Science in Computer Engineering and have over 15 years of experience working as an engineer with electronics products. I'm a lifelong learner and tinkerer and enjoy automating things around the house so I can solve bigger problems than getting out of bed to check if the garage door is closed . . . like too little sleep!