Thinking of investing in an indoor/outdoor camera that doesn't hurt your pocket? With dozens of affordable internet-connected cameras available today, you have a lot of options for your home security. Even cheap cameras can have most of the hardware and software features you would want but normally have some downsides to go along with them. 
In this post, we'll give you an honest review of Amazon's Blink XT2 camera to help you decide whether this newcomer is worth buying or not.
Before you check out the Blink XT2 features, we've summarized below the pros and cons of the camera:
The Pros
Wireless home security camera

Low cost

Easy to install and maintain

No contracts

IFTTT integration

Works with Amazon Alexa

Built-in temperature sensor
The Cons
Lacks advanced security features such as facial recognition

Batteries are not rechargeable

Some users complain that the camera and its enclosure doesn't feel robust

Some users complain about software glitches
The Blink XT2 Features
The Blink XT2 camera is designed to be a modular, plug-and-play, affordable and simple home security solution. It is easy to use and doesn't require you a monthly plan or even a complicated set-up to make it work.
Here's a list of features you can expect with Blink XT2:
High-Quality Video
For a low price, you get an industry standard of 1080p HD video which allows you to review high-quality footage. However, you might find the field of view a bit narrow at 110 degrees, depending on where you plan to use it.
Voice Control
What's great about Blink XT2 is that it has built-in support for Alexa as an Amazon product. You can control the camera and get information through voice commands. That's pretty cool!
Mobile Alerts
The Blink camera has built-in motion sensors and automatically records a clip and pushes alerts to your phone whenever someone is in your home. Through an app, you can easily switch to a live camera view to check what's going on around your home. You can even add up to 10 Blink cameras to a sync module so that you can view multiple sites within a single app panel.
Third-Party Support
Adding the Blink XT2 to your existing home security system is possible because of its support for third-party integrations such as IFTTT. This allows you more options as well as creating automated tasks between your Blink camera and other smart devices at home.
Longer Battery Life
Since the camera is wireless, we don't want to be bothered with low battery notifications from time to time, especially if we are away from home. The Blink XT2 is designed to be low power and promises to extend battery life up to 2 years. However, it doesn't work with rechargeable batteries so you will have to purchase a new set of batteries each time the old ones go empty.
Night Vision
For most intruders, the perfect time to break into your house is when the sun is out. Luckily, Blink XT2 offers a night vision feature to keep everything in your view during the night. 
Audio Quality
The two-way audio is one of the features that makes Blink XT2 different from its predecessor. With this feature, you can speak to someone remotely or even record the audio from the live footage.
Free Cloud Storage
One of the most common complaints of users with other cameras is that the cloud storage comes with a paid plan. This means that it can add to the cost of the camera and may even get higher if you need more memory for longer and high-quality video clips. For the Blink XT2 (so far), you don't need to pay for a plan to put your videos on the cloud since it is free. The stored footage lasts for up to one year which is generous enough. However, the storage is limited to 2 hours and from there, you can download your footage to a local drive to free up some space.
Activity Zones
Another great feature of the Blink XT2 is that it allows you to focus only on some areas and ignore the rest. This is very useful if you're installing the camera outdoors. For example, you can ignore other areas like the streets or neighbor's backyard and instead focus only on monitoring your own property. This way, you only get notifications that really matter.
Installing the Camera
The nice thing about the Blink XT2 is that it has a square face and round edges which doesn't make it look like a camera. You can place it on a flat surface inside your home or mount it on a ceiling or wall without being noticed as a camera.  
To make the camera functional, you will need to get the Blink sync module. This device connects up to 10 Blink devices to the WiFi through an app and keep them online. The sync comes with an adaptor and micro USB cable so you can just plug it anywhere in your house with a power outlet.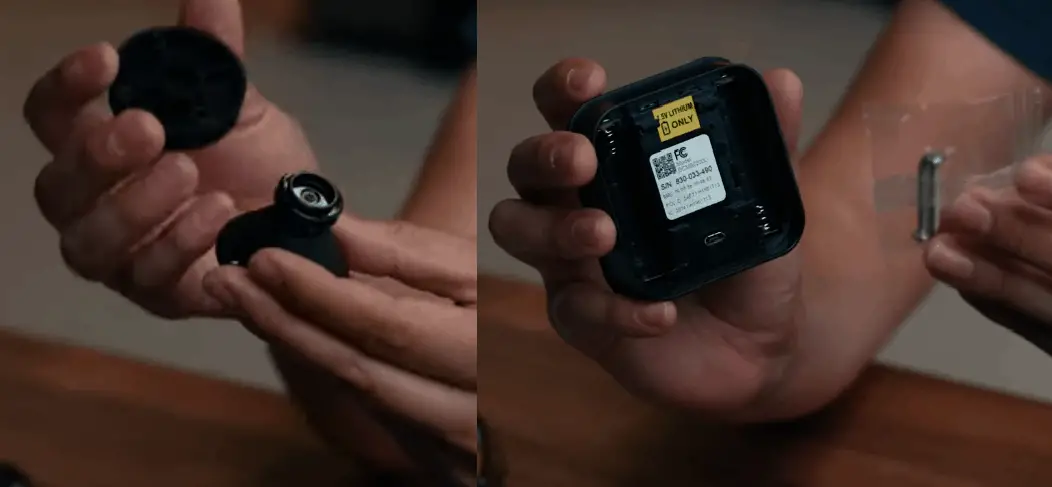 The Blink XT2 camera comes with 2 AA batteries, a set of screws and and a mounting plate so you can have the option to install it indoors or outdoors. 
The installation of the camera is pretty straightforward - just put the batteries in to turn it on and place it anywhere you want. Just push, slide, and pry open the small button on the center of the camera to open the compartment for the batteries.
The Blink XT2 App
Once everything is set-up, you can download the app and open it to play with the settings.
Aside from being a plug-and-play device, the Blink XT2 app is also straightforward to use. Under the settings, you have the option to arm the cameras connected to your sync individually or collectively. You can set the schedule to record motion or control them manually.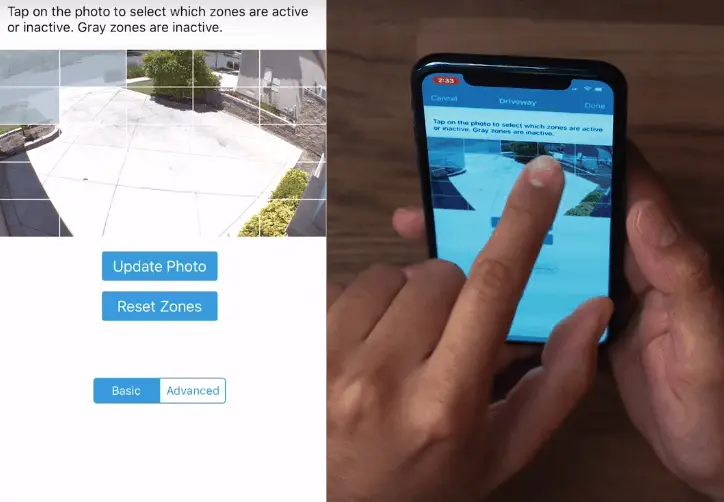 You can also set the triggers for recording on the motion sensitivity slider as well as specify the areas which you want to ignore, such as your neighbor's backyard, the street, or a nearby tree that is constantly blown in the breeze. The Activity Zone helps you ignore the areas that don't matter to you so that you'll only get meaningful notifications, such as when someone walks through your gate or porch.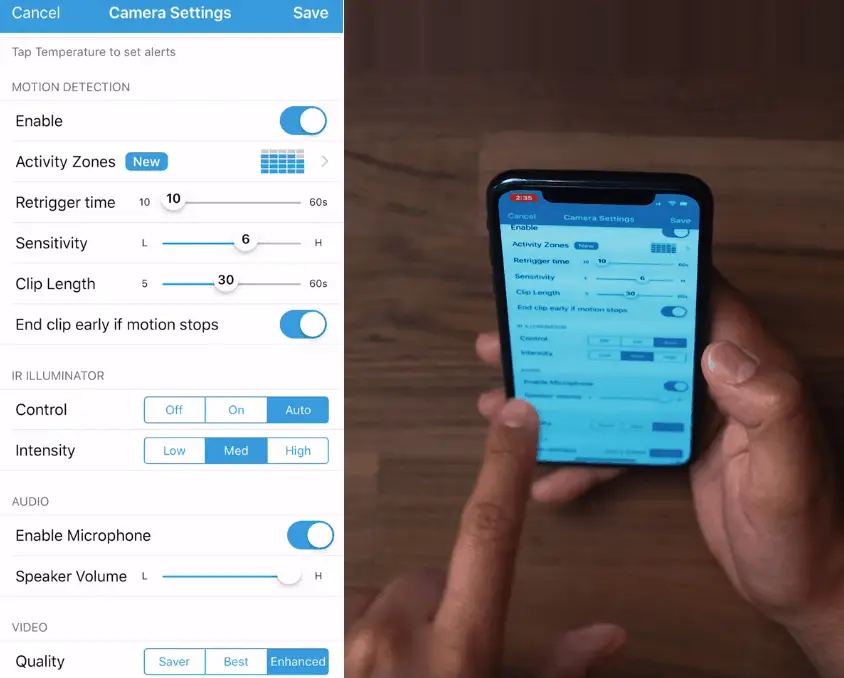 Other options you can find on the app are recording time setting, retrigger time (when the camera is allowed to record another clip), infrared settings, "stop early if motion stops" option, and video settings where you can choose the saver, best, and enhanced modes.
Once all the settings are set to your preferences, it's ready to work. When it comes to picking up motion events, the Blink XT2 works pretty well. And, you can also start using Alexa to arm/disarm your cameras as well as getting a live feed totally hands-free. 
Check out this video to learn more about Blink XT2:
The Bottom Line
The Blink XT2 camera offers almost all the features you want in a wireless camera. It comes with free cloud storage which you may not find in other brands and a longer battery life. The installation is quite simple and straightforward - just plug everything, put it in the place you want to monitor, and forget about it. 
However, some users do complain about software glitches so there's room for improvement. Given its features and price, it is already a great deal. However, if you want more advanced features, then this camera may not be for you. 
We hope that you find this Blink XT2 review helpful. If you decide to hang a camera outside, be sure to check out our article on how to combat filling up your storage with spider videos!
References
Hi, I'm Christy, and I'm an electronics engineer by profession. I have taught in a university for 2 years while pursuing my master's degree in cognitive radio and worked for a company to develop wireless medical devices. Currently, I'm doing research for a doctorate degree in engineering using a wireless sensor network for smart agriculture. I've been active in our local IoT community, IoT Cebu, where I participate in conducting talks about Arduino, Raspberry Pi, and DIY home automation using Wi-Fi and ZigBee devices.