For those of you having furry friends or pets at home, it is not always possible to take care of them full time when you have a day job. A pet daycare could be an excellent choice but may not always work for other pets, or maybe you just can't afford that.
Thankfully, there are plenty of products available to help you monitor and care for your pets even if you're away from home. That way, you don't have to feel guilty everytime you walk out of the house because your sad-faced pup doesn't want you to go. Pet owners who have dogs or cats that need special care or monitoring will also benefit in using these products while still being able to work out of the home.
Check out our list below and see which products would help you feel at ease leaving your pets alone at home.  And when you're done, check out these home automation ideas for your pets!
Automatic Food and Water dispenser
The skinny: Feed your pets wherever you are through an app.
How to Setup an Automatic Food and Water Dispenser
Whether you need to travel for a couple of days or just need to feed smaller meals during the day, having a way to feed your pets from work can be really helpful.
Thankfully, there are many automatic food and water dispensers available you can choose depending on your requirements and budget. You can buy an off-the-shelf dog feeder that comes in a passive gravity-fed type. However, this type of feeder will constantly dispense food and water, leading to overfeeding. If you want a feeder that allows you to control feeding times, choose a product that is programmable, Wi-Fi enabled, and comes with an app.
A smart feeder can be connected to the internet and controlled using your smartphone so you don't have to worry whether your pets get their meals on time or not. Some of these smart feeders even have a meal scheduler, adjustable meal proportions (ideal if you have lots of pets at home), and a manual option you can activate when you need to treat your furry friends with a snack outside of a regular meal time.
Smart Feeder for Dogs and Cats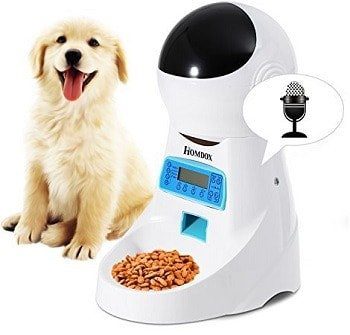 SailnovoSmart Pet Feeder is a popular smart feeder. It comes with an app that allows you to control the feeder via a 2.4 GHz WiFi network. It can hold up to 6 liters of food and there's an option to set 20 portions of meals per day. The feeder also features a built-in speaker and camera so you can talk to your pets and see how they're doing while you're away. You can set this feeder for your dogs and cats. However, it can only dispense dry foods.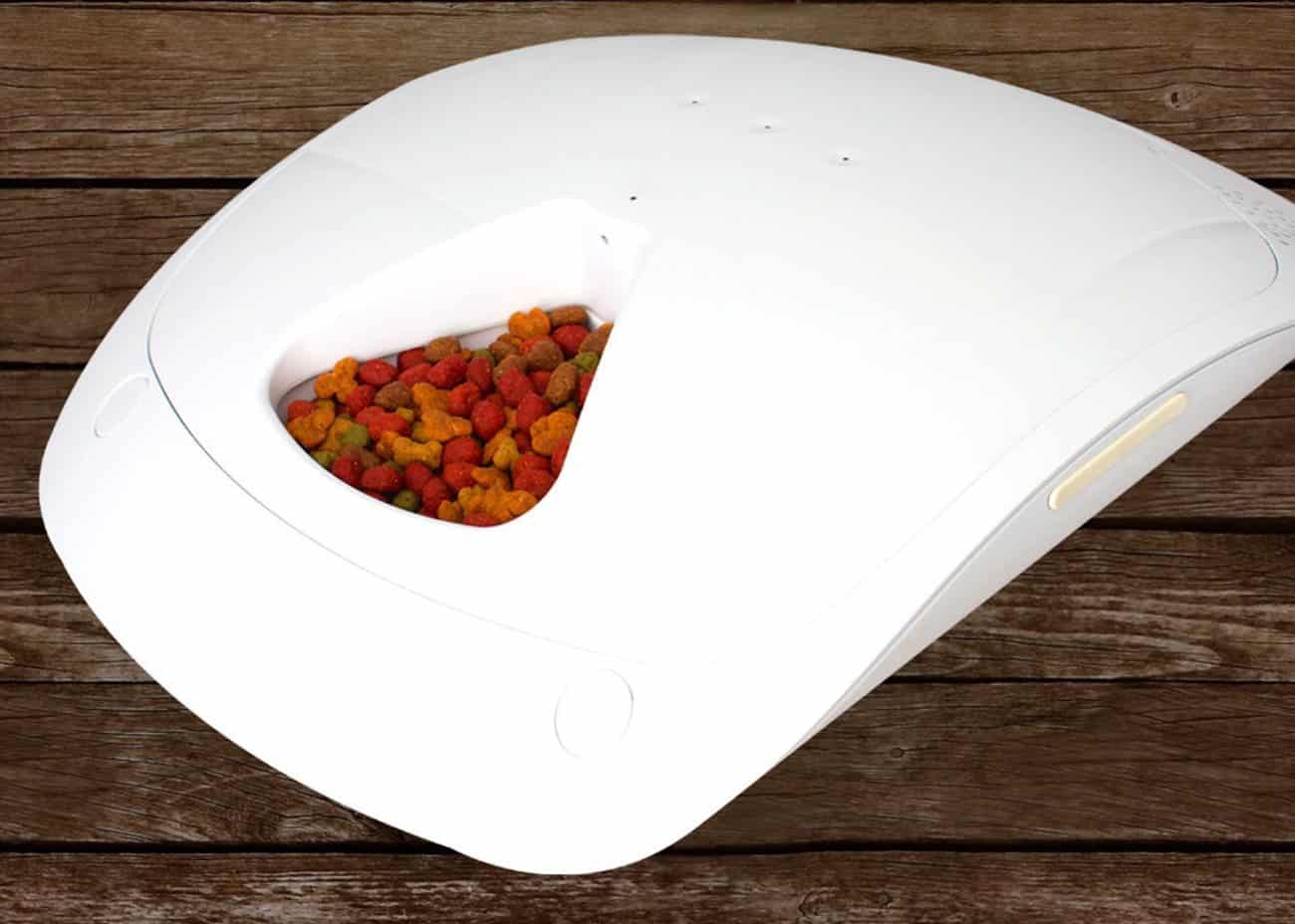 If you want a feeder that can dispense not only wet and dry foods but as well as treats and medications, the Feed and Go Smart Pet Feeder could be your best option. It also includes a built-in HD camera, speaker, adjustable feeding schedules, WiFi connection, and a smartphone app. You can even receive notifications if your pet has eaten the meal and how much food has been consumed. However, this feeder is significantly more expensive given its additional features.
Smart Feeder for Fish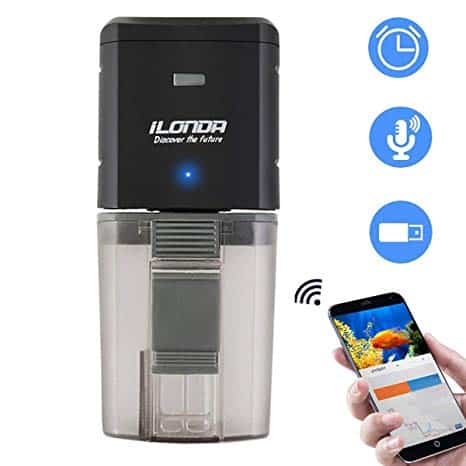 Feeding your fish while you're away is also easier nowadays thanks to smart feeders like the Londa Fish Aquarium WiFi Fish Feeder. The feeder is equipped with modern features you would want to ensure that your fish pets are fed on time. It comes with voice control, cloud memory, and an app so you can automatically schedule feedings. The feeder can stock up to 170 ml of food which is good for a few weeks, depending on how large your aquarium is and how many fish you have. It can also handle a variety of fish feeds such as pellets, flakes, strips, and particles.
Online Monitoring for Pets
The skinny: Monitor the whereabouts of your pets in real-time using your smartphone while you are away.
Setup A Camera to Monitor Your Pets
When you have to work at the office or are out with friends, sometimes you can't help but wonder about the whereabouts of your pets. Some smart feeders do have built-in cameras to monitor your furry friends, but they are often limited to one area. Now, you can easily get recordings or even real-time videos through your smartphone to check if your dog is digging through the garbage again or your cat is prowling across the kitchen counter.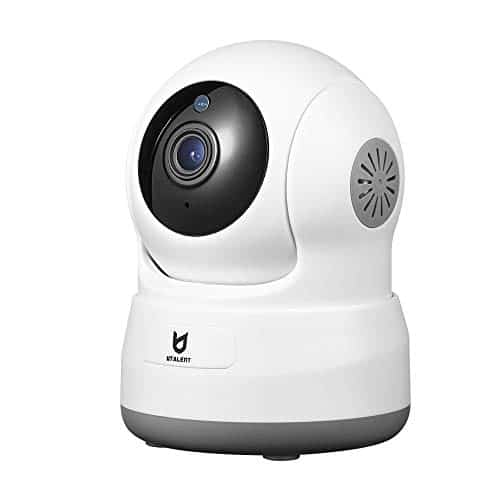 Simply buy Nanny Cams and mount them on areas where your pets will most likely go. The cameras already include an app so that you can record or see a live footage of your pet's whereabouts.
Check out our article on wireless security cameras for recommendations of the best cameras that are simple to install and easy to use.
Use Smart Collars
Do you have those episodes when your dog tends to run away from home? Or are you curious if your pets have been inactive all day? Smart collars can help you track your pets activities even while you're working away from home.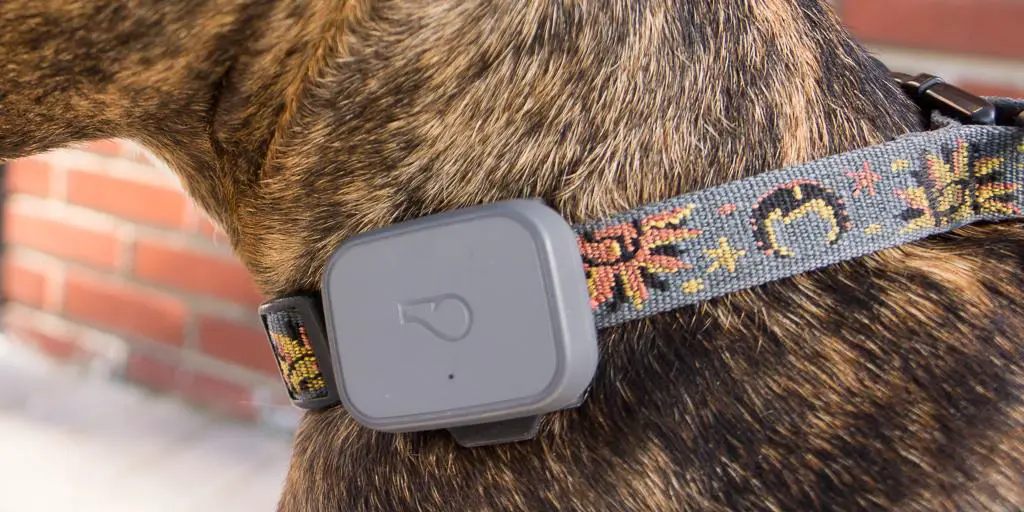 Whistle is one of the popular wearable gadgets for your furry friends so you'll know their location and activity levels. It is built with cellular and GPS technology for accurate tracking up to 3,000 miles away. You can also track activity or sleep patterns to keep your pets in great shape. When your dog or cat has been sleeping the whole day, you'll know that you need to walk your pet when you go home. To use the product, simply install it onto your pet's collar or harness. Download the app, connect to a WiFi network, and start getting notifications about your pet's whereabouts.
Calming Products
The skinny: Help calm your anxious pet even while you're away from home.
How to Keep Your Pets Calm While You're Away
Some owners have pets that suffer from phobia or anxiety, especially when they are left alone at home or with someone they are not familiar with. We want to provide the best care for our anxious pets while still being able to do our day jobs. Thanks to modern technology, you can now use wearables or products with audio/visual stimulations to help your pets stay calm.
Calm Paws - Calmz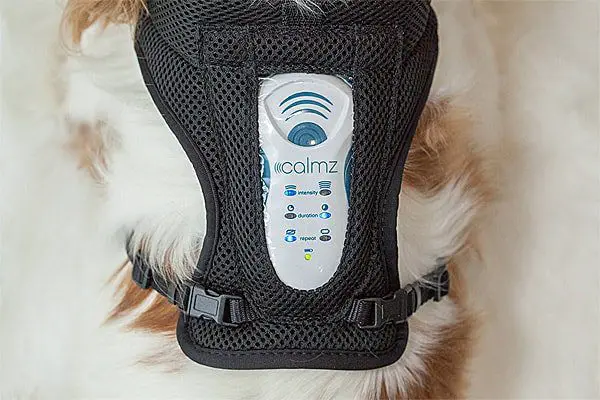 Does your dog tend to chew its way out of the house to find you when you're away? If your pet has separation anxiety, you can try a product that applies different types of simulations to calm an anxious dog even if you're away. The Calmz Anxiety Relief system is an adjustable vest that incorporates gentle pressure and acupressure points to your dog. It even plays a therapeutic music to calm and comfort your pet.
Pet Acoustics - Pet Tunes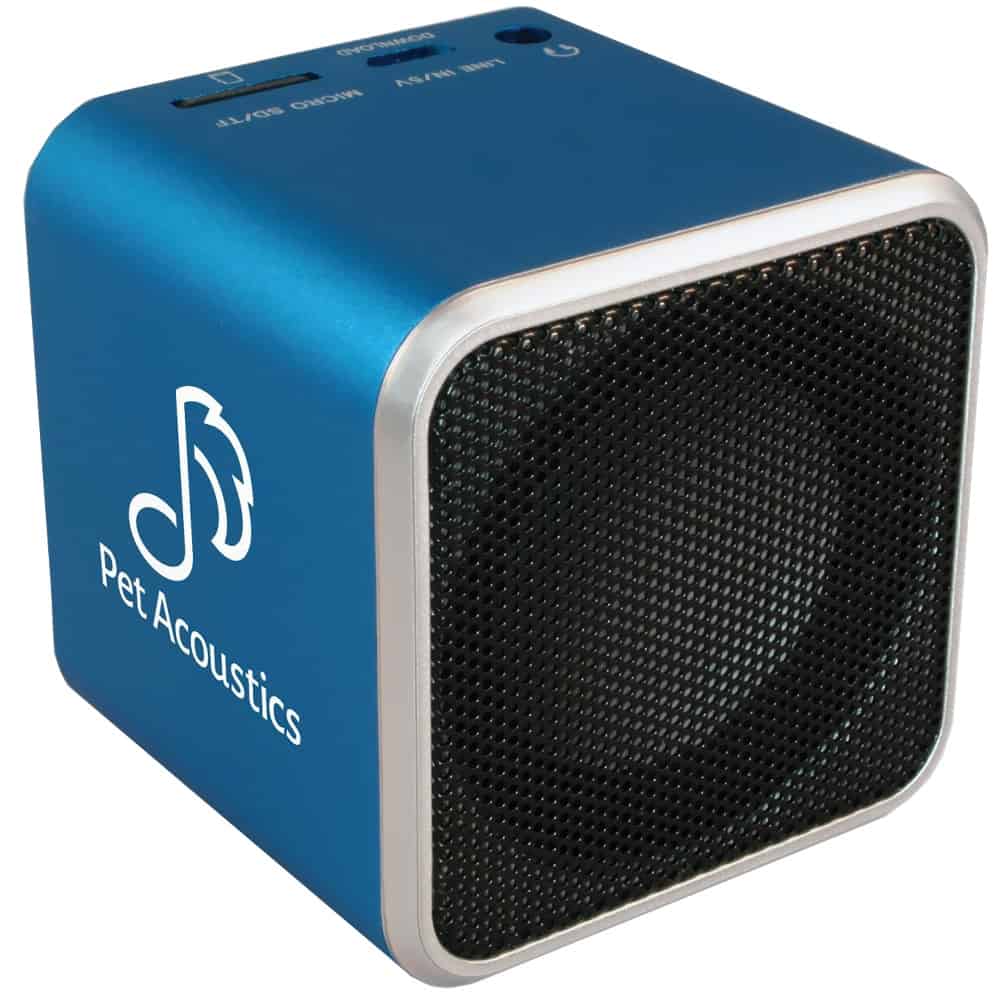 Pet Acoustics has developed a portable product, Pet Tunes, a speaker that is pre-loaded with frequency-modified music to help reduce stress and anxiety for your pets. This small device is also rechargeable and can be taken anywhere, whether you are travelling with your pup or staying at home.
DogTV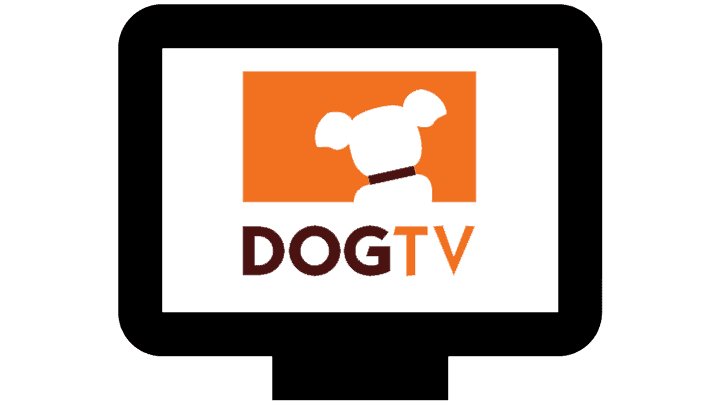 Often times, keeping your pets entertained will help keep them from being anxious. Even if you're away, you can still keep them entertained with the right audio and visual stimulations. DogTV has seen this problem and provides content scientifically developed to help stressed dog become happier and calmer.
Use Toys to Prevent Boredom
The skinny: Keep your pets busy while you're at work.
A lonely and bored dog will mostly likely end up chewing your furniture, shoes, or other valuables when left at home. To prevent damage to your home and keep your pets away from accidents, you can use smart toys to keep them occupied while you are not at home.
Keep Your Dogs Busy While You're Away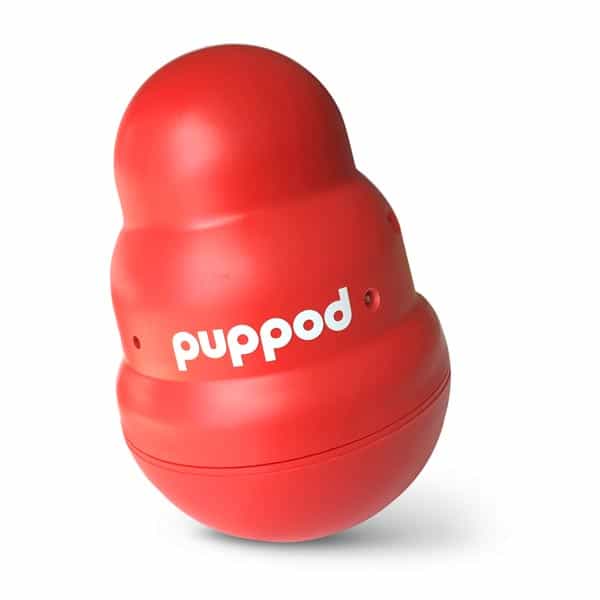 You can still find a way to play with your pets even if you're temporarily out from home. Products like Puppod allows you to control a toy for your pup using your smartphone. The Kong-shaped toy uses sound and lights to give your pets puzzles to solve. It also has an automated treat dispenser to reward dogs every time he solves a puzzle.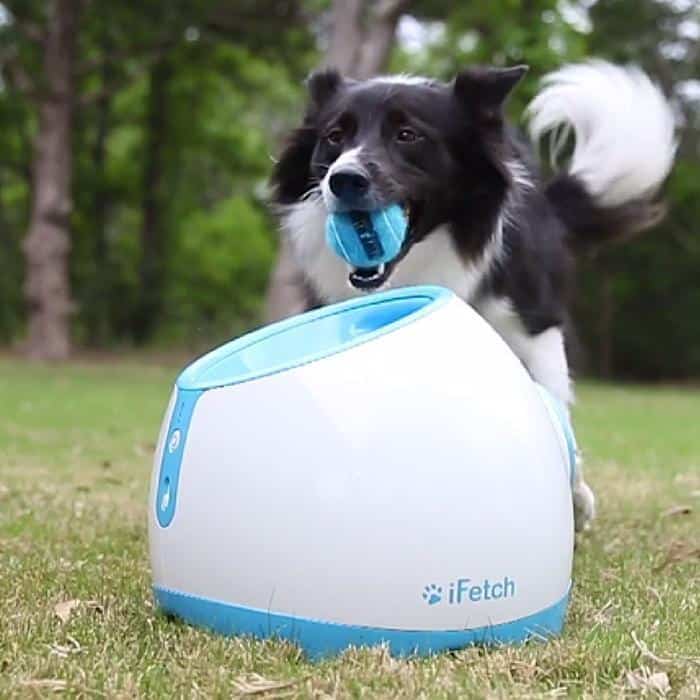 If your dogs love playing fetch with you, then the iFetch can temporarily do the job for you while you're away. The iFetch automatically throws small balls between 10 to 30 feet whenever your dog drops the ball into the chute. Different models are available for different dog size. The original model can throw small balls for smaller breeds while a larger model can throw regular-sized tennis balls to play with larger dogs.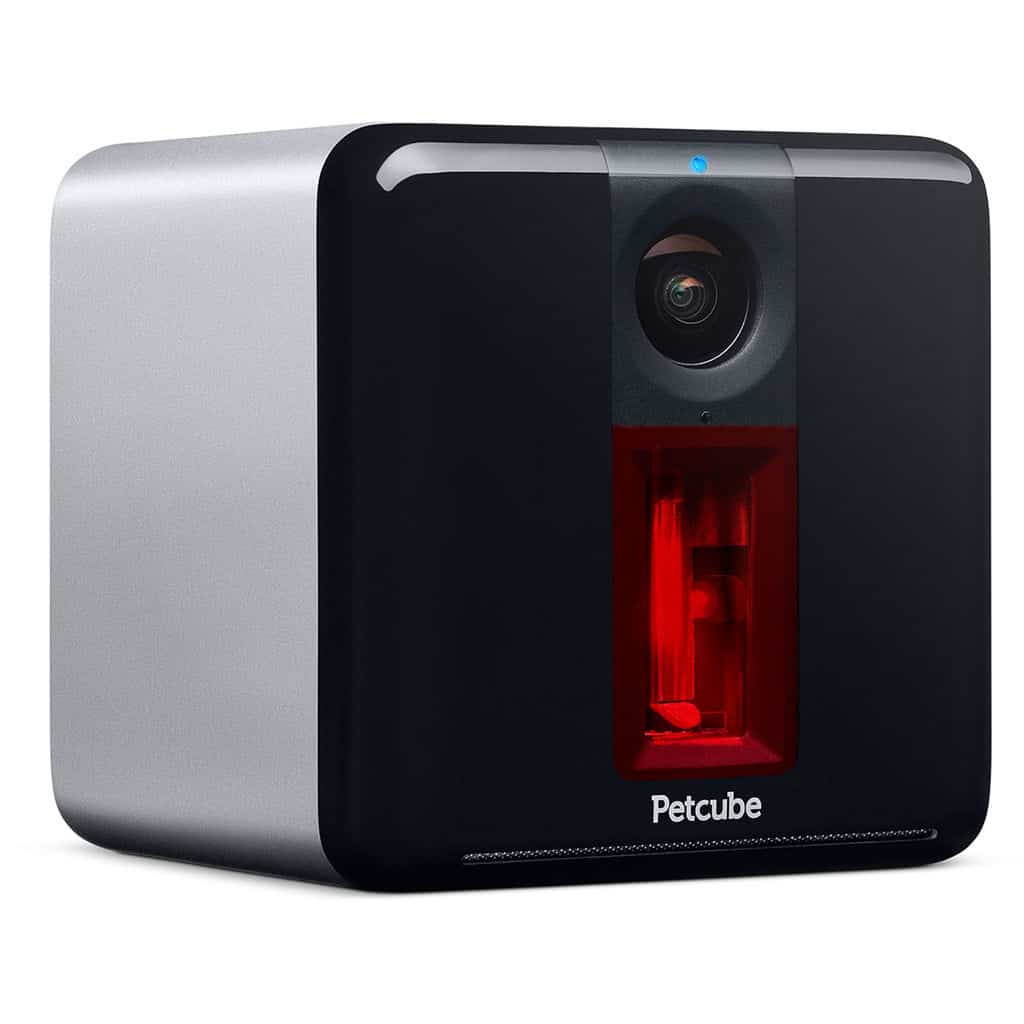 Have you ever imagined your pet calling you while you are away from home? It is now possible with Petcube. This device has a built-in motion-activated sensor that turns on the camera and automatically makes a video when your furry friend steps in front of it. You will receive a notification that your pet sent you a "video call request." You can even call your pets and talk to them when you want to see how they're doing while you're away.
Play With Your Cats While You're Away
Cat lovers know that cats will always be fascinated with lasers. However, you can't always be there to play with them yourself. :).
Thankfully, you can purchase products like the PetSafe Bolt Interactive Laser Cat Toy to play with your pets when you're away from home. Your eager feline can enjoy chasing the randomized pattern of laser beams to get them active. The toy also comes with a 15-minute shut-off time so your cat will not get tired of it.
Another great product to entertain your cats while you're away is Mousr. This cat toy has advanced artificial intelligence technology that can mimic the behaviour of a prey. It plays with your feline friend by teasing, hiding, and moving in random ways. You can even control the toy using your smartphone so you can play with your cat from wherever you happen to be.
What smart pet products will you try?
Having pets at home requires attention, time and commitment. However, there are times when you need to be temporarily away from home for work or a short trip. To ensure that your pets get the care they need even if you're away, you can use some great products to do the job and even control or monitor using your smartphone. Thanks to modern technology, you can be at ease leaving your pets at home.
References:
Hi, I'm Christy, and I'm an electronics engineer by profession. I have taught in a university for 2 years while pursuing my master's degree in cognitive radio and worked for a company to develop wireless medical devices. Currently, I'm doing research for a doctorate degree in engineering using a wireless sensor network for smart agriculture. I've been active in our local IoT community, IoT Cebu, where I participate in conducting talks about Arduino, Raspberry Pi, and DIY home automation using Wi-Fi and ZigBee devices.