As of January 2021, iSmartalarm is no longer under active support.
Notice Regarding Future of Product Support:
iSmart Alarm, Inc. ("iSmartAlarm") deeply regrets that due to the current economic climate, it will be unable to continue supporting iSmartAlarm products.
A third party, meShare Inc. ("meShare"), has graciously agreed to host iSmartAlarm's products on the meShare network (the "Services"), for free, for a period of 12 months, starting from January 10, 2021 (the "Period"). Given the complexities of the transition, some iSmartAlarm users may experience reduced functionality with respect to their iSmartAlarm products, and some iSmartAlarm products may be incompatible with the meShare network and therefore stop working. Neither iSmartAlarm nor meShare makes any warranties or guarantees as to the compatibility or functionality of a user's iSmartAlarm device or user experience, or to the Services in general.
To continue using your iSmartAlarm products during the Period, you will have to update your iSmartAlarm app and will need to agree to the updated Terms of Services and Privacy Notice governing the iSmartAlarm products and Period when signing into the updated iSmartAlarm App. meShare may, at its sole discretion, choose to terminate the Services during or after the Period, with or without notice.
Check out our Best Home Security Camera Systems review for other options!
Want an affordable HD camera that comes with smart software to alert you to a fire in your home?
If you would rather pass on non-existent tech support and Chinese instructions but keep the reasonable price tag, I've got an in-depth review of the iSmartAlarm's newest HD surveillance camera, Spot.
The iSmartAlarm Spot is almost ready to ship production units after a smashing Indiegogo crowdfunding success. Everything looks promising at first glance, let's see how it holds up on further inspection.
With this feature set, it's hard to know if I should call it a camera or a home monitoring system.
The Bottom Line
Product
:
iSmartAlarm Spot
Price
: $69 preorder ($129 retail)
Rating
: /5
Reviewed by:
Jody
on
---
The iSmartAlarm Spot On Paper
From a browser, the Spot is pretty sexy when you consider what you get for the cost.
HD (1280 x 720) resolution
Night vision (30′ range)
wireless video
2 way audio
local storage with a microSD card
motion (20′ range) and audio detection for alerts
smoke and carbon monoxide alarm recognition
time lapse videos
free cloud storage (up to 30 [10 second] videos)
When you get all of that for $69, go ahead and order a few of them, right?  The smoke alarm detection alone could save you $60 from buying a Kidde or $100 for a Nest protect.
And, we haven't even talked about the camera yet.
The camera is discrete and has a magnetic base for mounting much like the Netgear Arlo.  The base pans and tilts for easy installation and adjustment wherever you need to mount it.
Here are the gory details for the geeks out there:
130 degree field of view
1/3″ CMOS sensor
H.264 video compression
4x digital zoom
Local storage up to 64 GB
WiFi – 802.11 b/g/n 2.4 GHZ
Type-A USB and Micro USB ports
2″ x 2″ x 2.2″
3.53 oz.
5 V power (via USB cable)
6′ power cable included
32

º

F to 104

º

F operating temperature
Up to 90% humidity at 104

º

F
Bandwidth requirement – 1 Mbps
And finally, you can get the app on Android and iPhones.
iSmartAlarm Spot vs Keep
So:
How does the Spot compare to the Keep?
| | iSmartAlarm Spot | iSmartAlarm iCamera Keep |
| --- | --- | --- |
| Resolution | 1280 x 720 (720P) | 1280 x 720 (720P) |
| Field of View | 130° | 77.5° |
| Pan and Tilt | No | Vertical 40°,Horizontal 350° |
| Local Storage | Yes | No |
| Operating Temperature | 32ºF – 104ºF | -14°F – 122°F |
| Audio | 2 way | listen only |
| Size | 1.97" x 1.97" x 2.20" | 7″ x 3.8″ x 3.8″ |
| Cost | $69 | $150 |
First Impressions
OK, now that you're asleep let's talk about the experience.
First, you get everything you'll need to get started in the box.
If you're anything like I am, my first thought is "This will be easy to hide where some perp will walk right by it!". At 2″ square, the camera itself is easy to tuck away in a discrete spot. You may have more trouble hiding the power cord.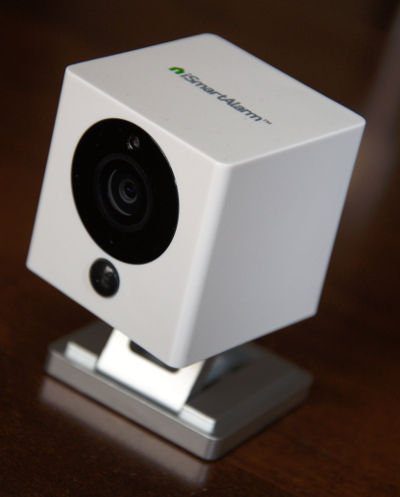 Past the initial unboxing, the setup is every bit as easy as the 3 minutes claimed by iSmartAlarm on their website.
Here's your guide to the iSmartAlarm Spot setup:
Install and log into the iSmartAlarm app
Go to the camera tab and add a new camera
Select the Spot from the list
Follow the app instructions to configure WiFi access for the camera
Easy, right!?!
How to Add the iSmartAlarm Spot for Multiple Users
The only part of the setup that I had to jump online to figure out was adding the Spot camera to the app for multiple phones.
It's really easy once you figure it out, so here are the instructions to save you some time:
Go to the Spot's page in the app
Press "Settings" on the camera's screen
Select "iCamera Users" at the bottom
Choose "Add New Users"
On the phone you want to give acess, go to the main control screen of the app and select the Home icon at the top
Select "My Account"
Select "Join new group"
Scan the QR code to add the camera
How's the iSmartAlarm Spot App?
If you've read my iSmartAlarm iCamera KEEP and security system review, you already have a good idea of the iSmartAlarm app.  The user interface is uncluttered, usually intuitive, and was very reliable during our testing.
As they say, a picture is worth a thousand words.  So, here are a few looks at the camera interface.
Once you get the Spot set up, you can jump into the settings for the camera and access some of the additional features.
Smoke alarm and CO alarm detection (off by default)
Time lapse videos (microSD card required)
Motion and sound alerts
iSmartAlarm Spot vs. Kidde/Nest Protect/Roost
The idea of having a camera that's always listening to tell you when a smoke alarm goes off in the house is a solid idea.  After all, a smart smoke detector can be pretty expensive.  Now, I'm a fan of the smart battery concept used by Roost, which will save you some coin.  But, why not get that and a camera for a few dollars more and scratch both itches?
If you're like me though, your first thought is, "Yeah, but how well does it work?".
Well . . .
I had mixed results with mine when testing the smoke and CO alarm detection feature (3/10/16 firmware).
When I tested a carbon monoxide detector, I received an immediate notification on my phone (within 5 seconds of hitting the test button).  I was a bit surprised that the range was so good since the alarm itself isn't very loud and was on a different floor from the Spot.  The CO alarm was a plug in unit picked up from Lowes a couple of years ago.
With my circa 2005 FireX smoke alarms though, I had no such luck.  I gave up testing after a minute of beeping.  My only theory is that iSmartAlarm hasn't yet added (or tweak what's already there) software to recognized a really broad range of alarm types.  And, considering the Spot camera is still in preorder, that's not surprsing.
Here's to hoping they close the deal on a very attractive feature.  After all, you're almost as likely to loose your home to fire than burglary according to the NFPA.
I'm Digging the Smoke and CO Alarm Detection of the iSmartAlarm Spot!
U.S. fire departments responded to an estimated 1,298,000 fires in 2014 . . . [resulting in] an estimated $11.6 billion in direct property loss.National Fire Protection Association
That $12B bill due to fires puts the $5B due to burglaries to shame. So, make sure you have a good monitoring system in place.
How Good is the Spot Video?
With streaming 720p video, the Spot is going to handily beat cheap analog cameras that you find and most of the cheap Chinese stuff you'll find at Costco and on Amazon.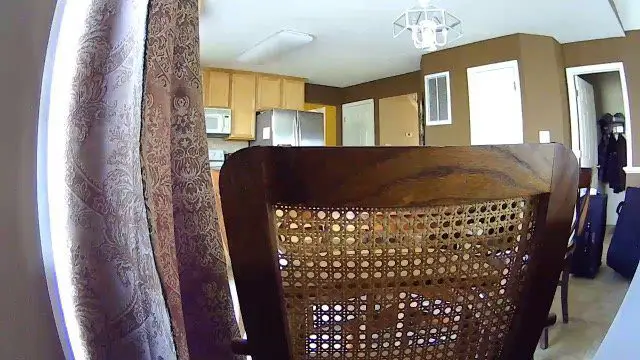 There's some distortion (fish eye effect) around the periphery of the image, but it's tolerable since most will only care about the center of the image anyway.  If you really need a wide field of view, Piper has a 180 degree lens.  But for that price, you could also buy 2 spots and cover 260 degrees or two locations!
At 1280 x 720, don't expect to identify a burglar at night from 40 feet, but it certainly will do the job a bit closer (check out our camera resolution calculator for the gritty details on facial recognition). And, it certainly is an affordable way to get an alert on your phone and quickly check for smoke, a fire, or strangers wandering around in your house so that you can call the fire department or police as needed.
Final Recommendation
If you have an iSmartAlarm security system, the Spot surveillance camera is probably a slam dunk for you. It will give you a quick assessment of any alarm notifications that you get.
Even if you don't, the Spot is an affordable home surveillance camera with some really unique features:
free limited cloud storage
local storage via micro SD card
notifications of fire alarms and carbon monoxide alarms
When you pair those with an HD camera for $70 (hurry, retail is listed as $130 on their site), that's a pretty strong proposition.
If you don't believe me, check out our camera comparison to compare prices and features yourself.
Look for the iSmartAlarm Spot release date in April 2016.
Before you go, please use the sharing buttons to help me out if my review helped you make a decision.
Thanks!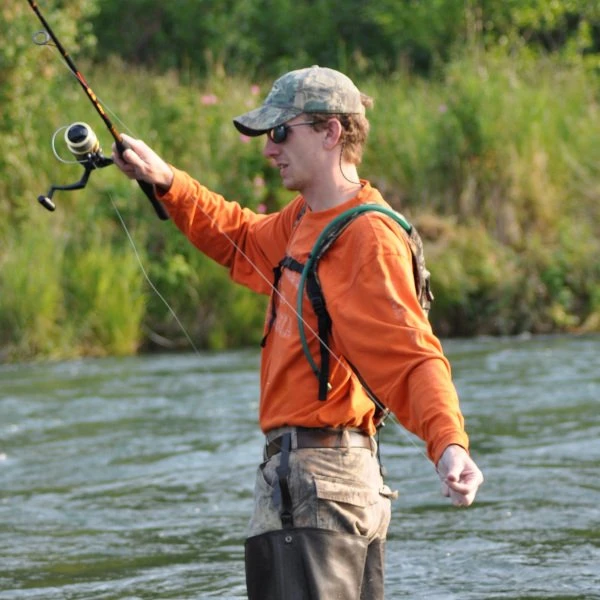 Hi, I'm Jody. I graduated with honors with a Masters of Science in Computer Engineering and have over 15 years of experience working as an engineer with electronics products. I'm a lifelong learner and tinkerer and enjoy automating things around the house so I can solve bigger problems than getting out of bed to check if the garage door is closed . . . like too little sleep!