When you first learn of a new baby, excitement fills the air. And chances are, your mind will wander to things that will make that bundle of joy look cuter and smell sweeter than you could ever imagine!
With hundreds of different products on the market that are aimed at parents with the promise of "your baby needs this!" it can be difficult to figure out wants versus needs.
Why do I need a Security Focused Baby Registry?
When you are shopping for a new baby and planning out ideas for what that baby will need, it might be easy to go over the top on adorable outfits, nursery decor, socks, and other items that you believe you simply must have for your newborn.  With so many different options available for baby, it can be overwhelming!  While you are shopping for those cute outfits and accessories, keep in mind that your first responsibility is to keep your child safe.
To that end, this list is designed to help you started on a safety focused baby registry to ensure your little one stays safe as he or she grows.  Some of these are obvious, but we've made sure to sprinkle in clever solutions you may not have thought of.
1. Baby Gates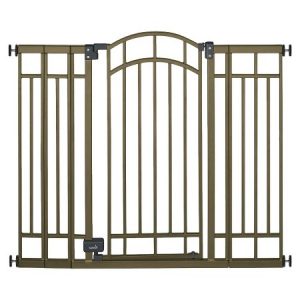 You might not be thinking too much about baby gates as you start creating your baby registry, since your baby won't be crawling around for the first few months.  But adding one or more baby gates to your baby registry now can be beneficial and help you out in the long run.  These gates make it easier for you to get used to the idea of using them when your baby becomes mobile, and they can also function to keep older children and pets out of the same room as the baby.  Plus, before you know it, that little baby of yours will be crawling all over – and it's easier to know you have safety precautions in place before that happens!
2. Owlet Baby Monitor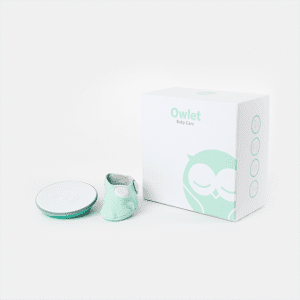 The Owlet Baby Monitor is a specially designed monitor that will help give you peace of mind while your baby gets the sleep he or she needs.  The monitor works by monitoring your baby's heart rate and oxygen levels through a sock that goes on his or her foot, and gives you details on an app on your tablet or smartphone.
It ensures that you are able to see that baby is breathing and that oxygen levels are at a proper level, otherwise you will be alerted.  This makes it easy for you, the busy parents, to get some rest, too.
3. Magnetic Drawer Locks
Magnetic drawer locks are fantastic inventions when it comes to households with small children.  They work by having an adult install them, usually inside the cabinet or drawer, and can only be turned with the very strong magnet inside the key.
If you pick some up on Amazon, it helps us cover our costs, thanks!

This allows the cabinet or drawer to remain locked, allowing you to store dishes, silverware, or other items, without having to worry about your baby or toddler accidentally pulling them open and hurting themselves.
4. Oven Door Lock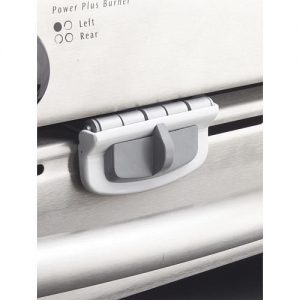 A true necessity for homes with babies and small children, oven door locks are incredibly helpful at preventing kitchen accidents.  When babies begin pulling up on surfaces, they grab onto whatever they can, and this can include an oven door!
Prevent burns and accidents from occurring by placing this helpful tool on your oven door.  The easy to install locks will fit right on a standard oven door and prevent little ones from opening the door as they pull up.
5. Knob Covers for Stoves
Babies and children love playing with new things, and unfortunately, this can include your stove, especially if your knobs are on the front.  To prevent accidents, burns, and fires, knob covers for stoves can be especially helpful.  They simply cover your existing knobs, and prevent them from being turned.  Some varieties completely cover the knobs and must be removed prior to the knobs being used, while others snap open and closed in the front to allow easy turning without complete removal.
6. Stove Guard
When it comes to child proofing in the kitchen, you can never be too safe. An adjustable stove guard is an ideal piece of safety equipment that attaches to the front of your stove, protecting your child from scalds, burns, and splattering oil when cooking. Most are made of heat resistant plastic, and are also great tools for preventing splatters when cooking in the kitchen with small children.
7. Door Knob Covers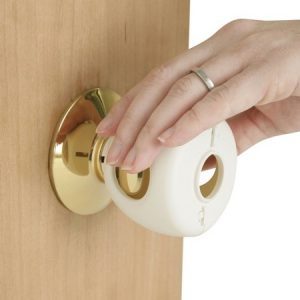 Available in a variety of different types for doors, such as regular knob covers and even lever handle locks, this is a fantastic way to help keep wandering little ones safe from opening doors.
That's really helpful for a closet with cleaning supplies or doors leading outside!
Since open doors can encourage children to wander off unsupervised or even pinch their fingers, it's always a great idea to invest in some sort of door knob lock for rooms you would rather keep your little one out of.  Even small babies who are learning to pull themselves up or grab onto handles can accidentally open doors, so having these in place early is important.
8. A Security System
9. Power Outlet Covers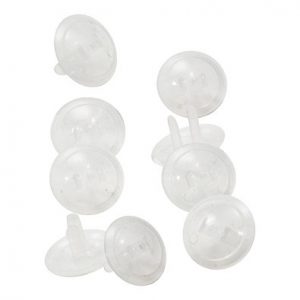 Perhaps one of the most popular and used child proofing item is the power outlet cover, and with good reason!  It is important to find a high quality outlet cover – don't skimp!  Be sure that your child will not be able to pull it out of the outlet.  Many different brands make power outlet covers, and they can be an invaluable tool in your home to prevent shock, electrocution, and fires.  Having extra on hand is never a bad thing, either!
It's a cheap and easy fix, so don't skip these!
10. Power Strip Covers
Most homes have at least one or two power strips – even more if you have a home office or a room with not many outlets.  These can be potentially hazardous for babies and toddlers, as many times they will be eager to pull plugs out, and even try to put things into the power strip.  Power strip covers work by encasing the entire power strip in a type of case that does not allow children to open and play with the plugs or the strip inside.  This is helpful for preventing shock, fire, and electrocution.
11. Nightlights
Nightlights are simple items that you can easily place in rooms throughout your home, including the most traveled rooms such as your kitchen, bathroom, and baby's room.  By placing nightlights, you are able to see more easily at night when you are taking care of your little one, changing diapers, and making trips to the bathroom.  As babies get older, nightlights are also great ideas to help prevent fear at night.
12. Toilet Locks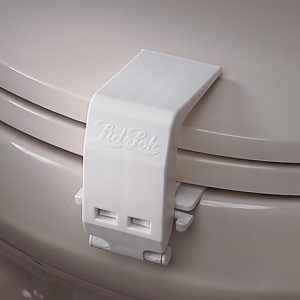 Toilet locks are great for keeping the toilet closed and keeping those curious little hands away from places they shouldn't get!  Prevent accidents, pinched fingers, and toys from going where they shouldn't, simply by installing this lock on your toilet seat to prevent your little one from opening the lid.  Easy to install and use, these locks can save lives when used properly.
13. Self Closing Outlet Covers
Available in a variety of designs, self closing outlet covers are a great choice for a family with a baby or small children.  These outlet covers close immediately upon removing the plug so that your child cannot gain access to the outlet.  Some of these snap shut, while others simply have a plastic piece on the inside that requires a plug to be pushed into the outlet, preventing fingers and other small items from getting shoved inside.
14. Furniture Corner Guards
The sharp corners of furniture, such as end tables, desks, and coffee tables, can be hazards to young children, especially babies and toddlers who are still learning the ropes of walking.  Most of these furniture corner guards are either silicone or foam, and many are self adhesive, sticking right onto the surface of the furniture piece.  These can prevent bumps, bruises, and accidents by shielding your small children from these sharp corners.
15. Fireplace Guards and Screens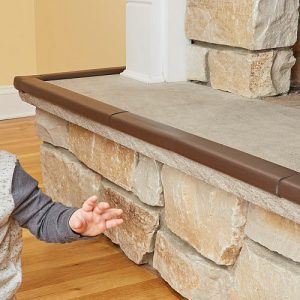 Fireplaces, especially those with real fires and stone hearths, can be danger zones for babies and children.  To help prevent any accidents from occurring, it is important to take proper precautions prior to baby's arrival.  Purchase a fireplace screen if one isn't already in place – doing so can prevent any embers or sparks from flying out of the fireplace and burning someone.
Another safety item that can work wonders are fireplace guards, which are usually big foam pieces that attach to the bottom of the fireplace, making them less harmful for children if they walk into it or fall.
16. Door Pinch Guards
Door stoppers or pinch guards like these on Amazon are really useful once your newborn starts to crawl well.  Pinch guards make sure that doors do not slam open or shut, causing pinched fingers.
17. Furniture and TV Anchors
If you have a lot of heavy furniture, such as bookshelves, and televisions that are a bit wobbly on their stands, it might be a great idea to anchor these items to the walls of your home to prevent them from toppling over.  Televisions are some of the most problematic items in a home, especially if they are not properly secured.  Wall anchors are great ways to secure the television to ensure that little hands do not accidentally pull them down on themselves.
Most new furniture include anchors by law, but some of your older pieces may not.  Bookshelves and dressers are more items that need to be securely fastened to the wall or bolted to the floor.  Since small children enjoy pulling up on these items when learning to walk, it is important to make sure that they won't topple over.
18. Munchkin Rubber Duck

Bath time safety is important for babies of the youngest age, and one of the most problematic areas of bathing a newborn is that many parents have trouble deciding whether or not the water is too hot.  Since grabbing an actual thermometer to measure the temperature of the water each time can get somewhat daunting, Munchkin has created a fun bath rubber duck that does the work for you.
Simply toss the bath duck into the water, and if the water is too hot, the word "HOT" appears on the bottom of the duck, so you know to adjust the temperature.
Bonus:
These ducks are also cute and fun to play with!
19. Baby Monitors, Upgraded!
There are so many different kinds of baby monitors to choose from, so you can be sure that there is one to fit every lifestyle.  If you are looking for something simple, there are monitors with the usual – sound monitoring, sometimes a nightlight, and even multiple channels to ensure you don't get any interference.  As you go up in price, you start to come across monitors that have two-way interaction available, as well as video monitors.
My argument is this:
As long as you're adding a camera with 2-way audio and clear images, why not make it a security camera?
That way, you can re-purpose it to keep an eye on your home when you're away when your baby no longer needs a monitor.
Our security camera system comparison page will be a big help there.
20. Bed Rails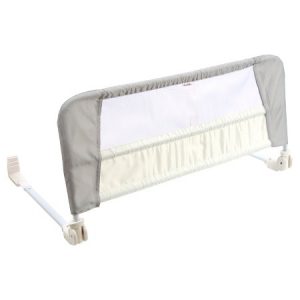 Bed rails are often thought of as being for toddlers and older children, but babies can benefit from bed rails, as well.  Bed rails are great options for parents who wish to play with infants on their bed, without having to worry about them rolling off when you need to go to the bathroom or help an older sibling.
Many of these bed rails can be used on toddler beds or twin size beds, as well, so that when your child starts sleeping in a big-kid bed, you will be ready with a bed rail that will help protect them from falls and bumps.
21. Safety Nail Clippers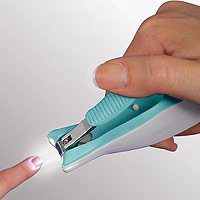 With a variety of designs available, safety nail clippers for babies are very important tools to have for grooming.  Some designs are created to prevent very much of the nail from being clipped, which gives you the chance to clip the nail while having the assurance of not clipping too far.
Others are created with a small light that helps you see exactly where and what you're clipping.  Many also come with baby emery boards, which can be easier to use than nail clippers, especially with a newborn.
22. Nest Protect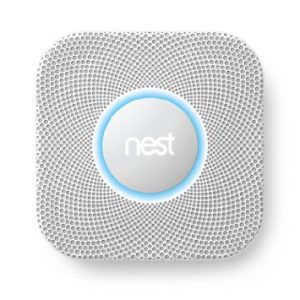 Nest Protect is a great smoke and carbon monoxide alarm product that will help you identify the problem and the location of the problem with ease.  With app integration that tells you what's happening and where, you also have the option to check up on all the monitors in your home, receive alerts when you aren't in the same room or even home, and silence an alert when it sounds.  These amazing alarms are helping to save lives by being smarter, better, and easier to use than typical alarms.
Of course, Nest isn't the only game in town here.  We reviewed the Roost Smart Battery which just plugs into your existing fire alarm and turns it into a smart device.  And, it will save you a lot of coin over the Nest Protect.
23. CO Monitors
Carbon monoxide is dangerous because entire families can just go to sleep and never wake up with no warning.
That's why a CO monitor is essential to have in any home, carbon monoxide alarms are great items to have in bedrooms, basements, and kitchens, and will give you peace of mind when it comes to worrying about CO levels in your home.  These alarms are lifesavers and can help you get out of a situation quickly if high CO levels are detected.
24. Blind Cord Wind-Ups
Parents have been warned about the strangulation hazard that blind cords pose for years, and while it might seem the best idea is to just take the blinds down from your windows in order to keep kids safe, there are other options! Blind cord wind-ups allow you to wind up the pesky blind cords that are dangerous, and keep them neatly tucked out of the way so that children can't open and access them.
25. A Gun Safe
You may have been able to get away with storing a handgun in the bedside table drawer when it was just you and your wife (hopefully not if you had kids or visitors around), but now it's time to upgrade.  Find a safe way to store your guns with kids in the house!
Know Someone Who's Expecting?
Of course, this doesn't cover everything under the sun, but if you get the items on this list your baby is going to have a darn good head start on a safe and successful childhood. :)
Go ahead, add a security system to your registry and see which of your friends is cool enough to actually buy it for you!