Looking for a robot slave to do your vacuuming for you?
Well, the Neato Botvac D5 is a great choice.  We'll give a rundown of how well it did in our home with mixed flooring, rugs, and lots of toys and dropped food!
Plus, I'll let you know which of the robot vacums we tried and decided to keep. 😉
First Impressions: Neato D5 Design
The Neato Botvac D5 is round but with a flat front which allows it to reach corners better than a round design.
It has a large dock which needs ample space to ensure the vacuum operates properly. The company suggests 3 feet on either side of the base for the robot to successfully find its way back each time.  That sounds simple, but when you start searching your house for a 6 foot section of wall with nothing against it, you may be surprised by how difficult it is to find a good location.
The black on the Botvac D5 is a flat black, and with that comes a lot of dust attracted to it. So, expect to clean it off often if that bothers you, but hey, I'll take wiping off the surface and allow it to clean all my floors in a heartbeat.
Setting up the Neato Botvac D5
The Neato D5 was a breeze to set up.  After installing the app and setting up the vacuum on our segregated network for home automation gear, we were off to the races.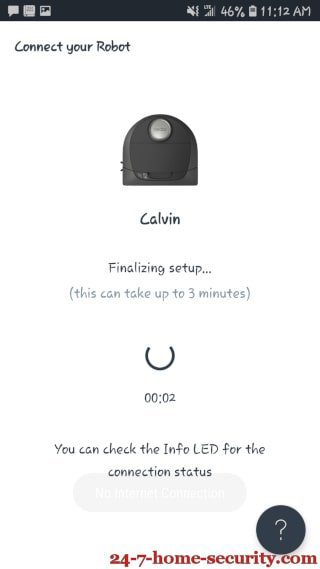 Botvac D5 Features
The Neato D5 offers a slew of "premium" features that you'll want in your vacuum for the price that you pay:
Laser based mapping
Stored maps
Spot cleaning
Custom cleaning profiles
The Neato Botvac D5 has an app that allows you to control the vacuum remotely which may be convenient for those of you that run the robot while out of the house.  It allows you to set the robot on a timer, then it will do the clean-up automatically at the assigned time.
Setting a cleaning schedule for the D5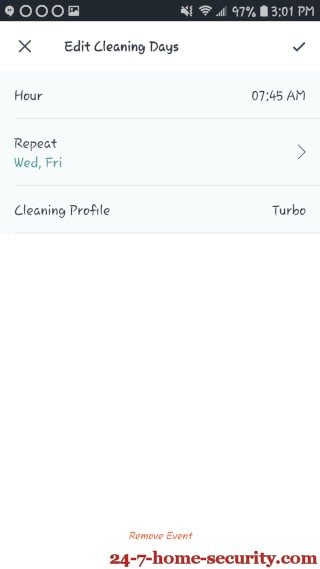 Available Cleaning Modes for the D5
The app lets you choose settings of Eco, Balanced, or Turbo for how the vacuum performs.  That will adjust the level of cleaning and also impact how long the battery lasts.
We ran the vacuum on balanced normally, and the vacuum would have to recharge once before finishing its run completely.  Once the charge drops to a certain level, the robot goes back to the base to charge before completing the remainder of the area.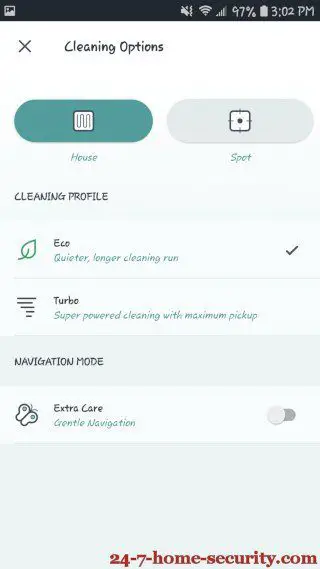 Stored Maps
The Botvac also allows for you to save multiple floorplans which is convenient for a multi-level home, if you actually want to go to the trouble of moving the base each time.  However, it also seems to have some minor glitches in the floorplan mode which it didn't have in the straightforward, out-of-the-box cleaning mode.
Like creating rooms where they didn't exist!
Once the saved floorplan mode was used, the robot often got confused and couldn't find it way around or even back to the base. After trying to delete the plan and start over, the same issues occurred with our firmware load. This is something you may want to consider.  It may have been just a faulty bot or a system-wide software problem. Neato's tech support gave expected troubleshooting suggestions of deleting the floor plan and resetting the vacuum, which proved ineffective in our case.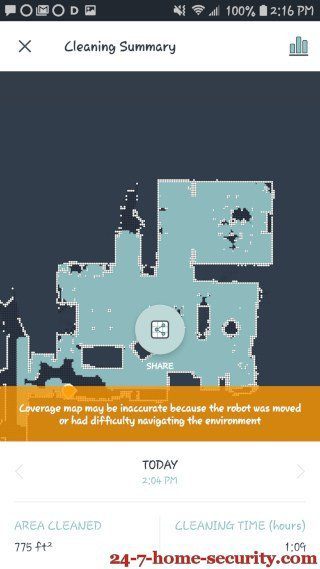 Performance
Overall, the Botvac D5 performed well regarding clean-up. It never failed to pick up everything that we hoped it would. In fact, most times, the bin had to be cleaned out during the clean-up (and the bin is fairly large, especially compared to the Roborock S5). Don't judge – I have four kids, ha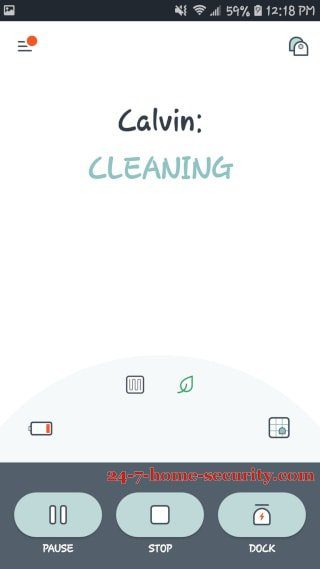 One thing that you are going to notice, or that we noticed, is that initially the robot sent one notification to clean the brush, but after that there were none sent.  And this notification was because of something large stuck in the brush.  At one point when it seemed to be having trouble, so I flipped it over and was horrified to find a mass of hair and carpet.  I couldn't believe how much fuzz, etc. was all around the brush.  For one, it was probably a lot of the dirt I was finding in the bin each time. And two, was this preventing the clean-up that I thought was taking place all this time?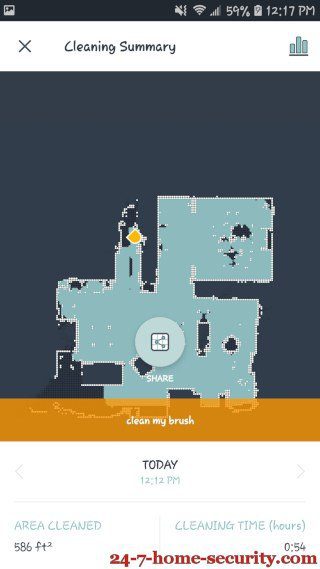 As I mentioned in the features section, we did have quite a few issues with this model.  It would get confused and turned around and start mapping areas twice and flipping the map around.  It would also not be able to find the base, and we had to carry it back to the dock ourselves.
When navigating around the house, the Neato Botvac D5 did well not getting stuck on or under things around the house.  We did find it trapped and confused on the base of an oscillating fan one time (see video below). It took it quite a long time to figure out how to escape, but it did, eventually.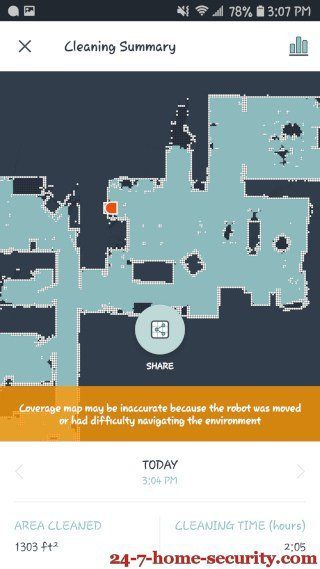 Botvac D5 Vacuuming Performance
So forget all of the features, you want to know how it cleans, right?
Well, in our experience, it did pretty well.  For one, it transitioned from tile, hardwood, carpet and rugs without any issues and happily navigated under furniture and around obstacles.
And while it doesn't pick up as much as an upright would, the fact that the automated cleaning meant that we cleaned more often made this a win for us since the floor didn't have as much time to collect trash.
Robot Vacuum Comparison: Neato D5 vs Roborock S5
As the two most popular mid-range vacuums with premium features, I thought a comparison of the Neato D5 to the Xiaomi Roborock S5 would be helpful for you.  After all, these are the two vacuums that I say recommended over and over again in this price range.
Here's the skinny:
| | |
| --- | --- |
| Neato D5 | Roborock S5 |
| Flat front allows for easier corner access | Circular body makes deep corners inaccessible |
| Multiple floorplans allowed | Only one floorplan |
| Two options for vacuuming strength | Four options for vacuuming strength |
| Schedule set up available | Schedule set up available |
| Overlaps passes a little more and turns more slowly | Vacuums a perimeter and efficiently covers the room |
| 60 dBa noise level | 64 dBa noise level |
| Push notification for alerts | Voice prompts and push notifications |
| No mopping | Wet mopping available |
| 90 min. on a single charge | 150 min. on a charge |
| Manual control | Map a zone on the app |
So which vacuum did we choose to stick with?
Well, it was truly shaping up to be a tough decision.  I liked that Neato is headquartered in the US, under US laws and jurisdiction to be held accountable to the consumers.  And since both vacuums performed well, I was honestly going to stick with the D5.
Until . . .
One day the vacuum freaked out and started finding rooms in places there weren't any.  After resetting it, we then had a hard time getting it to connect back to our WiFi network reliably, going through several customer support sessions that did not inspire confidence.
So . . .
I went with the Chinese Xiaomi Roborock S5 instead.  At the point that we tested it, the software was much more stable and gave us more confidence that this would be an enjoyable purchase long term.  You can check out our review of the Roborock S5 for more details.
A few months later, I still think it was a great investment!  But, you may want to give Neato another chance, as I'm sure they're improving their software all the time.
With either vacuum, one thing you'll definitely love is the satisfaction of watching it pace back and forth sucking up dust and dirt while you kick back on a couch or enjoy a night out!  Check out the latest prices on the D5 and make your decision today!
Want other options? You may also want to check out the list of robot mops on our other post!
Hi, I'm Christy, and I'm an electronics engineer by profession. I have taught in a university for 2 years while pursuing my master's degree in cognitive radio and worked for a company to develop wireless medical devices. Currently, I'm doing research for a doctorate degree in engineering using a wireless sensor network for smart agriculture. I've been active in our local IoT community, IoT Cebu, where I participate in conducting talks about Arduino, Raspberry Pi, and DIY home automation using Wi-Fi and ZigBee devices.