We've all done it.
You come home from a trip and realize that you never set the alarm. Or, you have your hands full of kids and groceries and can't disarm it before it goes off.
It's 2016! Can't we get some decent technology around here to make this easier?
Turns out, you can.
Stick around, and I'll show to automatically arm and disarm your alarm based on EVERYONE in the family's location (AKA geofencing). And, you can use the same technique to control your Nest, Evo, or other smart home gadgets too.
Do I really need to automate my alarm system?
Listen:
If you really like punching buttons into an alarm pad like it's 2005 or even pulling your phone out of your pocket, unlocking it, pulling up your alarm's app, and arming it on the way out the door, this article isn't for you.
Not sure what system to choose?  Check out this tool to compare home security systems.
If you've got enough to think about already and want the technology in your pocket to work a little harder to make your life easier, then you'll love this how-to article.
How many times have you inadvertently set your alarm off over the last month?
How many times have you forgotten to set your alarm?
You need to implement a solution.
Must Haves to Implement Geofencing with Multiple Users
Head's Up!
If you're single and live alone, this solution is more than you need. See the other solutions below

Before we get started, know that if you live alone, you may want to check out a couple of simpler solutions down below. This how-to is unique in working for a whole family.

Requirements:

That's it! Here's what it'll look like when you're done: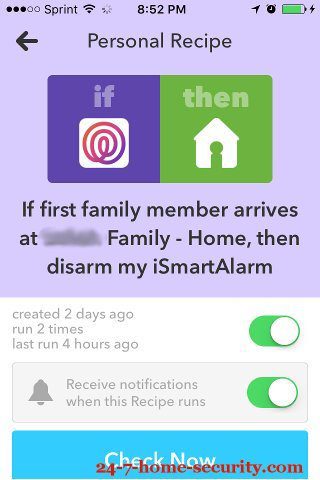 How Does Geofencing with Multiple Phones Work?
Maybe you've already figured it out, but we'll explain for those not familiar with these services.
IFTTT is a service that allows you to connect devices and apps together with triggers and actions. It will be the glue connecting your alarm or home automation system to the Life360 app. It's also a key component to many other neat home automation tricks that I've written about.
Life360 is a simple way to track family members and send notifications based on locations.  In particular, we'll be using a couple of triggers available via IFTTT when:
the first family member arrives at a place
the last family member leaves a place
So, you'll be adding a new recipe that uses Life360 to trigger a change in your alarm system.  It's pretty simple from there, but I'll walk you through the set up just in case.
Be a benevolent technophile and share this with your friends!
Implementing Geofencing with Multiple People
Here are the basic steps:
Sign up for Life360 and invite any family members who will be coming home or leaving when no one else is home (parents, roommates, or older kids after school).
Sign up for IFTTT and enable the Life360 channel plus any dealing with your security or smart home system.
Add new recipes to make changes to your system when people leave and arrive home.
How to Set up Life360
If you're still a little fuzzy, this detailed walk-through should fill in the gaps. If not, just drop any questions in the comments below.
Install the Life360 app from your app store.
Sign in and create your circle (ex. your family)
Create your first location (ex. home!) and set the radius of the location (increasing this can help mitigate any latency in the app and give plenty of time for your alarm to disarm on the way home).
Invite other family members or roommates to your circle.
How to Set up IFTTT
Now, you need to connect Life360 to IFTTT to trigger your alarm system.
Sign up or sign in to your IFTTT account.
Under channels, enable the Life360 channel and sign in to connect it to IFTTT.
Under channels again, insure that your alarm system, camera, or home automation system's channel is also enabled.
Create a new recipe.
For the trigger, choose Life360 and select either "Last family member leaves" or "First family member arrives."
For the action, choose the channel for your system (iSmartAlarm, Scout, etc.) and select "Arm" or "Disarm" depending on the trigger you used.
It's just that easy!
Now, your system will automatically arm when everybody leaves the house and disarm when anyone comes back home.
Bonus Tips
There are a couple of things to keep in mind when tweaking this setup to work just right.
First, there are multiple external services that need to work together for everything to go smoothly. Servers could crash and delays could be greater than you expect. So, you may still have occasional false alarms where your alarm doesn't get disarmed in time.
Second, your phone regularly goes to sleep to conserve battery life, and it isn't constantly waking up so that Life360 can check your location. So, it may introduce a delay as well, or you may see faster battery drain with the extra service running all the time to update your location.
To mitigate delays, you could increase the radius around your home. That way, when your phone periodically wakes up and checks where it is, you'll be more likely to see that you're close to home and disarm your system with plenty of time to spare. Of course, the down side is that it will also take your alarm longer to arm when you leave, but most thieves aren't going to break in as soon as you pull away from your house.
Geofencing for Android Folks Without IFTTT Support
Tasker + Android = Automation Super-Sauce
Geofencing for Loaners with IFTTT
If you live alone and DO have an alarm or home automation system with IFTTT integration, then making changes when you leave or come home is pretty easy. You could also use this if there is one person that stays or works from home to catch 90% of your use cases.
Sign up for an IFTTT account
Activate the Android or iOS Location channel for your phone
Activate the channel for your alarm, security camera,  or home automation system.
Create a new recipe with a trigger via location and enter your home address (either leaving or entering).
Add an action to arm or disarm your alarm, raise the temperature, turn on the outside lights, or whatever else you dream up.
Making Technology Work For You
I hope you've enjoyed the write-up. I know this little trick has really made things easier for our situation where just having one person's phone tracked just doesn't cover every time we would benefit from geofencing.
If you have any questions, feel free to ask away in the comments below.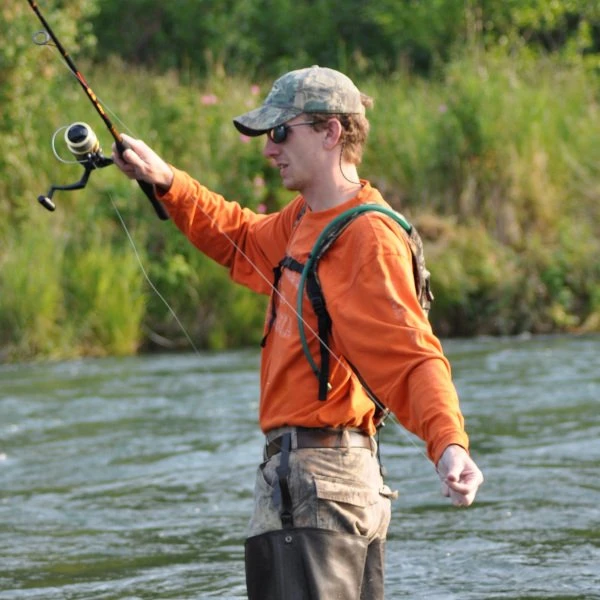 Hi, I'm Jody. I graduated with honors with a Masters of Science in Computer Engineering and have over 15 years of experience working as an engineer with electronics products. I'm a lifelong learner and tinkerer and enjoy automating things around the house so I can solve bigger problems than getting out of bed to check if the garage door is closed . . . like too little sleep!