A residential garage door can be one of the weakest links in your home's security.  That can be especially true if your garage entrance is shielded from view of the road or if you do not live close to your neighbors.  And, you can be certain that a burglar will attempt to enter your home as quickly, quietly, and discretely as he can.  So, why not supplement the security features of your existing garage door with garage door locks like center mount or deadbolt locks while you're out of town.
Even if you have garage locks or an automatic garage door closer (a cheap security addition on Amazon) to make sure you don't leave your door open when you leave home, a garage door lock is still a good solution for those long vacations.
With that in mind, we're going to cover easy DIY garage door security tips that you can implement in a few minutes before you leave town for a few days or to visit family and friends as part of your vacation security checklist.  Chances are most, if not all, of the products or tools I'll mention, you already have at home.
Here, we'll cover:
[callout type="left" title="Head's up" message="These tips should supplement the ones provided in our previous garage door security article about securing your garage door emergency release." button_text="Secure your garage door emergency release" href="https://24-7-home-security.com/garage-security-tips/ "]
This fix applies to automatic garage doors as well as manual garage doors with external garage door locks on them, because we all know that locks can be defeated. Otherwise, the world wouldn't have locksmiths.
How to Lock a Garage Door with Supplemental Garage Door Locks
First, if you have a manual garage door, engage the garage door lock on the outside.  Or, if you have an automatic garage door, most of these offer electronic garage door locks that will keep the door from being opened by someone with a scanner.  If your garage door opener doesn't have one, you can always get a ladder and unplug the motor.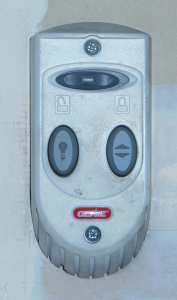 A short history of garage door security
In decades long past, garage door codes would be set via semi-permanent switches on the garage door opener and keyed to a particular set of remotes.  Unfortunately, that led to a very small amount of codes for each manufacturer that a criminal could reproduce very quickly from a device as he drove around a neighborhood..  Once he found a door that would open, the next steps would be easy.  He could pull right in, close the door, and proceed to break into your inner door and loot your house without being disturbed (read our post on how to break into a garage door here).
Or, they could target a specific home and intercept the code from your opener when you closed the garage door while leaving home and come back a few minutes later to help themselves to your possessions.
Eventually, manufacturers recognized the vulnerability of this method and new technology made rolling codes possible.  As the name implies, these are constantly changing, but are synchronized with your remotes so that they can still open the door.  The rolling codes made intercepting a transmitted code useless, and a brute force attack by trying every code in one of the new digital devices became much more difficult since you would only be part of the way through the list before the code would change.
[line] Think of it like this:
You start to open a combination lock like the one you had on your locker at school or the one on your briefcase.  But, by the time you guess the first number of the combination, I've already changed all 3 numbers to a new combination.  I know . . . frustrating right?
Even with rolling codes, a thief can still exploit the emergency release or improper installation to open your garage door.  The solution is to apply an additional, temporary garage door lock on the INSIDE of your garage door before you leave town.  I'll show you a couple of easy ways that you could do that with tools you may already have at your house.
How to Lock a Garage Door: C-clamp method
This is my preferred method because it doesn't require any special tools to remove it when you come back from your trip.
Find the wheel attached to your garage door that travels in the track when your garage opens.

Garage door roller
Easy right?  Now, even if a thief had your remote, the garage door would not open because of the obstruction in the track above the wheel.  Go ahead and try it.
Just make sure you back your car out before you lock up. :)
How to Lock a Garage Door from the Inside With a Bolt
Grab a matching nut and bolt set (preferably at least a ½" diameter and 2" length).
Search for the wheel in the track that you want to secure.
Drill a hole slightly larger than the bolt in the track above the wheel.
Insert the bolt from the outside (near your garage wall) of the track so that it protrudes into the track.
Tighten the nut on the inside to secure the bolt.
How to Lock Your Garage Door with a MasterLock
Grab that spare lock that you have from your high school locker 20 years ago (meet your new garage door lock).
Find the wheel in the track that you want to secure.
Drill a hole slightly larger than the loop in the lock in the track above the wheel.
Insert the lock through the rail and close it.
How to Install A Garage Door Lock Kit
For our setup, we will use a Prime-Line GD 52118 with inside deadlock and heavy duty galvanized steel housing. The side lock fits most garage doors and works only from the inside for added security (check out our garage security tips). To install the kit on your garage door, you can follow these easy steps below:
Secure the lock to the door and put marks where you will drill the holes. Make sure that the there's enough space for the bolt to pass through the rail and for the deadbolt to go on.

After you have drilled the holes, fasten the lock in place with screws.

Test the lock to confirm it fits well on the rail and the bolt can be locked and unlocked without hitting the rail.

If everything works great, attach a padlock like the ABUS padlock 83 which is rekeyable to match your house key (for example, to a Schlage or Kwikset) for added protection when you're away on longer trips.
The bolt will physically prevent the door from being rolled up just in case the lock is bypassed or the garage door opener is decoded by an intruder. And, an additional keyed lock will prevent a burglar from opening the garage door and parking inside or easily stealing items from your garage in case he breaks in using other windows or doors.
I've also included a video below to guide you on how to setup the door lock kit on your garage door:
Other Commercially Available Garage Door Locks
Choosing the right garage door lock will go a long way to increase the security level of your home (and your peace of mind too). Most of us use the garage as a working site or storage for our valuables. To discourage burglars, we need to carefully consider the quality of lock to install.
Haven't decided yet which garage door lock to buy? Below are some of the commercially available door locks you may want to consider:
Regardless of which method you choose, you now have an additional, physical garage door lock to keep the door from being rolled up to let someone in while you're gone.
Now, you can truly relax on your vacation knowing that your new garage door lock is protecting your home against would-be criminals even as you're swaying in your hammock. If your door is like mine, you now have physical and electronic garage door locks to deter thieves while you're away from your home. You can also try open source home automation software so you can easily monitor your garage using your smartphone.
Whatever you do, just don't get down the road and realize you've forgotten to close the door.  To fix that problem, you'll be wasting some driving time back to the house unless you make garage door smart like the ones in our home automation product comparison.
Enjoy!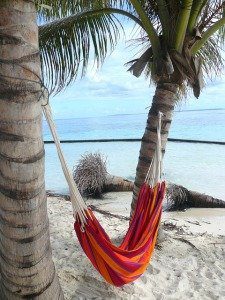 [content_band style="color: #fff;" bg_color="#FA5858″ border="all" inner_container="true"]See something that helped you? You can do two good deeds today! Support our site and help your friends secure their home by sharing this article.
Share this Post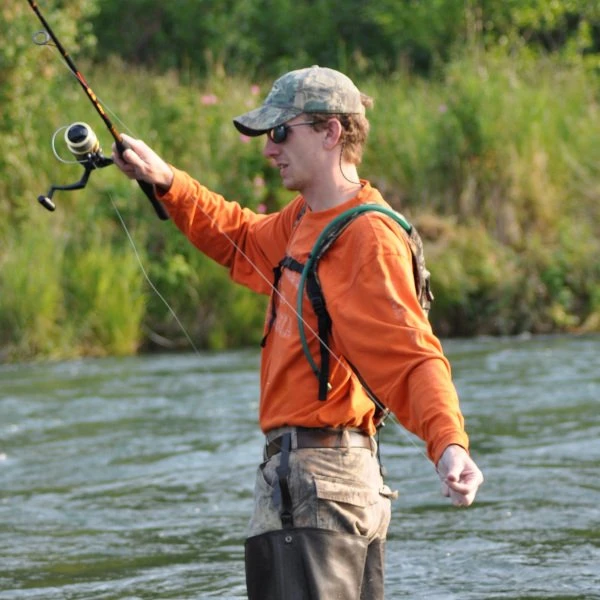 Hi, I'm Jody. I graduated with honors with a Masters of Science in Computer Engineering and have over 15 years of experience working as an engineer with electronics products. I'm a lifelong learner and tinkerer and enjoy automating things around the house so I can solve bigger problems than getting out of bed to check if the garage door is closed . . . like too little sleep!