As a responsible gun owner, you want to invest in a safe that will not only protect your valuables inside but also keep it away from burglars and other people who might want to use your gun without your consent.
A reliable gun safe should be your priority the moment you decided to keep a gun inside your home. 
But, buying a great safe is pointless without proper installation!
In this post, we'll discuss the importance of a well-built gun safe and how to make gun safe more secure at home to protect your valuables from thieves and other unauthorized persons.
This article will cover the following:
How Criminals Steal Safes
Thieves are generally lazy, and they often look for easy targets. The master bedroom is commonly the first target because it's where your valuables are kept. A burglar typically checks your closet and drawers to look for guns, cash, jewelry, and other valuables. 
If given enough time, they can also visit your garage or basement to check for your power tools or other items that they can easily carry and sell. Some thieves crawl into cars that are unlocked and steal valuables from gun safes hidden within the seats.
Most thieves know what they want to steal before committing the crime. If they know your whereabouts as well as the hiding place for your valuables such as a gun safe, then it would be easier for them to get access to your valuables. If they know you valuables hidden in your gun safes, they could bring power tools just to open or take your safe. 
In that case, it pays to have a security system and an alarm blaring while they try it!
Most of the guns stolen by thieves are used later on to commit other crimes such as robbery or murder. In fact, the police in the US alone have recovered more than 23,000 stolen firearms between the year 2010 - 2016. Most of these firearms were connected with crimes such as kidnappings, sexual assaults, murders, carjackings, robberies, and many other violent crimes. 
As a gun owner, you are responsible for keeping your firearms out of the hands of criminals. Otherwise, those guns which were originally intended to protect your family could become a threat to you and to other people.
Basic Considerations Before Buying A Gun Safe
Having a reliable gun safe at home gives you peace of mind, making it a good investment. Make sure that you consider the following factors before you buy a gun safe:
Theft
One of the biggest threats for gun owners is theft. When investing in a gun safe, you don't want to give thieves an opportunity to access your firearms easily. And even if you did have a sturdy gun safe, when a criminal is given enough time, he would be able to break it open and take away your valuables. 
Flood and Fire Damage
Flood and fire are also serious considerations when investing in a gun safe. If you live in an area where flooding and fire are common, then you should probably consider this so you will know your storage needs. 
Weight of Gun Safe
Do you have a collection of firearms that require a large gun safe? Do you want to store them upstairs or in your basement? The location and size of your gun safe can also be important factors when investing for a gun safe. As a standard, residential buildings should be capable of handling 40 pounds of weight per square foot. However, the challenge is that the standard is just a reference and it's hard to tell how much weight your gun safe will be when loaded. 
The best thing to do is to ensure that your floor has a loading capacity exceeding the approximate weight of your gun safe. You should also ensure that there is enough support in the area where you're going to install the safe.  For example, place it along a load-bearing wall instead of away from it. To save you from all the headaches, it's best to use a safe installer if you need a larger safe and you want it installed off the ground floor.
Environmental Suitability
So you already have the idea for a perfect gun safe and where to install it - safe from thieves, fire, and flood. However, it doesn't end there! You also need to check whether it's in the right environment! 
A damp area on your basement may damage your firearms, or your attic upstairs exposed to extreme temperatures may not be well suited to store your guns. Aside from the right humidity levels and stable temperature, you should also make sure that your chosen storage area can protect your firearms from floods. 
Concealment Options
In choosing a gun safe, you should ask yourself,  "How easy is it going to be accessed by you as well as by other people?" In general, you should choose a spot where your firearms and valuables are safe from prying eyes, and at the same time can be easily accessed when there is an emergency. And again, you have to weigh visibility against other factors such as weight, convenience, and the environment.
Features of Safes that Make Them More Secure
The usefulness of a certain feature will depend on your priorities and needs. Know what features you would want for a gun safe from the list below:
Fire Resistance
We can never tell when accidents occur, like fire. To ensure your valuables are protected from unexpected events like these, make sure you invest in a gun safe that has good resistance from fire. As a rule of thumb, a gun safe should survive a typical household fire (1,100 Fahrenheit) for at least one hour.
Surviving the water that puts the fire out is a bonus!
Theft Resistance
As mentioned, a desperate thief can break open your safe when given enough time and opportunity. Choose a safe that is not easily accessible by thieves but is convenient for you during emergencies. You can also choose different types of locks to protect your safe from intruders, such as digital electronic locks and dial combination locks.
Water Resistance
Flood is one of the common calamities that can happen anywhere in the world. If you live in an area where flood commonly occurs, make sure that you choose a gun safe that keeps its contents dry even if it is fully submerged in the water. This will ensure that your valuables such as firearms are protected from any damage.
Best Locations to Bolt Down A Safe
A gun safe can be vulnerable when it is not properly installed in the right spot. Here are the best ways to keep your gun safe away from prying eyes:
In the Floor
The floor can be a best fit to install large safes if using the wall is not an option. Your gun safe is highly secured and can be easily accessed. However, you will need to squat down on the floor every time you need to access your firearms. You can also place something on top so that the location isn't obvious.
In the Wall
Placing a gun safe in the wall has several advantages; high security, secrecy, and accessibility. However, you also need to consider some factors before using this method. First, the gun safe must be properly installed on a thick solid wall. Remember that cement in the wall can put pressure on the gun safe that would make it difficult to open.
On Furniture or Shelves Against A Wall
Another option is to put your gun safe inside a piece of furniture while it is being anchored against a wall. It is convenient since it can be easily hidden and at the same easily accessed. 
Plus, since it's anchored into the wall, it won't be easily taken. However, you will need to create a hole at the back of your furniture so that the safe can be anchored to the wall.
Inside A Cabinet
A normal-looking cabinet wouldn't look so attractive to criminals inside your home. You can turn a hidden door inside a cabinet into a highly secured place for your gun safe. It's also ideal for large safes if you have a collection of firearms to store. 
Pros and Cons in Bolting Your Safe
A thief will always find ways to take away your gun safe when they think it is worth their trouble. Some criminals even know how to use powerful tools just to take away your safe and the valuables inside. In fact, there are even reports wherein burglars carried with them some tools and a truck or van to take away exceptionally heavy gun safes.
Bolting your safe is crucial since it will prevent it from being easily taken away at the same time protect you for insurance claims. Insurance companies require that a safe should be professionally fitted on a floor or wall when protecting valuables.
There are many ways to bolt down a safe - you can even do it yourself. Some insurance companies will accept the DIY installation of safes. Most models you can purchase in the market come with a fixing kit and incorporated anchor points. However, be sure to check the requirements before trying it yourself.
Ideally, a safe should be bolted on a concrete floor. If you have a wooden floor, then you have to make sure that you're using coach bolts or the fixing is secured with a joist. You can also use a strong adhesive which would make the installation permanent.
When bolting a gun safe, remember that there are also disadvantages you need to consider. First, it wouldn't be easy to move from one room to another, or if you're planning to move to a new house soon, especially if you're using a strong adhesive. If you're just renting a house or apartment, you also need to ask permission from your landlord before you can bolt a safe on the wall or floor.
How to Bolt Your Safe
If you're planning on installing your safe on your own, you can follow the tips below. Just make sure you have the tools you need:
Screwdriver or socket set

Small/ large masonry drill bit

Pencil

Tape

Corded drill

Hammer

Tape measure

Scissors or a knife

Anchor bolts

Saw
Before you start to work, make sure that you choose a spot with solid surface or strong support to install the safe. It is also recommended to use good quality, corded drill and masonry drill bit. Most safes you can buy in the market already include pre-drilled holes at the base and back as well as anchor bolts to use on a brick or concrete surface.
How to bolt a gun safe into a concrete floor
As mentioned, start the work by finding a sturdy surface (preferably a concrete or brick surface).

Place the safe on your chosen spot. Make sure that there are no obstacles that would stop the safe from being opened.

On a template, draw a perimeter around the safe. Next,  remove the template and cut the marked area. After this step, secure back the template on the wall.

If you want to put the safe on top of your carpet, then you need to remove a shape using the template. Mark the area around the safe with a pencil and cut the carpet using a utility knife.

Position the gun safe on the desired position and mark the pre-drilled holes at the back of the safe onto the floor.

Drill the marked holes using the small masonry drill bit.

Change to a large masonry drill bit and continue drilling the hole.

Use tape to mark the depth on your bit with the same length as the anchor bolt so that you will know when to stop drilling (the tape would reach the surface). The tape will guide you with the exact length needed to drill.

After drilling, remove the dust and debris from the drilled holes. You can do this by using compressed air and then a vacuum to clean up the area. 

Position the safe on the drilled holes and screw the anchor bolts in until it is secured.
You can check the video below for more details:
How to secure a safe to a wall
Just like the floor, you have to find a sturdy surface to install the safe to a wall.

Place the safe on the wall, making sure that there are no obstacles that stops the safe from being opened.

If you have a baseboard, use the template to mark and remove it. 

Position the gun safe on the desired position and mark the pre-drilled holes at the back of the safe onto the floor.

Drill the marked holes using the small masonry drill bit.

Change to a large masonry drill bit and continue drilling the holes.

After drilling, remove the dust and debris from the drilled holes. You can do this by using compressed air and then vacuum up the area.

Position the safe back on the drilled holes and screw the anchor bolts in until it is tight.
You can also check the video below on how to secure a safe on the wall:
How to hide a gun safe at home
Owning a gun requires responsibility. You don't want your children, other family members, or intruders to get access to your firearms. 
The best way to secure your guns is to keep them hidden!
You can keep your firearms safe inside a gun safe and out of sight from anyone, here are a few clever ways to hide a gun safe at home:
Fake electrical outlet near the front door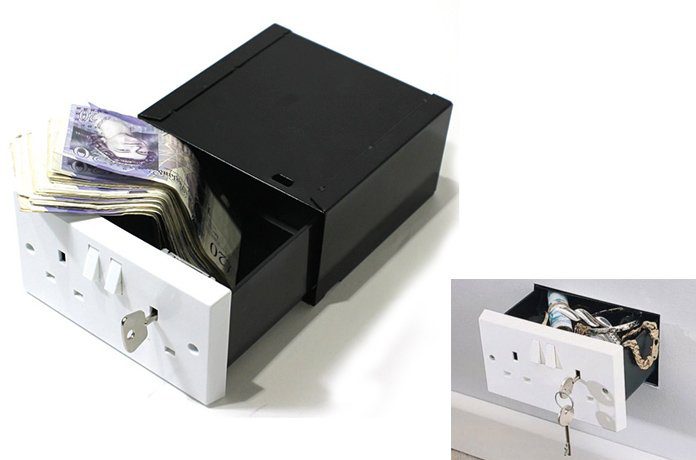 A fake electrical outlet is one of the best ideas to hide a gun safe without making it obvious to burglars. When you place it near the front door, it can easily be accessed in an emergency.
Room vaults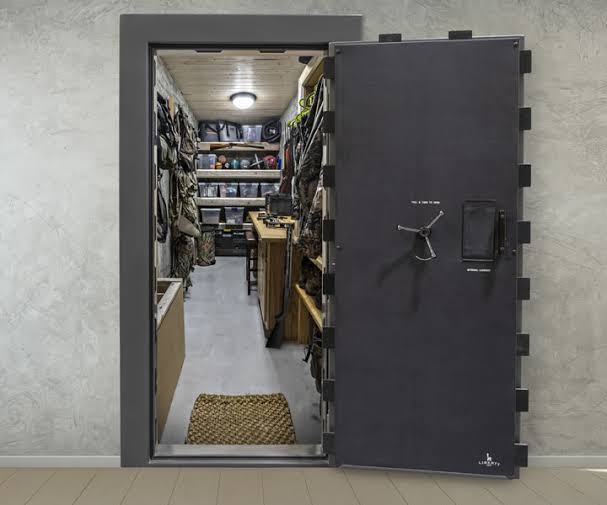 A hidden room vault is a perfect place not just for your firearms but for other valuables as well. You can even make your gun safe big enough like the size of a small room to fit all your firearms. This way, you can easily keep everything in one place. 
You just need to add another layer of security to protect it from unauthorized access.
Tables and couches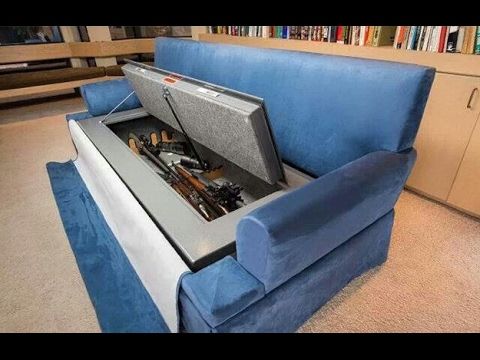 You can make a compartment inside the couch or at the bottom of the table to hide your valuables. Since tables and couches are a common feature in homes, no one would think that there would be firearms hidden inside.
Staircase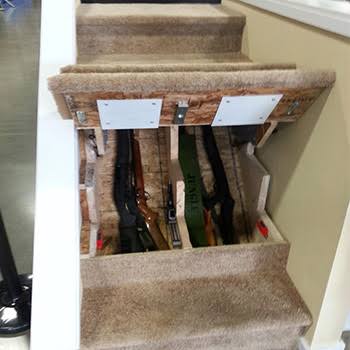 The hollow part under the staircase can also be used to keep guns safe, preferably the bottom part. You can use the other layers as drawers to keep other stuff but choosing the bottom drawer for the gun safe since it is most likely the least observed drawer. You can also make it less noticeable by painting it the same color as your wall.
Extra freezer in the garage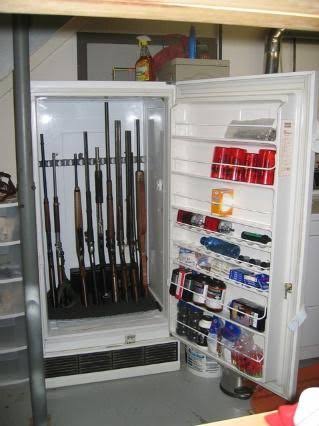 Criminals wouldn't think to check a freezer in the garage or basement because most people do have extra fridges here. You might as well use it to keep a gun safe by placing it inside the freezer!
Hidden closet or nightstand drawer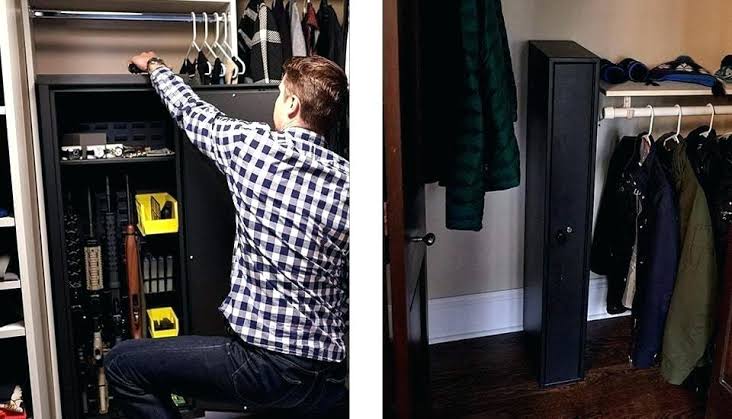 Emergencies and burglaries can happen at any time of the day.  But, it's more common at night when everyone is asleep. When this happens, you and your loved ones are probably sleeping inside the bedroom. 
So, why not hide your gun safe inside the bedroom where you'll need it!
The gun safe can be placed inside a hidden closet (just make sure you hang some clothes in front of it) or in a nightstand drawer for a pistol.
Secret mirror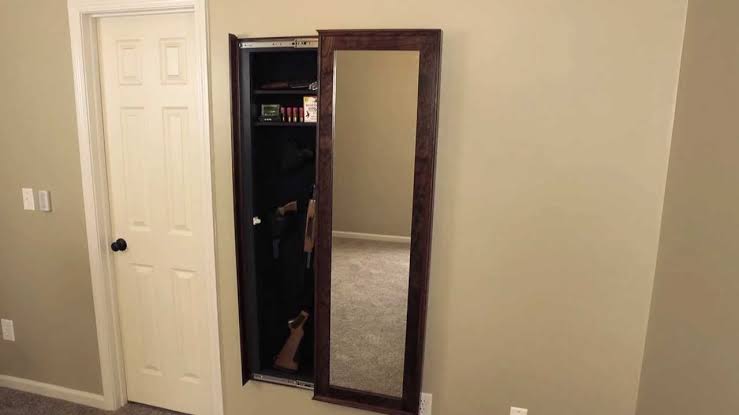 One smart way to maximize your space and at the same time keeping your gun safe away from burglars is by turning a large mirror into a secret door to hide your gun safe. 
How to secure a safe to the floor
There could be many reasons why you don't want to bolt your gun safe on the floor. You could have expensive hardwood floors you don't want to drill through, the floor is not suitable for installing a safe, or you could be renting an apartment and your landlord won't allow you to drill on the floor.
Here are some of the popular ways to secure a safe without bolting it to the floor:
Bolt to a steel plate
Bolting your gun safe to heavy steel plate will make it difficult to take through the door. Remember that if you can carry your safe inside your house, thieves can also carry it to a waiting car!.
Glue the safe to the floor
Using a special polymer glue to secure the safe on the floor is also an option. This method will make the installation semi-permanent without necessarily drilling into the floor.
Bolt safes together
When large safes are bolted together, it's more challenging for burglars to move or carry it with them. This method alone will discourage criminals from stealing your safe.  They're only practical option is to break into it and remove the contents.
Fill the safe with sand or other heavy material
Another clever way to prevent burglars from moving your safe is to put a hundred pounds of heavy material such as metal or sand in it so that it would be too heavy to carry or move. Unless the criminals bring a hand truck, it would be tough to carry off!
Why Concealment is the best option
Whether or not you can bolt your safe to the floor or walls, the best option is concealing your gun safe to protect your firearms from unauthorized persons. There are many ways to conceal a gun safe without making it obvious to your family members and burglars who might break into your house.
The goal is to make sure that criminals won't access your guns before you do. Hiding gun safes in places that will be less likely to be targeted by criminals such as hidden doors, vaults, or secret compartments inside the furniture help secure your firearms from the wrong hands. 
At the same time, it's very easy for you to access when there is an emergency or a home invasion home! As long as nobody else knows where the safes are kept, then the chance of finding your firearms is less likely and your valuables are protected.
Wrapping It Up
Knowing how to secure your gun safe and where to find them in case of an emergency is very important. In this post, we have summarized what to consider before investing in a gun safe as well as the different methods to secure your valuables.
We hope that you find this article helpful. If you have questions or suggestions about securing your gun safe at home, send a message on Facebook!
Hi, I'm Christy, and I'm an electronics engineer by profession. I have taught in a university for 2 years while pursuing my master's degree in cognitive radio and worked for a company to develop wireless medical devices. Currently, I'm doing research for a doctorate degree in engineering using a wireless sensor network for smart agriculture. I've been active in our local IoT community, IoT Cebu, where I participate in conducting talks about Arduino, Raspberry Pi, and DIY home automation using Wi-Fi and ZigBee devices.
Last update on 2023-09-10 / Affiliate links / Images from Amazon Product Advertising API