So, you bought guns to protect your family from thieves and other bad guys that may break into your home. But the reality is, guns are expensive and need another level of security to ensure that they are protected from burglars and fire! 
Some gun safes offer good burglary ratings and ignore fire protection, leaving your valuables vulnerable from flood or fire. Since you've spent hard-earned money on them, why not invest in a gun safe with a high burglary rating and a high fire rating? In this post, we've got everything you need to know about fireproof gun safes as well as our picks of the best fireproof gun safe for your budget and lifestyle.
Why You Need to Get A Fire-Resistant Gun Safe
Not all gun safes are created equal - some safes are good for concealment or to prevent forceful entry. But, it doesn't mean that your valuables are safe from fire. 
The ways to build a safe that protects against fire can be very different than protecting against burglary!
Fire accidents are often unexpected and can consume everything you have at home. And, there are over 1 million fires in the US every year! So before you invest in a gun safe, make sure you look for fire-resistance as a feature.

A fireproof gun safe is not only good for storing and protecting your weapons but also other valuable items like pieces of jewelry, pictures, documents, or storage devices that contain sensitive data or media. To properly protect your documents, guns, and other valuable items, a gun safe must maintain an internal temperature below 350 °F.
What You Should Know About Fire Ratings
If you're concerned about how to protect your valuables from fire, chances are you've already done your research online and found many gun safes that offer fire protection. The truth is, not everything you read about fireproof gun safes is true. Some manufacturers simply claim their safes are fireproof based on unregulated fire ratings or without testing. That's why it's very important to consider a gun safe that has been thoroughly analyzed and tested against fire vulnerability. 
UL (Underwriters Laboratories) certifications are the most reliable when it comes to assessing fireproof gun safes. You can see some of the certifications listed below for fireproof gun safes:
This class means that a safe can sustain 80% humidity and an internal temperature of 125 °F (52 °C). It is also sufficient to protect paper documents as well as floppy disks (but UL didn't specify clearly if it can also protect DVDs, CDs, and Blu-ray disks). The safe's door also has a water-resistant seal which expands when exposed to heat (water may seep in if not exposed to heat prior to being submerged into the water).
This class allows a safe to sustain 85% humidity and 150 °F (66 °C) internal temperature, making it sufficient to protect paper articles and storage devices such as compact disks. However, not all safes with this class is waterproof (due to a gasket on its door).
This class means that a safe can sustain 350 °F (177 °C) and humidity of 85%. The safe is ideal for storing important paper documents (paper's autoignition temperature is around 450 °F  or 232 °C).
Some gun safes can simply protect your valuables from the direct flames but not from the internal heat. Extreme internal temperatures can destroy some of your temperature-sensitive possessions such as storage devices, ammunition, or documents.
Fireproof gun safes are usually more expensive than an ordinary gun safe because of the hard material it is made of. If you truly want to protect your valuables, then you have to consider how much you are willing to invest. Make sure to consider the construction quality, wall thickness, and the material it is made of so that you can get the best value of your money. Remember, a lower gauge number means a thicker steel (which is better) and a larger gauge number means a thinner steel. A high-quality gun safe must have at least 11 gauge steel in its body and should be 10 to 7 gauge steel.
What to Consider When Choosing A Gun Safe
Shopping for the best fireproof gun safe can be tricky. But if you know what features to look for, you'll find the best match for your budget and preferences. We've summarized a few critical features you should look for in a fireproof gun safe:
Security
Gun safes should not only protect your valuables from fire and other calamities but from thieves as well! Whether we like it or not, burglars will often consider a safe as a big catch because they know it contains valuables like jewelry and guns. So when they see one, they will focus all their efforts to break it open (or carry with them) to get their hands on whatever is inside. 
The most common thing that burglars do is to pry the door of the safe open. When it is protected with locking bolts and thick steel, it's very difficult for any thieves to pry it open.  If they can tip it over and get at the back, that's another favorite attack method, which is why it's so important to attach it to the floor!
Size
Are you a gun collector? Do you need more space to place not just your weapons but also other valuables such as jewelry, cash, and important documents? Then it's very important to consider the size of the gun safe.  You probably don't want two safes later, so buy some spare capacity to account for future purchase. 
Fire Protection
The level of fire protection that a gun safe offers differs based on the amount of time and the temperature it can sustain to protect your weapons at a given fire temperature. 
Unfortunately, as we mentioned earlier, most manufacturers come up with their own testing methods and certifications.  The higher the fire protection level is, the better. A lot of high-quality fireproof gun safes can offer at least 30 minutes of protection from temperatures around 1,200 to 1,800 degrees Fahrenheit.
We've summarized the different levels of fire protection you can choose, depending on the class and materials.
Five Levels of Fire Protection:
Top 10 Best Fireproof Gun Safes
Shopping for the best fireproof gun safe depends on your purpose and budget. We've summarized our top picks below:
STACK-ON SS-22-MB-E 22 WITH ELECTRONIC LOCK
Price: $494.33
Rating: 4.2/5
Fireproof: 120 minutes for up to 1830 degree F
Pros:
Designed with six locking points as well as deadbolts for more protection from prying

Electronic keypads come with a silent mode

Adjustable shelves to suit different storage needs

Offers large storage capacity (17.6 x 55.1 x 26.8 inches) at 247 pounds weight
Cons:
The carpets inside can easily come off over time. You may need to glue the carpet on the shelves when it starts coming off.

The safe can produce a loud sound when it is locked/ unlocked. You need to hit the silence mode first before opening the safe.
The numerous protection features are just some of the reasons why you would want to consider this fireproof gun safe on your list. First, the gun safe is secured with six locking points as well as hidden hinges and deadbolts made of steel to ensure that any burglars cannot easily pry it open. It also offers two ways to access your valuables inside - an electronic lock with keypads or the two backup keys. Since it has an electronic lock, it needs batteries to operate. 
But what if the batteries die? 
Then you can choose the backup keys. But the chances of that happening is quite low since you will be alerted if the batteries are low (so you'll probably know when you need to change the batteries before it goes dead). And lastly, the large storage capacity with adjustable shelves will help you keep more guns and organize them inside easily. You can store up to 22 guns for maximum capacity, or up to 11 firearms if you intend to keep other valuables inside.
LOCKSTATE LS-30D DIGITAL FIREPROOF SAFE
Price: $ 256.41
Rating: 3.5/5
Fireproof: 60 minutes for up to 1800 degree F
Pros:
The keypad comes with backlights so you can easily access your safe even at night or in complete darkness

Comes with easy-to-mount hardware to prevent thieves from moving it

Comes with a power supply as backup when the battery goes down

Equipped with an alarm for added protection
Cons:
Keypad doesn't come with silent mode

The safe is too heavy for its size

The safe is not waterproof

The safe's door can wobble a little bit when closed
If you're looking for a fireproof gun safe that won't consume too much space in your home (let's say, you're only renting an apartment), then this small safe could be ideal for you. Even though it has a small size, you can easily mount it anywhere in your home so that it can't be easily moved or snatched away by thieves (the hardware for mounting comes free with the safe). It is ideal for storing smaller weapons such as handguns as well as other valuables and important documents. The fireproof safe is protected with an electronic keypad and thumb throw lock for easy access. You can safely program a master code as well as a user code for more flexible options to access the safe. However, you do need to change the code every few months for more security (you can push the button inside the safe to reset the codes). And what happens if you forget the codes? You can use the backup keys to gain access!
SENTRYSAFE SFW123DSB 1.23 CUBIC FEET, COMBINATION FIRE-SAFE
Price: $ 246.63
Rating: 4.3/5
Fireproof: 60 minutes for up to 1700 degrees F
Pros:
Constructed with thick materials for longer protection from fire

Comes with free bolts to secure your gun safe at any parts of your home

Comes with adjustable shelves

Has large storage capacity

Manufacturer offers insurance when your valuables inside are damaged during a fire
Cons:
The fireproof insulation produces some moisture. Valuables damaged by this moisture are not covered by the insurance

No quick access - you need to use both the key and code combination to open the safe

You cannot change the combination of the safe

The handle of the safe can be easily damaged when not lifted appropriately
The Sentrysafe fireproof safe protects your valuables from fire and heat. Aside from protecting your weapons, it can also protect your other valuables that are sensitive to temperature (such as CDs and DVDs which can melt from excessive heat). Aside from being fireproof, the safe is also waterproof. You don't need to worry about the fire department ruining your valuables trying to save your house. 
In fact, it guarantees 24-hour protection when the safe is submerged in the water at least 8 inches deep. And when it comes to security, Sentrysafe ensures that it won't be easy for any thieves to pry it open. The gun safe is designed with a hinge bar and four large bolts for stronger security. The safe can be accessed using a combination lock and keys - so it's not great for quick access during an emergency. 
STACK-ON FS-24-MG-C 24- GUN FIRE RESISTANT SAFE / COMBINATION LOCK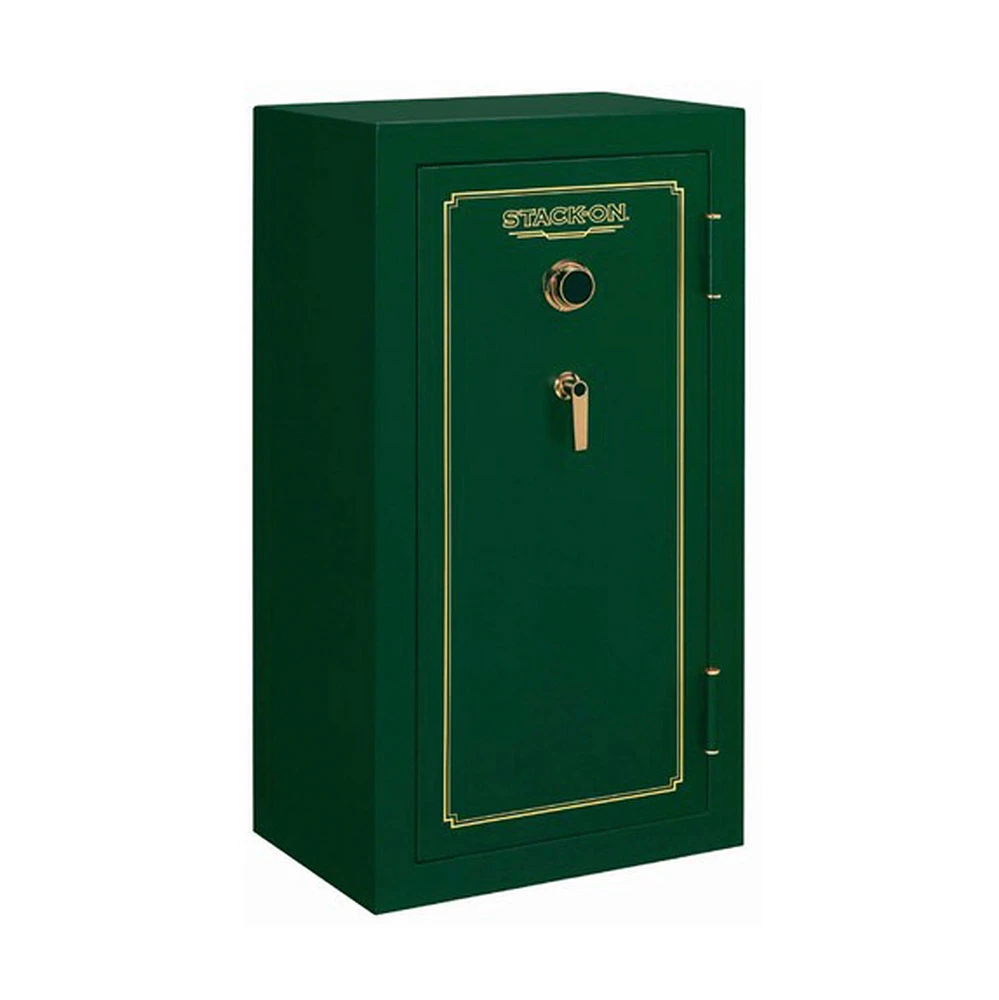 Price: $ 609.40
Rating: 3.7/5
Fireproof: 30 minutes for up to 1400 degrees F
Pros:
Offers four removable shelves to better organize your stuff inside

Weights more than 500 pounds, making it too heavy for any thief to carry

Contains door stripping that expands when exposed to extreme heat, protecting the contents of the safe from internal heat

Doesn't need batteries
Cons:
The locking lugs go behind the safe's wall instead of into a solid base 

Not waterproof
Looking for a fireproof safe with large storage capacity? This Stack-On gun safe could suit your needs.  It can hold up to 24 firearms or 12 guns with more space for other possessions. The fireproof safe is equipped with adjustable shelves so you can easily organize anything you put inside and an interior carpet to protect your guns from scratches. 
You can access the safe using a three combination lock which is constructed with a hardened steel behind (any thief will have difficulty in drilling the combination lock). It is also equipped with five locking points to ensure that your possessions inside cannot be easily accessed by prying open the door.
FIRST ALERT 2096DF WATERPROOF FIRE SAFE WITH DIGITAL LOCK
Price: $ 329.53
Rating: 3.7/ 5
Fireproof: 60 minutes for up to 1700 degrees F
Pros:
Entering incorrect codes a few times will automatically make the safe inaccessible. You need to open it with an override key.

Comes with two removable/ adjustable shelves

You need both the key and combination code to access the safe, increasing its security
Cons:
The shelf inside is not ideal for holding heavier items

The safe can accumulate moisture when exposed to heat

The safe doesn't offer quick access (for emergencies) because you need both the key and combination code to open it
One of the neat features of this safe is its water resistant ability (on top of being fire resistant) so you can protect your valuable. Your guns and other possessions remain safe inside as it effectively blocks any moisture from entering when submerged into the water. And in case of fire, the safe can maintain its internal temperature below 350 degrees fahrenheit to protect your valuables inside. 
The keypads have backlights so you can still access your safe during night time. And if you forget your combination codes, you can always use the override keys to unlock the safe.
Steelwater Heavy Duty 20 Long Gun Fire Protection, AMSW592818-blk
Price: $ 849
Rating: 4.7/ 5
Fireproof: 60 minutes for up ro 1875 degrees F
Pros:
Superior security against burglary

Large storage capacity for shotguns and rifles

Excellent fire proof capacity
Cons:
Too expensive

Freight companies often prefer to deliver it to your garage or driveway due to the extreme weight
This heavy duty fireproof gun safe garners the top customer reviews in the market due to its solid and robust construction. The solid gun safe can protect up to twenty shotguns or rifles, or 14 to 16 for scoped long guns. The safe is accessible using an EMP-proof keypad or an override key. The safe's interior is covered with carpet to protect your weapons and equipped with bright LED lights to illuminate the inside when you need to access your guns during the night. A predrilled hole is also present for a safe dehumidifier so that your weapons are always in top shape.
Fortress 8-Gun Fireproof Safe with Electronic Lock, Black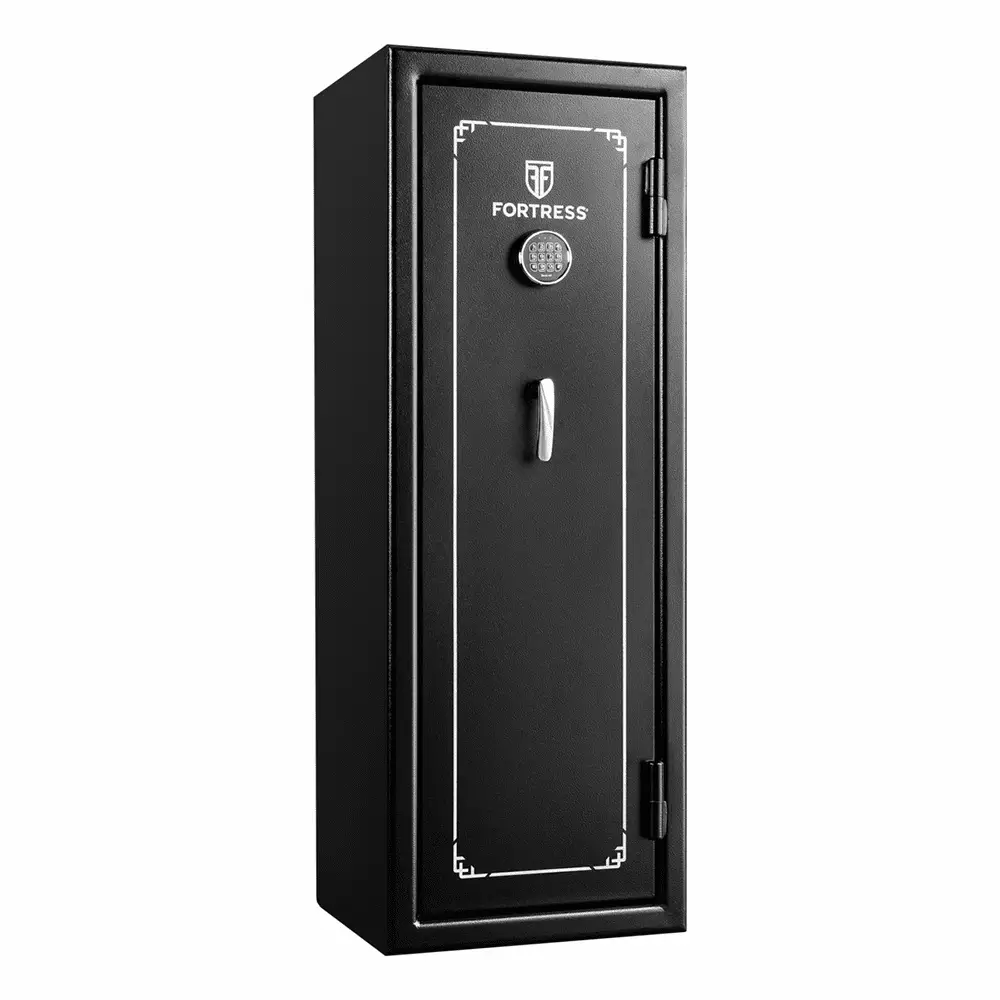 Price: $ 399.99
Rating: 4.7/ 5
Fireproof: 30 minutes for up to 1200 degrees F
Pros:
Value option given its specs/ features

Excellent protection from fire and burglary

Shelves are removable / adjustable

Can be accessed using a keypad or mechanical lock
Cons:
Limited storage capacity for long guns when shelves are used

The door can have more play, it seems like there's more manufacturing variation
This versatile, multi-shelf fireproof safe is the ideal safe for anyone who wants good security, protection, and robust construction at an affordable price. If you love collecting long guns, then this fireproof safe has one of the highest capacities. 
It has multiple shelves which you can arrange in any way you want. Overall, the safe has great reviews due to its versatility, storage capacity, and excellent security features.
SentrySafe SFW123GDC Fireproof And Waterproof Safe With Digital Keypad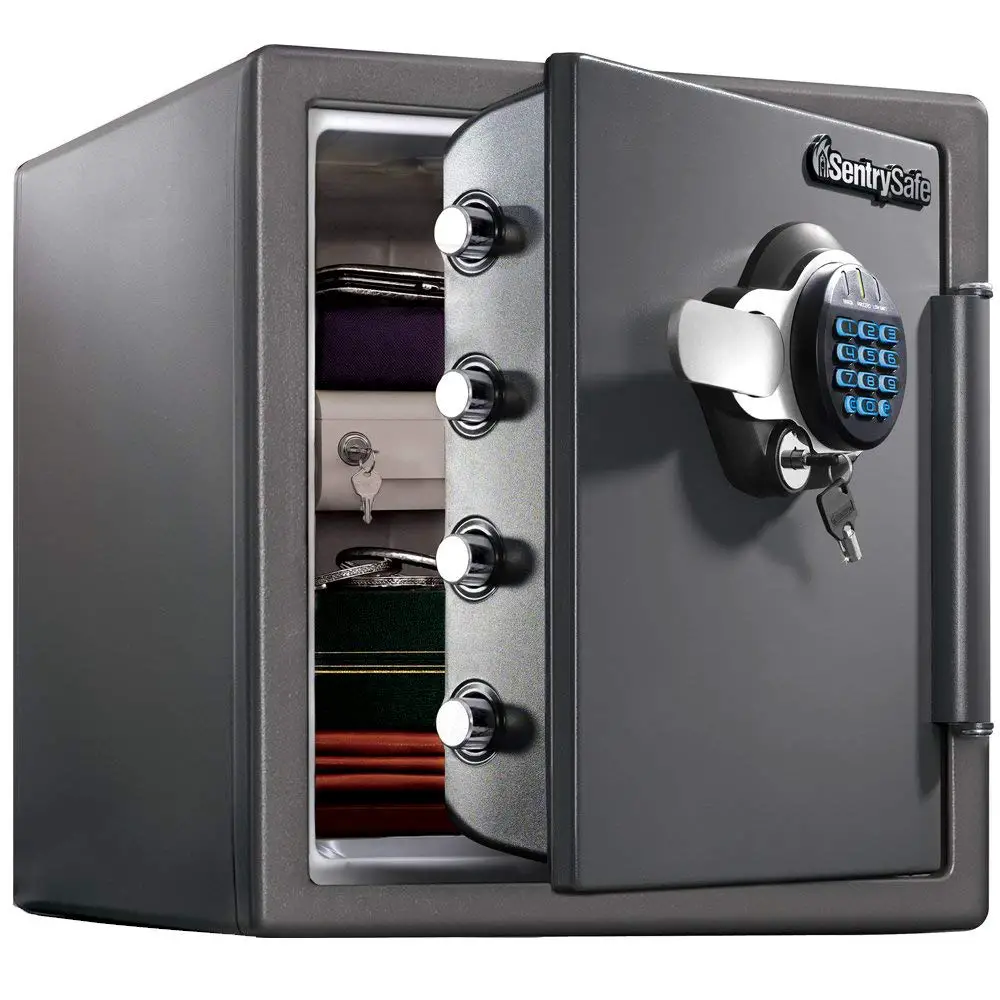 Price: $340
Rating: 4.3/5
Fireproof: 60 minutes for up to 1700 degrees F
Pros:
Offers waterproof protection when submerged up to 24 hours

Can survive a drop up to 15 feet

Provides interior drawers for other valuables

Comes with lockout key to prevent access via the keypad
Cons:
The interior space is too small
If you want a smaller gun safe that is fireproof, waterproof, and thief-proof, then the SentrySafe SFW123GDC may be worth considering. It is the ideal safe for handguns, documents, CDs, flash drives, jewelry, and other valuables due to its compact size. If you rent an apartment and don't want the hassle of owning a bigger fireproof gun safe, then this one could fit your lifestyle. Aside from excellent security features and a low price, the safe also has robust construction that can survive when dropped up to 15 feet without breaking open.
Steelwater Extreme Duty 45 Long Gun Fire Safe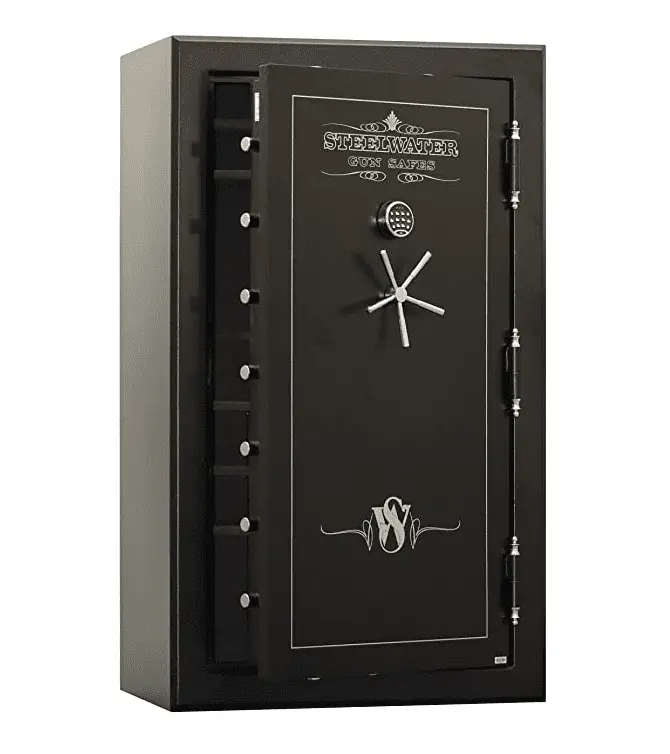 Price: $ 2,695
Rating: 3.6/5
Fireproof: 120 minutes for up to 1875 degrees F
Pros:
Longer protection from fire (up to 2 hours)

Excellent protection from burglary

Interior is fully carpeted

Comes with 8 adjustable shelves

Electronic keypad is EMP-proof

Comes with two USB ports and three 110 V outlets for connecting electronics such as lights and dehumidifiers
Cons:
Very expensive

Limited delivery options due to its heavy weight
If you have the extra cash to spare for an expensive and high quality fireproof gun safe, then you should consider the Steelwater Extreme Duty gun safe. What makes it set apart from other competitor brands is its unmatched 2 hours protection from fire. It's also constructed with high quality materials that make it resistant from any forms of drilling, prying, ballistic assaults, sawing, and any other forms of burglary attacks. 
The interior is completely covered with grey carpet to protect your weapons and other valuables from scratches and other forms of damages. It can hold up to 45 long guns and the adjustable shelves allow you to organize your possessions accordingly.
Heritage Security Products 24-Gun Fireproof And Waterproof Safe With Electronic Lock
Price: $ 699.99
Rating: 4.5/ 5
Fireproof: 75 minutes for up to 1400 degrees F
Pros:
Comes with bright LEDs to light up the interior

Excellent protection from fire and burglary

Comes with removable shelves

Offers up to 24 guns storage capacity
Cons:
Somes customers report a malfunctioning keypad
The Heritage Fireproof Safe comes with a solid build and elegant style. It doesn't only offer protection from fire but also from water. And, the safe is built with strong materials so that it can sustain any prolonged burglary attacks so your valuables stay safe inside. However, some customers report malfunctioning keypads and poor customer support, which can be a little disappointing when you pay this much. Hopefully, Heritage can fix these issues.
Other Fireproof Gun Safe Facts
How do I set up a fireproof gun safe?
It all depends on the size and weight of the safe, and if you would want to anchor it (to protect it from thieves) or not. Some renters won't be able anchor their safe permanently, but that drastically decreases the security of your guns.
Most smaller safes come with predrilled holes and bolts so you can attach it to the floor or a wall. Make sure to check the specs from the manufacturer as well as the manual before making a purchase.
How do I maintain a fireproof gun safe?
To ensure your valuables are safe, it's recommended that you store your guns unloaded and store your ammo separately from your guns. It may sound inconvenient and a little counterintuitive, but practicing this will prevent the ammo and stored gun powder from igniting in case the internal temperature get very high (due to fire). 
It's very important to clean your safe from dirt and dust. Most manufacturers say at least once a month, but you could probably get away with wiping it down a couple of times a year to make sure the door and locks continue to operate smoothly. 
Also, make sure that the screws and bolts are lubricated once a year. And finally, make sure that the interior of your safe is free from any moisture. Otherwise, your weapons may rust or corrode more easily. It's recommended that you use a dehumidifier to maintain a good environment for all your valuables.
Will a fireproof gun safe protect my jewelry?
It depends how long the gun safe can protect your jewelry from fire. Often, valuables can be damaged due to extreme heat temperature inside the safe when exposed to fire. Make sure to choose a gun safe that can maintain a safe temperature for your jewelry for a certain amount of time when exposed to extreme temperatures.
Will a fireproof gun safe burn my guns like an oven when there is fire?
It depends on the fireproof rating of your safe. While safes cannot protect your weapons very long, many do offer protection for a certain amount of time. Some safes can protect up to 30 minutes while others can protect up to 2 hours. Make sure that you check the fireproof rating before you buy a gun safe.
Wrapping It Up
Along with protection from burglary, it's equally important to protect your guns and other valuables from fire and water damage. Choosing the best fireproof gun safes can be overwhelming but like I've said, not all gun safes manufacturers are true to their promises. In this post, we've summarized everything you need to know about fireproof gun safes as well as our highly recommended safes.
We hope you found this post helpful. If you have other suggestions, get in touch on Facebook.
Hi, I'm Christy, and I'm an electronics engineer by profession. I have taught in a university for 2 years while pursuing my master's degree in cognitive radio and worked for a company to develop wireless medical devices. Currently, I'm doing research for a doctorate degree in engineering using a wireless sensor network for smart agriculture. I've been active in our local IoT community, IoT Cebu, where I participate in conducting talks about Arduino, Raspberry Pi, and DIY home automation using Wi-Fi and ZigBee devices.