For the past few years, home automation devices have really gone mainstream to make our day to day lives convenient, safe, and more comfortable.
And, a smart home wouldn't be complete without a smart thermostat. They can keep our homes more comfortable by controlling the temperature while lowering monthly energy bills.
With so many thermostat products available in the market today, you might feel overwhelmed and confused on which the best choice is. This article will help you choose  the best z-wave thermostat for your needs.
Our Top Picks of Z Wave Thermostats in 2020
| | | | |
| --- | --- | --- | --- |
| Product | Review Rating | Requires C-wire? | Cost |
| | 3/5 | Yes | $98.99 |
| | 3.5/5 | Yes | $111.95 |
| | 3.6/5 | No | $60 |
| | 3/5 | Yes | $159.01 |
| | 4/5 | No | $79.95 |
| | 3/5 | No | $84.99 |
| | 3.7/5 | No | $84.88 |
| | 3.6/5 | No | $175.55 |
| | 4.7/5 | No | $69.99 |
| | 3.9/5 | No | $139 |
1. Radio Thermostat CT80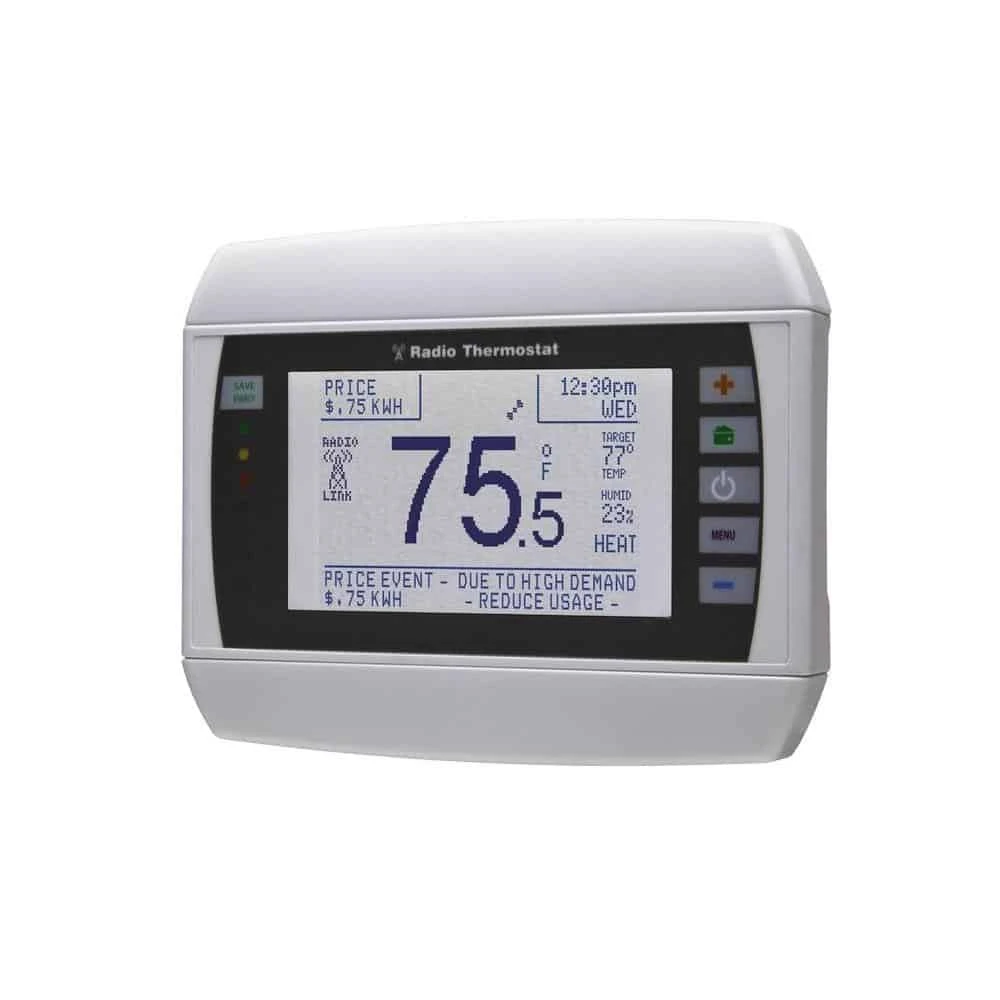 The CT80 thermostat is a Z-Wave and Wi-Fi enabled device which you can control using iOS or Android smartphones. You can control your device using a home network when you're at home or a free cloud network if you're away from home. One of the best things about using this thermostat is that it is cloud-capable and cloud-independent. Moreover, you can set up to four schedules per day, 7 times a week. It even has an option for "Hold" and "Holiday" so you can still configure the device outside your normal routines.
The downside of this thermostat is that it can be pricey given its loads of functionality. Moreover, some users also experienced less responsiveness of its touchscreen and the Filter Reminder option may not always work.
2. Trane Thermostat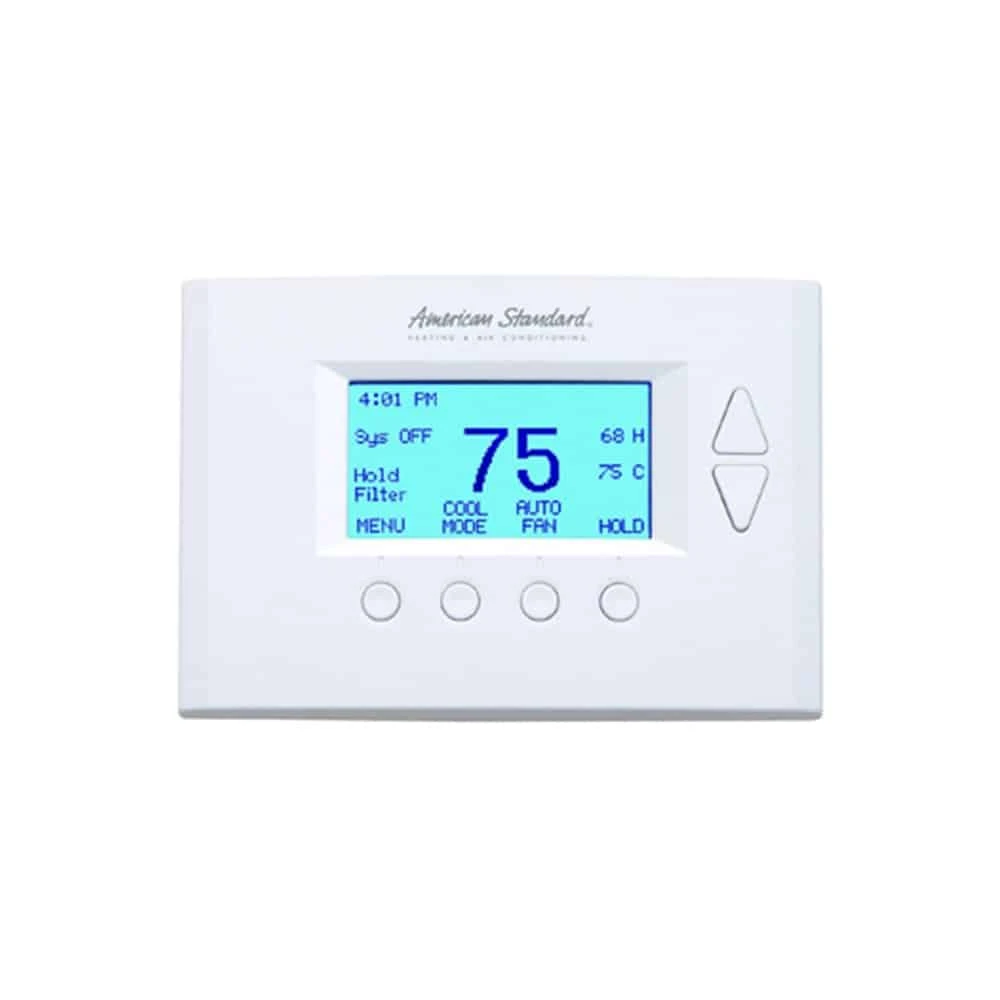 Just like its competitor brands, Trane Thermostat ensures you can conveniently set and adjust your home temperature through its remote control. Installation is less intimidating for non-tech people so you can easily monitor and adjust your home climate as well as monitor energy consumption via your phone or PC.
If you are willing to add an extra cost for a hub, you can use this thermostat with Amazon Alexa. It is also compatible with the Nexia System. You don't even need to worry about the filters since you will receive alerts when it needs routine servicing. Perhaps, the only downside of this thermostat is that it needs a C-Wire, so make sure your existing system is compatible with that.
3. Radio Thermostat CT100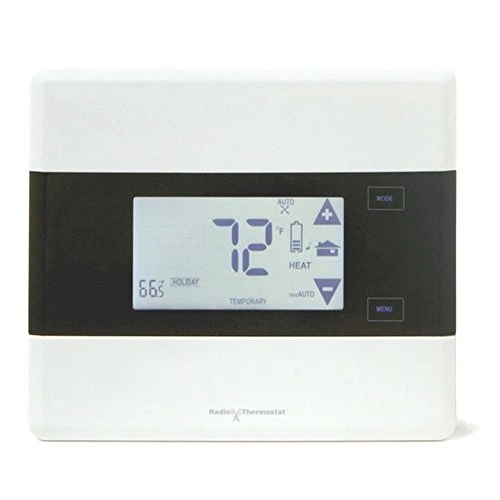 One of the most affordable smart thermostats available in the market is the Radio Thermostat CT100. It comes with a built-in temperature and humidity sensor and packaged in a sleek design. You also have access to manual programming using your PC or smartphone. And when the device reads unusual temperature readings, you will automatically receive notifications.
One of the best features of CT100 is its flexibility to power up the device. This simply means you can choose to power it up using C-Wire or 4 AA batteries. On the other side, some users complain that the touchscreen panel is less responsive. But given its features at a low price, it is still a good option for those who don't like to spend too much for a thermostat.
4. Honeywell YTH8320ZW1007/U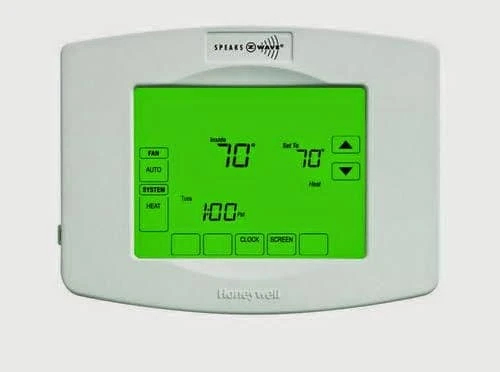 Honeywell has already made a huge name in the thermostat industry for generations. The user interface may not look so fancy, but its touchscreen panel is very responsive, unlike other competitor brands which users complain about. You can monitor your home climate and at the same time configure your own schedule to set or adjust the temperature.
This thermostat also features a reminder when your filters need to be replaced. While some Z-Wave thermostats  support a WiFi connection, this one doesn't.
5. 2Gig CT100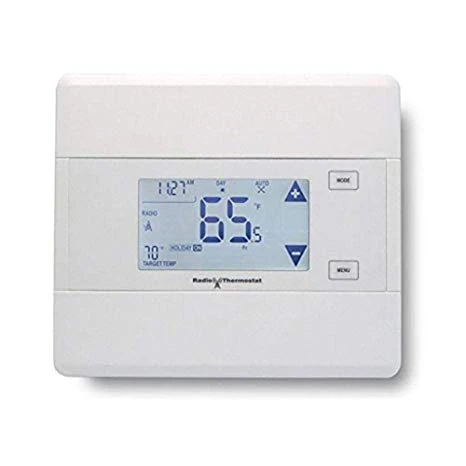 The 2Gig CT100 is a programmable thermostat enclosed in small, slim packaging. Despite its size, it is loaded with great features you would want a thermostat to have. The small display provides you touchscreen buttons to easily navigate temperature limits and comes with built-in humidity and temperature sensor. And just like the other brands, the 2Gig CT100 allows you to set different schedules in a day and monitor everything using your smartphone just in case you want to supplement the controls you have through your home automation hub.
Another advantage of this thermostat is that you only need double-A alkaline batteries to power it up. Take note, however, that 2Gig CT100 will require you to have a Z-Wave hub to be able to use it in your home automation system.
6. Remotec ZTS-500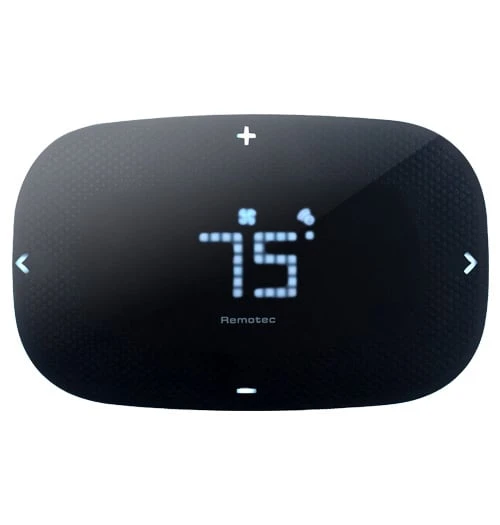 The Remotec ZTS-500 Thermostat boasts a sleek interface, Z-Wave Plus Technology, and accurate temperature sensors. You can power it up using batteries or with wall power, no need for C-Wire. It uses the FLiRS (Frequently Listening Routing Slaves) mode, making it an active system.
Despite its great features, you may also find some cons with this product. First, it doesn't have scheduling capabilities. And second, you would need a Z-Wave bridge to make it programmable.
7. GoControl Z-Wave Thermostat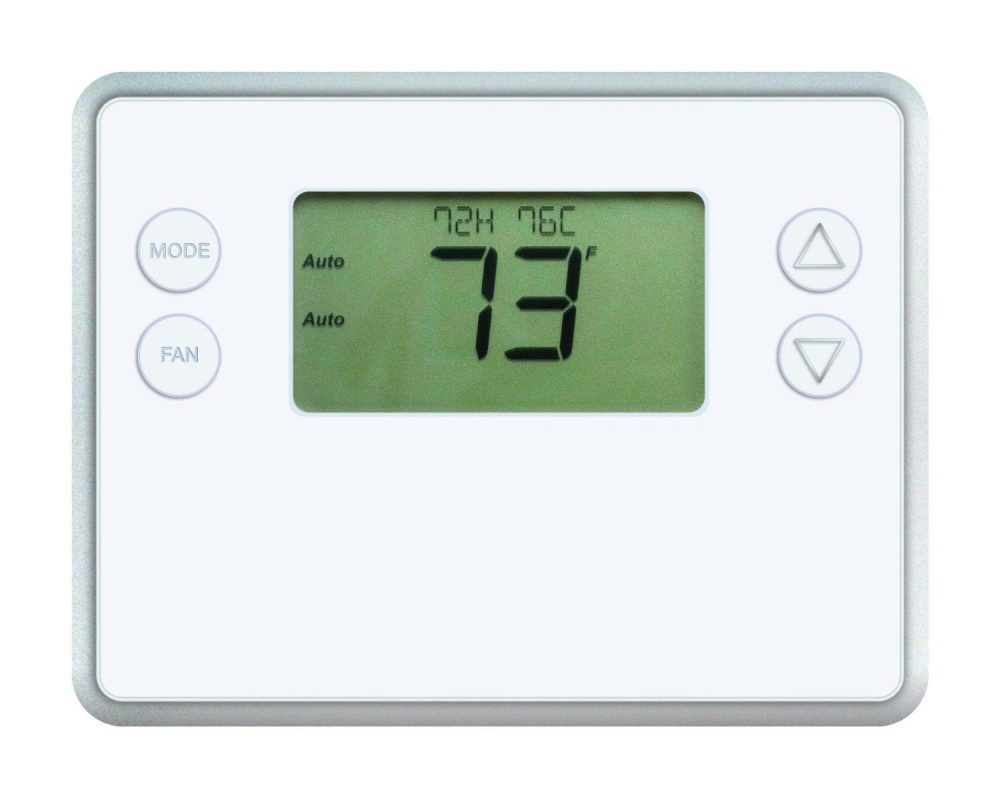 Although not equipped with sophisticated features, the GoControl Z-Wave Thermostat gets most of the great features that you'll ever need in a thermostat. It perfectly works with Alexa (given that you have a smart home hub), provides compatibility with a lot of H/C systems, and is compatible with a wide array of Z-Wave hub systems.
However, this thermostat doesn't support the Z-Wave Plus Technology and has a limited display.  
8. RCS Z-Wave Communicating Thermostat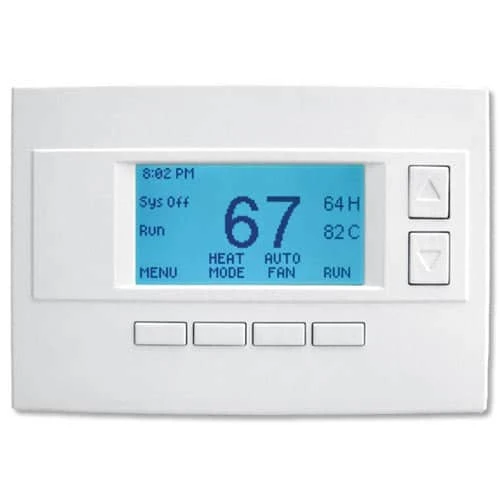 Although not so popular among home automation enthusiasts, the RCS brand has already established a trusted name when it comes to programmable thermostats. It comes with all the basic functionalities, a bright and illuminated display, and Z-Wave radios with extended range.
On the other hand, you may find the display font of the design simple and less modern as well as the overall packaging. It's also quite expensive for the features it provides.
9. IRIS CT101 Z-Wave Thermostat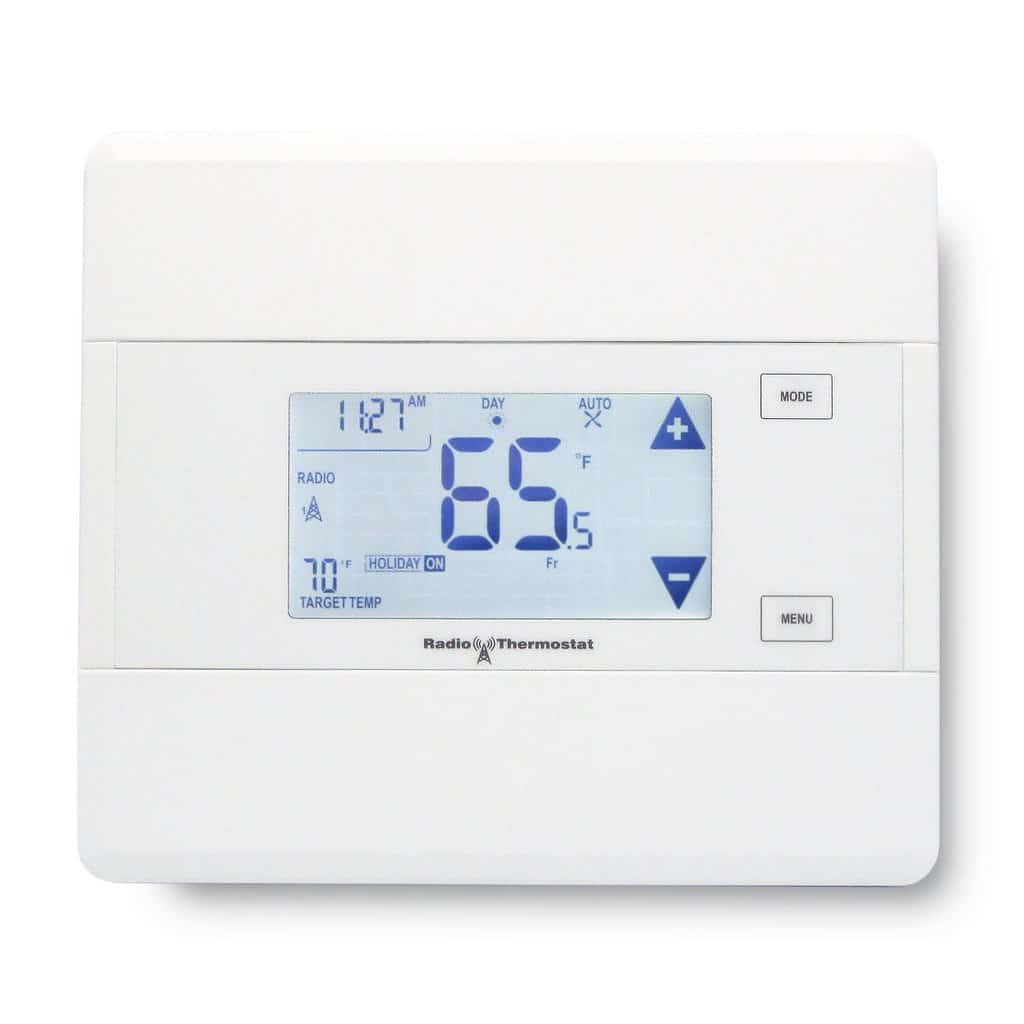 If you want something affordable that works perfectly and is compatible with most Z-Wave smart home hubs, then the IRIS CT101 Thermostat might be your best choice. It has a very affordable price tag and can be programmed the way you want. It also supports a wide array of Z-Wave products.
Given its low price, you may find its design cheap or simple and the display will not give you a lot of information.
10. Alarm.com Smart Thermostat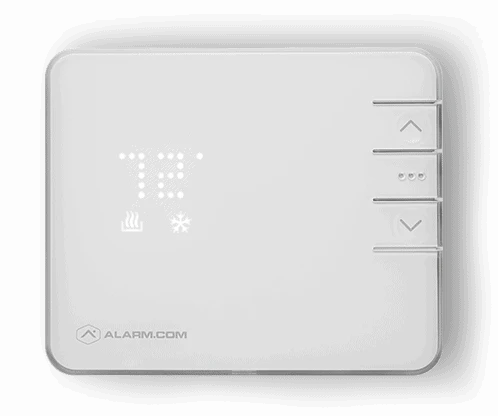 When it comes to sleek and modern-looking design, the Alarm.com Smart Thermostat could be one of your top list. Not only does it offer a nice packaging but also compatibility with most Z-Wave smart home hubs. It can also function with or without batteries. Since it is also compatible with Z-Wave Plus Technology, you can expect its battery life to last 50% longer.
If you want to experience its additional features, you can simply sign-up with an Alarm.com account. Moreover, you can also set schedules and configure the thermostat to optimize power usage. The main downside however is an expensive price.
What is a Z Wave Thermostat?
A Z-Wave thermostat is a programmable thermostat that uses the Z-Wave protocol to communicate with other devices wirelessly. If you already have existing Z-Wave devices at home, this thermostat will become another node in your home automation system.
Z-Wave thermostats are smart devices used to set, adjust and monitor the temperature of your home remotely. There are models that are designed with humidity sensors to monitor the relative humidity in the different areas of your home and even models with remote sensors to determine which rooms are occupied and need climate control. Whatever model you choose, they'll adjust the heating or cooling of your HVAC system so that you not only feel comfortable but also cut costs on your electric bills in the long run.
What is the Z Wave Protocol?
So, you are interested to invest in a Z-Wave thermostat but have no idea what Z-Wave even means. Well read on, because choosing the right home automation protocol is a critical step in building a home automation system that matches your needs.
Z-Wave is a communication protocol commonly used among devices in a home automation setup. It operates at 868.42 MHz in Europe and 908.42 MHz in the US. When installing a Z-Wave device in a home automation system, this device becomes one of the nodes of other Z-Wave enabled devices, forming a mesh network.
This network allows command signals to travel from one device to another until it reaches the right device where the command is addressed. This protocol really excels if you have a large home with multiple rooms. The devices don't have to be centrally connected to a single hub.  Instead, they form a cooperative network called a mesh, where information can take multiple paths to a final destination.
Benefits of Using a Z Wave Thermostat
Now, let's discuss a few reason why you would want to get a Z Wave thermostat.
Devices don't need to be connected to a Wi-Fi network
There are advantages why Z Wave devices don't necessarily require a Wi-Fi network. First, it ensures data privacy in the network and makes them harder to exploit since they can only be accessed from a hub once connected to it.
Second, since you don't really need to send lots of information between devices unlike Wi-Fi, it helps you save power and even operate your devices at low frequencies that can travel better through walls across a large home.
And finally, if you add more Z Wave devices into your home automation web, your network becomes more robust and farther reach as more and more devices fill out the mesh network.  That's not a benefit that you get with Wi-Fi.
Helps you cut your bills
One of the main reasons why we would want to invest in smart home devices is to optimize our energy uses and save in the process. In many cases, Z Wave thermostats will reduce energy consumption if it doesn't detect motion inside a room. And, you can integrate them with your home automation system to automatically turn the aircon off when you leave and back on when you head back home to save electricity.
Plus, smart thermostats will notify you via SMS or email if there is an upcoming scheduled maintenance for your HVAC system. This way, you are extending the life of your heating and cooling system and therefore saving money in the long run.
Centralized Control
Adding a Z Wave thermostat in your home allows you to remotely control or set your home temperature via your smartphone. It works perfectly well with other Z Wave enabled devices, no matter what brand it is. However, if it is your first time purchasing a Z Wave device, then you need to invest in a Z Wave enabled hub. Samsung SmartThings and Nexia are some of the most popular smart hubs you can avail to connect your Z-Wave devices to a mesh network.
SmartThings is our current favorite.  You can find out more about it in our Samsung SmartThings review.
How does a Z Wave Thermostat Work?
The Z-Wave protocol allows multiple devices to communicate wirelessly across a network. However, you will need to have a Z-Wave controller to be able to automate and control your Z-Wave thermostat. The controller can be used to configure settings such as automated events to trigger and link to various other Z-Wave devices or gadgets that you may have or want to install in your home.
What to look for in choosing a Z Wave Thermostat
As mentioned before, it is not always easy to choose which products to buy and for a first timer, the experience can be overwhelming with the numerous choice available in the market. Consider the following factors when choosing the right thermostat for your home.
Compatibility with your HVAC system
You don't want to purchase a product that might have compatibility issues with your current HVAC system. Otherwise, that would be a waste of money. To ensure that you won't have any problems with your new Z-Wave thermostat, make sure that you check out the compatibility of the product through the website of the thermostat manufacturer or call their support line to immediately get answers.
The primary incompatibility is for HVAC controls that do not provide a C wire at the thermostat.  Read more about that below.
Compatibility with your existing smart hub
It is always wise to do your own research first before buying a product to ensure that you won't encounter any problems once you integrate it to your existing system. Some users have reported problems with regards to compatibility of devices. You can read reviews online or contact the thermostat manufacturer to get more information.
Since the thermostat you choose will follow the Z-Wave protocol, it will be able to connect and talk to your hub.  But sometimes, thermostat vendors put additional features and controls to their devices, and support for those can vary from hub to hub.
Check if the thermostat needs a C-Wire to power up
Are you planning to replace an old thermostat in your heating and cooling system? Then your system is probably not using a C-Wire. It is important to know whether your current HVAC uses a C-Wire so that you will know which thermostat you need to buy to avoid compatibility issues. On the other hand, most Z-Wave thermostats are designed for low power applications and only need a battery to function, so a C-Wire is not required.
Wrapping things up…
Although the initial cost of some Z-Wave thermostats can be pricey, you will definitely earn the savings in the long run. Smart thermostats allow you to optimize not only your home climate but as well as your energy usage, therefore lowering your monthly bill.
There are plenty of Z-Wave thermostats you can choose from on the market, however not all of these may fit your needs. Do your research, know what you want, check if compatible with your existing smart systems and never compromise your standards.
References
Hi, I'm Christy, and I'm an electronics engineer by profession. I have taught in a university for 2 years while pursuing my master's degree in cognitive radio and worked for a company to develop wireless medical devices. Currently, I'm doing research for a doctorate degree in engineering using a wireless sensor network for smart agriculture. I've been active in our local IoT community, IoT Cebu, where I participate in conducting talks about Arduino, Raspberry Pi, and DIY home automation using Wi-Fi and ZigBee devices.