Wondering which home security systems offer what features and accessories?
Which have enough features to make them home automation systems?
We've gathered all of the information that we could find and put it in one place to save you time.  Don't limit yourself to a system that won't grow to fit your needs.  See if the system you are considering supports the home security sensors or home automation products you want or might need in the future. If you're starting from zero, check out these cool home automation ideas to know what you need.
Compare Home Security Sensors and Accessories
This table will let you know which companies offer which types of sensors with their home security systems.  It DOES NOT include 3rd party sensors like Zigbee or Z-Wave devices.  You can filter out any solution that doesn't offer the home alarm system sensors that you need by using the dropdown menus.
Stay in touch:
It's also worth noting that many of these are new companies and are developing new products very quickly, so check back regularly to see if anything has changed.  Also, the question marks are for companies that don't disclose what they offer on their website.  This usually means that they want you to have to call so that they can pressure you into making a purchase.  Our stance is that we're in the 21st century, and if it isn't available for the public on a web site, then we aren't going out of our way to promote their products.
So there!
Compare Home Automation Systems – Protocol Support
With the wide array of new home automation products being introduced to consumers in recent months, many people don't want to be locked in to buying equipment from a single company.  After all, when a really disruptive product comes along that sets a new bar like the Nest thermostat, you want to be able to get and integrate it.  Until the home automation space is more mature, it's a fact of life that many competing technologies are out there with good devices.  So, getting a hub that can speak several languages is a definite advantage.
Just take a look at the support offered by a few of the most popular systems.  You can see the full list below the image.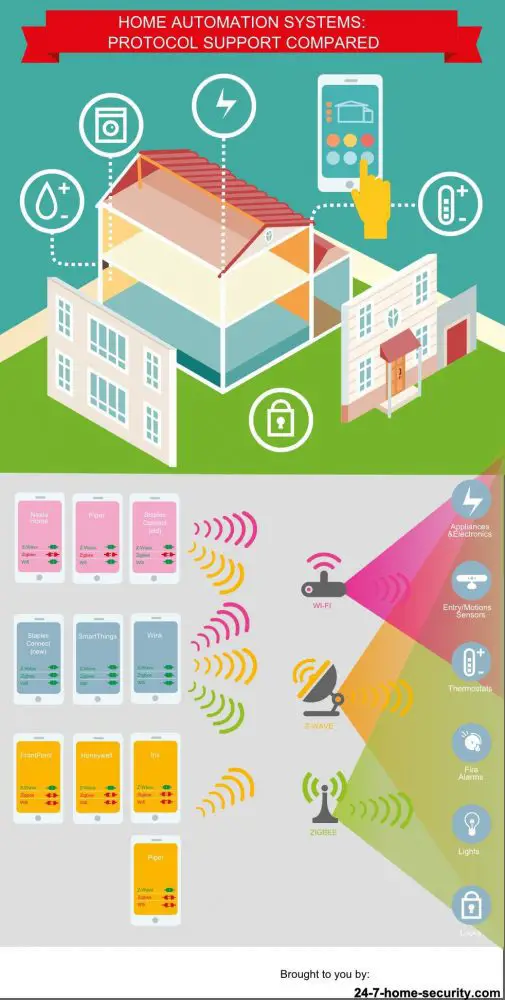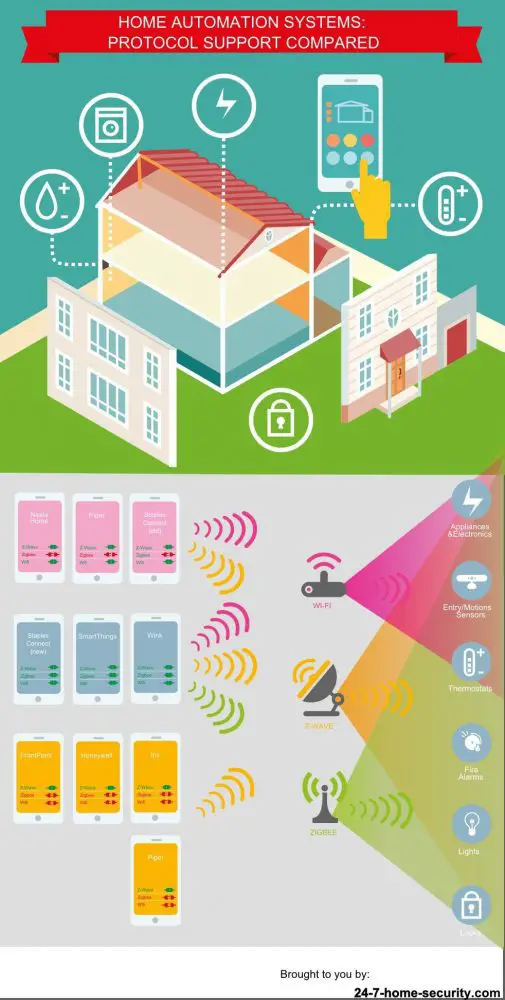 I don't think the protocol to rule all protocols is coming any time soon.  For now, we're stuck with Z-Wave, Zigbee, Insteon, and WiFi (X10 is all but dead).  And, expect low energy versions of Bluetooth and WiFi in the coming years as well as the Thread protocol to become more widespread.
Home Automation Systems Comparison – Control
The following table lists the home automation products available for each home security system.  The products that are listed as a "Yes" for the systems are those that are manufactured by the company that makes the home alarm system.  They do not include home automation products that may be offered that comply to a supported standard, such as Z-Wave or Zigbee (those are listed as "Possible").
There are many more Z-Wave
and Zigbee enabled devices (links to Amazon) that are available and more being released every week, so if your chosen home alarm system supports one of those standards, you will be able to buy 3rd party sensors to integrate with your system.
Have another feature you were looking for like:
Share this resource with your friends!
If you have some updates to the information included, feel free to contact us and let us know.