Looking for a thermostat to control your home climate while minimizing energy cost? You should consider a smart thermostat! Smart thermostats conveniently maximize your home's  energy efficiency while empowering you to monitor and control the different areas of your home. 
Ecobee and Nest are among the two biggest players in the market today when it comes to smart thermostats (we've also done an article about Ecobee3 vs Nest, so check this out if you're interested). They are known as the top-selling brands because of their advanced features at a good price. But which one is the best?
Here, we're going to review the similarities and differences between Ecobee and Nest so you will know exactly which brand will fit your preferences!
Why Invest In a Smart Thermostat?
Up to this point, you might ask yourself - do I need a smart thermostat? Is it worth the investment?
The answer to this question is entirely up to you. Whether you're new to home automation or not, you'll likely be concerned with electricity bills going up each year, just like everybody else. And what about the constant up-and-down adjusting of your thermostat  during the summer? It can be a hassle as the hot weather will burn a hole in your pocket while your house is cooling if you can't efficiently control and monitor your energy consumption.
So, here are a few reasons why you might need to consider a smart thermostat:
Remotely control your HVAC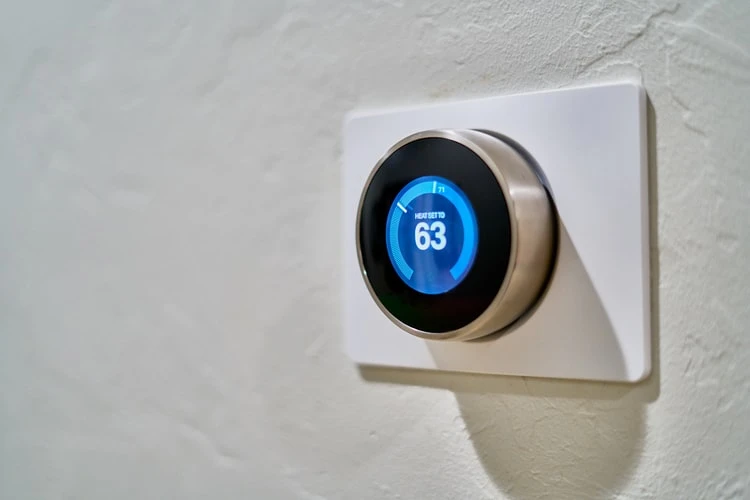 Want to set your room to the perfect temperature  right before you get home? You can do that with a smart thermostat! You can simply control when to turn your HVAC on anywhere you are. You can even monitor your home's climate and usage when you're on a vacation.
Monitor energy consumption
Smart thermostats are amazingly convenient because you can easily track your energy consumption from anywhere. Most of these devices have built-in apps that allow you to view energy consumption reports so you can analyze your energy usage over time. Planning and strategizing how you can minimize your energy cost has never been easier.
Reduce energy cost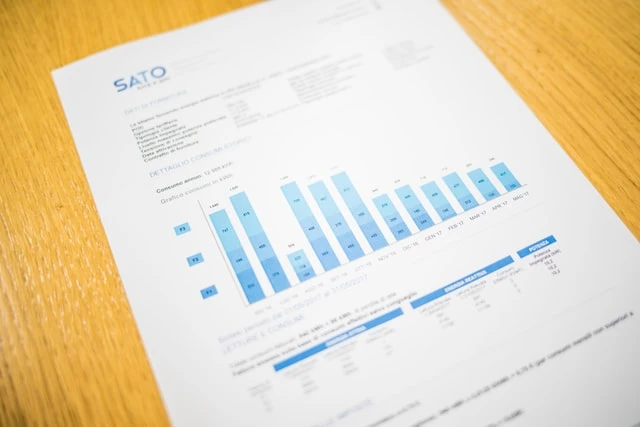 Smart thermostats allow you to automatically schedule when to adjust your HVACs. You can use the app to turn on your HVACs before you arrive home so you can always be assured that you have a comfortable climate at home while saving your cold hard cash.
Smart scheduling
Most smart thermostats have advanced features that can automatically learn your routines over time. These devices can modulate the settings automatically to meet your needs.
Remote monitoring of your home's climate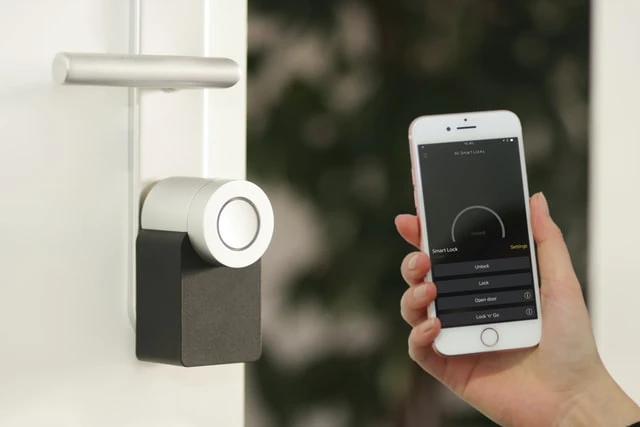 Wherever you are, it is possible to monitor your home's climate anytime through an app. For example, do you want to check if the baby's room has the most comfortable temperature? Did you leave the house for the weekend, but left the air too low? You can view current temperatures with just a click  and have peace of mind. 
Ecobee vs Nest - the Common Features
Now that we know a little bit about smart thermostats, let's take a look at what Ecobee and Nest thermostats have in common:
Both thermostats offer energy-saving benefits
The primary goal of having a smart thermostat at home is to help you reduce your energy cost. Both Ecobee and Nest have these features implemented so you can easily track your consumption and cut utility costs.
Both thermostats provide compatibility with other energy devices
Whether you want to regulate the indoor humidity or schedule when to turn on your air conditioner, both the Ecobee and Nest can easily integrate with other devices such as humidifiers, HRVs, air conditioners, heat pump, and many other energy devices. This will help you easily set up your devices to fit your unique needs.
Both thermostats can be connected with voice assistants
Want to make your devices fancier through voice commands (Google Home Assistant or Amazon Alexa)? You can do that with both Ecobee and Nest. However, each may have differences on how you can configure them on the app (which we'll share in the next section).
Both thermostats can be installed using c-wires
C-wires are very common to new HVACs and if you have one, then it will be much easier for you to install your thermostat, whether you choose Ecobee or Nest.
Both thermostats offer remote sensors
Remote sensors allow you to monitor and control different rooms in your house. You can easily adjust temperatures anytime you want (because you don't have to cool or heat all rooms at the same time, especially when some rooms are unoccupied).
Ecobee vs Nest - the Differences
While both Ecobee and Nest offer beneficial features to help you cut down your utility bills, each may have fancier features in different areas. So which one has the best features to fit your needs? Let's take a look at the key differences below: 
Installation
As mentioned above, both the Ecobee and Nest offer installation via C-wires connection which is very common with new HVAC models. But what about if you don't have c-wires on your HVAC?
Ecobee
To install Ecobee without c-wires, you'll have to go through a more complex installation. Ecobee thermostats come with power extender kits (for free!) that allow you to install some wires to a control board before you connect the thermostat. Their power extender kit (PEK) comes with installation instructions which you have to carefully follow to make everything work.
Nest
On the other hand, Nest offers an alternative called power stealing to power up the thermostat. This means that you'll have to use the HVAC fan to charge the thermostat's battery to keep it running. This can be risky for both your thermostat and electrical system. It is highly recommended to use an add-a-wire kit (which you can purchase separately) to prevent any potential damages to your devices. 
Design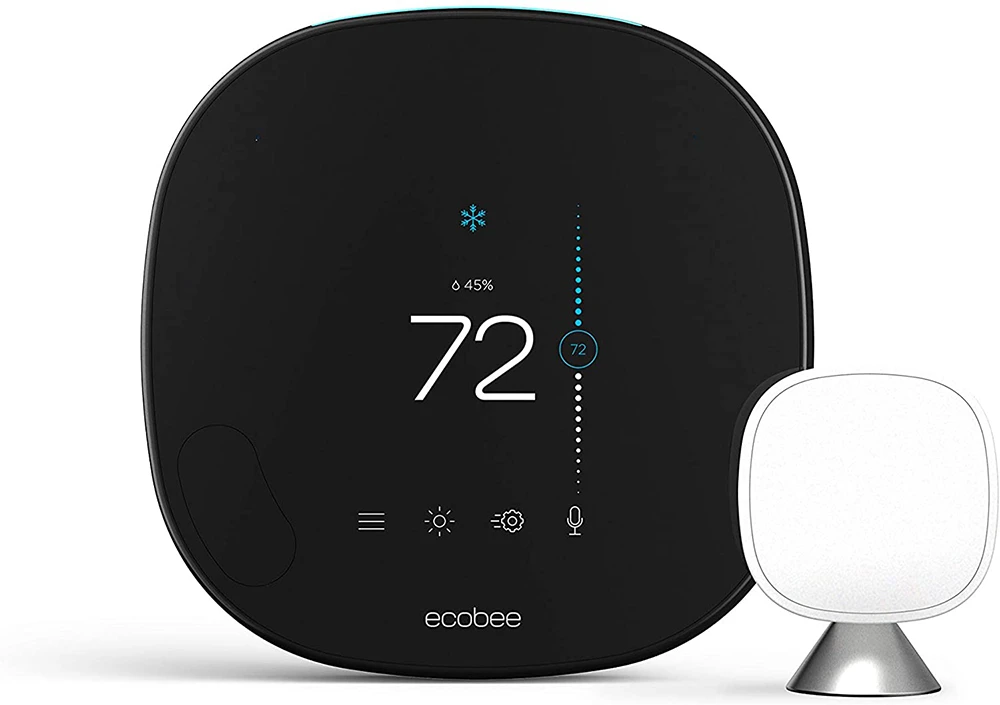 The Ecobee is available in a smooth, black, rectangular design with round edges. It comes with a plastic touchscreen with a size of 3.5" which makes it a little bigger than Nest. The touchscreen is where you can see the display and set-up the controls for your thermostat.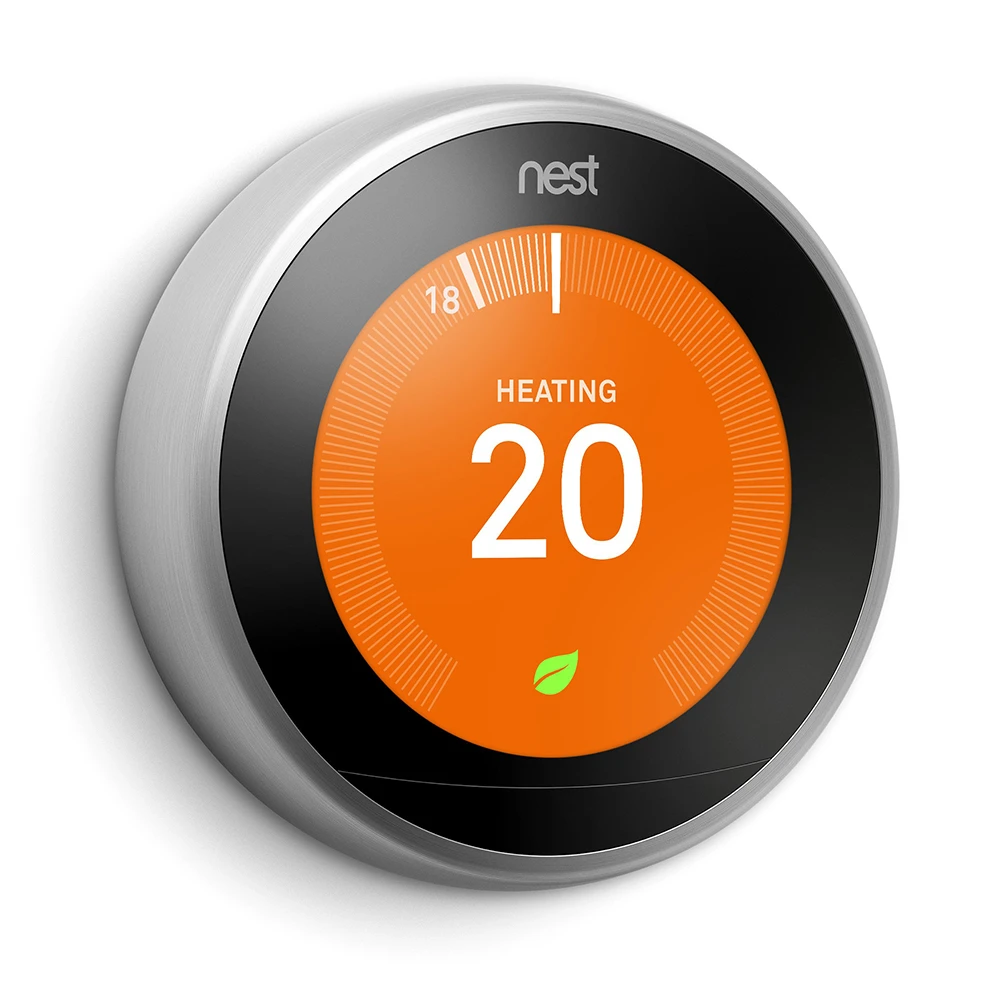 Nest differs in the design with its round casing made of glass and stainless steel. Although it is smaller in size compared to Ecobee, the unit is much heavier. You can also choose from a variety of colors to perfectly match your home's aesthetics. You can choose between polished steel, stainless steel, mirror black, copper, brass, black, and even plain white. It also features a touchscreen to control your device.  
Scheduling Capabilities
Ecobee offers a simple scheduling system that you set manually, whether you're home, away, or in sleeping mode. You also have to manually set the temperatures to meet your specific needs, and this routine will continue until you make changes in the schedule. Ecobee's scheduling system doesn't offer any complex configurations, which limits you to a fixed routine.
Nest, on the other hand, offers an advanced scheduling system called Algorithmic Learning. This feature allows your thermostat device to learn your routine so that it automatically adjusts without manually setting them up from time to time. During the first time you use it, you can make manual adjustments first. Nest will record it and after around two weeks, it will automatically learn your routine and preferences and make adjustments for you. Nest will continue learning your routines and tweak any small changes to meet your changing preferences. But if you prefer the manual setting, you can always turn off the Algorithmic Learning feature.
Energy-Saving Report
Both Ecobee and Nest provide system reports that record and analyze HVAC usage. For Ecobee, the data is recorded and can be accessed for up to 18 months while Nest can only offer up to 10 days of data.
Ecobee has a system called Home IQ wherein you can access features like Home Efficiency and System Monitor to analyze your HVAC usage for a certain period of time. You can even determine your HVAC usage based on local weather. Nest, on the other hand, has a green leaf feature. Everytime you improve your energy usage, a simple leaf icon is given as an indicator that you did a great job by being more energy efficient.
When it comes to energy savings, a survey shows the average Ecobee user was able to save around 23% for both heating and cooling bills while the average Nest user saves around 10% - 12% savings on the heating bills and 15% on their cooling bills.
Compatibility With Third-Party Devices
Nest is compatible with popular smart home hubs and programs like IFTTT, Amazon Alexa, and Google Home Assistant. 
Ecobee can also work with Samsung SmartThings, IFTTT, Alexa, and Google Home Assistant. In addition to these popular hubs, Ecobee is also compatible with Apple Homekit (Ecobee4) which has more options than Nest.
Sensors
Both Ecobee and Nest have built-in occupancy and temperature sensors. However, for Nest, these sensors can only be used to monitor the temperature. Ecobee can monitor both occupancy and temperature with an external sensor added when you purchase the device.
If you want to improve the accuracy of monitoring your home temperature, you can purchase more sensors separately, which are available for both Ecobee and Nest.
Geofencing Features
Geofencing is a convenient feature for every smart thermostat because it can automatically make adjustments to your HVACs whether you're home or not. It uses your phone's GPS so that your device will know when you're approaching home or leaving. Both Ecobee and Nest have this feature. 
Unfortunately, Ecobee can only support one phone. This can become problematic if you're leaving home with your phone and other family members are still inside the house. Third-party apps are available to help you set-up the geofencing feature to several phones but this process can add more time and hassle.
Nest knows that geofencing to several phones provides more convenience to its users, so they included a geofencing feature to allow multiple phones to access the app. If one of your family members will be home, the thermostat can automatically make the necessary adjustments. Another feature that makes Nest more advanced is motion detection. Even if all phones connected to the system are in "Away" mode, the thermostat will still know if someone is home (like your kids or caretakers) and make adjustments in the temperatures.
Cost
The cost for Ecobee and Nest can vary depending on the model of the device you choose. Here are the prices we found (note that prices may vary at any time):
Ecobee:
ecobee3 Smart Thermostat - $150.00

ecobee4 Smart Thermostat - $198.00

ecobee5 Smart Thermostat with Voice Control - $239.90
Nest:
Nest Thermostat E - $169

Nest Learning Thermostat 3rd Generation - $209.95
Product Warranty
Product warranty gives you a peace of mind as well as assurance that your investment is protected, whatever will happen to your device. Ecobee offers a limited warranty of up to 3 years. Nest can offer you a 1 to 2 years warranty (depending on the model) if you prefer to install the device yourself, or up to a 5 year warranty if you choose the Nest Pro installation.
Ecobee vs Nest - The Pros and Cons
To give you a better overview, here are a summary of the pros and cons for Ecobee and Nest thermostats:
Ecobee
Pros:
Works with several smart home hubs like Google Home Assistant and Amazon Alexa

Comes with sensors that can both monitor occupancy and temperature

Works with Apple HomeKit

Survey shows that Ecobee users have bigger savings in utility bills (up to 23%) compared to Nest users
Cons:
Geofencing can only support one phone

Wired installation only

Scheduling is manually set
Nest
Pros:
Installation is available both in wired and battery options

Comes with Algorithmic Learning feature that learns your behavior and create an automatic scheduling

Longer warranty (up to 5 years) if you avail the Nest Pro installation

Geofencing supports several phones

Offers more design options to match your style
Cons:
Doesn't support Apple HomeKit

Remote sensors can only monitor temperature
Key Takeaways
We have reviewed the common features and differences  of Ecobee vs Nest so you'll know which thermostat best suits your lifestyle. Overall, we have learned that Nest offers fancier features when it comes to scheduling (which Ecobee lacks). Nest's smart algorithm allows the device to learn your routines so that it can automatically make adjustments for you. 
If you found this post helpful, please share this with your friends and loved ones!
Hi, I'm Christy, and I'm an electronics engineer by profession. I have taught in a university for 2 years while pursuing my master's degree in cognitive radio and worked for a company to develop wireless medical devices. Currently, I'm doing research for a doctorate degree in engineering using a wireless sensor network for smart agriculture. I've been active in our local IoT community, IoT Cebu, where I participate in conducting talks about Arduino, Raspberry Pi, and DIY home automation using Wi-Fi and ZigBee devices.