Want to keep your floor clean with little effort on your part? Then you'll love the Ecovacs Deebot N78! No need to constantly worry about keeping your floor tidy all the time - the robot will do all the work for you while you sit and relax on your couch.
In this post, we will review the Deebot N78 and why this budget-friendly robot is worth your money! 
Bottom Line
The Deebot N78 is a great choice if you're looking for a
robot vacuum
cleaner with powerful technology at a low price. Its direct suction power can pick up pet hair, dirt, and dust to keep your floor tidy. It also comes with a HEPA filter to remove allergens and protect your loved ones with asthma and allergies.
Pros
Quiet operation
Good at picking fine dust, pet dander and hair
Bin is easy to empty
Comes with a remote control
Comes with sensors to detect walls and obstacles
Comes with a HEPA filter to protect your family from allergens
Cons
May not work well on rugs and carpets
Doesn't let you know when it's docked
Doesn't tell you when something is wrong - only beeps
What Customers Say
"Love it. Quiet, efficient, much better than the Roombas I've owned in the past. Used daily for about a month now and am planning to order a second one for the other floor of my house."
"I'm really, really glad I bought this, and have recommended it to family and friends!"
Deebot N78 Alternatives
Looking for other options? You can check out the best alternatives below:
Best for Budget: iLife v3s Pro
ILIFE V3s Pro Robot Vacuum Cleaner, Tangle-free Suction ,...
Fits Pet Owners: With a tangle-free pet hair care suction, V3s Pro Robot Vacuum focuses on picking up...
Slim: V3s Pro has a low profile design, capable of running under beds and sofa where dirt hides
Automatic Cleaning and Charging: This robot vacuum can run routine cleaning automatically based on preset...
Another budget-friendly robot you can consider is the iLife v3s Pro. Like the Deebot N78, it works well in picking up pet hair and dirt through its powerful suction feature. It can clean your room quietly enough that you can still talk over the phone or watch TV. Batteries can last up to 120 minutes which should cover an average American home before the next recharge. And when it's stuck, the robot automatically shuts down until you are able to pick it up to continue cleaning.
However, no robot vacuum cleaner is perfect. Some of the downsides of the iLife v3s Pro robot include the lack of smart sensors to detect stairs. The dust bin may also fill up quickly and you need to clean it frequently. And lastly, the robot vacuum may not be able to suck all the dirt along the way.
roborock S5 MAX Robot Vacuum and Mop Cleaner, Self-Charging...
Customizable Mopping: Set the right water flow, even your preferred water flow for each room in your...
Effective Cleaning Every Time: Precision LiDAR navigation combined with adaptive route algorithms ensure...
Serious Cleaning Power: Maximum suction power of 2000Pa suction easily lifts dirt from floors, and Carpet...
If you want performance and don't mind paying a higher price, then we highly recommend the Roborock S5. Aside from the powerful suction feature, it also comes with a smart navigation technology with virtual barriers to effectively clean every room in your home. If you want the fancy voice command feature, you can also integrate it with Alexa or Google Assistant. And it's not just a robot vacuum - it also comes with a mopping feature to give your floor a shiny finish.
Some of the disadvantages you might want to take note with S5 is that its size is slightly bulkier and may easily get stuck under low furniture. The dust bin is also small and you may need to empty this more frequently, depending on how big your home is. And lastly, the smart app may not always work perfectly - some users complain about bugs but we are hoping that all of these are already addressed.
Deebot N78 Specifications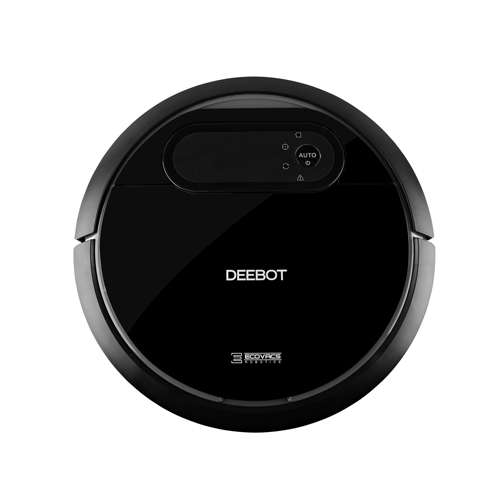 Product Dimension: 13.9 x 13.9 x 3.3 inches
Battery Capacity: 3000 mAH
Battery Life: 110 minutes
Charging Time: 4 - 5 hours
Noise Level: 56 dB
Dust Bin Capacity: 500 ml
Air Filtration: Yes
Remote Control: Yes
Wi-Fi Connectivity: No
Anti-Collision and Drop Sensors: Yes
Protective Bumpers: Yes
Cleaning Modes: Auto, spot, and edge
Voice Control: No
Time-Scheduling Feature: Yes
Warranty: 1 year
Our First Impressions of Deebot N78
The Deebot N78 is well packaged with foolproof instruction documents that you can easily follow to set it up. When we first started using it, we needed to charge it for 4 hours. And it also comes with a remote control which is very easy to use - no fancy set-ups and complex settings need to make it work.
Surprisingly, it works quietly unlike most robot vacuums. You can talk over the phone or watch your TV while it does its job. Definitely a good option for those who don't want a noisy vacuum cleaner at home. To make the mopping function work, all you need is to fill its water tank and install the cleaning cloth. The robot vacuum comes with a water reservoir that snaps perfectly behind the vacuum opening. It may not effectively remove stains and grime but it does give your floor a shiny and clean finish.
The vacuum function of the robot does its job well in picking up dirt, dust, hair, and pet dander. It can even suck in fine dust and particles. But due to the small size of the bin, you may need to empty it more frequently, depending on how large your house is. Cleaning it is easier compared to other robot vacuums. It comes with a back end flip design to easily open and empty the dust bin. Inside the dust bin also comes with a small cleaning brush which is really handy. 
Since the robot comes with anti-collision sensors, it can travel the house without bumping and getting stuck on furniture and walls. However, it can easily get stuck on rugs and gives you a beeping sound whenever it happens. 
I want to mention how impressive its battery life is. It can last for almost 2 hours, given it's not stuck somewhere. And since it has a longer run time, it can clean more areas in your home.
Setting Up the Deebot N78 Robot Vacuum
Setting up your Deebot N78 is straightforward. When you use it for the first time, you need to charge it first for 4 hours. Don't forget to attach the side brush onto the bottom of the robot by fitting the brush into a slot until it clicks. Place the station area near an outlet and plug it in.
When charging, make sure that the power switch is turned on. As mentioned, it could take 4 hours or more to fully charge the robot vacuum. 
Since the robot comes with a remote control, you can easily control and set it without Wi-Fi. Turn the robot on and set the cleaning mode you want. There are three modes to choose from - auto, spot, and edge. Usually, it is recommended to use the auto mode where the robot can move in a straight line and change direction when it reaches a wall. Take note that when you press the start/pause button, the robot will make a beep sound. You can also hear the beep sound when the robot encounters a problem, such as being stuck under a piece of furniture.
Deebot N78 Product Features
The Deebot N78 comes with a minimalist and neat exterior design. It has a round shape and is only available in black color. 
Tangle-Free Direct Suction Power
The Deebot N78 can effectively pick up human hair and pet dander without being tangled in the brush. It can suck the hair and dust straight to its dustbin.
Longer Battery Life
When fully charged, the Deebot N78 on the average can last for almost 2 hours, depending on how big the house is. However, you'll need between 4 to 5 hours to fully charge the robot.
Slim and Lightweight
The Deebot N78 measures 13.9 x 13.9 x 3.3 inches and weighs 9.7 pounds. This lightweight and slim size can easily go under your furniture without getting stuck.
Anti-Drop and Obstacle-Detection Sensors
The Deebot N78 is equipped with sensors to protect itself from falling down the stairs and bumping into the walls, furniture, and other obstacles along the way. When it detects an obstacle or a drop-off point, it will automatically reverse its direction and change its cleaning path. 
Quiet Operation
The Deebot N78 operates at 56dB which is quiet enough so you can still hear someone on the phone or watch your favorite TV show while the robot is cleaning. Its powerful suction feature can effectively pick up debris and hair without making a lot of noise unlike most common robot vacuums.
Scheduling Feature
You can set the Deebot N78 to automatically clean on certain times of the day by setting the cleaning schedule. You can command it to do its job while you're away or anytime when you're at home. With a fixed cleaning schedule, the robot can automatically go off its dock and start cleaning on its own.
Remote Control
The remote control allows you to operate the Deebot N78 robot wirelessly without the need to pick up your robot. You can manually turn it on or pause it using the remote control, as well as change its settings without the need to bend over.
Self-adjusting Wheels
Whatever type of floor you have, the Deebot N78 can smoothly run and navigate the floor (including those with uneven surfaces) thanks to its self-adjusting wheels. So whether you have a textured floor, a short-pile carpet, tiles, or wooden floor, the Deebot N78 will surely do its job without any problem.
Cleaning Modes
The Deebot N78 comes in 3 cleaning modes - the auto, spot, and edge mode. You can set the robot to any of these modes depending on the area you want to be cleaned.
Air Filtration
The Deebot N78 can efficiently filter allergens such as pollen, dirt, dust mites, and pet dander to ensure that you and your family members won't breathe in these particles. This feature is also very helpful if you have family members with asthma or allergies.
Smart Motion Technology
This feature allows the robot to pass multiple times on your floor instead of just moving randomly to ensure that the floor is totally covered. The multiple cleaning passes will make sure that the area is thoroughly cleaned without leaving any dirty spots.
Want more info? Watch this short video below:
Conclusion - Is Deebot N78 Worth It?
The Deebot N78 is a budget-friendly robot vacuum cleaner that comes with all the features you'll need for a robot cleaner. It is quiet yet comes with powerful suction technology to pick up any dirt and hair without the tangles on the brush. It is very easy to maintain and gets the job done even if it lacks some fancy features (which you might only find in high-end robots). But overall, we love the features and convenience given its price. So yes, it's definitely worth it!
Hi, I'm Christy, and I'm an electronics engineer by profession. I have taught in a university for 2 years while pursuing my master's degree in cognitive radio and worked for a company to develop wireless medical devices. Currently, I'm doing research for a doctorate degree in engineering using a wireless sensor network for smart agriculture. I've been active in our local IoT community, IoT Cebu, where I participate in conducting talks about Arduino, Raspberry Pi, and DIY home automation using Wi-Fi and ZigBee devices.
Last update on 2022-08-07 / Affiliate links / Images from Amazon Product Advertising API