About the Fibaro Swipe
In 2015, home automation giant Fibaro released their Fibaro Swipe. It's a motion gesture pad designed to revolutionize how you control your smart devices. It's minimally designed to look like a modern picture frame and comes with a stylish stand that resembles a mini Apple iMac monitor. It comes with a magnetic cover for quick and easy replacement of photos so that it can blend seamlessly with the rest of your home.
WHAT IT CAN DO
Similar to the Amazon Alexa skills or Google Home voice assistants, the Fibaro Swipe allows you to control your lights, HVAC, curtains, and other devices but with a motion gesture instead of voice. You can configure it to recognise simple gestures like left, right, up, down, circular motions, to do specific home automation tasks for you. You can also add combinations of hand gestures for more unique automation scenes. The main benefit, in my opinion, is being able to quickly flip on a set of lights or open a gate for a friend,
like in this example
, with a simple swipe of the hand rather than saying "Alexa, turn on the lights" or "Alexa, open the gate".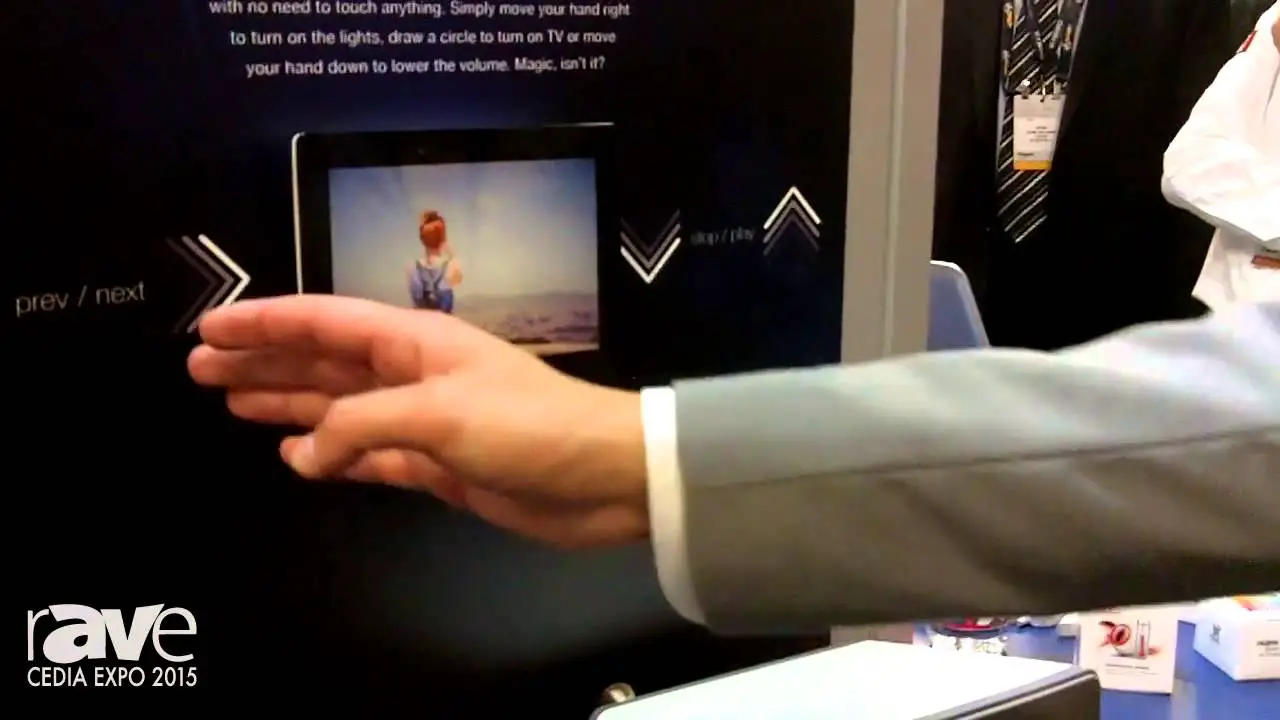 You can integrate the Fibaro Swipe with the Fibaro Home Center line of smart hubs or with other Z-Wave (and Z-Wave Plus) hubs like Vera, Wink, or SmartThings.
Now you know that your kids will love that!  If you have some already or one on the way, be sure to check out these home automation devices too!  They'll be swiping like crazy!
WHERE IT CAN BE USED
Disguised as a picture frame, you can put it near your bed, your main door, living room, or anywhere where you need to access it the most. You can also install it on your countertop so while you are cooking, you can turn on and off the exhaust fan, the lights, and even switch the television. The best thing? You don't have to worry even if your hands are dirty and messy from the sauce or from gardening! Also, there's no wear and tear or cleaning required like a mechanical switch since you or your children (with sticky fingers!) don't need to physically touch it. With just a magical swipe, they can control any home automation that you choose.
AND THE DOWNSIDES
Of course, there's no perfect device. Anything has its flaws? We've gathered some of the reviews from other customers for you:
Unlike when powered via USB, the Fibaro Swipe goes into sleep mode when powered with batteries only to conserve energy. During this, the first gesture only wakes up the device and won't really execute a task.  In other words, you need to wave at it first before issuing a command, which can be a little awkward.

Pairing the device to your hub is somewhat difficult. As they say, timing is everything. Swiping too fast won't be recognized. Too slow, and it may timeout and fail to pair.

Not everyone in your house may be able to memorize the hand gestures. The more gestures you associate with one swipe, the harder it will likely be for a spouse, kids, and other relatives to learn you system.  And that doesn't even consider guests! Putting a lookup chart right beside the device totally defeats the aesthetics.

Unlike your smartphone, you can't bring it anywhere all the time. Who brings one in the bathroom, right?  It's best placed near a door, bedside, or couch where you know that you'll spend a lot of time and would like to control things.
WHAT HOME AUTOMATION ROUTINES ARE BEST FOR A FIBARO SWIPE?
Smart home routines to control from the couch
Turn off the lights for a movie and back on when it's done

Turn on a fan

Raise or lower the temperature on your Nest or Ecobee thermostat

Mute the volume when you get a phone call

Pause the movie and turn on the lights when the doorbell is pressed
Home automation routines to consider from your bedside
Turn on the lights in the bathroom

Activate your goodnight scene when you go to bed to lock the doors and turn off the lights.  Check out our bedtime home automations [link to our bedtime automations article] for more ideas.

Turn on the lights in the kids rooms when you wake up to let them know it's OK to come out of their rooms (good for a bit more sleep on the weekend!)

Start your coffee brewing
Automations for when a Swipe is installed at the door
Open the garage going out on the way to work in the morning

Turn all of the lights in the house on at night (if you don't want to connect your garage door to your home automation system [link to our article on this] and have this automatically done)

Turn on an outdoor light so that you can see at night
Don't like the picture frame? You can even strip down the Swipe and hide it behind a frame that you already have.  Here's a walkthrough on how this user set it up to control his driveway gate:
Reference:
Hi, I'm Christy, and I'm an electronics engineer by profession. I have taught in a university for 2 years while pursuing my master's degree in cognitive radio and worked for a company to develop wireless medical devices. Currently, I'm doing research for a doctorate degree in engineering using a wireless sensor network for smart agriculture. I've been active in our local IoT community, IoT Cebu, where I participate in conducting talks about Arduino, Raspberry Pi, and DIY home automation using Wi-Fi and ZigBee devices.