Whether you own a gun for sport or home defense, keeping it secured at home is a big responsibility.  As much as possible, our guns should be well-hidden, but in a way that's very accessible in an emergency. 
Want a high-tech safe that's quick to access and still really secure?  The tech used in biometric safes is getting pretty good, reducing bad scans and increasing reliability.  So, we're taking a look at the market to find the best safes available.
If you're in a hurry to know our best recommended fingerprint gun safe, scan the table below:
What is a biometric gun safe? How does it work? What makes it different from other traditional gun safes? If you have these questions, keep reading! 
What is a biometric gun safe?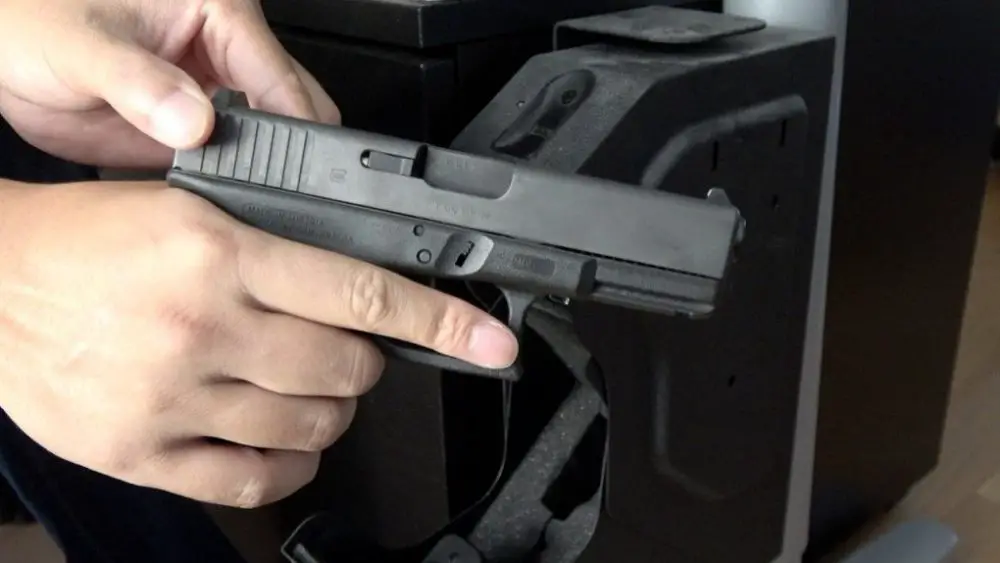 Unlike traditional gun safes that use keys or code combinations for access, biometric safes use the owner's fingerprint information to get access right away. Imagine you're in a panic situation and you suddenly forget the combination codes to unlock your safe. With a biometric safe, you don't need to remember certain codes to open your gun safe during emergencies.
Most biometric safes are designed without the need of a mechanical lock, while others may have keys as an alternative option to access the safe. During the time of installation, your fingerprint is registered so that only you can open the gun safe. There are also gun safes that can store several fingerprints so that multiple users can access the gun safe. If someone else tries to open the safe with fingerprints not registered, an alert status will notify the owner to use the correct fingerprint.
Although biometric gun safes have so many advantages over the traditional ones, not all safes are made equal especially when it comes to quality. Some safes may have poorly-made fingerprint scanners that might not accurately recognize the owner's fingerprint especially when the fingers are soiled or have small wounds. Before you invest in a fingerprint gun safe, make sure that you do your own research first.
Standard vs biometric gun safes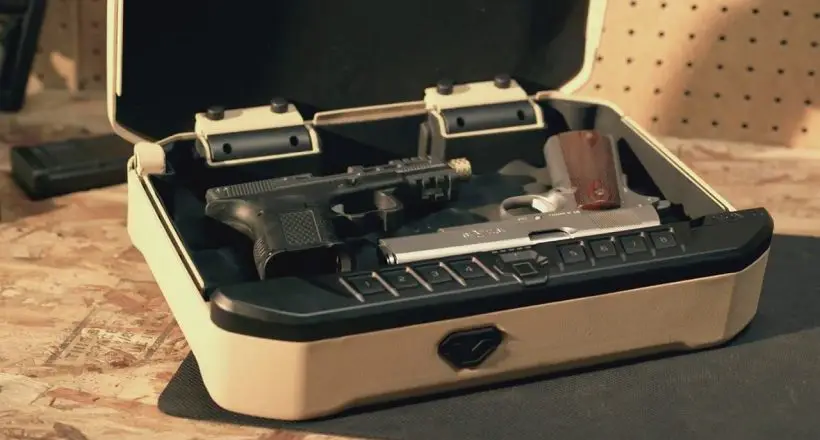 Whether you're looking for a biometric or traditional gun safe, the end goal is to protect your guns and other valuables from the wrong hands. However, each of these gun safes may have different features and price tags.
A biometric gun safe is very useful in times when you forget a password during stressful situations. If you're not always opening your gun safe (on a daily basis), chances are you will easily forget your combination codes. And when an emergency comes, it might take you forever to remember your codes or find the place where you've saved it. A biometric gun safe simply uses the information from your fingerprint to give you access. 
On the other hand, standard gun safes offer a fool-proof method to give you access to your guns. With a mechanical lock, you are assured that no one else will get into your valuables (for as long as you remember your combination codes). Traditional gun safes also come with standard ratings so that you'll know what you're getting. Biometric gun safes do not have such ratings yet because they are new and standards to evaluate performance are still in development. So the only way to get an idea of a biometric gun safe's quality is to research and read customer reviews.
When it comes to power sources, traditional gun safes do not need batteries unlike the fingerprint gun safe. So if the battery fails, you may not be able to use the fingerprint scanner to access your safe. However, most biometric gun safes come with alternative keys so you can still access your safe when the battery runs out.
And lastly, biometric gun safes are more pricey compared to the traditional gun safes. So if you think that budget matters to you and you like the traditional features, then the biometric gun safe may not be the right one for you.  
How does a biometric gun safe work?
The great thing about a biometric gun safe is that it uses your fingerprint information to be accessed - no need to memorize any combination codes or passwords. Since every fingerprint is unique, you are assured that only you (and other authorized persons you added) can only access your guns and valuables.
When you place your finger on the scanner, it takes the visual image of the peaks and valleys of your fingerprint. This topographical image of your finger is converted into a series of numbers and saved into the device's memory. These series of numbers are used to activate the locking mechanism of the safe. When you place your finger again, the device will scan again your finger and check if it matches with the stored information. If it does, the locking mechanism of the safe is deactivated and it unlocks.
The Pros and Cons
Of course, no product is perfect. With the amazing features of biometric gun safes, you can also expect it to have some bad sides.
As mentioned before, the biometric gun safe offers more advantage when it comes to easy and fast access. Since the scanner uses only your fingerprint to unlock the safe, you don't need to memorize a code combination or password to access your gun safe. This feature is quite helpful during stressful situations wherein it is easier to forget the correct password. And if you're not always using your gun safe, it is most likely that you're going to forget your combination codes.
So what about the downside of biometric gun safes? Well, for one, they are battery-operated. This only means that when the battery fails, you cannot use the fingerprint scanner. Since most biometric gun safes have backup keys, you have to use this option to manually open your gun safe.
And let's not forget the accuracy of the fingerprint scanner. As mentioned, not all scanners have the same quality. For example, your fingerprint scanner may not identify your fingerprint correctly if your fingers are dirty or have wound cuts. So better read the reviews first to know which one is worth your investment. 
How to choose the best biometric gun safe?
Before you add a fingerprint gun safe to your cart, make sure to consider these features:
Reliability
A biometric gun safe should not only store your guns and valuables but also ensure that it is protected from prying, drilling, and other forms of forced entry. It is always better to invest in a gun safe that offers multiple layers of protection to have your peace of mind.
Materials Used
A gun safe made of strong materials such as carbon steel is highly recommended to ensure that it withstands from beating, drilling, fire, flood, and other calamities. No matter what happens, you'll be assured that its contents are safe. 
Backup Access
Although the fingerprint scanner feature of biometric gun safes are fast and easy to use, you can never tell the time when the electronics part of the device may fail. A good gun safe will offer you multiple options for access. Most biometric gun safes offer alternative keys which you can use in case the battery (or the electronics component) of your safe fails.
Shape, Weight and Size
The overall size and weight of your gun safe depends on the location where you intend to install it as well as the number of guns you want to store. Some safes are large and heavy while other are small and lightweight. Are you planning to put the safe beside your bed, in the living room, or in the garage? Do you have plans of moving it from time to time or do you prefer to permanently install it in a single place?
Anchored vs. Portable Safe
We've mentioned in one of our articles that an anchored gun safe is always better than a portable one to prevent thieves from stealing it. However, it still greatly depends on your purpose of the safe. If you have plans of carrying or moving it in the future, then it is better to consider a portable gun safe. Overall, if you plan to protect several guns and valuables, then opt for an anchored gun safe. This type of safes usually come with pre-drilled holes and anchor bolts for easy installation. 
Capacity
Do you have plans to collect rifles and handguns? Or do you prefer to keep a small gun at home? With this in mind, you will know whether to buy a small safe or a large safe.
Power Source
The biggest disadvantage of biometric gun safes is that most of them are battery-operated. If you plan to install a gun safe on a permanent location, then it's better to choose the ones with AC adapter accessories which you can plug to the nearest electric outlet or units that offer longer battery life (for example, 4 months battery life).
Other Facts to Consider
Know your purpose of buying
Knowing your purpose of buying the biometric gun safe should be the top priority before you pick up safes you see online. Do you want to install a safe in your bedroom? Do you prefer a large safe to keep all your gun collections? Do you want a safe that will protect your valuables from floods or fire (if you live in areas where floods or fire accidents are common)?
Know your budget
It's no doubt that biometric gun safes are more expensive than their traditional counterparts. However, the price can go even higher depending on what features are added. If the price matters to you, the good news is that you can still buy a good quality biometric gun safe minus the added features which you do not really need!
Know your state's laws
Before you pick up that fingerprint gun safe you liked, make sure that you know your state's laws when it comes to owning and storing a gun. Some states might be strict when it comes to the type of gun safe needed to keep your weapons (such as the material construction and technology used).
How to clean your fingerprint gun safe
Ideally, the fingerprint scanner of your biometric gun safe should be cleaned after its use to ensure that it will function accurately. Most manufacturers provide a manual on how to clean the gun safe with the recommended solution to use. So if you're not sure how to clean your gun safe, always consult the manufacturer's manual!
Choose a corrosion-resistant gun safe
A good-quality biometric gun safe should last for years. Choose a gun safe that is made up of carbon steel with protective coatings to protect it from rust, scratches, and corrosion.
Our top 10 fingerprint gun safe for 2020:
Best for Long Guns
BARSKA BIOMETRIC RIFLE CABINET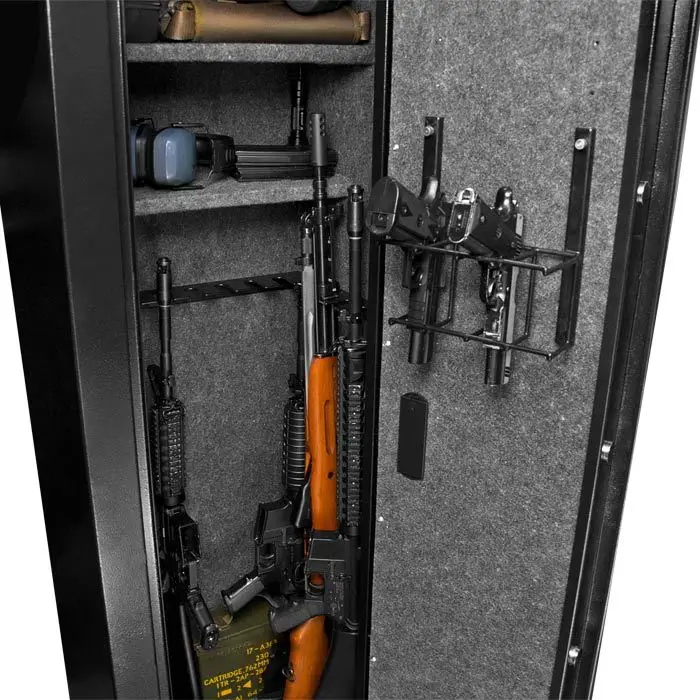 Rate: 3.9/5
Price: $359.99
Pros:
Large storage capacity

Easy fingerprint setup

Loud beep can be disabled

Includes 3 carpeted shelves and rubberized slots
Cons:
You can't adjust the rifle bumpers

The safe is too heavy, making it difficult for initial installation
The Barska Biometric Rifle Cabinet is an awesome option for storing rifles and shotguns. The cabinet has a large storage capacity (5 long guns and 2 pistols) with enough space for other valuables. Although it's heavy due to its size and material construction, it is actually lighter when compared to other safes made of the same type of steel. The Barska safe is designed with pre-drilled holes so you can easily mount it to any locations you want.
Another great thing about this rifle cabinet is its capability to save up to 120 fingerprints scans. For some people, this might be inconvenient. However, it does offer more security when it comes to accessing your weapons during stressful situations. As you might already know, most fingerprint scanners are not perfect and your first attempt to use the scanner might not correctly identify you right away! This can become a liability if you need to access your weapons right away during emergencies. Barska has found a solution to overcome this and that is to store different angles and positions of your fingerprints. This way, the chances of scanner errors and lessened and you can always open your safe every time. 
Stack-On Biometric Gun Safe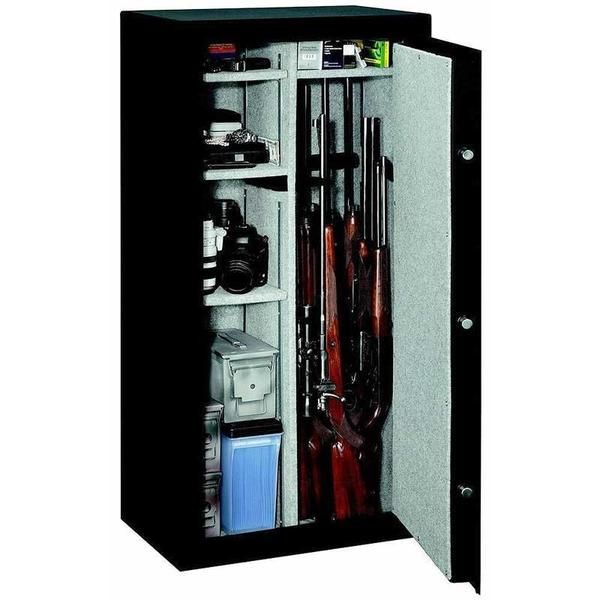 Rate: 3.2/5
Price: $219.99
Pros: 
The shelf and bottom part of the safe have foam padding 

Door cabinet is pry-resistant

Comes with pre-drilled holes for easy mounting

Can store up to 20 fingerprints

Comes with a removable shelf
Cons:
Batteries can easily get weak
One of the most reliable biometric gun safes for long guns in the market is the Stack-On Biometric Gun Safe. We have mentioned before how important it is to choose a gun safe with high-quality fingerprint scanner - fortunately, you could never go wrong with Stack-On because of its advanced and sophisticated fingerprint technology. The set-up is quite easy - you just need to place your finger on the scanner, wait for the scanner to finish storing the information, and take off your finger. And in case the battery dies, you can always use the backup key to open the safe.
On top of the reliable scanner, Stack-On also comes with a removable shelf so you can easily organize your weapons and other accessories inside as you wish. If you want to invest in a large gun safe, I would personally say it's better to choose the one with removable shelves for convenience and flexibility.
Stack-On is constructed with a material made of solid steel so that it can serve you for years. The sturdy body is covered with black matte color and powdered coating to give it a smooth finish.
Quicktec Rifle Safe Gun Safe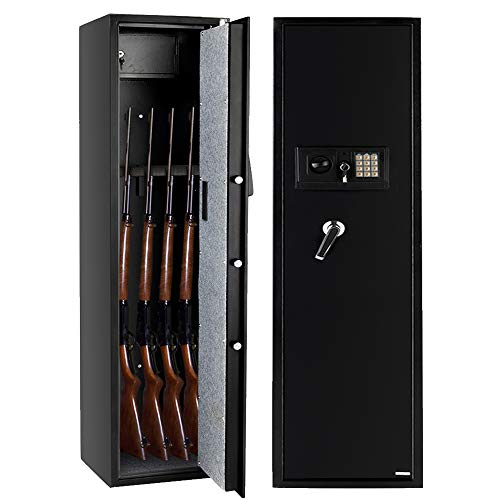 Rate: 4.3/5
Price: $369.99
Pros:
Slim design 

Large storage capacity

Comes with 5 pry-proof deadbolts

Can store up to 125 fingerprints

Comes with additional lock box
Cons:
Some customers reported they received dented units

Some customers are concerned with the body made of thin material
If you're conscious of the space for your safe, then the Quicktec Rifle Gun Safe could be the one best for you. The safe is quite slim in design yet can store up to 5 rifles or shotguns and still leaving enough space for other valuables and accessories. It even comes with a separate lockbox attached on top to store pistols, magazines, or any other valuables. 
Not only does it have a large storage capacity but also save up to 125 fingerprints so you can also allow other trusted individuals (like a family member) to access the safe every time. 
The Quicktec Rifle Gun Safe is designed with Q235 steel plate and 5 pry-proof live-locking steel deadbolts (24 mm thick) to ensure that it sustains any forms of abuse or forced entry. The safe comes with pre-drilled holes, anchor bolts, and a user manual so you can easily install it in your chosen spot at home. The fingerprint scanner uses four AA batteries but also comes with 2 backup keys to access your safe. Two separate keys are also provided for the inner lockbox.
When you install and use the safe for the first time, it is important to change the default code by resetting it and assigning another 3-8 digits code. You can do this by pressing the red button located inside the safe's door.
Best for Hand Guns
BARSKA AX11224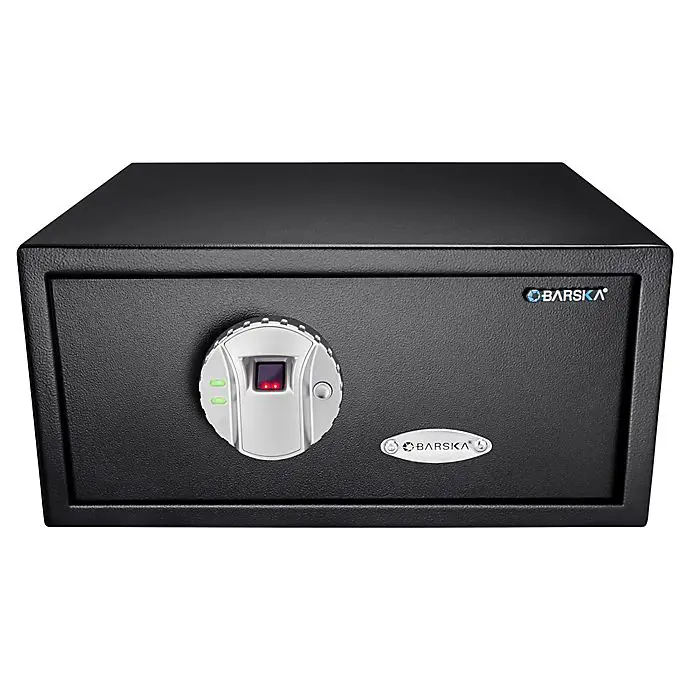 Rate: 4/5
Price: $208.58
Pros:
Stores up to 120 fingerprints

Provides multiple access methods

Body is made of sturdy steel

Provides audio alerts with silent mode option

Comes with a protective floor mat

Comes with several mounting options
Cons:
Does not have interior lighting
Over the years, Barska has made a big name when it comes to gun safes. The Barska AX11224 provides fast access, highly-reliable, and convenient storage for you guns and other valuables, making it the most trusted brand and approved by the California Department of Justice. The sturdy safe is made of 14-gauge steel walls as well as two motorized steel deadbolts to effectively protect its contents from prying and forced entries.
Barka's biometric scanner can store up to 120 fingerprints so you can allow other authorized users to access your valuables. However, the fingerprint scanner is too sensitive that sometimes it might not recognize your finger right away. You can prevent this from happening by scanning your finger at different angles and position so you can ensure that the scanner works at any position of your finger.
On top of that, Barska provides additional accessories such as backup keys, mounting bolts, expansion nuts, four AA batteries, an emergency backup battery pack, and an Allen wrench. Everything you need is provided for easy installation of the safe with several mounting options.
When the door is unlocked or the battery goes low, you can hear audio alerts as notifications. A beep sound when the safe is opened can be silenced for convenience and security (especially during break-ins wherein you don't want an intruder to hear you opening your gun safe).
Viking Security Safe VS-25BL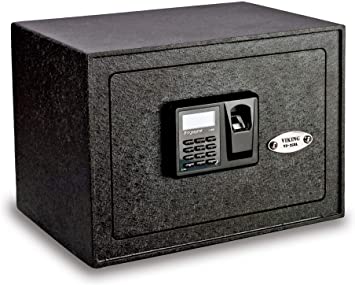 Rate: 3.9/5
Price: $215.00
Pros:
Comes with interior lighting

Has an adjustable shelf

Provides 3 access modes

Comes with motorized pry-resistant lock
Cons:
No backlight for the keypad

You still need to press the * or # to close the door
The Viking Security Safe VS-25BL is one of the best go-to gun safes for storing guns and valuables because of its features that may not be present with other biometric gun safes.
The safe uses a 500 DPI optical sensor which is highly reliable in scanning and storing up to 32 different fingerprints. Aside from the fingerprint scanner, you can also access the safe using a combination code (4-8 digits) or the backup keys in case the electronics fail.
Another feature that makes this safe highly-reliable is its solid steel body which can survive almost any kind of abuse to ensure that your items inside are well-protected. For convenience, the safe is designed with an adjustable shelf to help you organize your valuables according to your liking. The interior is carpeted and illuminated with LED lights so you can access your guns even during nighttime.
To protect your guns from intruders and other unauthorized access, the Viking Security Safe features beeping alerts when the door is unlocked or a time out when someone tries to enter 5 wrong combination pins or 10 unregistered fingerprints. The safe provides an LCD display to let you know the battery levels as well as the recent activities.
Perhaps the only drawback with this safe is the lack of backlight for the keypad which is quite difficult to operate in the dark. Some customers suggest putting a keypad backlight so that you can still press the correct keys when accessing the safe during nighttime.
Gunvault SpeedVault SVB500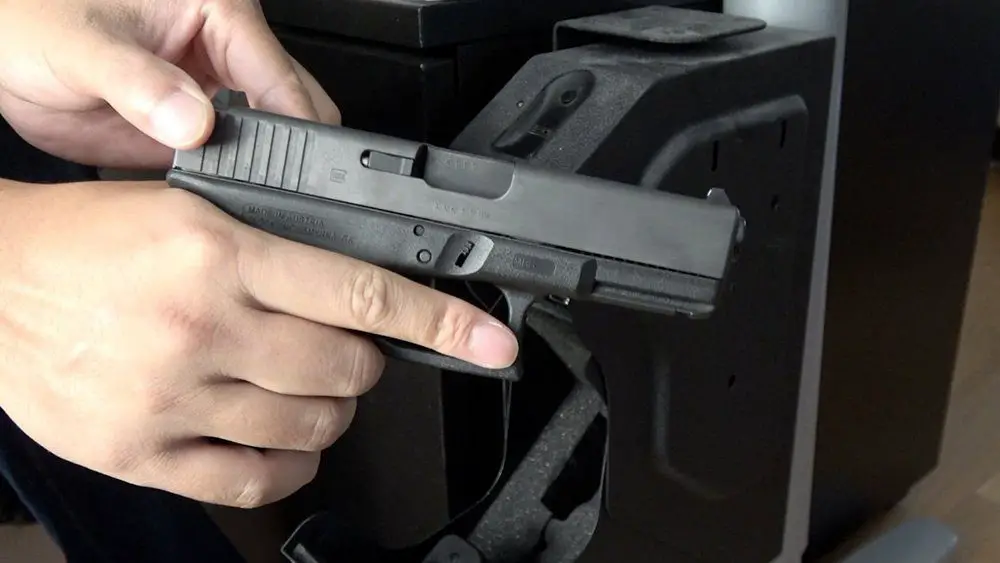 Rate: 3.7/5
Price: $209.99
Pros:
Body is made of 18-gauge steel

Can save up to 120 fingerprints

Provides backup keys for emergency access

Can be mounted at any location you want
Cons:
Storage capacity is limited

Safe has an odd shape
The Gunvault SpeedVault SVB500 offers a unique way to store your gun (because of its odd shape) yet convenience because of the way you can access your gun. When opened, it involves a mechanism that drops a drawer down to take your gun, unlike other conventional gun safes that involve a door or a lid for opening. 
Overall, the SpeedVault SVB500 is very easy to use and install. It has pre-drilled holes and comes with all the things you need to mount the safe in a secure location. And when it comes to reliability, you can truly trust this brand because its body is made of 18-gauge steel which is sturdy enough to withstand the test of time.
Its fingerprint scanner can hold up to 120 fingerprints. It does require a battery to operate but in case the power fails, you can always access your safe using the backup keys.
Best for Renters
VAULTEK VT20i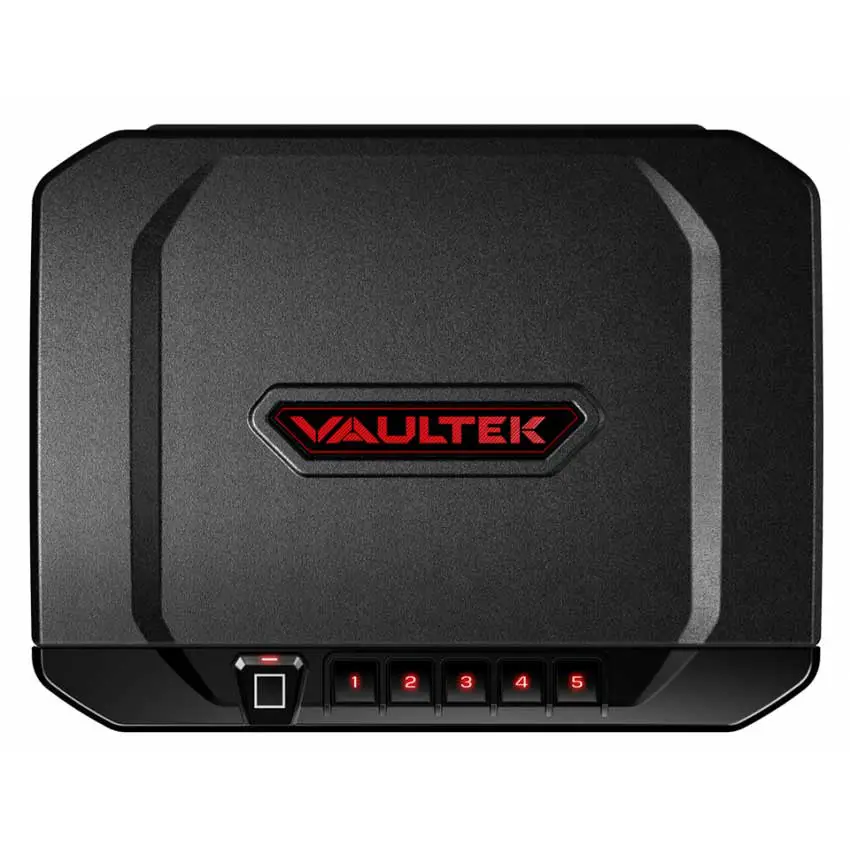 Rate: 4.4/5
Price: $269.99
Pros:
WiFi-enabled

Comes with an app for remote access

Comes with a smart panic button and oversized fingerprint scanner

Designed with anti-theft protection

Illuminated keypad

Lightweight and portable
Cons:
Can only hold up to two handguns

Not waterproof
If you're looking for a portable yet highly secured safe, then the Vaultek VT20i is the best option to go! The safe is lightweight and comes with a stylish look which you can easily carry around the house or when you travel.
So we've mentioned a while ago that fingerprint scanners are often not perfect and becomes a liability when you need to access your gun right away during stressful situations. That is why this portable safe is designed with a backup fingerprint reader. This is the sure way to access your gun every time even when the scanner becomes finicky (with sweaty or dirty fingers).
One of the amazing features of the Vaultek VT20i is that it's not just an ordinary biometric gun safe - it's a smart gun safe. It is WiFi enabled with its own app so you can monitor activities (such as tampering and jostles) as well as other parameters like keypad status, temperature and humidity to ensure your valuables are well-secured.
Sentry Safe Biometric Quick Access Pistol Safe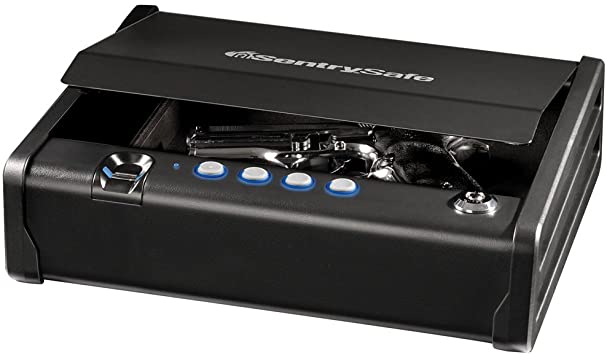 Rate: 4.3/5
Price: $249.95
Pros:
Features a quiet gun safe access

Compact in size

Opening lid is pry-resistant
Cons:
Can only store pistols

Not fire-resistant
One of the most important features of a gun safe is that it must be accessed as quietly as possible during danger. Fortunately, the Sentry Safe Biometric Gun Safe has been well-designed to suit this need. Even in the face of danger, you can trust this portable safe to give you quiet access so that intruders will have no idea about your gun access. However, it is only specifically designed for storing up to two pistols (small revolvers to bigger handguns) with two size options. Aside from being portable, the Sentry Safe is also made of sturdy steel material and pry-resistant top lid to withstand dents, forced entries, and prying.
Just keep in mind that the Sentry Safe, like any other portable safe, can be easily carried around by intruders or other unauthorized individuals. You should make sure that it is out of sight from anyone. Otherwise, you should invest in a gun safe you can mount on a permanent location to ensure that your weapons will not be easily moved. 
GUNVAULT MICROVAULT XL MVB1000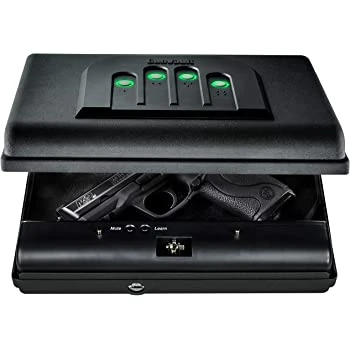 Rate: 3.6/5
Price: $175.00
Pros:
Made of heavy-gauge steel

Comes with backup combination buttons for alternative access

Highly-reliable gun safe at an affordable price

Comes with manual backup key
Cons:
Some customers reported reliability issues with the fingerprint scanner
If you're looking for a highly-reliable gun safe on a tight budget, then the GunVault MVB1000 is the excellent choice for you. One thing I love about this gun safe is that it is constructed with high-quality gauge steel to protect your handgun without really draining your wallet.
It also comes with combination buttons designed with finger grooves for convenience - this will allow you to align your fingers on the correct button even during nighttime. Personally, it is a great backup method to access your safe given its low price.
It may not have a lot of fancy features like the other more expensive gun safes, but you get what you pay for. The MVB1000 already has the basics you need to truly secure your weapons from prying hands.
GunBox 2.0 Biometric Handgun Safe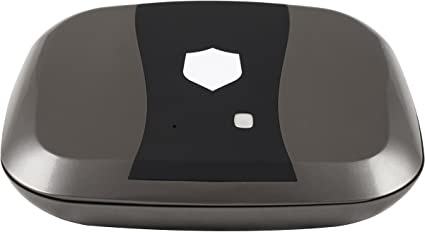 Rate: 3.8/5
Price: $299.00
Pros:
Comes with RFID scanner

Approved by FAA

Body construction made of aircraft strength aluminum

Comes with 2 USB ports for charging
Cons:
Some people like both the security and aesthetics features. If you are this type (with the budget to pay the expensive price tag), then the GunBox 2.0 is your best bet. The safe's sleek and stylish design gives a futuristic touch for storing your guns and valuables. The compact-size gun safe comes with a highly-reliable fingerprint scanner as well as multiple options to lock your safe (using a ring or bracelet), making it one of the best biometric gun safes in the market.
The GunBox 2.0 is designed with two USB ports where you can plug the AC to recharge your batteries. You also get a battery backup in case to ensure that you always open your gun safe every time.
The manufacturers of GunBox 2.0 goes a long way in order to protect your weapons by using the aircraft strength aluminum material as enclosure for your guns. This material is so durable that it can withstand almost any harsh environments.
And lastly, the FAA approves this biometric gun safe so you can fly it with you when travelling. However, you still have to be aware of the firearm laws in other countries since you might need to take your guns out of the safe during security.
Wrapping It Up
Biometric gun safes are the easiest and most convenient storage for your gun safes. However, not all fingerprint gun safes have the same quality and performance, so you need to consider a lot of factors before placing one into your cart.
We have summarized in this post all you need to know about fingerprint gun safes as well as the best biometric gun safe in the market today. We do hope you found this article helpful! If you do, let your friends and family members know by sharing this post. 
Hi, I'm Christy, and I'm an electronics engineer by profession. I have taught in a university for 2 years while pursuing my master's degree in cognitive radio and worked for a company to develop wireless medical devices. Currently, I'm doing research for a doctorate degree in engineering using a wireless sensor network for smart agriculture. I've been active in our local IoT community, IoT Cebu, where I participate in conducting talks about Arduino, Raspberry Pi, and DIY home automation using Wi-Fi and ZigBee devices.